I have an absolute treat for you today with this stunning California wedding by KATIE GRANT! It was a trip to Paris just prior to their big day that inspired the old world European vibe at Christine & Brian's wedding. "Our favourite part of the trip was our visit to the Palace of Versailles because it was so beautiful and elegant. The palace was so grand that we couldn't believe our eyes. There was so much detail and character in every inch of the palace that left my husband and I in awe. Because of this visit, we were inspired to have a wedding that reflected an old world style with European influence." Held at SUMMIT HOUSE RESTAURANT it's a beautiful vision with florals by FLOWER ALLIE and the bride wearing a stunning gown by AIRE BARCELONA. Bridesmaids were dressed by JENNY YOO and VERA WANG in a sea of pretty pastel tones.
HOW DID YOU MEET? Pretty funny how we met. It was my first day of college and he was the first person I noticed. I remember staring at him from across the room, thinking about how much he reminded me of a friend. And right when I hoped he didn't catch me staring, he turned and looked back at me. I immediately looked away, acting as if nothing happened. Moments later, he walked over and asked me to be his partner but I kindly declined. And although we did not end up being paired up, I'd say fate definitely brought us together because his assigned lab station happened to be next to mine. Eventually, we started talking to each other and even started to study together. Who would've thought that this first encounter would be the start of something special! The next ten years of our relationship blossomed into a romance that ultimately led us to tying the knot.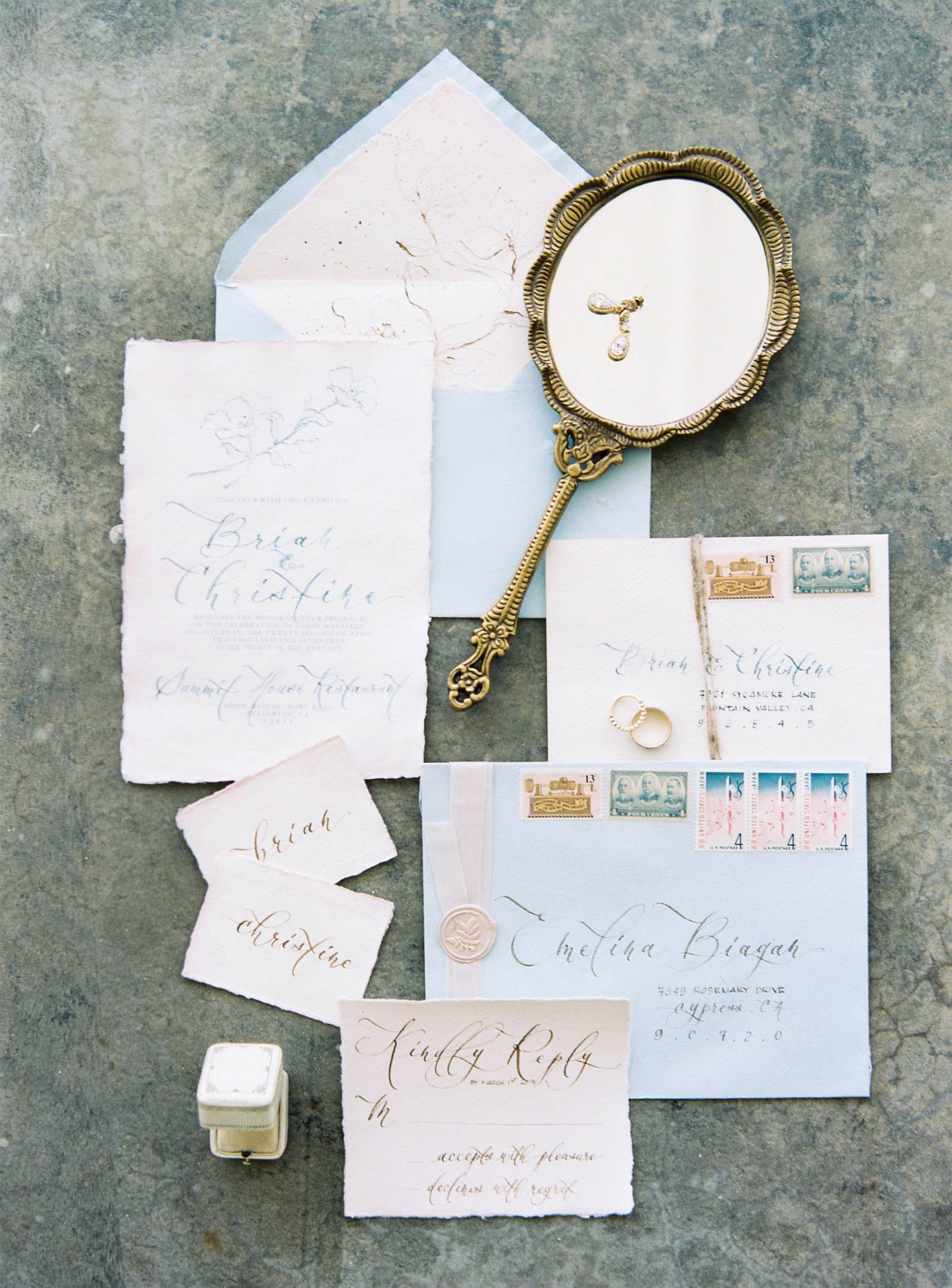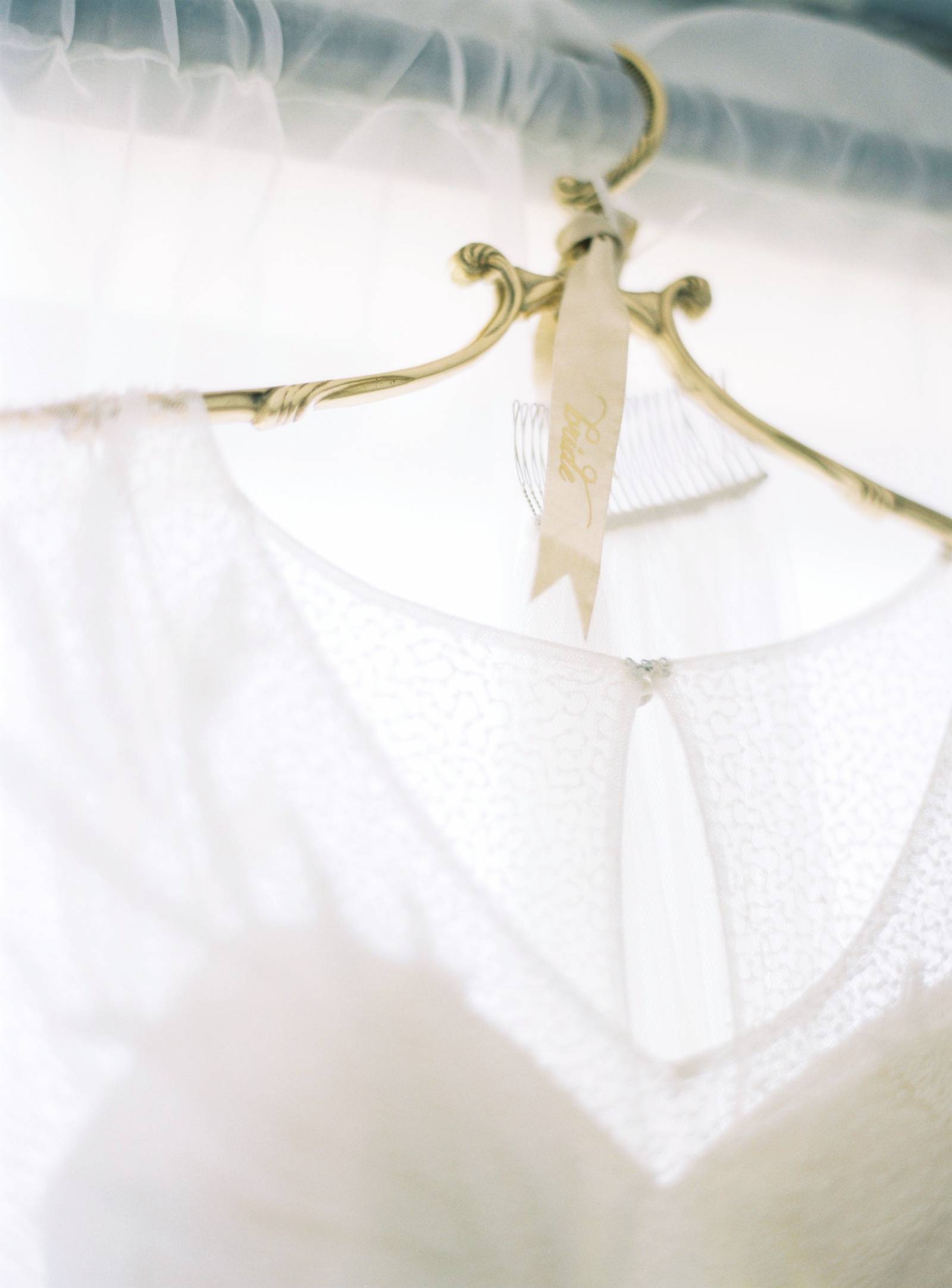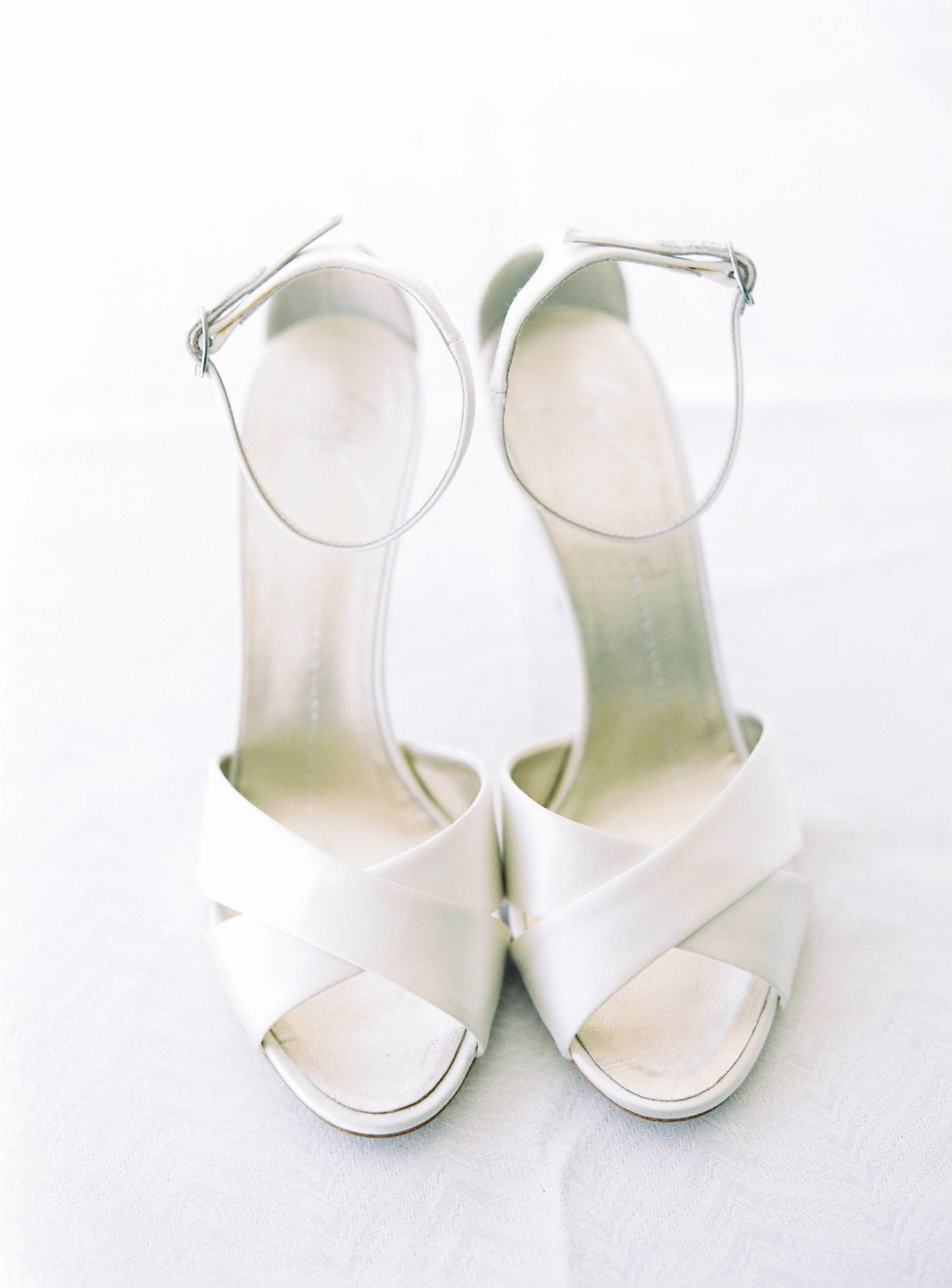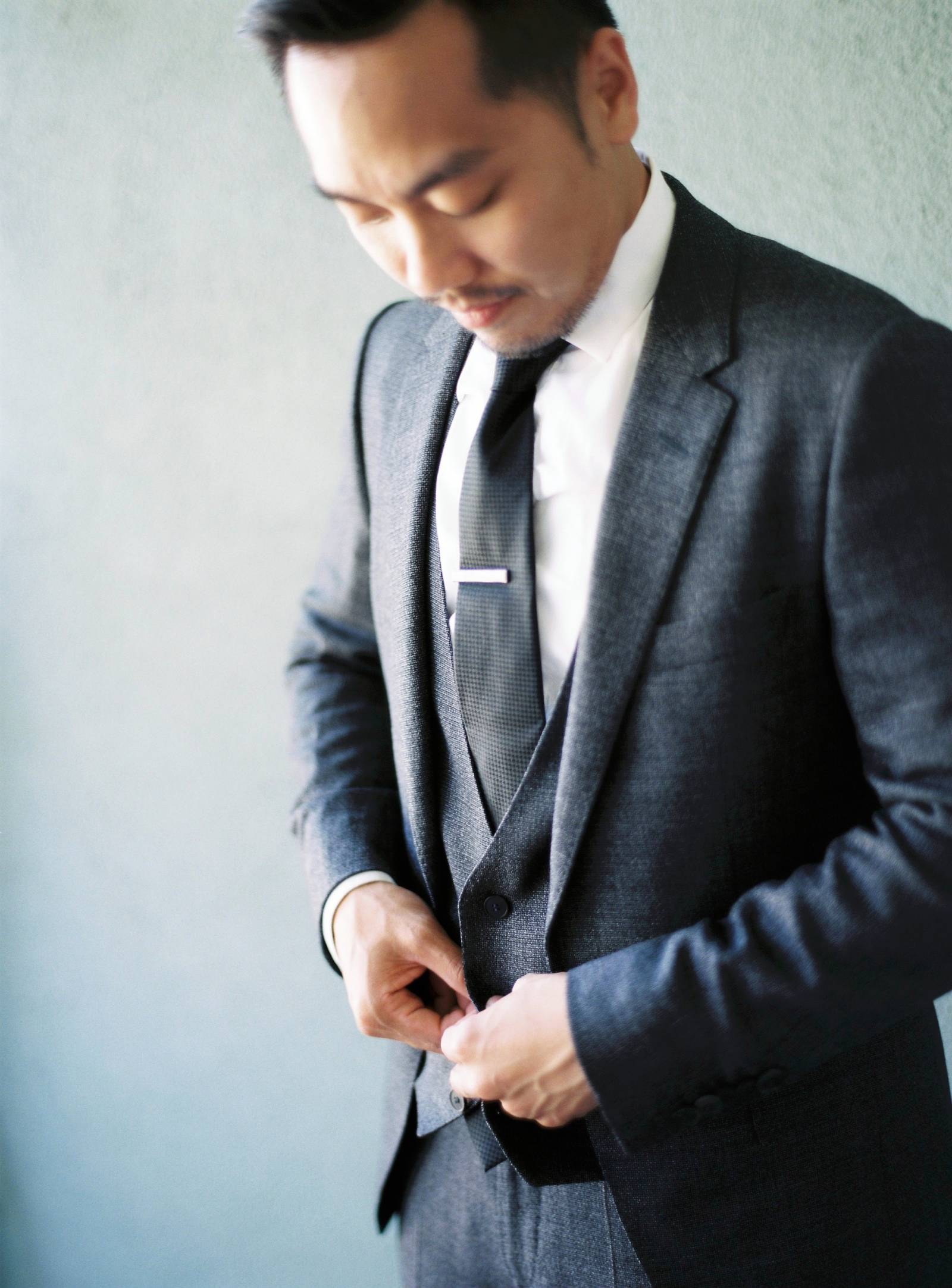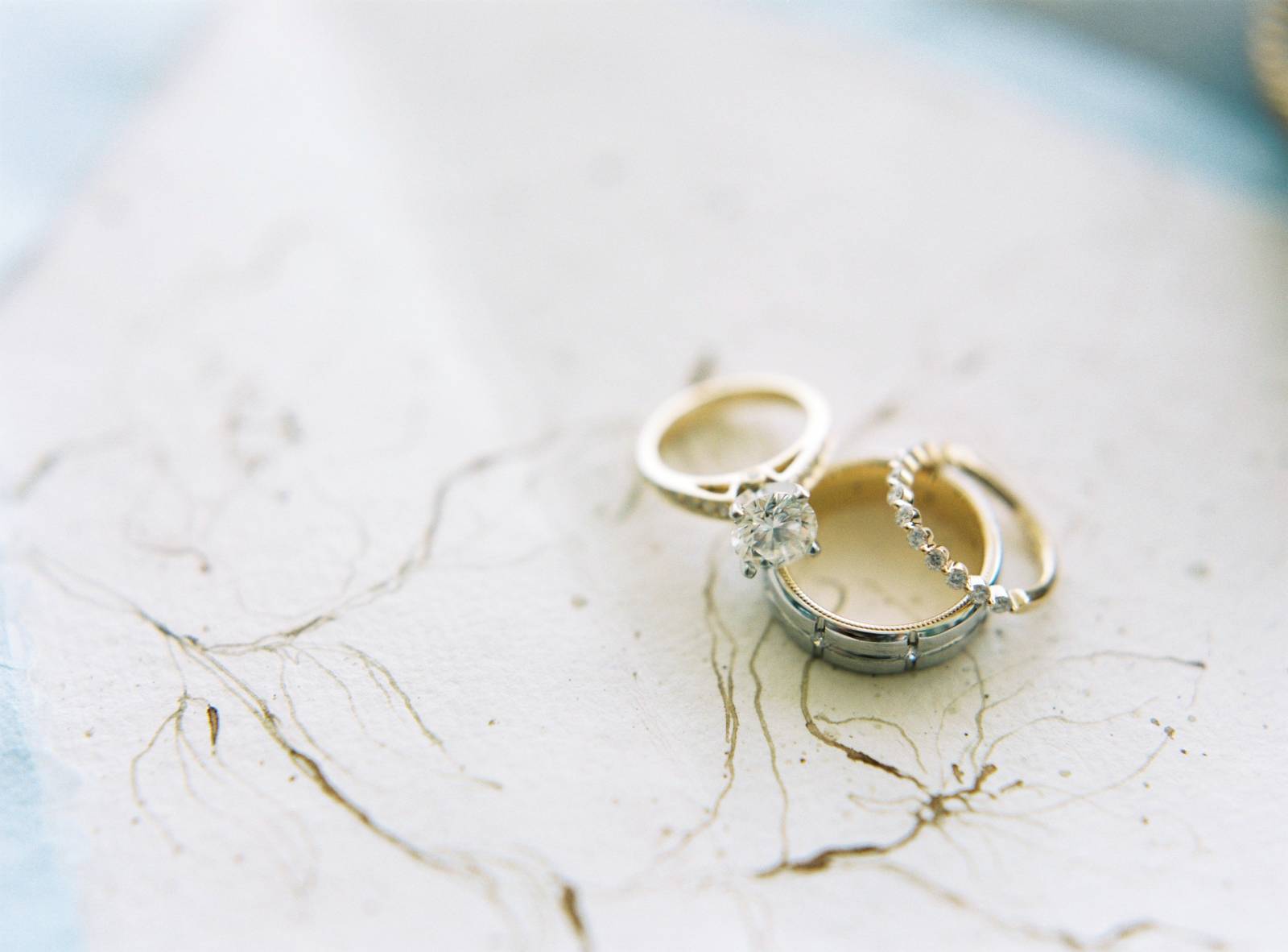 TELL US ABOUT YOUR PROPOSAL: The proposal was something we'd been talking about over recent months, so I was expecting it but not on the actual day that it happened. My best friend and sister invited me to dinner at one of my favourite Mexican restaurants. We had a great time chatting and dining while sipping our glasses of wine. It was getting late so we decided to call it a night. As we made our way outside, we were stopped by family and friends cheering by the fountain. A couple feet away, I saw my husband standing beside a tree with a small box in his hand. I immediately put my hand in my face because I couldn't believe it was actually happening. He walked up to me, took my hand, got down on one knee, and asked for my hand in marriage. It was a simple yet sweet moment to remember.
TELL US ABOUT FINDING YOUR WEDDING DRESS: Finding a wedding dress was a bit of a challenge for me. I tried on A LOT of dresses. I eventually grew frustrated because I couldn't figure out what I wanted to wear. I visited several shops in the area, trying on as many styles as I could. I initially thought about wearing a lace gown, but got something completely different after keeping an open mind.
A few weeks later, I stumbled upon "the" dress. I pulled it off the rack and thought how unique it was from the ones that I'd previously tried on. This was one of the reasons why I was so drawn to the gown. I was even happier to find that it fit my body type and the style that we had envisioned for our wedding. So I made the order right away and crossed off it off my to-do list.
WHY DID YOU CHOOSE THIS LOCATION? We selected Mission San Juan Capistrano for our portrait shots. The venue offered a lot of great photo opportunities because of the beauty and character throughout the location. We thought it would be the best backdrop for our portrait shots.
Our reception was held at the Summit House Restaurant. We loved that the venue was on a hill because it overlooked the city with a view of the hills in the background. The reception hall was full of windows so you can see this amazing view as you dined. This is the reason why we moved the dance floor and sweetheart table towards the windows. We wanted our guests to enjoy this view during the sunset which was a major plus! Aside from this, the venue had indoor and outdoor areas for our guests to mingle and tasty food selections as well.
DID YOU HAVE ANY DIY ELEMENTS? Although many of the items were rentals or custom made, we had a few DIY items in the wedding to add our own personal touch. We thought it would be fun to rename our signature drinks to something catchy, like "Marry Me Margarita" and "Happily Ever After" to name a few. We also designed our gobo to fit our theme and made escort cards for our guest tables.
DESCRIBE YOUR WEDDING FLOWERS: We wanted to create an atmosphere that was sweet and romantic so we started by discussing our color palette. Since it was a spring wedding, we choose colors that were soft and sweet so we selected dusty blue, blush, and nude. We worked with my florist for a couple weeks to create a list of flowers and greenery that had these colors in mind. The list included things that brought texture and color to the flower arrangements.
On our big day, we were happy to find that the florals complemented the wedding so well, especially the key features (sweetheart table, cake, etc). We were so happy because the flowers brought colour, beauty, and elegance which fulfilled the vision we had hoped for.
FAVOURITE DETAIL OF THE DAY: We fell in love with sweetheart table the moment we saw it. The dusty blue coloured silk runner ran along the table and draped down to the floor. The plates, cutlery, and candle holders had a lot of character and reflected our wedding style. The front side of the table was also decorated with flowers in such a beautiful arrangement- we were amazed. This is why the sweetheart table was our favourite detail of the day!
WHAT ADVICE WOULD YOU GIVE OUT TO A COUPLE PLANNING THEIR WEDDING? To focus more on the meaning of the wedding day rather than the look. Planning a wedding can be very stressful, especially when you get lost in the idea of trying to make the day "perfect." There will always be something that comes up unexpectedly because things don't always go as planned. So let go of all your expectations and enjoy your wedding day! You won't be able to relive that moment ever again.
My other piece of advice would be to plan your wedding however way you please. It's so easy to feel pressured by others or to feel like things need to be a certain way. Even if it is different from "the norm," do whatever you want. After all, it's YOUR big day!
MOST MEMORABLE MOMENT? Our most memorable moment was exchanging our vows. We had a very intimate ceremony amongst our closest family and friends. It meant so much to be able to express our love before God and our loved ones. Soon afterwards, the priest whispered that our vows were genuine, full of love and emotion that set the tone for our wedding. It made our day feel a little more special to hear him say that.
ANY OTHER DETAILS THAT HELP TELL THE STORY OF YOUR DAY? Our main wedding hashtag was #vuchella because the day happened to be the same weekend as one of the local music festivals. We put this hashtag on LED foam sticks so people could dance and light up the room with these sticks. We also made a prop out of it for our photo booth so people can take pictures with it. Many of our guests thought the way we used our hashtag was fun and creative. It made the night more enjoyable.
TELL US A LITTLE ABOUT YOUR HONEYMOON: We have yet to take our honeymoon. We head to Europe later in the year so we are super excited!
IS THERE ANYTHING YOU WOULD CHANGE OR DO DIFFERENTLY? The morning after, my husband and I looked through pictures and videos of our wedding. We smiled and laughed as we talked about everything we experienced that day. We both agreed that there wasn't anything we would change, including the unexpected things that came up. Surprisingly, they happened to make the day more memorable to us. Like when my dress bustle tore off moments before our first dance (Oh boy did I freak out!). Somehow we managed to fix it in time but, we had a blast nonetheless. We still look back on our wedding so much joy and happiness. We wish we could relive this moment all over again if we could!