Macy & Justin celebrated their wedding in the rolling hills of Lancaster Pennsylvania. Going for an 'organic chic' aesthetic, the FARM AT EAGLES RIDGE provided the perfect space for the day, which was captured by STACY HART. The pair got ready inside of the historic farmhouse, shared a first look on the back lawn, and tied the knot lakeside: in front of a stunning asymmetrical floral installation by PETALS WITH STYLE! They also made sure to include their beautiful dogs, Pippa & Penny, in their day. The Bernese Mountain dogs joined them for a set of portraits and even walked down the aisle as "flower pups". After the ceremony, Macy & Justin joined their guests for an open air cocktail hour before everyone was led upstairs into the barn for an intimate reception. Candlelight, greenery, and white florals continued the feeling of understated elegance into the space.
WHY DID YOU CHOOSE THIS LOCATION? We initially found our venue through scrolling on Instagram. Based on the photos found on social media alone, I knew The Farm would be our venue, but we booked a tour anyway. While neither Justin or myself are from Lancaster, the venue was conveniently situated equidistant from both our immediate families. One of the owners, Paige, guided us and our family on the tour-I remember her being so warm and down to earth. I wanted our wedding to have moving parts and be more interactive than a more traditional ceremony/reception and The Farm at Eagles Ridge boasts so many beautiful areas that were able to accommodate this. At the time of our tour, Paige and her sister/co-owner Betsy were planning renovations to enhance the spaces even more. If I needed anymore persuading (I didn't), the bridal suite did it for me. When I was brought to the bridal suite on our venue tour, I was so easily able to envision my mom helping me into my gown and had that *feeling*.
HOW DID YOU MEET? Justin and I met in college at DeSales University in Center Valley, PA. At the time, I was friends with Justin's cousin who helped facilitate our relationship...along with my persistence.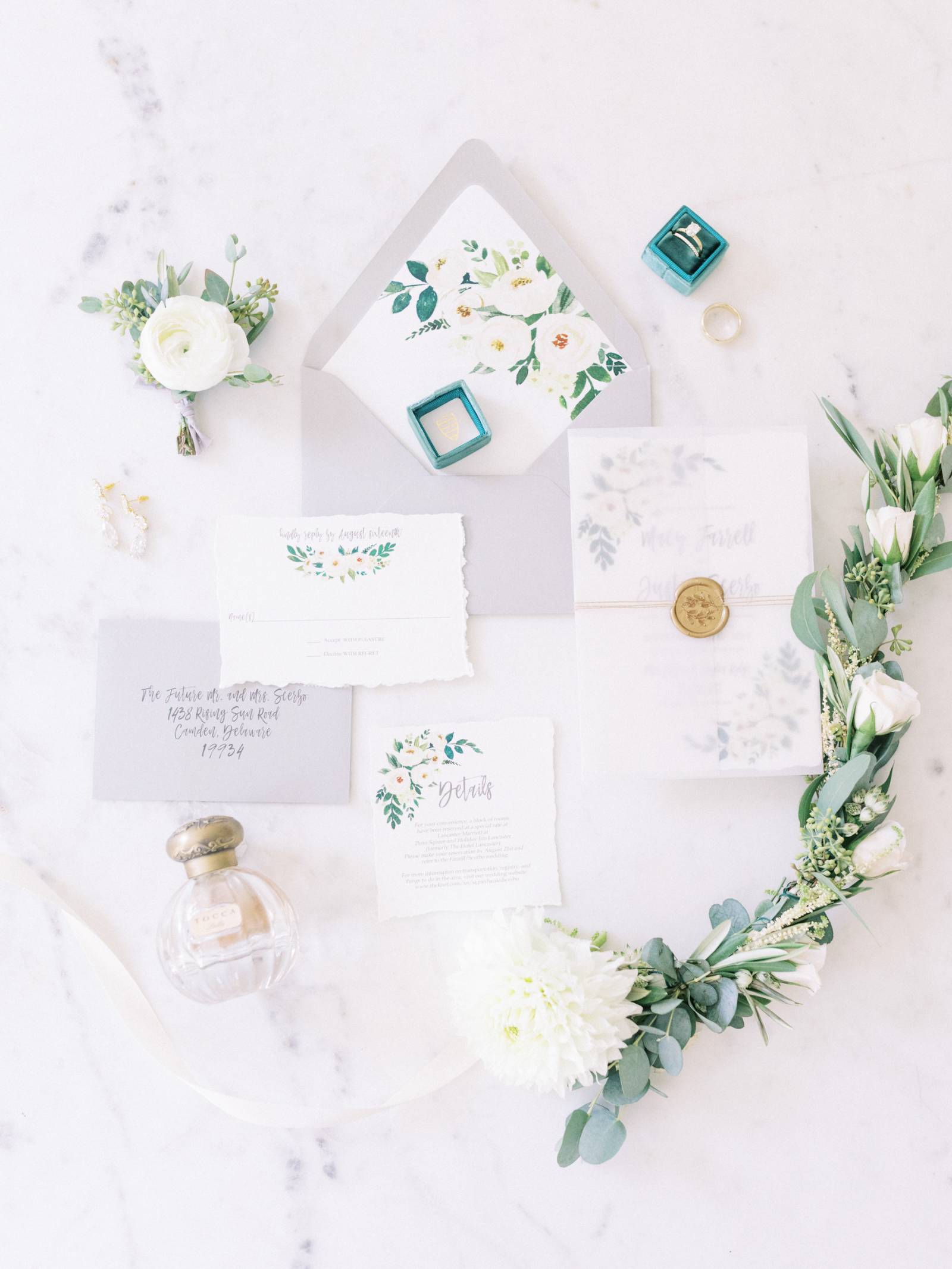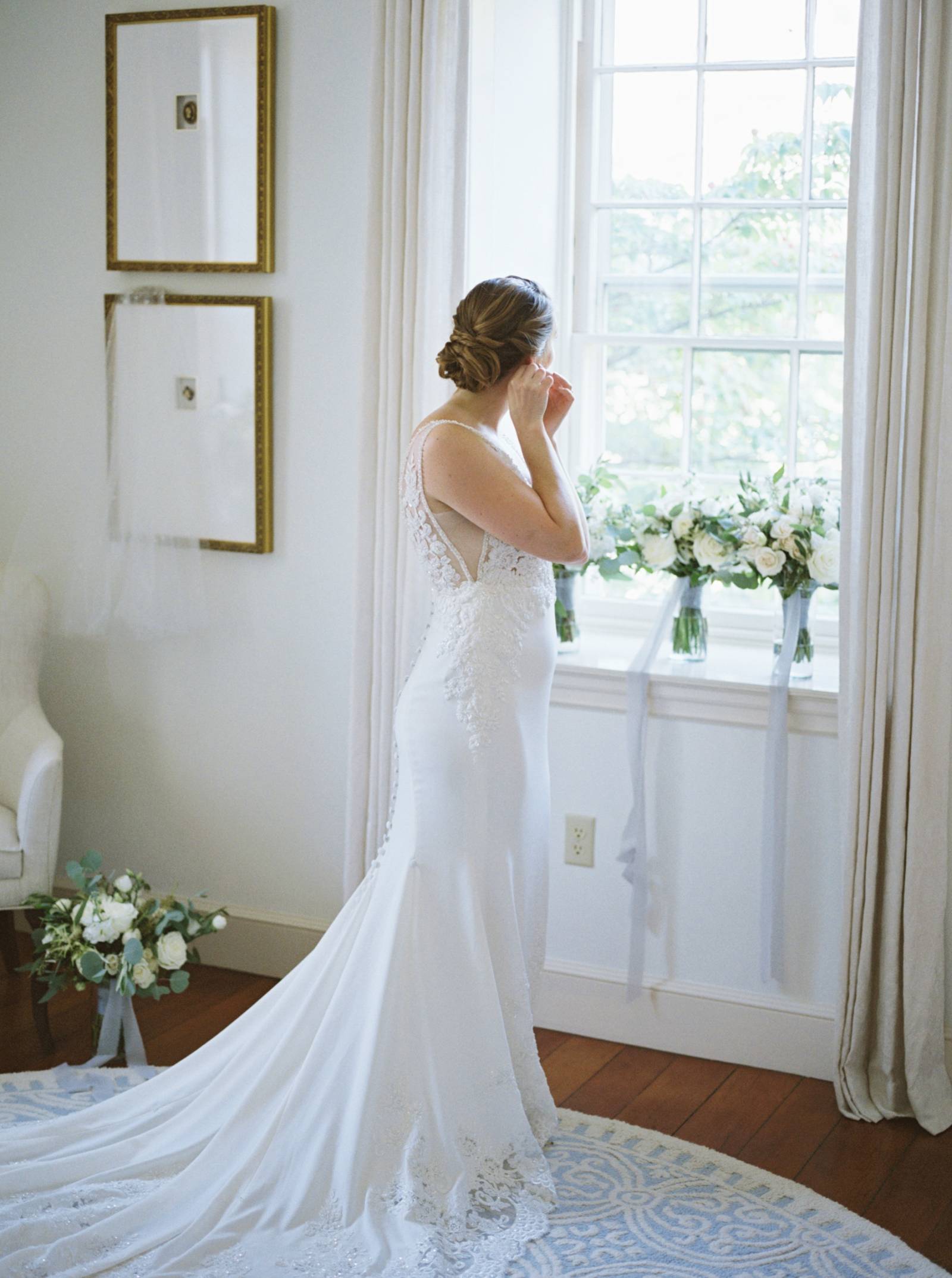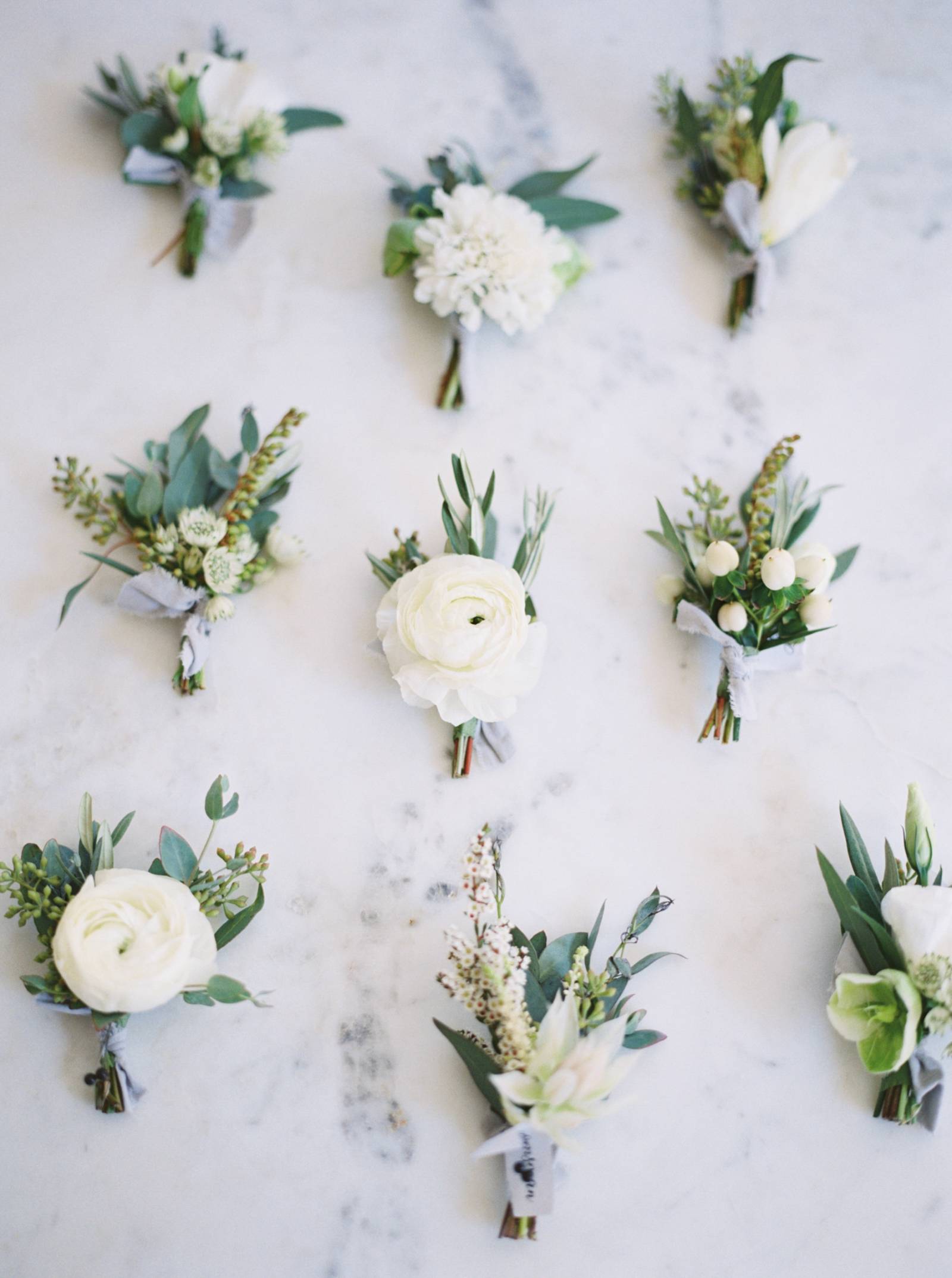 TELL US ABOUT YOUR PROPOSAL: Justin brought me to where we had one of our first dates-which was on the hill at DeSales to watch a meteor shower. He proposed in June, so students were on break and it was just the two of us there...quaint, simple, and perfect.
TELL US ABOUT FINDING YOUR WEDDING DRESS: I didn't! I tried on a lot of dresses at a lot of great boutiques, but couldn't seem to find the one. With each appointment I booked, the less excited I felt. I knew that wasn't how I was supposed to feel, so I reached out to Priscilla Costa Bridal. I worked closely with Priscilla who was able to combine aspects of gowns I liked, but didn't love to create a custom gown. Priscilla was able to take my vision (despite my difficulty describing it) and turn it into real life. It was such an interesting experience and made me that much more attached to my dress.
DESCRIBE YOUR WEDDING FLOWERS: Growing up I would say I wasn't going to have any flowers at my wedding because I didn't like the smell of flowers...this would really grind my mom's gears. Luckily for my mom, my opinion on wedding florals changed drastically. Full, white blooms of garden roses, ranunculi, and dahlias with whispy, dusty greenery were used on every railing I could, overtop and draping our sweetheart table, for our ceremony arch, and for the bouquets. Pieces from my bouquet are now preserved and sit on my nightstand...without a smell.

FAVOURITE DETAIL OF THE DAY: Our dogs, Pippa and Penny, are our babies and served as our flower girls. It was so special having them be part of our day. Our cocktail napkins also had a watercolour Bernese Mountain Dog to keep the girls' spirit present throughout the night.
WHAT ADVICE WOULD YOU GIVE OUT TO A COUPLE PLANNING THEIR WEDDING? If your venue doesn't require a day of coordinator, hire one! It took the stress of managing the day and timelines off our plate, as well as our parents and bridal party so everyone could be fully present and enjoy the day.
MOST MEMORABLE MOMENT? Justin and I snuck away for a minute before entering our reception to rehearse our first dance. It was nice to have a moment, just the two of us, before we celebrated with our family and friends.
WHAT ASPECT OF THE WEDDING WAS THE MOST IMPORTANT TO YOU AND YOUR HUSBAND? We wanted our wedding to reflect us as a couple. We also wanted our family and friends to actively engage in the night- lighter fare was served throughout the evening, as well as variable seating, including high top tables to promote being up and moving. Our dance floor was packed while our band was playing, so I think (with the help of our coordinator, Ashley, and planning with Hilary, our caterer) we were able to pull that off!
ANY OTHER DETAILS THAT HELP TELL THE STORY OF YOUR DAY? We love a food truck, so it was important for us to incorporate one on our wedding day. While our band was on a break the big, beautiful barn doors opened to the courtyard and our guests were surprised with a doughnut truck and lounge/cigar bar. I love hearing how much everyone enjoyed the doughnuts and it truly makes me happy when someone tells me they were able to snag a dozen to go!
TELL US A LITTLE ABOUT YOUR HONEYMOON: We traveled to Tulum, Mexico about 2 months after our wedding. Having a break between the wedding and honeymoon was nice and gave us something to continue looking forward to after the post wedding blues set in. While we were figuring out where we wanted to spend our honeymoon, it was important to us to have options with how we wanted to spend our time. Tulum offered us lazy beach days, adventures to underground cenotes and caves, ancient ruins to explore, a town for strolling and shopping, healing and rejuvenating spas, and most importantly...delicious food! A huge driving factor for why we chose Tulum was the food scene and we were not disappointed. Tulum is rustic and eco friendly and we were not shorted of fresh, local cuisine.
IS THERE ANYTHING YOU WOULD CHANGE OR DO DIFFERENTLY? I would eat more! Everyone told us prior to our wedding to not forget to eat. We didn't forget, we just had too much adrenaline for a big appetite-totally out of character for us.