As Oregon natives Mike & Elizabeth held a quintessential Pacific Northwest wedding. A cosy atmosphere, rich greenery, tall trees, a damp forest and plenty of clean fresh air - this wedding had it all. LEACH BOTANICAL GARDEN is a hidden gem in Portland and it has an old beautiful, traditional home on the property, so it offered them both an indoor and outdoor space. These gorgeous images by BETHANY SMALL PHOTOGRAPHY transport us to this magical day. The prettiest florals by SWOON FLORAL DESIGN complemented the bridesmaids peach and apricot dresses.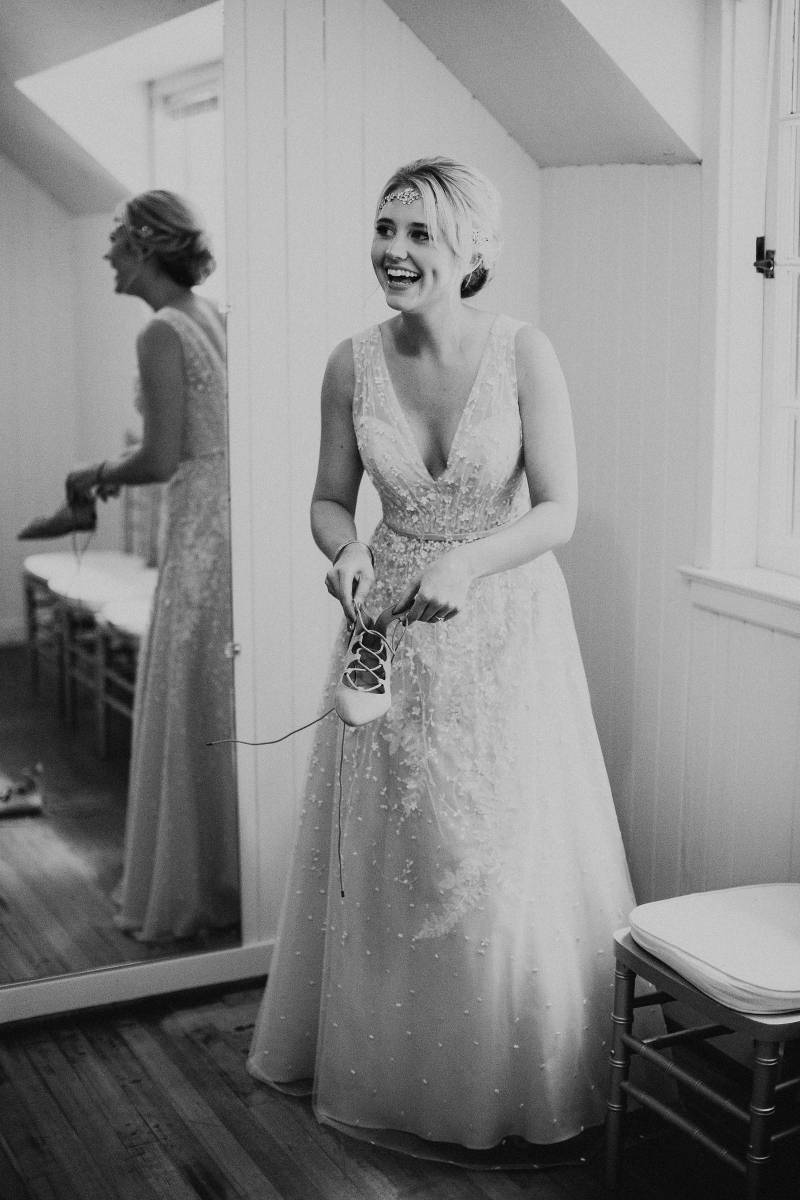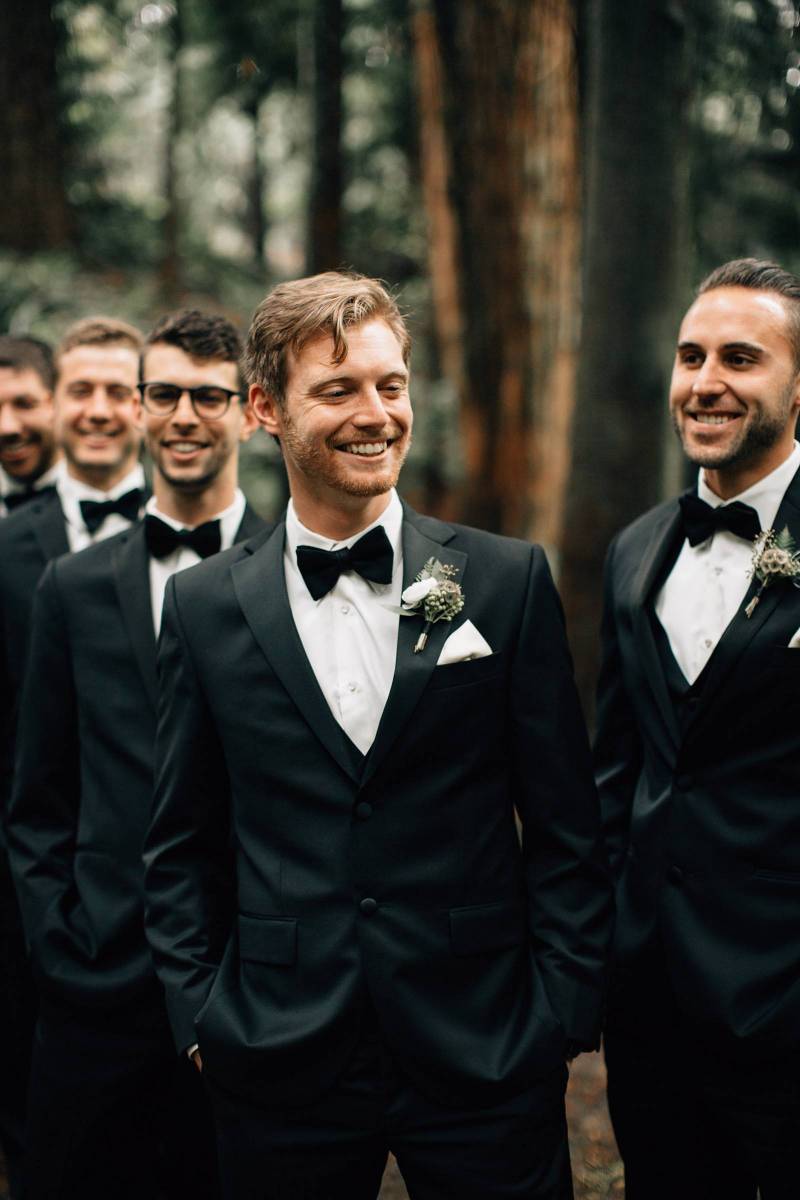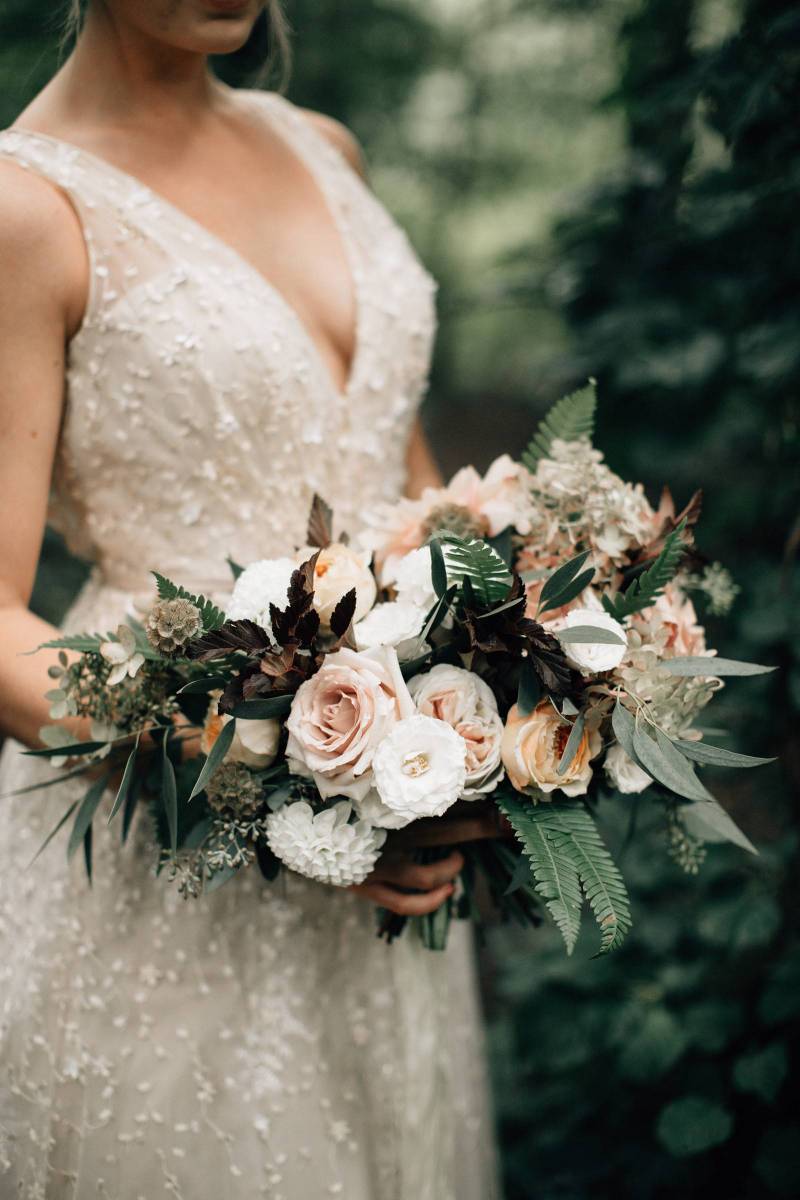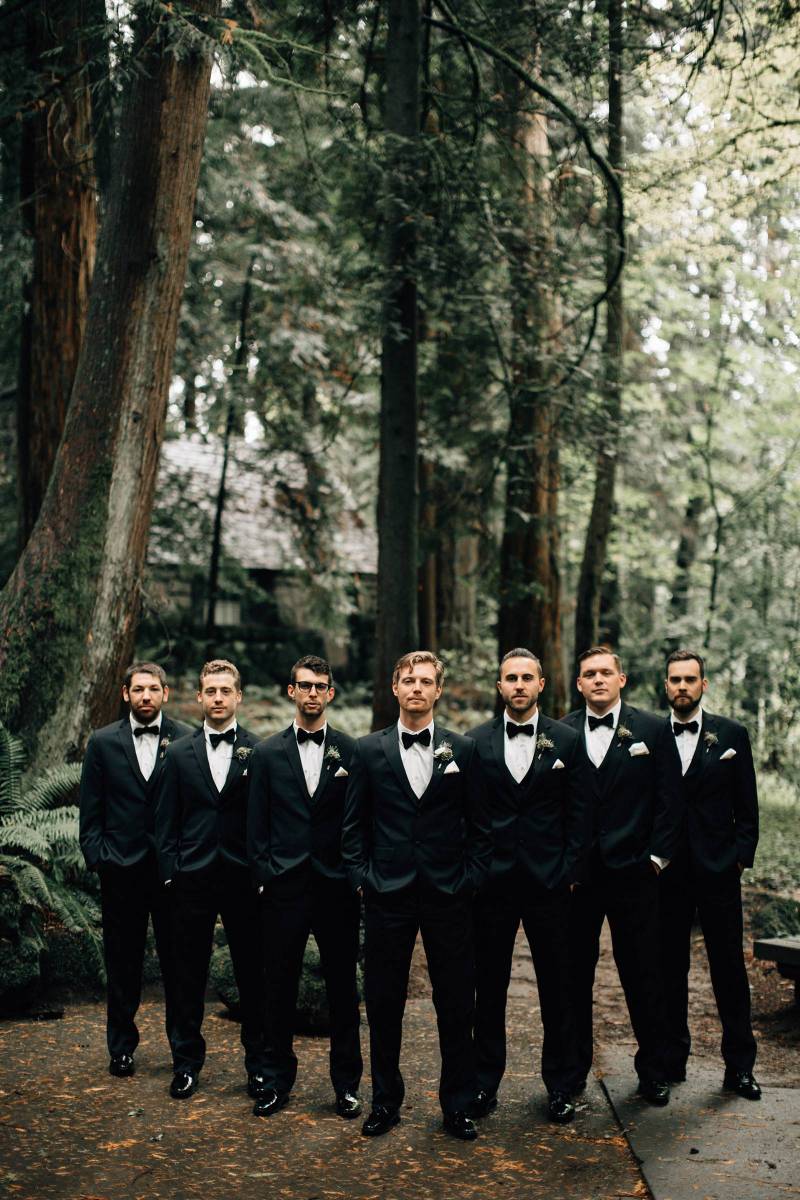 HOW DID YOU MEET? We met on a plane flying from Amsterdam to Portland. Mike was in Amsterdam for work purposes and I was traveling throughout Europe with a girlfriend (and later, Maid of Honor). Mike and I sat next to each other on the 9 hour flight and chatted the entire time. We both are from Portland, Oregon and had several things in common. Once we landed in Portland, Mike gave me his business card and the rest is history.
TELL US ABOUT YOUR PROPOSAL: It was a typical Saturday morning - we got coffee and went on a walk throughout a NE Portland neighborhood on a sunny, but chilly morning in November. This particular neighborhood is known for the "Wishing Tree" which is an old, massive tree that is covered in paper tags that have wishes written on them. People from near and far visit this tree to write down a wish and tie it to the tree in hopes to have their wish come true. Mike took me to the tree and pointed out a tag and told me to read it. The tag said, "I wish to spend the rest of my life with Elizabeth Gaska." We then celebrated the rest of the day with family and friends.
TELL US ABOUT FINDING YOUR WEDDING DRESS: My mother, sister and mother-in-law-to-be visited several wedding dress boutiques in the Portland area but nothing was quite right. My mom encouraged me to try David's Bridal which I did not want to visit. Reluctantly I went and tried several dresses and actually found the dress. Proof that there are surprises in unlikely places. The dress was by the designer Melissa Sweet - it was very romantic and botanical in theme. The bottom layer of the dress has an embroidered fern leaf design which was perfect for our venue (a botanical garden that is covered in fern plants).
ANY DIY ELEMENTS? I baked all of our wedding desserts! Baking is my passion, and is a way for me to de-stress. I also love sharing my sweet treats with friends and family so it only made sense for me to create our desserts. It gave a personal touch and was so much fun to do. Mike and I both don't care much for cake, so instead, I created an assortment of treats, from cookies to brownies and gluten free pumpkin bars. It was a bit stressful, and I was baking the morning of the wedding. I ended up pouring boiling butter on my wrist and I still have a scar - my wedding battle wounds, I call it. But I don't regret a thing!
DESCRIBE YOUR WEDDING FLOWERS: Our flowers were very romantic and simple. Kim Dodrill, the owner of Swoon Floral Design is such a lovely person to work with. I wasn't too picky and trusted her to do her thing. They were blush tones, creams, and a lot of greenery to match the green, etherial venue. We wanted to the arrangements to look natural and fit the venue.
FAVOURITE DETAIL OF THE DAY: Our florist loaded the rafters in the fireplace room with candles and greenery which was such a magical touch. The ceiling sparkled because of the candles and the greenery was such a warm and cozy touch.
WHAT ADVICE WOULD YOU GIVE OUT TO A COUPLE PLANNING THEIR WEDDING? Use a wedding planner if you can! I thought I could plan everything by myself which seemed approachable at first, but once it got closer to the date, I really needed the assistance. I think having someone from the very start to help is super important and can save you a lot of time and stress.
MOST MEMORABLE MOMENT? The "reveal" was truly special. We met in the forest, among the tress, next to the creek. It felt like we were in a fairytale. It was so nice to have that time together - just the two of us. The rain had let up, and we were able to chat and giggle and have some peaceful time together before the big event started.
ANY OTHER DETAILS THAT HELP TELL THE STORY OF YOUR DAY? Our ring bearers were my two nephews (age 6 and 2.5). We were all a bit nervous about my 2.5 year old nephew and hoped he would be able to stay focused. We tasked him with carrying the Bible down the aisle to give to our Pastor. Before the ceremony started, the Pastor told him that if he dropped the Bible, to jump on it and pick it up - implying to be speedy and pick it right up. My nephew took that as orders and during the actual ceremony - he dropped the Bible and started jumping on it. Everyone started laughing and it was the perfect ice breaker to kick off the ceremony.
IS THERE ANYTHING YOU WOULD CHANGE OR DO DIFFERENTLY? We would have hired a planner from the beginning. We thought we could handle everything ourselves, and we were lucky enough to work with such wonderful vendors that it wasn't too stressful of a process. Two months until the wedding, things started getting busy, Mike and I both started new jobs and were moving in together, so we decided it was time to hire someone to help finish the wedding planning - and we were so glad we did!