Rianne and Michel's bohemian garden wedding was truly a community affair. Described by the couple as a 'labour of love', their friends all pulled together to contribute their skills to the day - from styling to hair & make-up to the ceremony itself. Held in the beautiful gardens of KASTEEL KWEKERIJ, the day began with the most adorable first look involving their daughter. It looks like one of those very heart-warming celebrations that you wish you were a part of. HANKE ARKENBOUT captured their day beautifully - I'm such a fan of the way she documents weddings!
HOW DID YOU MEET: We met at a local music group. We were both 14 at the time. We spend a lot time together with other 'music-friends'. These friendships still remain and we started dating at age 16.
TELL US ABOUT YOUR PROPOSAL: Michel surprised me with a photoshoot from our favourite photographer (Hanke Arkenbout). During the photoshoot he went down on one knee. What a surprise! It's amazing that this emotional moment is documented forever.

TELL US ABOUT FINDING YOUR WEDDING DRESS: I never wanted a standard a-line dress. I've always been in love with bohemian wedding dresses. I wanted to have a dress and flowers that would fit the vibe we wanted for the venue styling. It took a small search to find a shop that sold a big selection of dresses from Rembo Styling and I was instantly in love with this beautiful dress that fit me perfectly!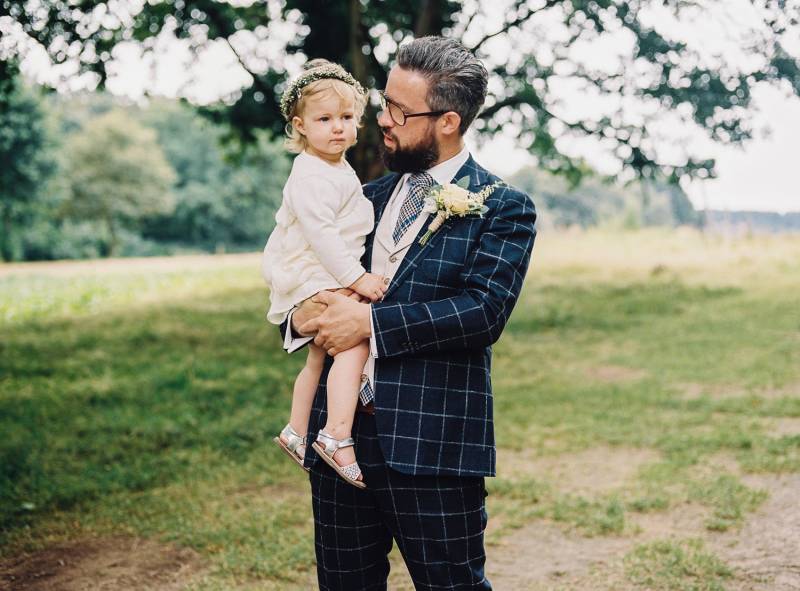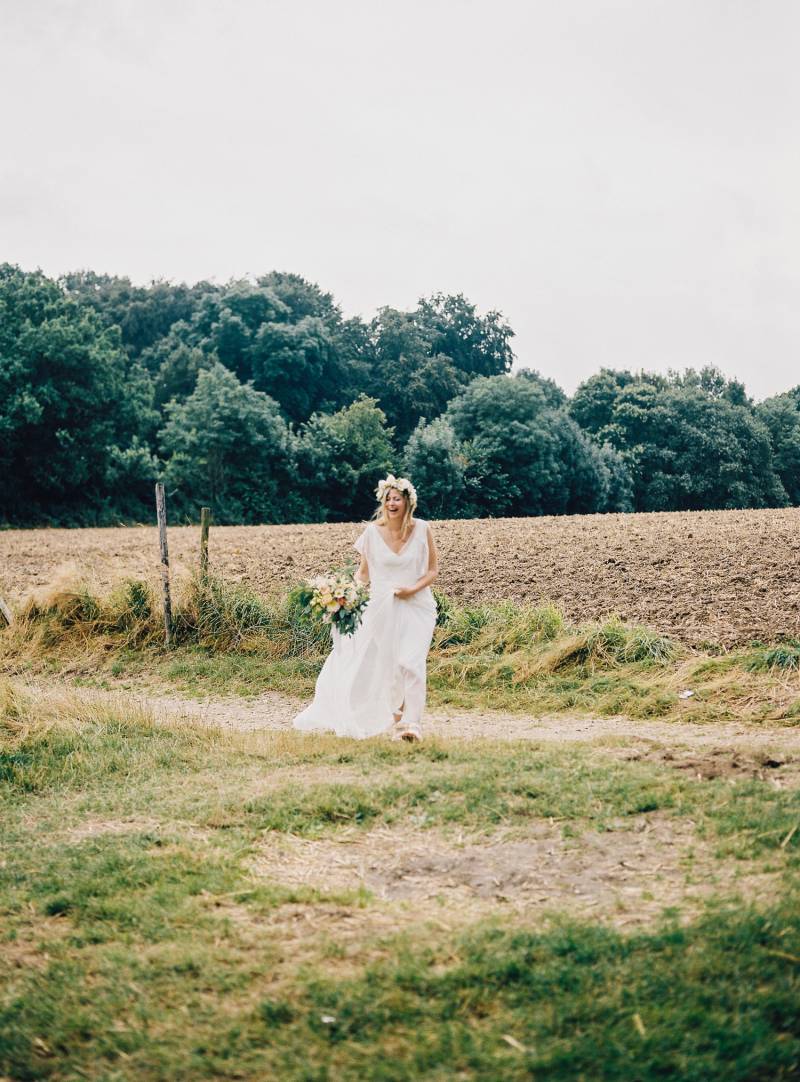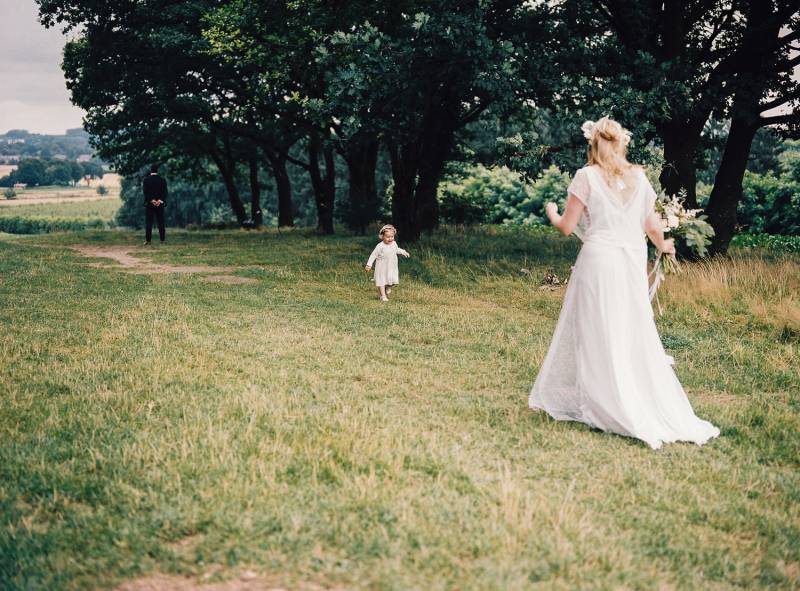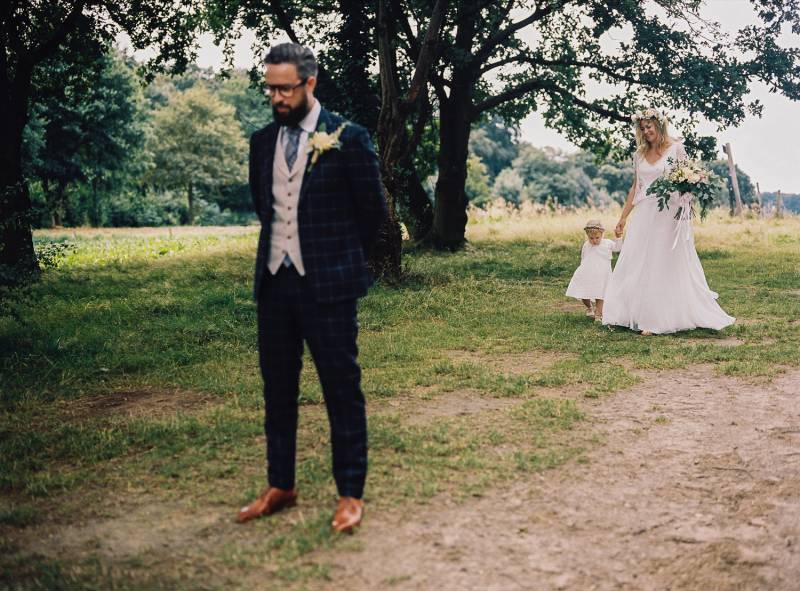 ANY DIY ELEMENTS: Our dream was an easy going, bohemian garden wedding. The venue had a big garden where we could put a big tent. After hours browsing through so many bohemian ideas on internet I started my search for materials. Rugs from the theatre school, old tables from our own attic, curtains as table cloth and string lights to decorate the tent. Tables under the big tree in the garden provided the perfect al fresco dinner spot. I was sure we would be able to get the styling done by ourselves and thankfully I was right.
DESCRIBE YOUR WEDDING FLOWERS: My biggest wish was to arrange the wedding flowers myself, since I did make some wedding bouquets before for friends and I had some contact in the flower business. My contacts gave me the chance to look at their storage, just 2 days prior to our wedding. So many flowers as far as I could see and I could pick anything that I loved! One day prior to our wedding I took the time to fill all of the vases just how I envisioned it. Flowers everywhere!
FAVOURITE DETAIL OF THE DAY: It has to be the ceremony, in the garden of De Kwekerij. Our dream was to get married in the garden of a unique location and oh it was beautiful! The vintage rugs, simple benches, flowers and green around us and the old greenhouse behind us: this was a fairytale. Our group of music friends made a beautiful ceremony filled with songs written just for us!
WHAT ADVICE WOULD YOU GIVE OUT TO A COUPLE PLANNING THEIR WEDDING? Ask for help! Don't think you can do it all by yourself. It's a cliché but a good preparation is half of the work!
MOST MEMORABLE MOMENT: Michel wrote a song for me that said it all, things he normally wouldn't say out loud. It was so loving and memorable.
ANY OTHER DETAILS THAT HELP TELL THE STORY OF YOUR DAY: Our whole day was a labour of love and we pulled it of together with our friends: styling, hair, make-up, flowers, the ceremony. As as results we felt super comfortable the whole day! Be sure to have people around you that make you feel at ease and know how to get things done.
IS THERE ANYTHING YOU WOULD CHANGE OR DO DIFFERENTLY: Looking back I would worry less. I would probably ask for help sooner in the process and also enjoy the preparations.