Every now and again a wedding comes along that I look over and really wish I was a guest at! Today's Dominican Republic wedding by ASIA PIMENTEL is definitely one such wedding! Reading their story and then about their day - it just sounds like the most wonderful celebration. The lovely CLAIRE DURAN was behind the successful planning and design of the day. Lauren & Nico wanted their wedding to be a very casual affair, featuring mostly neutrals with a hint of tropical influence. The bridesmaids were instructed to wear a long floral dress, with the result being a gorgeous fusion of prints which worked perfectly in the hotel garden setting where the ceremony was held. Between this and the reception under the open skies on the beach, there wasn't a great deal needed in the way of decor aside from florals. The result is absolutely stunning!
Gorgeous Lauren tells us, "The most important part of our wedding was that it was reflective of the different cultures coming together. Nico was born in, and grew up in the DR and his parents are Haitian. I am American and grew up overseas spending the most time in Brazil. We were intentional in wanting the wedding to be in both Spanish and English, with bits of Haitian Creyol and Portuguese. We also wanted all of our guests to feel comfortable and that they were able to participate in the wedding.
That's why we felt it was so important to find a wedding planner who was familiar with the context in the Dominican Republic and who could help us navigate planning a wedding there from DC. After lots of googling, we found Claire who is Dominican and lives in the DC area. It was such a blessing and from our first call she was so respectful and encouraging of our vision."
WHY DID YOU CHOOSE THIS LOCATION? We knew we would have the wedding in the DR since it was easier for my family and friends to travel there, than for Nico's side to travel to the US. Puerto Plata is on the north coast of the DR and is a touristy area, though not nearly as popular as Punta Cana, so it has its own airport, which made it accessible for friends traveling to the DR. It is also in between the town where Nico worked, Cabarete, and where his family lives near Santiago. In short, we were able to arrange shuttles from each of those locations. We knew we wanted the reception to be on the beach so we looked into hotels that could fit the size of our wedding and could use the beach for the reception, Blue Jack Tar ticked all those boxes. The staff were incredible and so accommodating. They felt like friends by the end of the week.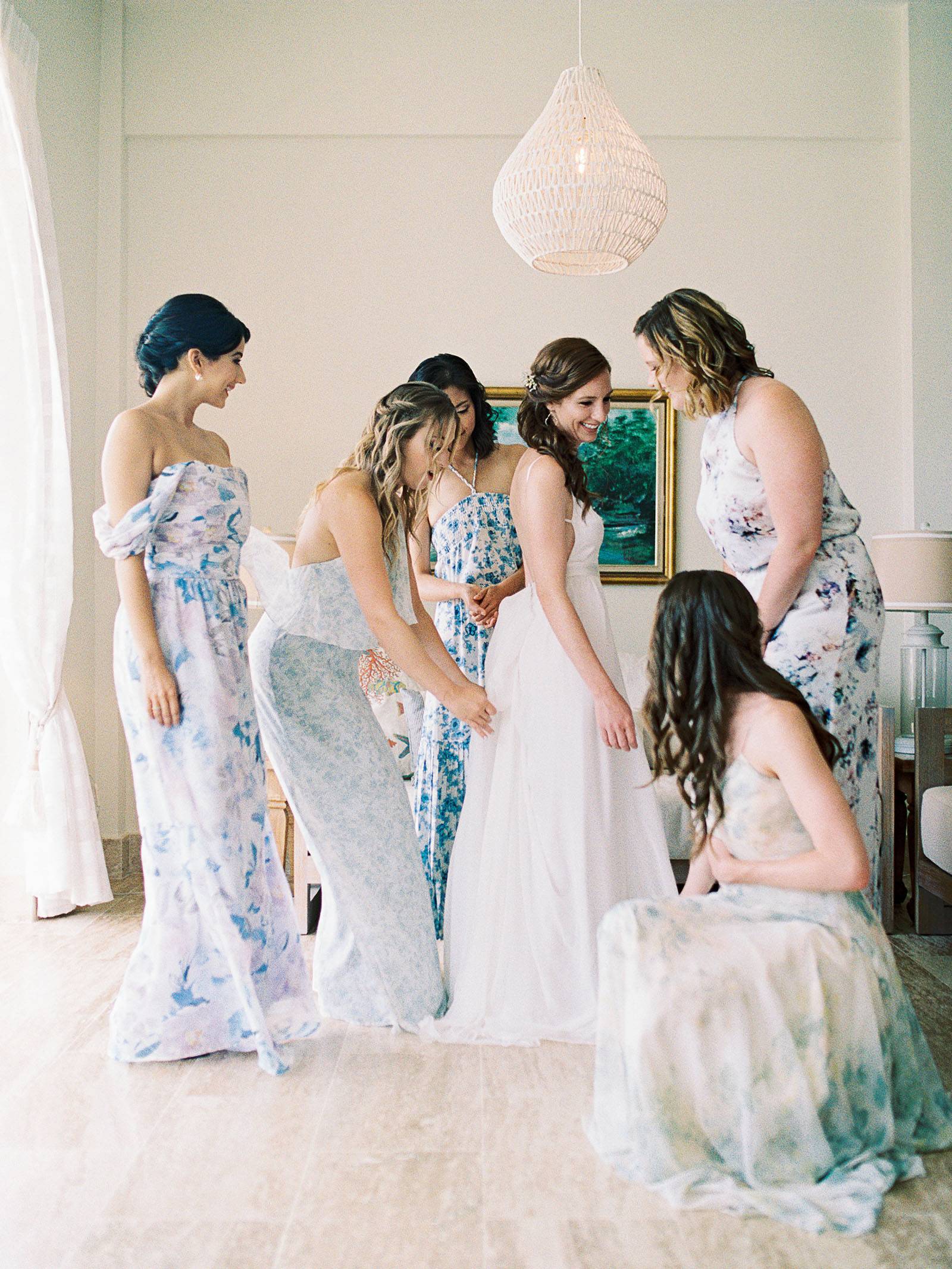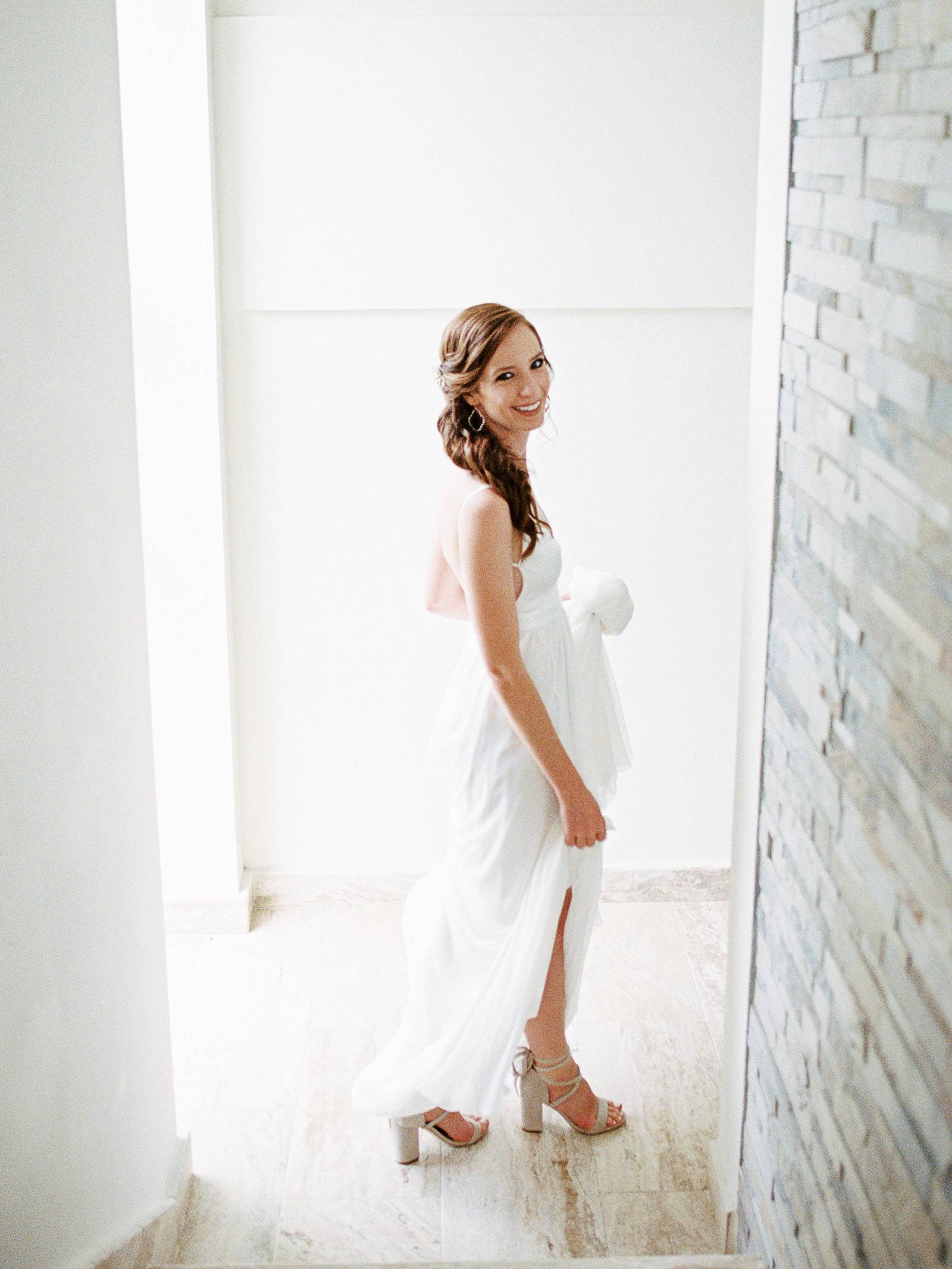 HOW DID YOU MEET? We met in the Dominican Republic at the non-profit Nico worked for (The DREAM Project). I was working on an youth entrepreneurship curriculum as a graduate student. We went dancing – and the rest is history!
TELL US ABOUT YOUR PROPOSAL: Nico proposed over dinner at a restaurant. I knew it was going to happen because he was acting very odd and looking over my shoulder the whole time. The restaurant brought us champagne and everyone clapped. He had also prepared a presentation with photos of us which he showed me later which was a special private way to celebrate.
TELL US ABOUT FINDING YOUR WEDDING DRESS: I went to four different stores. The first was Kleinfeld's in NYC which I knew was not my style – it's so big and there were so many people there – but it was a fun experience with my sister and friend to help my narrow down the type of style I wanted. I tried everything from ballgowns to more of slip style dress, and knew that I wanted something light and not overwhelming since we were having a tropical wedding. I ended up getting my dress at Lovely Bride in DC, it was the first dress I tried on but I didn't get it that day, I came back about a month later when I was leaning towards another dress and retried both on and just knew it was the one. I was scared that once I chose my dress I would keep looking and have regrets, but once I decided I never looked back once!
DID YOU HAVE ANY DIY ELEMENTS? The main DIY element, if you can call it that, was the ceremony program. This was important to us since we wanted it to be fully bilingual. While the ceremony didn't repeat every reading in both English and Spanish, we wanted the program to have the readings printed in both languages so that guests could follow along. We also stuffed little bags of confetti and taped those to the programs. It turned out great in the end, though there were a few tears in Kinkos when things weren't printing correctly!
My mom and I also made little welcome bags for the guests. These included a schedule of events, sunscreen, a little bottle of Dominican rum, Advil, an ornament with the Dominican flag and a few other little things. We saw guests using these bags all week and it was a fun touch!
DESCRIBE YOUR WEDDING FLOWERS: I admittedly know nothing about flowers and was not one of those brides who came with a list of specific flowers I wanted. I knew I wanted them to be tropical, mostly green leaves and palms, but not too cliché. We wanted a simple arch to frame the ceremony, which our florist but together beautifully. While I said I didn't want any pink, when I saw my bouquet with the pink ginger flower I was obsessed! I stand corrected on pink.
FAVOURITE DETAIL OF THE DAY: It's so hard to choose since every part was so special from getting ready, to the ceremony, to the photos. Two particularly special moments were the speeches and our first dance. In high school my three best friends and I would create short musicals or songs, and the three of them created a speech in the form of a song to perform at the reception. Teared up during our vows, but had a full on cry during this speech. It was such a thoughtful speech.
As for our first dance, we were really struggling to pick one song, so ended up going with two – the first is a slower more romantic Haitian song and the second was merengue which is really fast and up beat. In the DR apparently fireworks are quite common during weddings, this was the one element Nico insisted we had to have. I was resistant but we ended up setting them off at the transition between the two songs and it was so fun. We didn't tell any of our guests and they were all so surprised. I'm glad we made the first dance such a fun experience, it was really unique.
WHAT ADVICE WOULD YOU GIVE OUT TO A COUPLE PLANNING THEIR WEDDING? Be flexible! We planned our wedding around a ceremony venue up on a mountain, but ended up changing our venue location a few months before the wedding because it was getting logistically impossible to get all the guests to the site. It was the best decision we made (it ended up drizzling just before our ceremony and would have been full on raining on the mountain) but was a difficult process to make the decision since so much planning had gone in. And as everyone else says – have fun! Dance with your friends, eat your wedding food, try to let your nerves go. Enjoy every moment, it all goes by too quickly!
MOST MEMORABLE MOMENT? The whole week. We were in the DR for a whole week and most of our family and friends were as well. We had events Tuesday through Sunday for all of the guests. The best part was seeing out friends and family from all different parts of our lives become friends with each other. Many now keep in touch after the wedding. We're so grateful to have all of that time together, it was the best week of our lives.
ANY OTHER DETAILS THAT HELP TELL THE STORY OF YOUR DAY? The one thing I was insistent about was an open air ceremony and reception with no tent. I always knew there was the chance of rain, but wanted to risk it. Of course it was beautiful all week until the day of the wedding when it was cloudy and drizzling. We delayed the start of the ceremony a few minutes hoping it would clear up. While walking down the aisle I could feel the raindrops. In the end it held off for the most part during the ceremony and cleared up immediately afterwards. We ended up dancing until 2am. A little rain really must be good luck!
TELL US A LITTLE ABOUT YOUR HONEYMOON: Because we spent a week at our wedding, we didn't take a honeymoon right away. I have so much respect for anyone who can plan a wedding and a honeymoon at the same time! We went to Spain and Morocco this past March.
IS THERE ANYTHING YOU WOULD CHANGE OR DO DIFFERENTLY? Get a bigger dance floor!