We're loving the pretty pastel tones in this relaxed and laidback Arizona wedding by the lovely MARY CLAIRE PHOTOGRAPHY. The bride had envisioned getting married in a giant field with all their loved ones surrounding them in a circle but she soon realised this was a little ambitious, and they turned to JUNIPER WELL RANCH which offered them a fantastic venue whilst still being close enough to civilisation that people would make the journey.
"My colour palette was basically all the colours I wish I was brave enough to wear (because I usually wear all black) so I wanted everything to be light, airy, breezy, and just blend seamlessly into the natural setting that the venue provided. I wanted my girls to just be glowy and feel totally amazing. My dress was blush and my bridesmaids wore Jenny Yoo "Annabelle" tulle dresses in shades of mauve and sea foam. The groom wore navy and his groomsmen wore grey and white.
SAGE & STEM EVENT DESIGN put the whole thing together. I asked for lots of metallic and dark wooden elements, dark greens, blushes and burgundies. I just wanted the whole event to feel breezy and easy going, not too stuffy or formal. It was actually their idea to have us take tequila shots on the way into the reception so they definitely know how to get a good time started!!! I was absolutely stunned when we walked to our sweetheart table to see how it had come together. S&S didn't miss a thing when it came to the vision I presented to them.
MARY CLAIRE PHOTOGRAPHY was our photographer. Her team was so amazing. She just slipped in and out of where she needed to be. Mary Claire was able to control Michael and his motley crew so that speaks volumes about her professionalism and even her leadership capabilities! She battled the 30mph winds to get shots of my girls and I! When I saw the pictures, I relived everything about every moment. I remembered what I was thinking during at I was thinking during different parts of the wedding. I remembered conversations I had with guests. I couldn't have asked for more."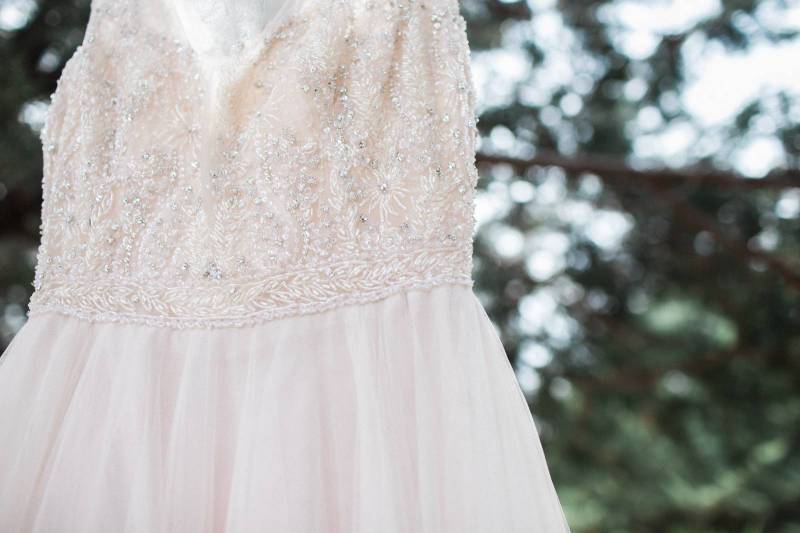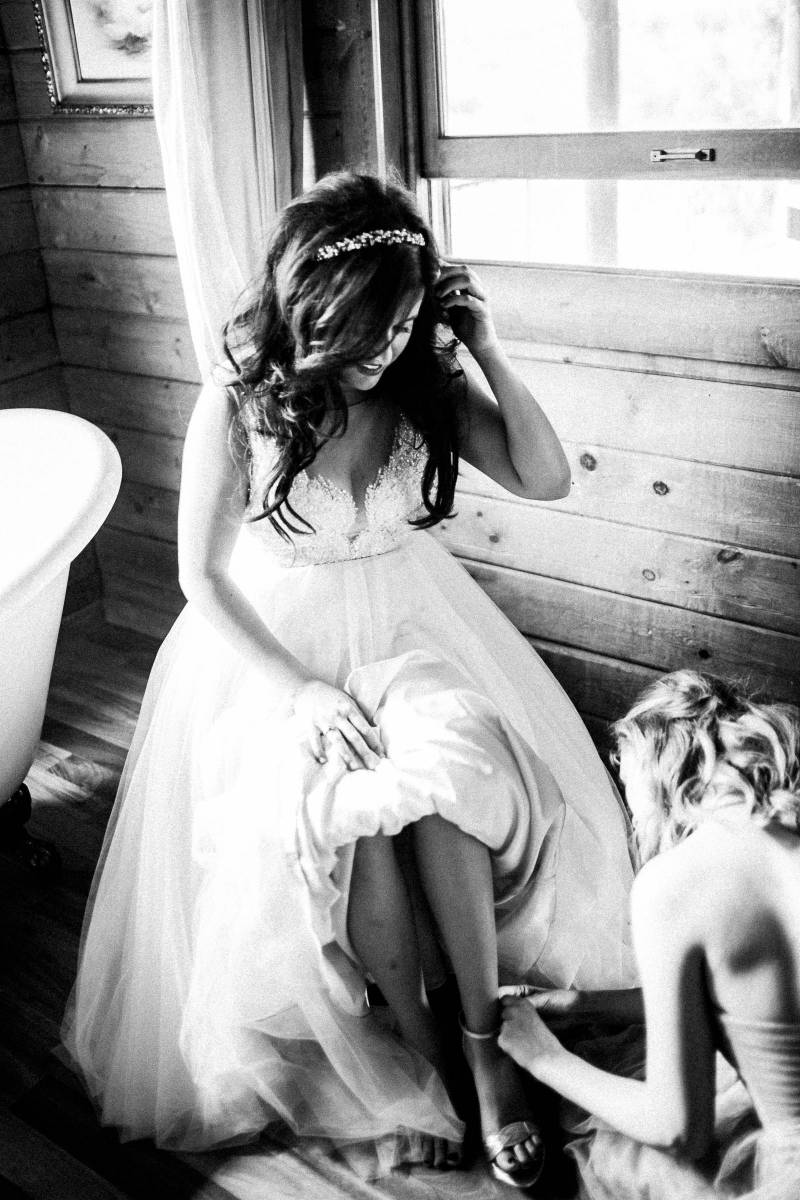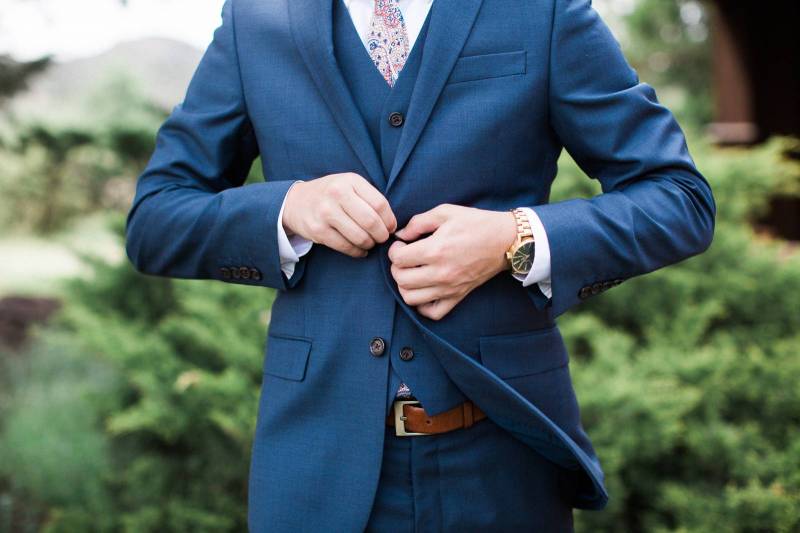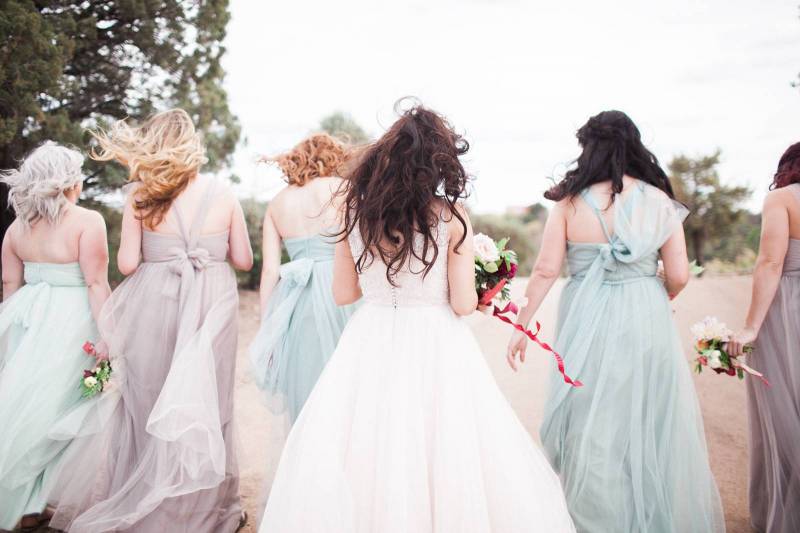 HOW DID YOU MEET? We met in 2008 at a going away party I was throwing for another guy - sorry I'm not sorry! Michael ended up moving away to Portland for a couple months after that but when he got back, we picked up where we left off and the rest is history!

TELL US ABOUT YOUR PROPOSAL: Michael proposed overlooking the ocean at Bacara Resort in Santa Barbara, California. It was incredible.
TELL US ABOUT FINDING YOUR WEDDING DRESS: I found my dress (Kaliah by Watters) before I even got engaged. I KNEW it was the one. It reminded me of a Paolo Sebastian gown from years ago that I knew I'd never find in real life and so when I saw Kaliah I had to find it! I heard that Mariee Bridal in Scottsdale would be having a Watters trunk show so I called them to see if the gown would be there. They told me it wasn't going to be available as part of the show but that I should come in anyways. When I walked in for the trunk show, they took me back to a dressing room and to my absolute astonishment, Kaliah was hanging up in the room for me! They finagled a way to get the dress shipped in for me and surprised me. I tried on 3 other dresses just for good measure but I purchased the gown that. I tried on 3 other dresses just for good measure but I purchased the gown that day. Carrie and James, the owners, are just the most lovely, caring people. I had to have 9 fittings to get it just PERFECT. I have my fairy godmother seamstress, Cindy Desjardins who works out of Mariee, to thank for that. She was a dream come true.

DESCRIBE YOUR WEDDING FLOWERS: Our flowers were created by the OUT OF CONTROL amazing Jami Pitts of Posies Florals. She took my ideas, ran with them, and made the arrangements turn out better than I'd even expected. Peonies are my mom's favourite flower so I knew I wanted to incorporate them in my bouquet and all the arrangements. I wanted deep rich burgundy peonies alongside peach and cream roses, with deep forest-y greenery.
FAVOURITE DETAIL OF THE DAY: If I had to pick one, it would be seeing Michael wandering around nervously before the ceremony. He looked so handsome and he had no idea I could see him. His friends were gathered around him just keeping him calm and collected. It was amazing to witness all the love and support.

WHAT ADVICE WOULD YOU GIVE OUT TO A COUPLE PLANNING THEIR WEDDING? One piece of advice I would give couples planning their wedding: you will question everything (your sanity, your budget, your relationships with friends and family, I mean everything) but you won't even notice when things don't go the way you planned, so just relax, enjoy your night together, enjoy all your guests, and dance like you've never danced before!
MOST MEMORABLE MOMENT? In our friend group, we have a tradition we call "Icing" each other. We'll hide a Smirnov Ice somewhere and the first person that sees it, has to get down on one knee and chug it. Instead of a garter toss, my bridesmaids fashioned a garter out of ribbons and I hid a Smirnov Ice under my dress. When the time came, instead of finding a garter, Michael found a Smirnov Ice and had to kneel and chug it in front of everyone. His friends literally lifted him up in the air like their team had won the Stanley Cup. It was SO funny and amazing.