Saturated hues, edgy Aztec-inspired design elements and a foodtruck bearing beer-battered chicken and Belgian waffles made for an affair as breathtaking as it was full of fun as Andy and Marissa said their I do's. After Andy proposed to Marissa in Ojai, California they had their hearts set on getting married there and after some thorough research, Calliote Canyon was the first venue they visited and instantly knew it was perfect. They proceeded to design the style of their wedding around the location which felt like a secluded retreat in a canyon covered with greenery. Thanks to Southern California Photographers SHANE & LAUREN PHOTOGRAPHY for sharing these beautiful images of their day with us - it sure looks like a wedding we'd have liked to be a guest at! And can we just talk about how adorable these pups are? Oh and before I hand you over to the gorgeous bride, I'm digging the palette of the bridesmaids' dresses - it's been a while since I've seen something like this!
Shane & Lauren tell us, "We especially love the way the couple chose to pair statement-making gem tones with subtle, muted hues, creating a balance that was both desert-chic and dreamy-forest at once. Bridesmaids donned flowy dresses in varying super-saturated shades of emerald and teal, while groomsmen sported chic grey suits popped by deep matte navy ties. Silver Dollar Eucalyptus, blush garden roses and pops of bright pink peonies were gathered in wild, unstructured arrangements and added a soft touch to the oh-so edgy affair. Handmade origami animal mask photo-booth props and hanging ethereal arrangements of perfectly placed origami birds made forAsian-inspired design elements worth writing home about.
Clean, simple typography dressed everything from the couple's understated invitations to the oh-so-modern custom wood boards used throughout the reception that shouted lively messages like, "drink up" and "everybody dance now." And dance, everyone did-to the sounds of the L.A.-based boutique DJ collective group Dart DJ and its all-vinyl set. (Does it get any more hip than that?). From the food truck to the florals, Marissa and Andy's affair managed to be both breathtakingly beautiful and remarkably lively. But, above all else-with its Aztec rugs and unforgettable Origami, with its subtle shades and saturated hues-the event managed to strike a design balance that we won't soon be able to shake."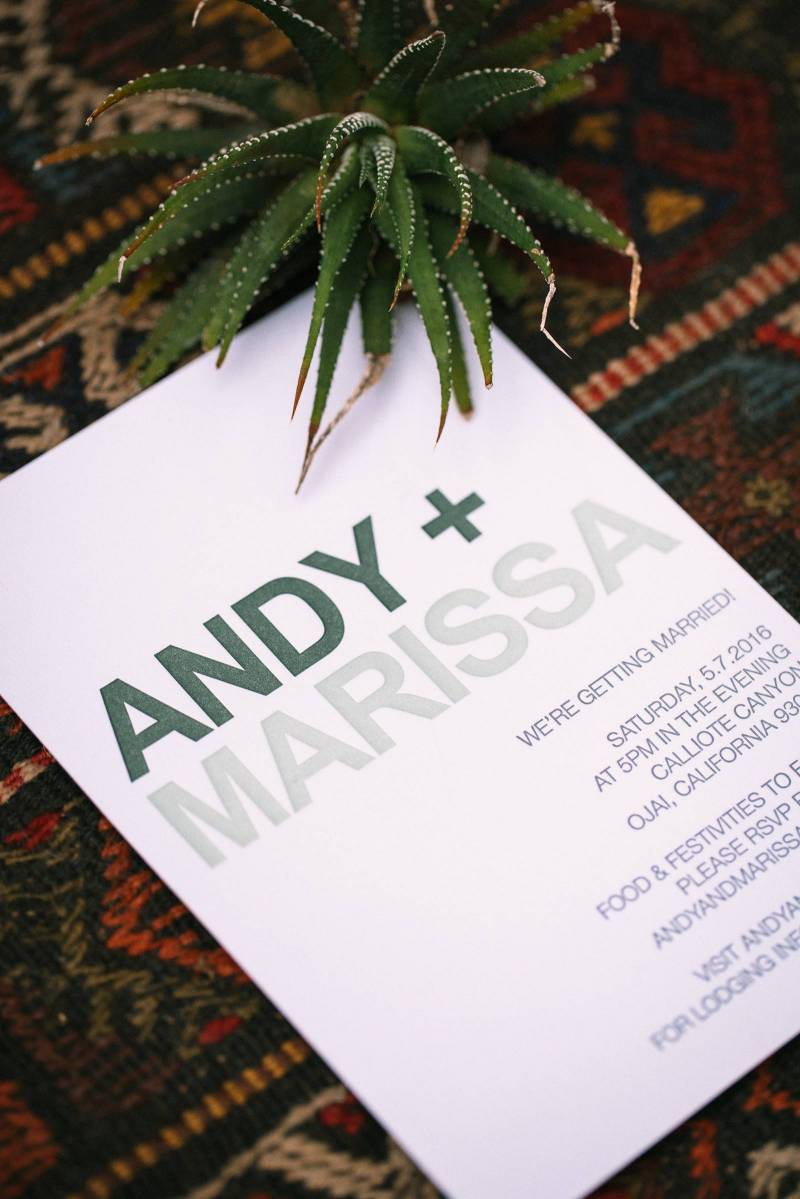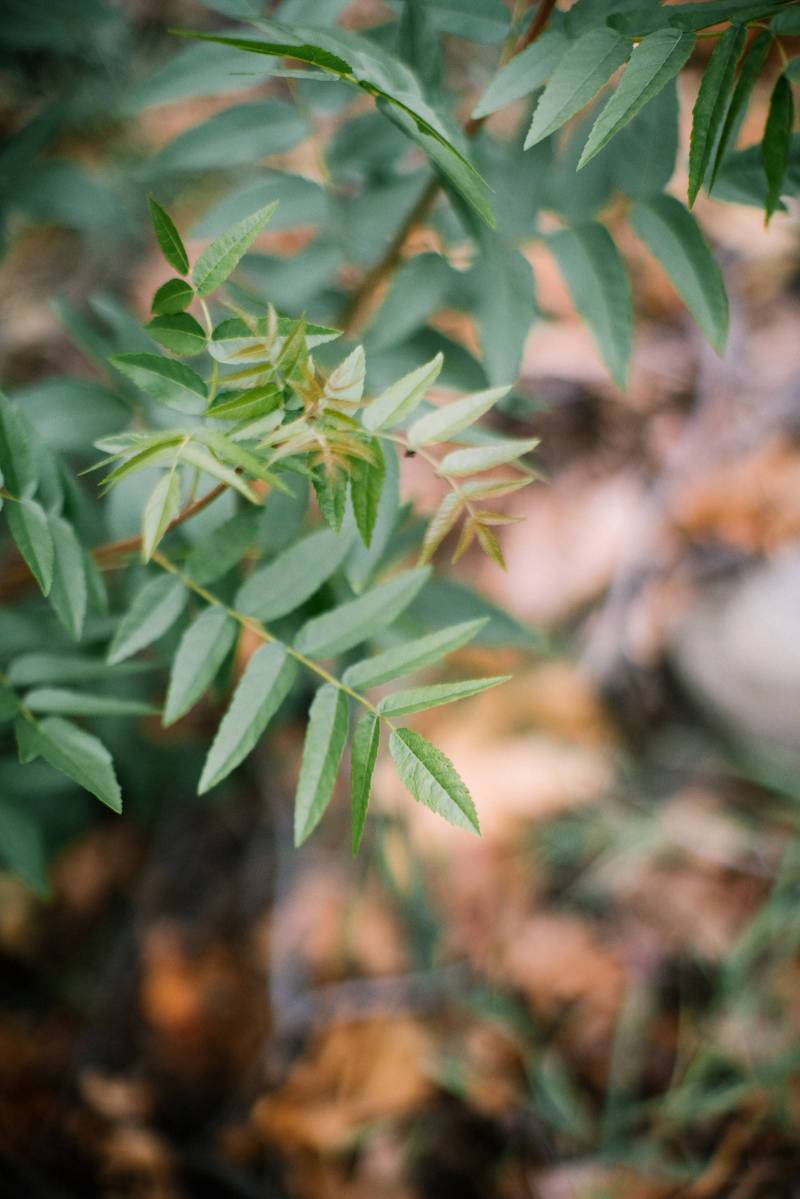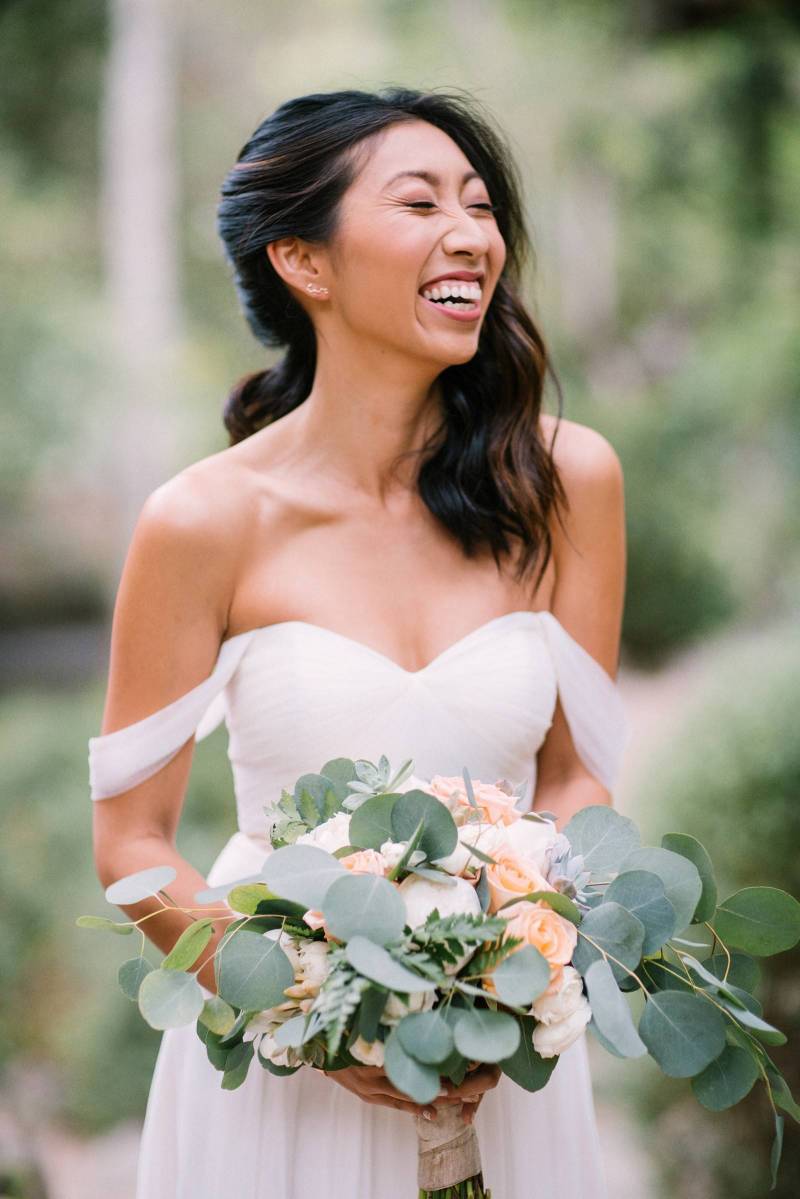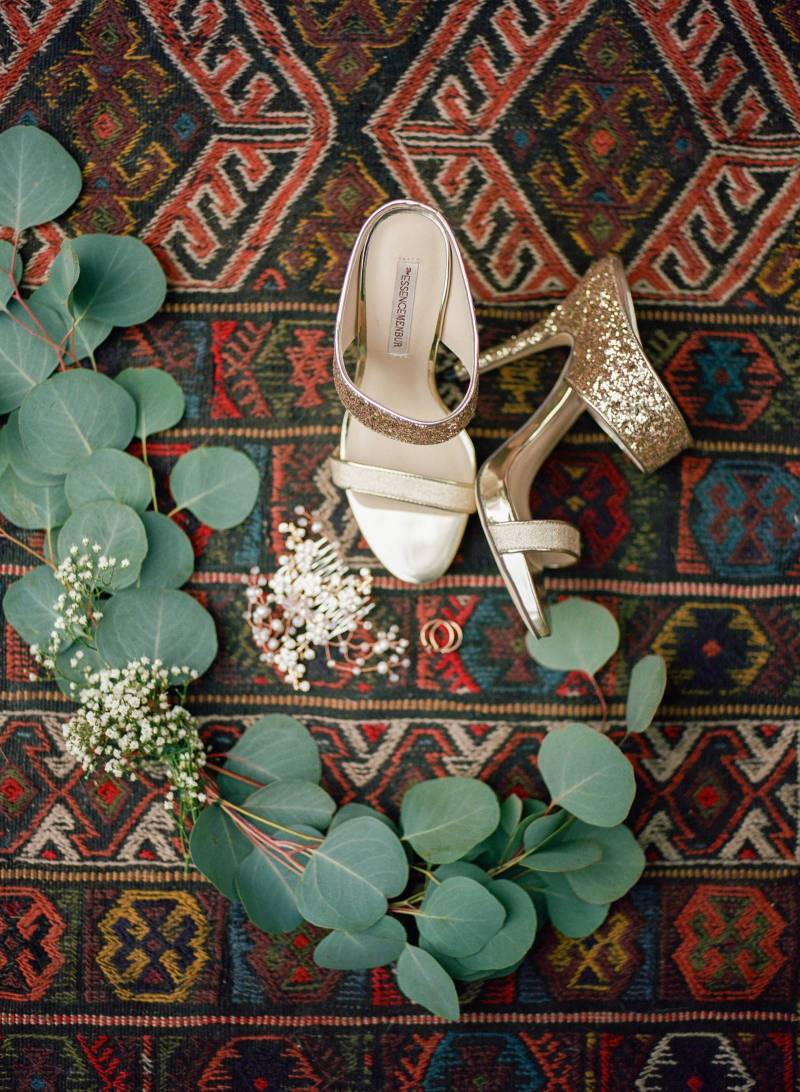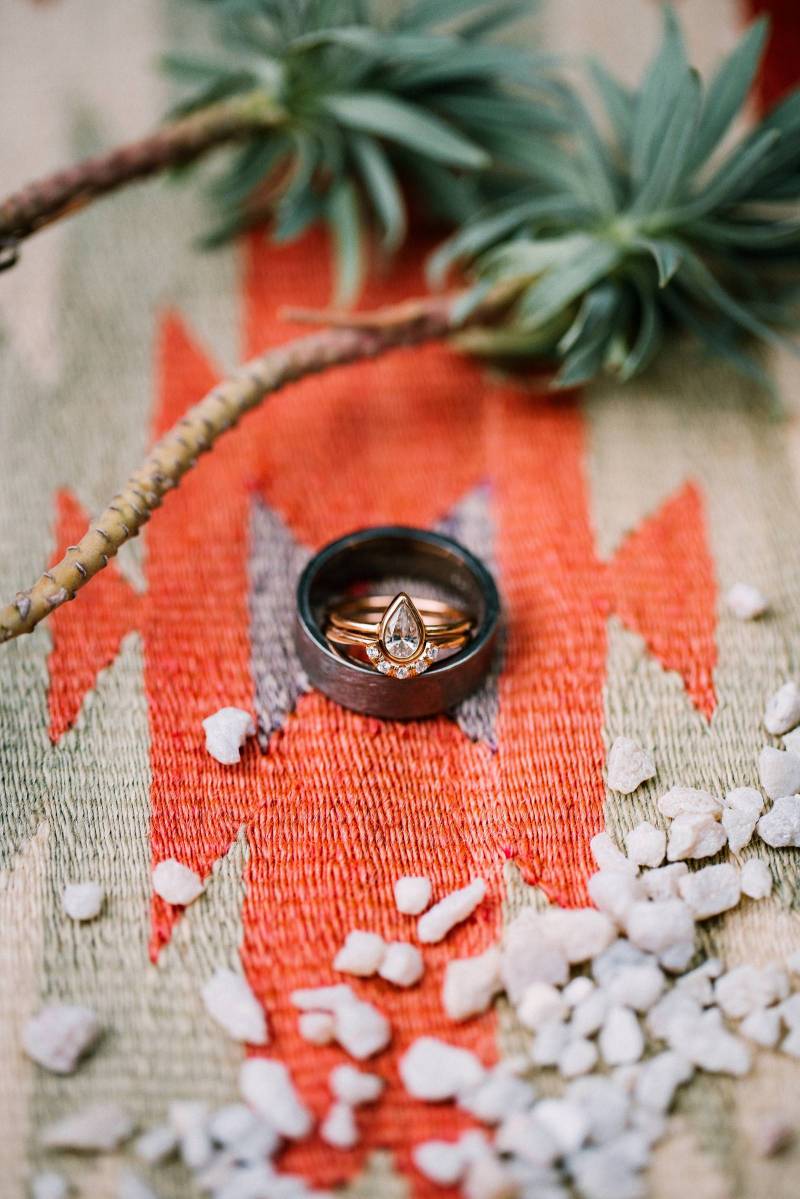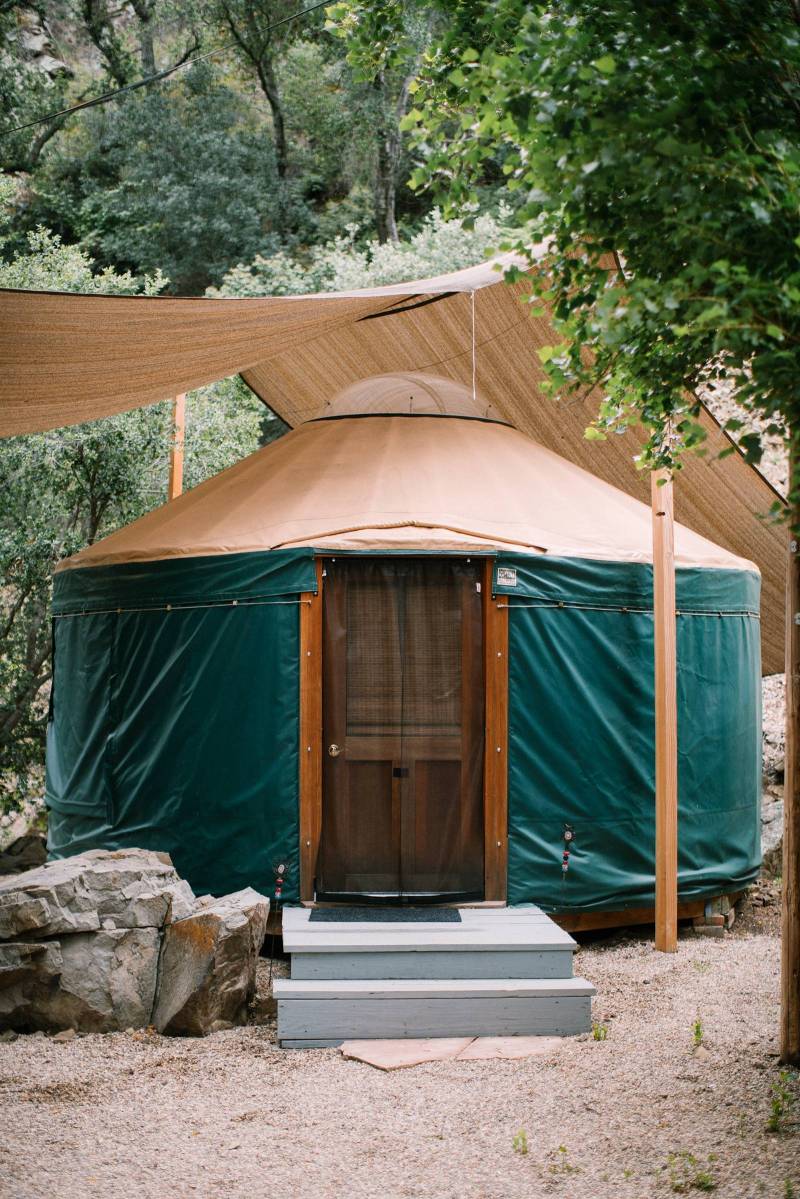 HOW DID YOU MEET? We actually met through Craigslist. Andy was looking to replace a roommate moving out of their house, and Marissa responded to the Craigslist ad! We lived together for a few months and became good friends before Andy moved to Seattle for the better part of a year. When he moved back to LA, we started dating almost immediately.
TELL US ABOUT YOUR PROPOSAL: Andy surprised me with a weekend getaway to Ojai, CA, a place I'd been wanting to visit for a while. After spending the morning hiking, Andy sat me down and played me a video he'd created as a compilation of all our amazing travels together for the last five years. I still had no clue what was happening until after the video was done and he dropped down to one knee.
TELL US ABOUT FINDING YOUR WEDDING DRESS: I visited so many dress shops but had so much trouble finding a dress that really felt like me. Finally, my stylist at BHLDN helped me piece together my perfect dress by combining a bridesmaid dress and a skirt. I also turned the sash into sleeves, which really made it feel more unique. My tailor was so helpful in making my dream dress actually happen based on what I had pictured in my head.
ANY DIY ELEMENTS? Lots! We went to the LA flower market the day before to get flowers for the bouquets, we cut succulents from our back yard for the table settings, and cleaned out several Goodwills of glass vases. We also designed the save-the-dates, invitations, and website, made giant plywood signs for directions, and made an origami crane hanging.
DESCRIBE YOUR WEDDING FLOWERS: I really wanted them to fit the setting so we went with lots of greenery, succulents, and a few pops of colour from roses and peonies. We got everything from the LA flower market, Trader Joe's and our own backyard. Our wedding coordinator Rachel arranged the bouquets the night before, and they turned out perfectly.
FAVOURITE DETAIL OF THE DAY: Our pups stole the show at our ceremony, as the flower girl and the ring bearer. We loved seeing them dressed up and being a part of the whole day, and it just made sense given what a big part of our lives they are.
WHAT ADVICE WOULD YOU GIVE OUT TO A COUPLE PLANNING THEIR WEDDING? Figure out what's really important and don't stress about the little things. Our objective was to throw a really fun party for our family and friends. We focused our budget and time on the things that would make that happen (food, DJ, venue) as well as on the things that would help us remember the day (photography and videography). All the other details were great, but we didn't stress about them because we knew nobody would remember what our plate settings looked like.
MOST MEMORABLE MOMENT? I'd love to say something romantic like the moment we saw each other while I was walking down the aisle, or our first kiss, but in reality it was probably the best man speech. He had two of Andy's groomsmen re-enact the story of how we first started dating, which included one groomsman donning a wig to play Marissa. It was hilarious and memorable, to say the least.
ANY OTHER DETAILS THAT HELP TELL THE STORY OF YOUR DAY? Our favourite thing about the venue was that there was actually room on the property for us to stay with our entire bridal party for the whole weekend. It made things so much easier to not have to coordinate transport to the ceremony or the reception, and we were able to celebrate and relax for the whole weekend with our closest friends.
IS THERE ANYTHING YOU WOULD CHANGE OR DO DIFFERENTLY? We would have loved to change the constant threat of rain looming over our heads the entire week leading up to the wedding! Really though, everything couldn't have been more perfect (it didn't actually rain) and we wouldn't change a thing.
Thanks again to SHANE & LAUREN PHOTOGRAPHY for sharing this fun day with us and we wish the couple all the best for a happy future! If you're looking for a Southern California Photographer you can find some fabulous talents in our vendor guide.