Erica and Andrew wanted their North Carolina wedding to feel like 'home'- relaxed and fun to reflect their personalities. Their venue of THE OAKS AT SALEM was in the hometown the bride grew up in and close to their homes, so the familiarity was comforting. Holding their wedding on a Sunday, the chose to have a southern style dinner and capitalise on the southern charm of the venue. EMILY MARCH was along to capture these gorgeous images.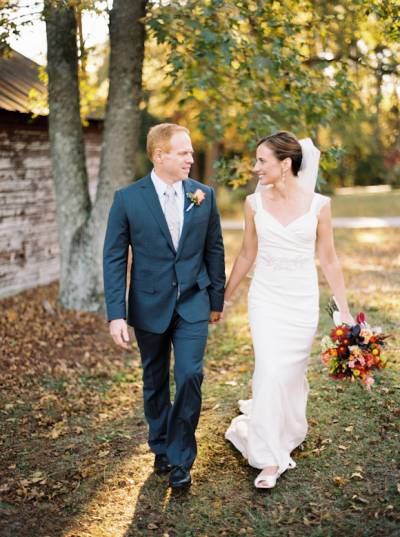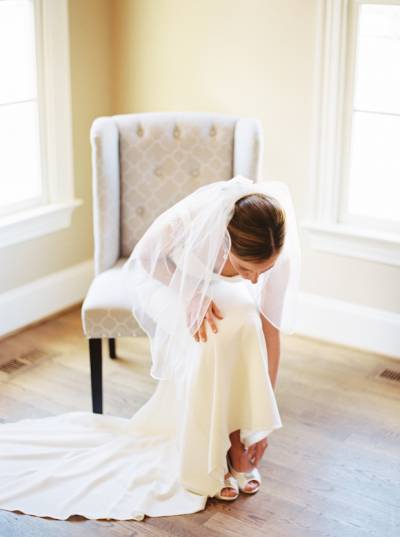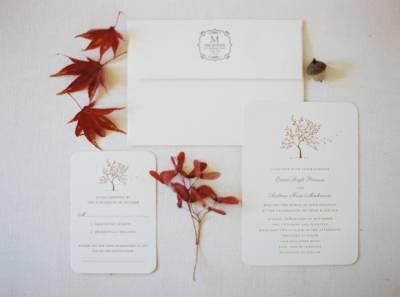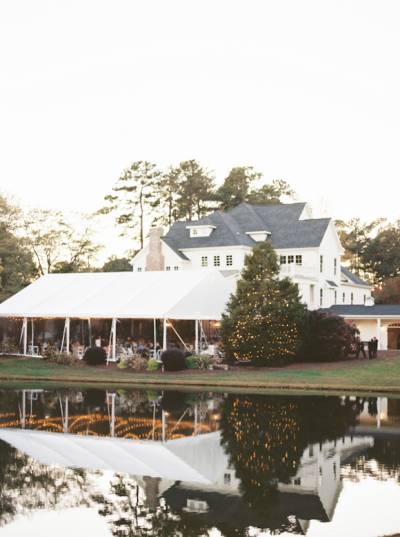 HOW DID YOU MEET? Andrew and I met in a run club at our gym. We were helping with a training group for "Commitment Day" which is a 5k run on New Year's Day. It was November 2013. We went on our first date in December & were married the following November 2, 2014.
TELL US ABOUT YOUR PROPOSAL: Andrew took me to Colorado to meet his family over the July 4th Holiday weekend (yes, I met his family & got engaged on the same trip!). He'd been raving about the fireworks at Grand Lake. It's way up in the mountains, and they shoot the fireworks off over the lake - an awesome spot...and chilly! We wore coats and gloves and blankets! We took three of his nieces with us to see the show. About 10 minutes in, there was a big blast of fireworks - like a grand finale but too soon for that. Then it all went dark! Everyone was still sitting there - waiting for the sky to light back up but it never did. After about 5-10 minutes, people started packing up their chairs & blankets. Andrew decided then it was now or never - and he got on his knee and said, "It wasn't supposed to go like this, but I'm hoping the fireworks never end with us...will you be my wife!?!" It was so adorable and sweet. Of course I said yes, and we were so excited his nieces were there to hug and be excited with.
Turns out the grand finale of the fireworks detonated too early - and that is why they ended so soon. His parents' got copies of the little hometown newspaper article about it and gave them to us at our wedding.
TELL US ABOUT FINDING YOUR WEDDING DRESS: I had gone to one other place and was overwhelmed by all the options - every wedding dress is gorgeous, how could I say I didn't like them? The 2nd trip was much better/relaxed - we went to Lana Addison Bridal in Cary, NC - they have this adorable boutique in an old historic home. The walls are lavender and calming--everything was nice and relaxed. It was just my mom and me. The sales person brought me a few dresses to try and when I found THE ONE she could tell...I lit up and she ran out of the room and brought back a bunch of sparkly sashes to try. We found the perfect one and it was everything I wanted - a little bit of lace, a little bit of sparkle, sophisticated & feminine. Mom and I got to 'cheers' with some champagne! It was really a fun day!
DESCRIBE YOUR WEDDING FLOWERS: Ahhh GORGEOUS! One of my favorite parts of our wedding! I wanted LOTS of color, bright pretty fall colors, but nothing too autumn-like. I think Marsha's designs were amazing! My bouquet had over 20 types of flowers. I have a gorgeous picture taken by Emily printed and framed in my house so I will never forget how they looked. SO special!
FAVOURITE DETAIL OF THE DAY: This is so hard because I, of course, loved everything about the day... I really love how the reception space looked all put together - the linens, flowers, centrepieces & favors just looked so beautiful. I of course didn't get to really see much of it but when I saw the photographs I was blown away at how it all turned out.