With many of their guests coming from out of town, Amy & Doug wanted to highlight the best part of Northern California's wine country. The farm-to-table food and wine on offer at BARNDIVA was just the ticket for them to do so. The couple wanted a laid back environment which would allow them to interact with all their guests. Captured by Northern California wedding photographer ALICE CHE, the captivating dinner space was everything they were hoping for; greenery, overhead string lights and long farm tables. "We were always focused on what felt right and true to our taste, rather than what was expected at weddings. Ultimately, we wanted a warm, wine country wedding, with some modern elements."
WHY DID YOU CHOOSE THIS LOCATION? When Amy was in law school in San Francisco, we always loved the town of Healdsburg for a local getaway. It's really known as a foodie town. We were familiar with BARNDIVA as a restaurant, particularly for its cuisine (recently awarded a Michelin Star!). The menu is fresh and elevated without being pretentious. The atmosphere feels enchanting and "tucked away" - every space is unique, sprawling grounds with overhead greenery for al fresco dining, eclectic art in the A-frame barn, and plenty of thoughtful details (truly a feast for the eyes). We initially toured a few vineyard-oriented wedding venues, but quickly realised we wanted a taste of wine country without too rustic of an environment. We liked that Barndiva pulls indoor and outdoor, modern and organic elements. We also liked that Barndiva is located right in town, surrounded by hotels and shops, so everything is within walking distance.

HOW DID YOU MEET? Where to begin... Doug and I met while working in New York in 2016. He likes to tell me he knew I was the one after our first date. And I knew he was the one, when we didn't hesitate to stay together while I attended law school across the country! We were bicoastal for nearly three years and now live in Manhattan. I really think being from opposite coasts aligned quite nicely with our taste / vision for the wedding, laid back yet some sophistication. We tied the organic and garden features of wine country with a few contemporary and elevated elements. Ultimately, our goal was to create a bespoke, unique, and romantic setting for our guests (who attended from all over the country). We love to travel and have three places in common where we both have lived - Rome, New York City, and San Francisco. We always knew we would get married in Northern California as the destination towns in the area hold a lot of meaning to us: we have taken countless weekend trips to Healdsburg and we got engaged in Carmel.

TELL US ABOUT YOUR PROPOSAL: We were on a weekend trip in Carmel, staying at Carmel Valley Ranch (one of our favourites!). Doug suggested we take a walk through the grounds before dinner. We went through vineyards and up a hill through the woods... when we arrived at the top, there was a large wooden platform with champagne and flowers waiting...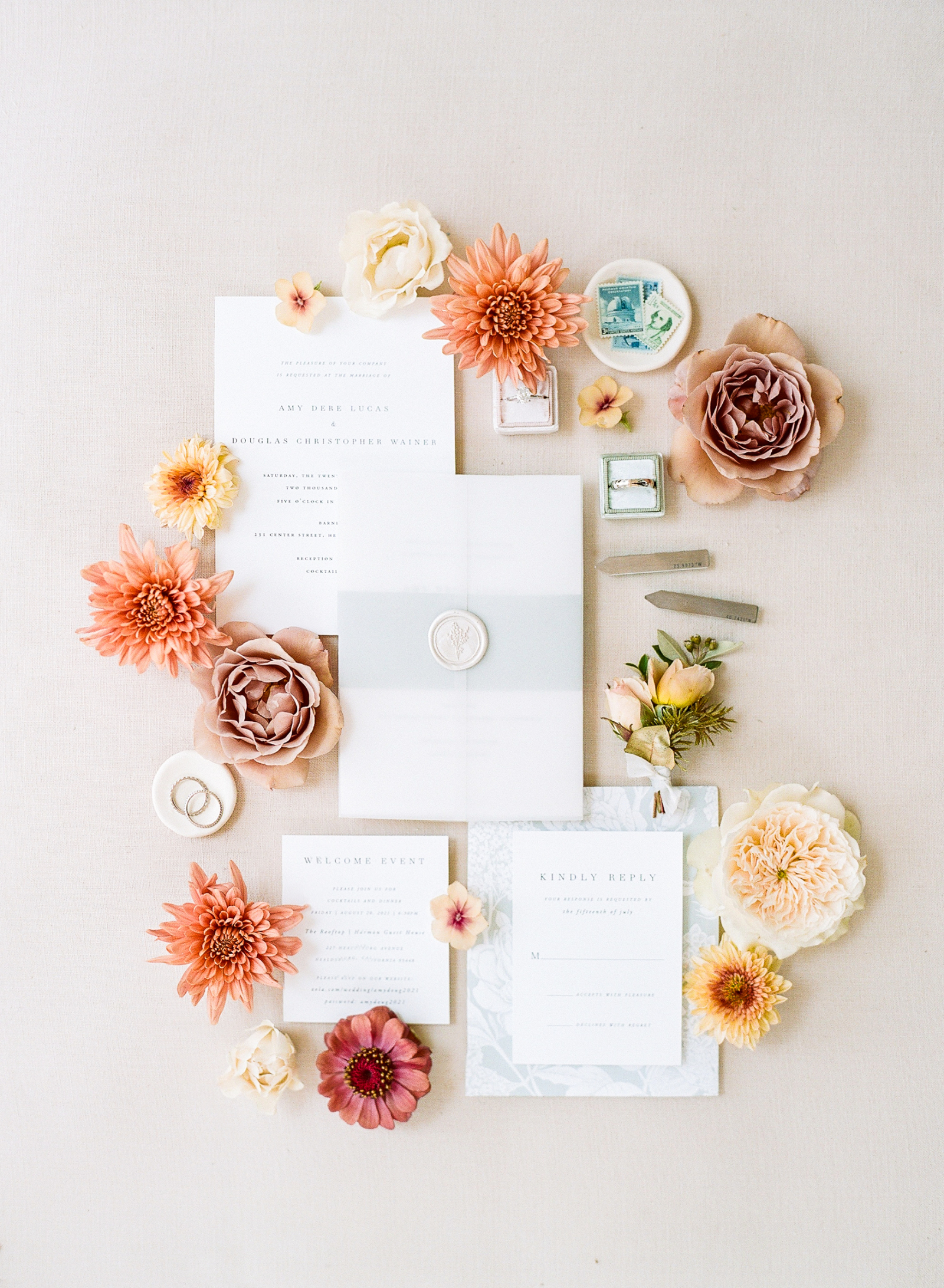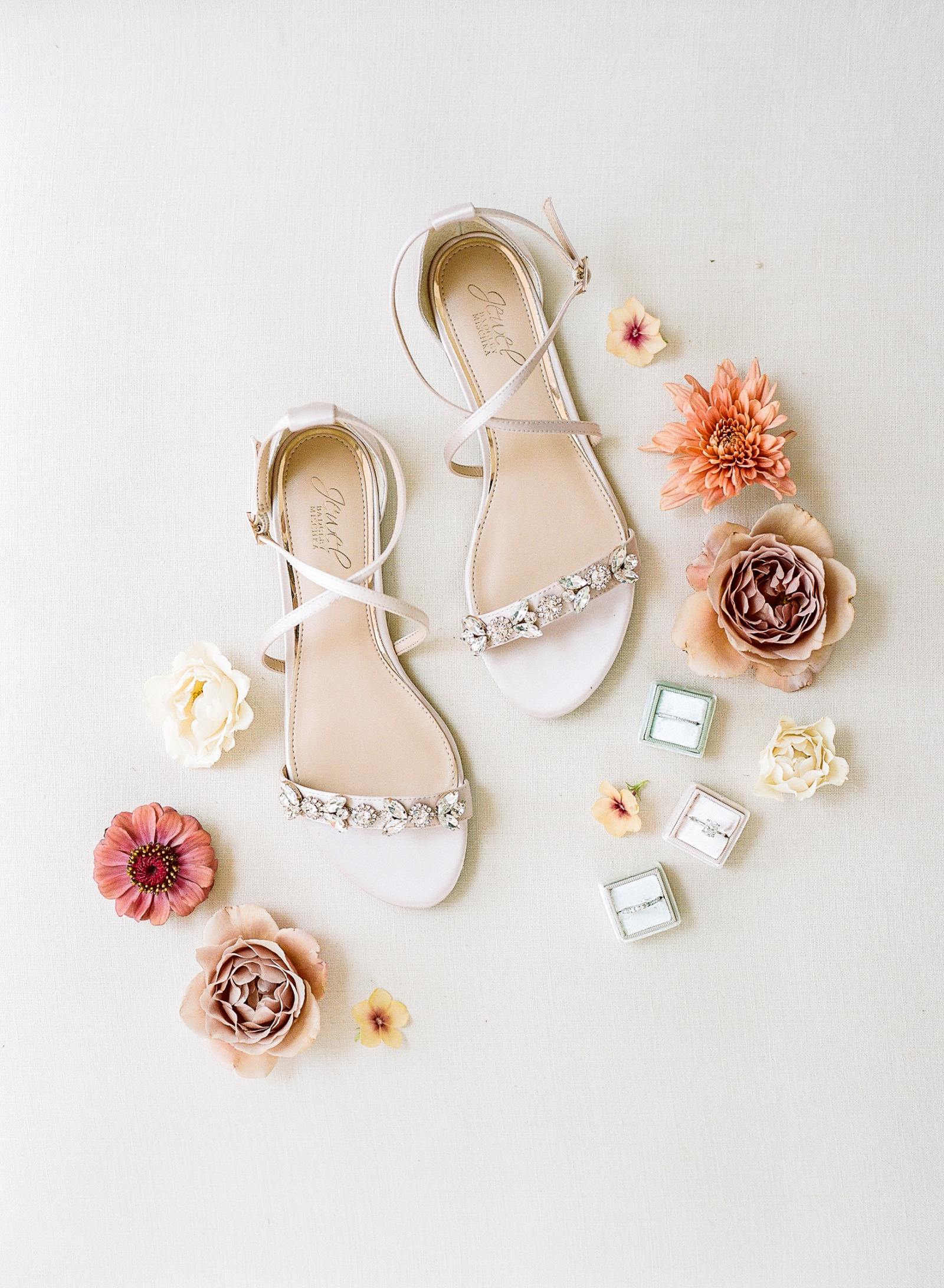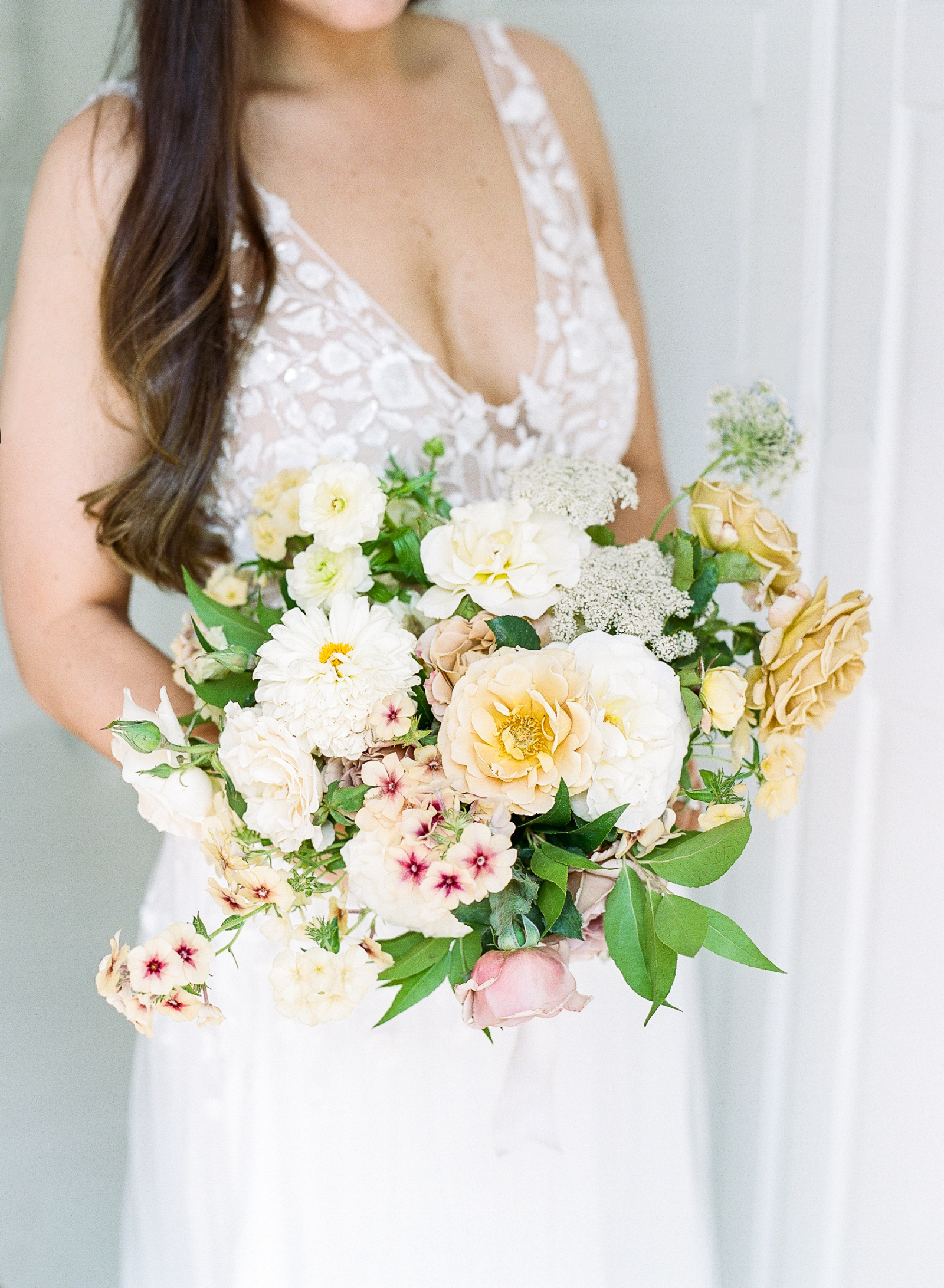 TELL US ABOUT FINDING YOUR WEDDING DRESS/ATTIRE: We wanted our attire to match our venue in the sense that it was not terribly formal (no tuxes or ball gowns). Otherwise, we went in pretty open minded. I really liked one designer, ALEXANDRA GRECCO. All of her dresses are beautiful. I was down to two and ultimately picked the one I thought was more comfortable and suited for wine country. The gown had floral and detailed beading that aligned with lots of the greenery in our wedding space. Ultimately, on the day of, I think we just wanted to feel like ourselves.
DESCRIBE YOUR WEDDING FLOWERS: For the altar, we had a little nest surrounding us - pastel saturated blooms, a very summer feel. We wanted it to have a "grows here" look, with some greenery up the gates and along the stairs. For the reception area, we knew we would have long farm tables with white table cloths. I love the design of the chairs at Barndiva - they're a bit detailed, so that along with the overhead greenery, we didn't want florals that were too loud or overwhelming. We went with large arrangements along with bud vases - organic, loose, seasonal florals. Simple and elegant was our goal.
FAVOURITE DETAIL OF THE DAY: I loved the entire dinner space - the large, exposed, wooden farm table in the middle with the white table cloths surrounding. I love the tiles on the bar right next to the dinner space. Above all else (which you can probably tell from the amount I've mentioned it so far), I really love the greenery above the dining area along with the trees lining the aisle. I liked that our wedding favours (bottle openers) were placed at each table setting for each guest. I also loved our ice cream cart! (Shout out to The Noble Folk, a local spot in Healdsburg).

WHAT ADVICE WOULD YOU GIVE OUT TO A COUPLE PLANNING THEIR WEDDING? Do what feels right to you. We had some non-traditional elements - no bridal party, no cake, an open air venue with the option to dance (or not). The most important part is the union of two people and the marriage being formed. Also - the day flies by so quickly, an absolute whirlwind, so soak in every second!

MOST MEMORABLE MOMENT? All the sentimental ones - the first look, our vows, speeches from our friends and family.
Also loved having a Welcome Event the night before. We rented out the rooftop at Harmon Guest House and I think that really set the tone for the weekend. Everyone got to meet and enjoy themselves - a nice welcome to wine country. That was when it really hit that all these people from different chapters of our lives were in one place to celebrate! Amazing.
WHAT ASPECT OF THE WEDDING WAS THE MOST IMPORTANT TO YOU BOTH? We wanted our guests to enjoy themselves and we wanted to treat them to a nice weekend without a lot of the obligation that comes with a wedding weekend. We tried to make it unique, laid back, and enjoyable.
TELL US A LITTLE ABOUT YOUR HONEYMOON: We actually chose to postpone our honeymoon due to COVID - we would love to go to Japan in 2022, but we'll see. Instead we took a "minimoon" the week after the wedding. We went to Turks and Caicos and laid on the beach for a week straight - it was just what we needed.
IS THERE ANYTHING YOU WOULD CHANGE OR DO DIFFERENTLY? I probably would have taken off more time before the wedding - the week leading up, I was a bit jet lagged, running around finishing last minute beauty appointments and wedding items. I then did a "mini bachelorette" wine tasting day the Thursday before the wedding. That along with the Welcome Party on Friday, I was really exhausted the morning of the wedding! Of course, in hindsight, none of that mattered, but it's one thing I would consider.
A huge thank you to Northern California wedding photographer ALICE CHE for sharing this beautiful wedding with us today. A born and raised Bay Area girl, Alice has always been a huge lover of fairytales and happily-ever-afters, so it didn't really surprise anyone that she ended up being a wedding photographer! "I love being surrounded by all the love, laughter and tears on a wedding day and am always so honoured that my couples trust me to document their special day. My favourite thing about weddings is my couples themselves and how they personalise their weddings to make them unique to their own love stories." You can see more in her portfolio here.