With The Redwoods as their backdrop for the reception, Esther and Sam got married in the quaint area in Santa Clara. The two met at a church camp in the Redwoods and it was a great representation for their relationship. The wanted a modern yet rustic look to their wedding and worked with Frances from CHARMED EVENTS to incorporated their love of nature. Including their adorable pup in the festivities along with 200 guests, the two were showered d with loved from their friends and family. KRISTINE HERMAN captured their beautiful day.
HOW DID YOU MEET? We first met at a retreat site where both of us were attending weekend retreats for our respective churches. Sam was playing basketball when he noticed me taking care of the many kids scrambling over the playground. He debated with his friends on how to meet me and later that day gathered the confidence to introduce himself to me. We briefly chatted and after the weekend got to know each other through Facebook messages and texting. Things didn't work out and we moved on. It was only two years later that we had the opportunity to give each other another chance.
TELL US ABOUT YOUR PROPOSAL: (our proposal from Sam's perspective) One of my biggest fears leading up to the actual engagement was that I would be unable to conjure up a remarkable proposal. Blame it on the caricatural nature of our social media lives and unreal expectations depicted in the media. I disclosed this concern to Esther one day when we were walking along Half Moon Bay and she assured me that it would all work out if we keep it intimate and meaningful, ie something that was significant and only involved the two of us.
I decided to slowly tease the proposal. We would take another trip to Half Moon Bay, go kayaking during the sunset on Esther's birthday, and finally catch the sunrise morning after. Basically, things that I normally do not choose to do. Upon suggesting the sunrise, Esther suspected my intent so I had to come up with a way to throw her off the scent. In my stunned state, I quickly retorted that I did not purchase the ring yet. I could tell Esther was upset but it was a necessary ploy, she no longer suspected a proposal, only the extent of my stupidity.
October 15th has long been a momentous date in our relationship. Four years ago, it was the day she rejected me. Two years ago, it was the day she realised she wanted to date me. This year, it would be the day we became engaged. Throw in a sunrise symbolising new beginnings, some heartfelt, cheesy lines, and two freezing people, I took a knee and popped the question.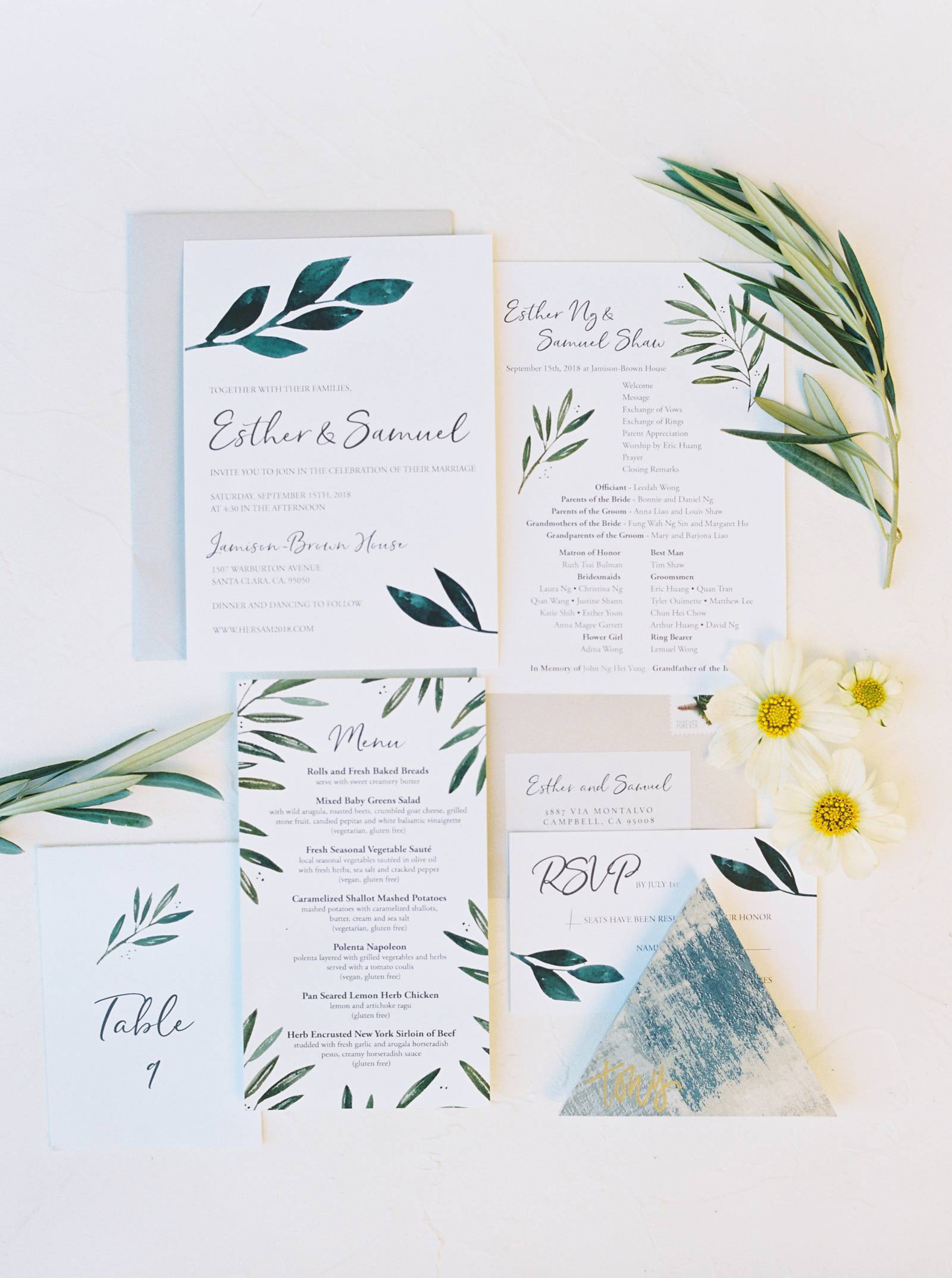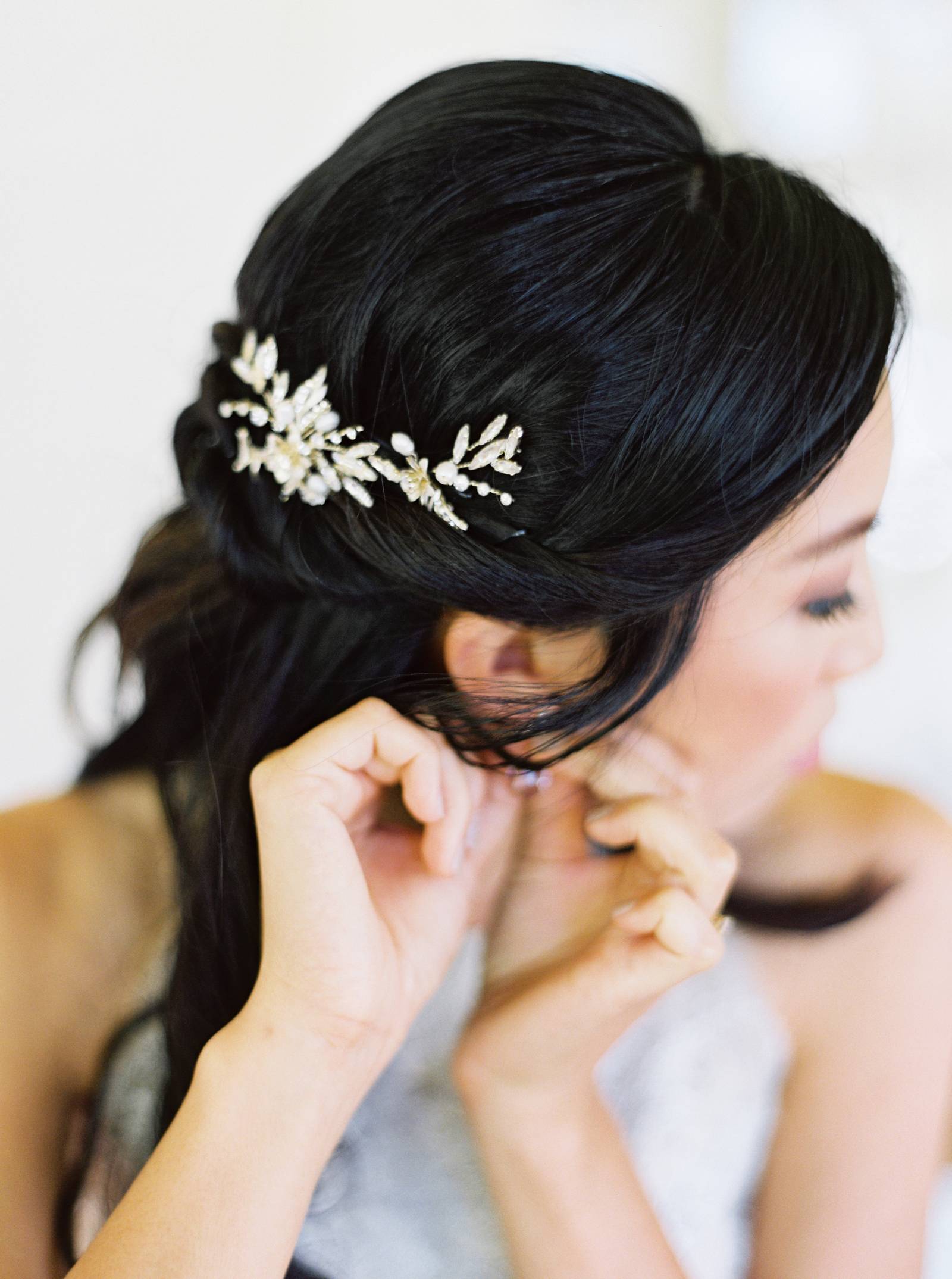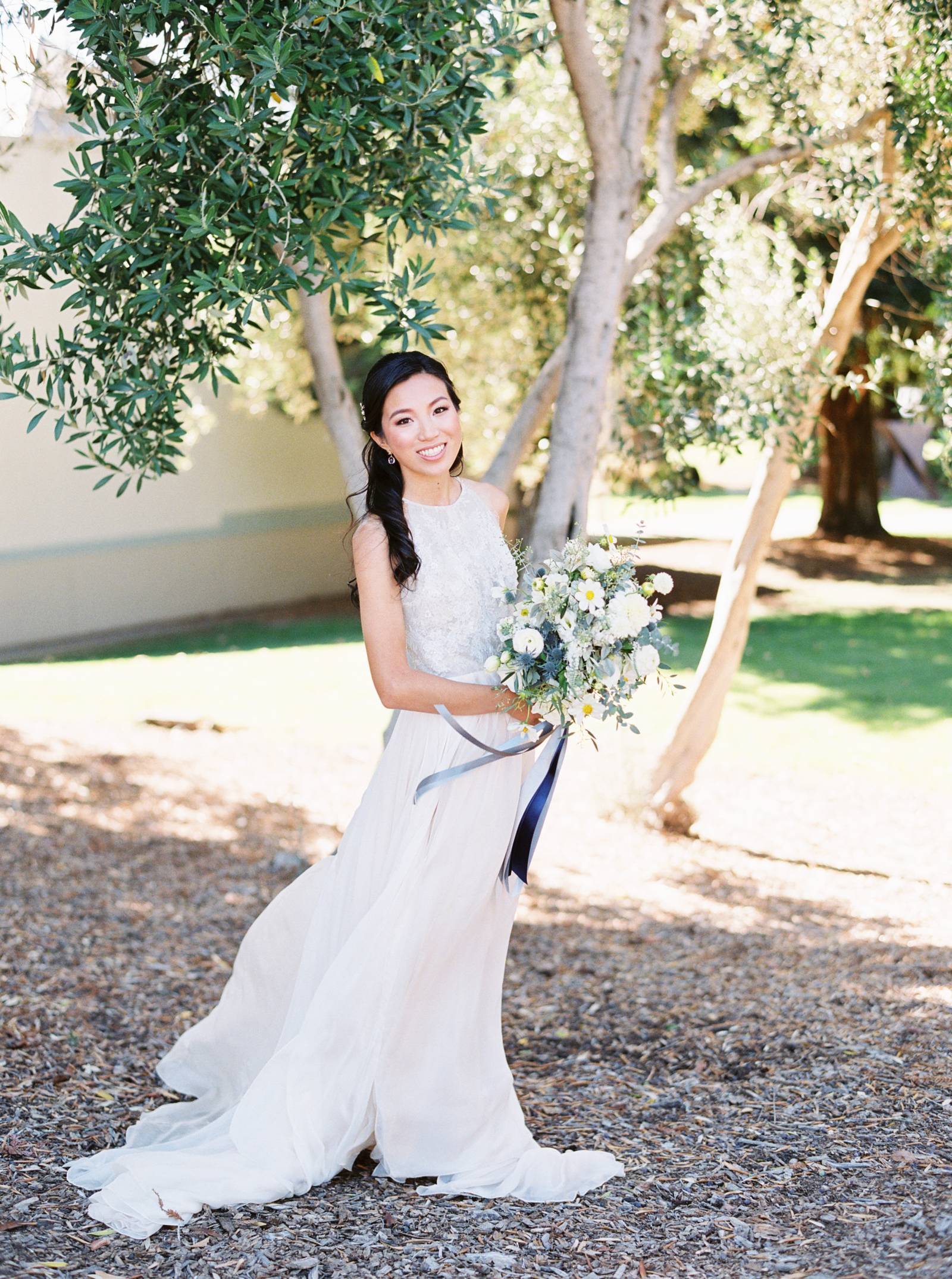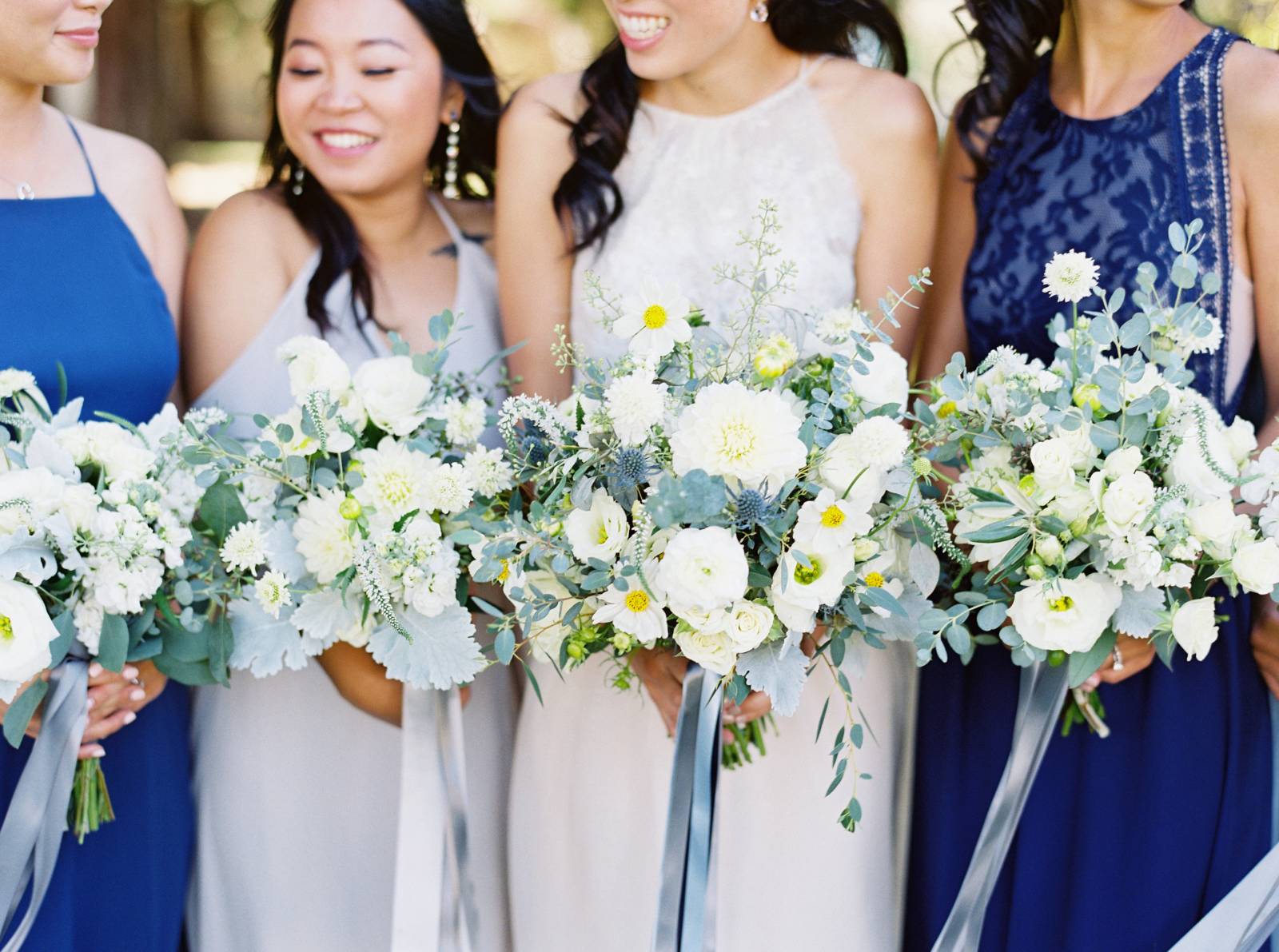 TELL US ABOUT FINDING YOUR WEDDING DRESS: I'm the kind of person who searches for meaning in even the most mundane things and so when trying on dresses, I had a hard time finding one that felt right, not in how it looked on me, but in how the dress defined me as a bride. When looking through MyWony Bridal's collection, their description caught my eye- their dresses are made for the "less-traditional free-minded spirit bride, who wants to stay herself at her special day"- as if they put into words the kind of bride I knew I would be. With that, I knew I would find my dress here.
DID YOU HAVE ANY DIY ELEMENTS? Esther's brother created a Sam + Esther sign that we displayed next to the photobooth and a "I loved her first" sign for our family dog, Cody. Both pieces were crafted using pieces from Esther's family swing-set where she spent most of her childhood.
DESCRIBE YOUR WEDDING FLOWERS: The colour palette for the flowers was mainly creams, whites, and greens with hints of blue. Our florist, Petite Petal, magically captured a naturally wild look to the florals, especially for the arch, bouquets, and head table, as if we ran into a field of wildflowers and just threw everything together.

FAVOURITE DETAIL OF THE DAY: We spent a lot of time in the planning process curating a playlist for the wedding. For our ceremony, we chose songs that represented us, our love, and our community. We selected "Must Have Done Something Right", by Relient K, for our recessional song, which was one that Sam had hoped to have for his wedding since he was in high school. During reception, we had the DJ play songs that we had shared when dating whether it was an artist one of us introduced to the other or a song that stood out to us as we learned to love each other. My favourite song, "Aquaman" by Walk the Moon, was one I had on repeat when deciding to take the dive to begin a relationship with Sam.
WHAT ADVICE WOULD YOU GIVE OUT TO A COUPLE PLANNING THEIR WEDDING? To couples planning their wedding, we suggest you enjoy the process. You could evaluate which aspects of the wedding you care more about or are better skilled at tackling. Lay out expectations early on of what the other person expects and use the moments of conflict to learn more about each other. I think we were more proud and excited for our wedding day because we had endured through conflict and partnered together to figure out the details.
MOST MEMORABLE MOMENT? Our DJ thoughtfully suggested that we open up the dance floor with a slow song so as to ease our Asian-American friends and family into the dancing festivities, so we chose Kina Grannis's rendition of "Can't Help Falling in Love," after having watched Crazy Rich Asians. It was amazing to see everyone coming together to dance with their loved ones. Towards the middle of the song, people began to surround us in a circle singing along as Sam and I danced in the middle. It was a beautiful moment as we soaked in the love from our community.
ANY OTHER DETAILS THAT HELP TELL THE STORY OF YOUR DAY? We had an unexpected moment during the reception when the power went out two songs into the dancing, something to do with the city. While our vendors were rock stars at getting the power back on, Sam and I had the opportunity to catch up with our guests while others went to take full advantage of the dessert bar and photobooth. Though the power outage was initially alarming, it was a sweet turn of events.
TELL US A LITTLE ABOUT YOUR HONEYMOON: We went to Aruba and enjoyed our time relaxing on the beach, swimming in the warm ocean, and dining at the various restaurants at the resort.