Christina & Gabe wanted their wedding to have a romantic, vintage feel to it and looking at these beautiful images by SEAN MONEY & ELIZABETH FAY I think they achieved that in spades! Being just short of celebrating ten years together at the time of their wedding, the couple joked that their love could be considered 'vintage'. They worked with Lindsey from A CHARLESTON BRIDE who helped bring their vision to life. "All we wanted was our guests to feel the love, our love, in every detail from start to finish that day."
"Gabe and I had visited Charleston in 2013 with a few of our friends and fell in love with the city. We were in awe of its charm and the romantic, sweet feeling the city gave us always stayed with us. Between the Spanish moss, impressive architecture, and amazing food its hard to forget a place like that. There is nothing like the slowness of the south to remind you what is important in life… love. We chose to celebrate our love and marriage in the city that made us so happy. We wanted all of our favourite people to share in and experience Charleston's hospitality. We only viewed one property for the reception. Lowndes Grove Plantation with its' old world feel and gorgeous grounds was the perfect place to celebrate."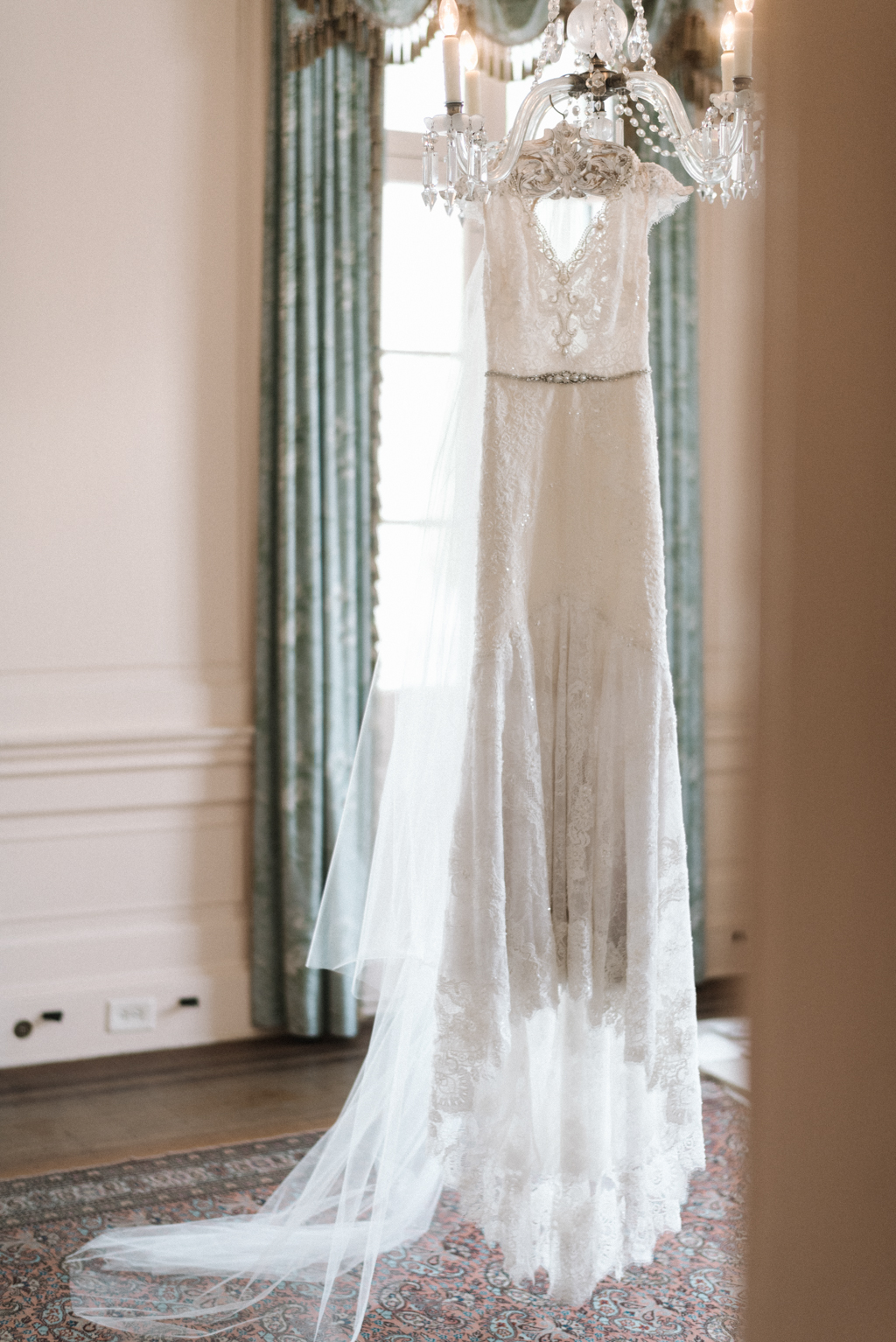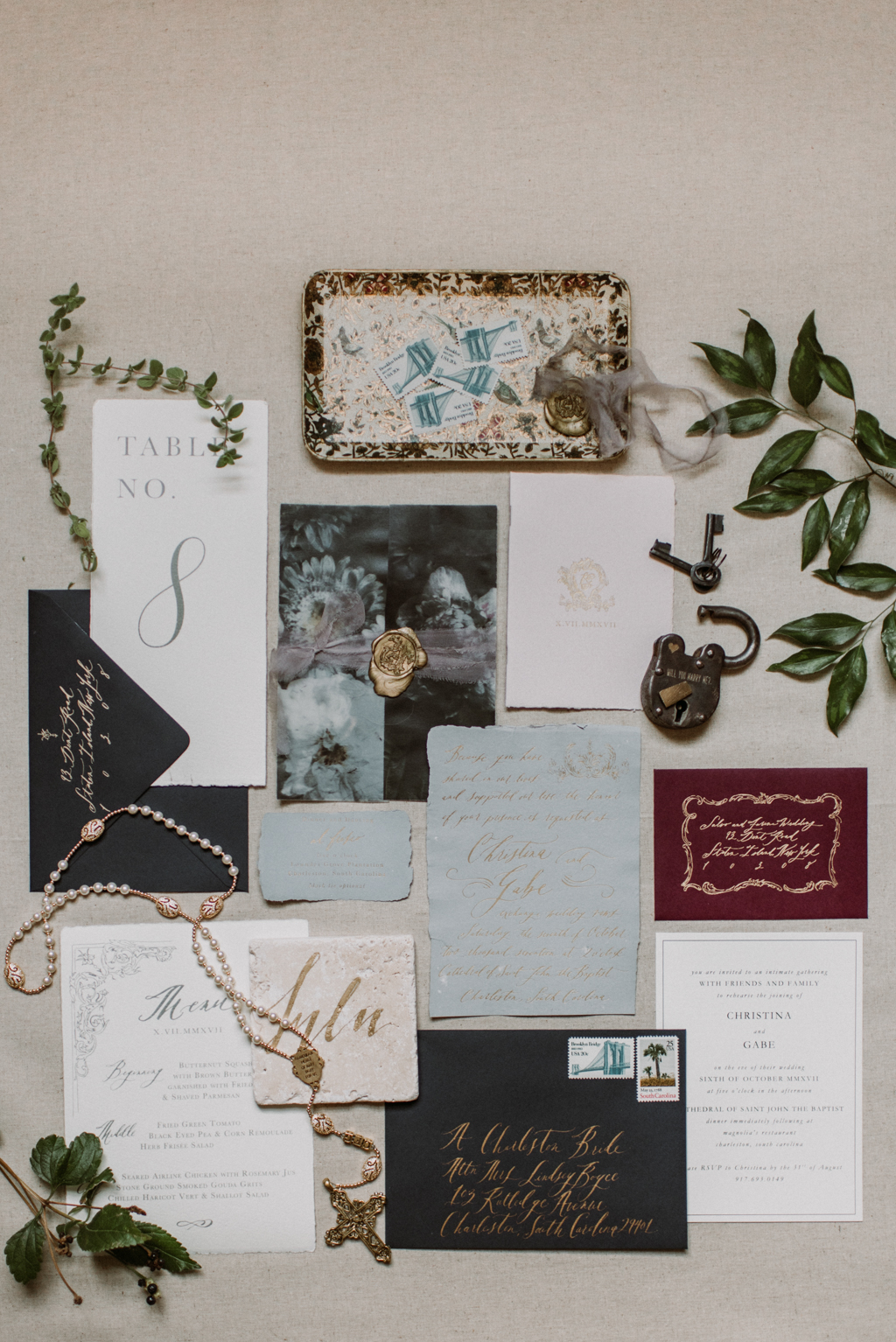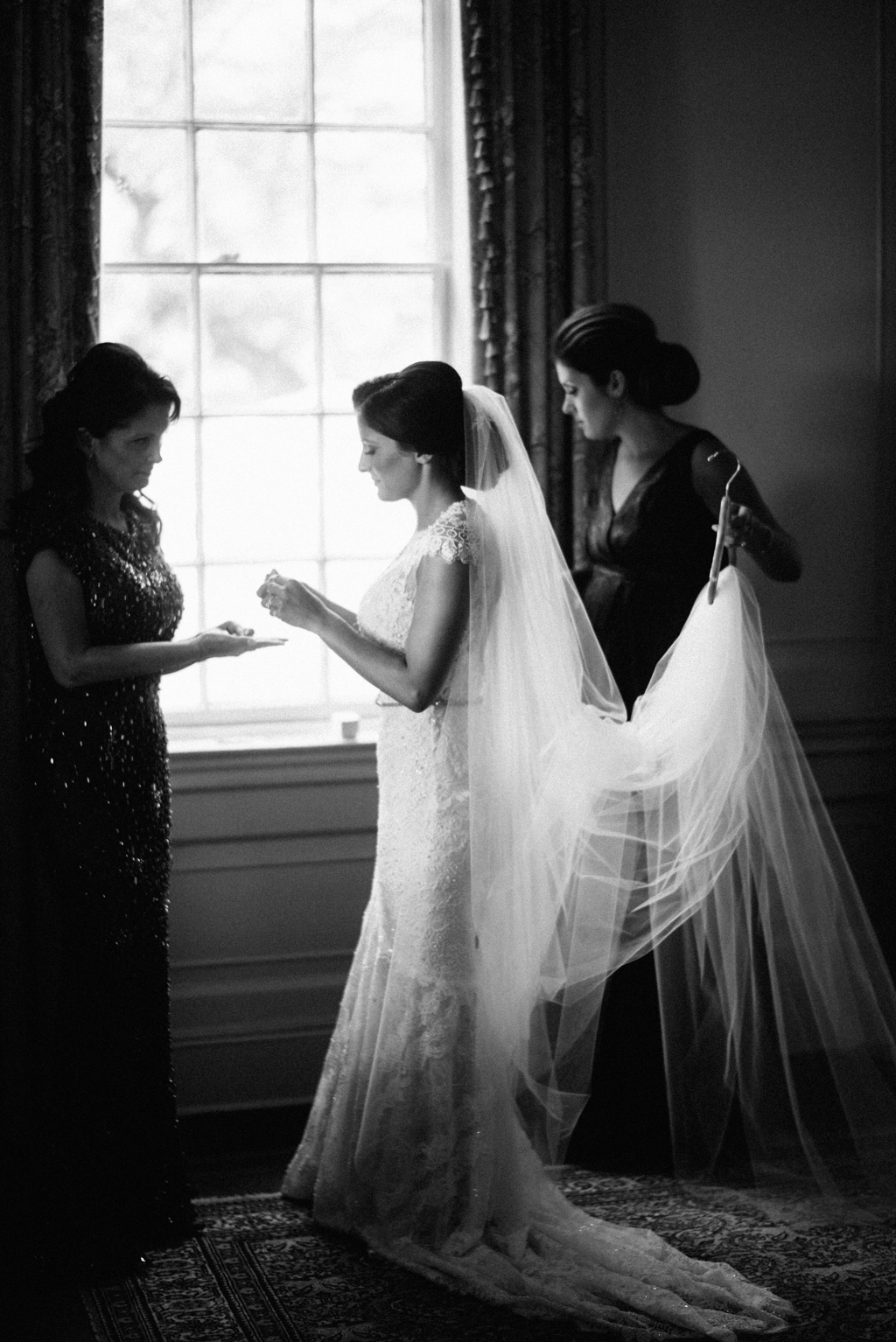 HOW DID YOU MEET? Gabe and I met when I was fourteen and he was fifteen. We started dating three years later. One of my closest friends happens to be Gabe's cousin so we were in each other's company throughout the years. Our holidays are even more special now because my friend Jessica is now officially my family!
TELL US ABOUT YOUR PROPOSAL: Gabe proposed on July 29, 2015. We were dating for almost eight years. I was completely shocked and still cannot believe that I did not see it coming. We went out for dinner in the city (New York City) with a few of our closest friends (my soon to be maid and matron of honour joined us with their loves) on a Wednesday evening to Gabe's all-time favourite (and now mine too!) restaurant, Mark Josephs Steak House. Afterwards we all walked the Brooklyn Bridge, which was something that Gabe and I have done before and loved. Gabe gave me a lock to place on the fence of the bridge and was on one knee when I turned around. Our families met us afterwards and the night is still one of the best of our lives.
TELL US ABOUT FINDING YOUR WEDDING DRESS: I knew that I wanted to wear something that was romantic and all lace but had a hard time finding "the dress". I went shopping with my mother, Gabe's mother, and my two best friends to Mark Ingram Atelier. I knew the moment I put it on that it was the one. I felt the most like myself in it and the gorgeous lace was everything I wanted. My friend Alyssa looked at me and said "Gabe will love it" and I knew she was right. It was such a happy day and I couldn't have dreamed of better people to share it with.
DID YOU HAVE ANY DIY ELEMENTS? Yes, Gabe and I wanted to make sure we had a few details of the day that made us really connect with who we are as a couple and with our guests. We wrote hand written notes to each of our guests and used them as their escort cards. It is so easy when having a big wedding to lose that intimate feeling. We wanted to make sure our guests knew just how happy and blessed we felt to have them there with us that evening. We loved being able to have a personal connection with everyone as they entered the tent to be seated for dinner.
DESCRIBE YOUR WEDDING FLOWERS: Our wedding flowers were a mix of moody colours with a pop of burgundy. They helped give the vintage, romantic vibe we were looking for. They were perfectly imperfectly assembled to give a natural, gorgeous feel.
FAVOURITE DETAIL OF THE DAY: If you ask the people who were around us the summer that we fell in love, some may include the story about the porch swing. It was important to us to include a swing of sorts at the wedding as a reminder of one of the places where our love began. We were able to hang one from one of the ancient trees on the property and it made for such a sweet memory.
WHAT ADVICE WOULD YOU GIVE OUT TO A COUPLE PLANNING THEIR WEDDING? While planning your wedding it can be really easy to get caught up in the small details. We are detail-oriented people so we understand!! Remember that it is okay to care so much but make sure why you care is coming from the right place. Always take a step back and hear each other out!
MOST MEMORABLE MOMENT? Gabe will say his moment was seeing me at the end of the church aisle. I would say holding Gabe's hands as we said our vows. We both agree on this… we made a point to share a moment during the reception to step back and take the whole night in. The feeling that we got seeing all our planning and prepping come to life and our most loved people laughing and enjoying it all was indescribable. We felt like the luckiest people in the world.
ANY OTHER DETAILS THAT HELP TELL THE STORY OF YOUR DAY? The wedding invitation is the first piece of your wedding that everyone gets to experience. Gabe and I spent so much time designing ours. Katie of SIGNORA E MARE created a crest for us that we used on the save the date, invitation, and throughout the wedding day. It was such a special element to us.
Another detail that I am sure not everyone realised was that our invitation paper was handmade, all the words were hand written in calligraphy, the ribbon was hand dyed, and we added a wax seal of our crest to the suite ourselves while assembling. We were amazed by the beautiful work someone could make by hand in a time when everything is mass-produced and fast paced.
Our invitation suite was wrapped in this gorgeous printed vellum of a vintage tapestry. Lindsey somehow found the same print on fabric and we hung the piece behind the outdoor bar. I can still remember walking around the reception with Gabe and both of us stopping and looking at this gorgeous piece illuminated by candles. It was so romantic and the ambiance it gave was too perfect. It helped make all the elements of our wedding and the pieces leading up to it come together.
My mother gifted to me my grandmother's cross to wear on our day. We were able to stitch it into my gown so that I carried a piece of her with me.
Last but not least, during the ceremony we planned to have our grandparents who have passed remembered. We did so by having a photo of each of them on a locket attached to flowers and our aunt and uncle presented them during Mass. Father Tom blessed the lockets and they are something we will always keep with us.
TELL US A LITTLE ABOUT YOUR HONEYMOON: Gabe and I visited San Francisco and Hawaii. We had already visited most of the coast of California and San Francisco was the last city we hadn't seen yet. We stayed in Sausalito and loved the town. After California we made our way to Kauai and Maui. It was the most beautiful trip.
IS THERE ANYTHING YOU WOULD CHANGE OR DO DIFFERENTLY? No. We still say to each other there wasn't a single element we regretted. The day was absolute perfection!