This couples story proves that sometimes, when the stress of wedding planning all becomes a bit too much, it really pays to take a step back and re-evaluate what's important to you. In doing that, Carly & Christopher ended up with a romantic wedding celebration lasting four days in a French Chateau rather than a four hour affair in New York. Pays to look outside the box sometimes! Thanks to BRIAN FLINT for these beautiful images of their wedding events at CHATEAU ST. JULIEN in Poitiers, France.
"We originally wanted to get married in New York. Though we are both from the south (Texas and Georgia respectively) we feel New York has really become our home. Prices in the city were a bit beyond what we could swallow, to be honest, and the one venue that fit the bill ended up falling through at the last minute. So we decided to take a vacation and step out of the stress to regroup. On our trip we went back to the drawing board and talked about what our ideal dream wedding would look like. Carly loved the idea of a destination wedding and the way that type of event creates space for quality time with guests and is a really unique and memorable experience. We both LOVE French wine and the idea of getting people out of their normal routines and into a different and magical environment that would create a new headspace for our. A French chateau would make the perfect venue backdrop! Additionally, we loved the idea that planning a wedding overseas took out a lot of the choices for us. At the end of the day we were able to plan a four day event housing & feeding most of our 65 for less than a four hour party in Manhattan. It was both brilliant and divine!"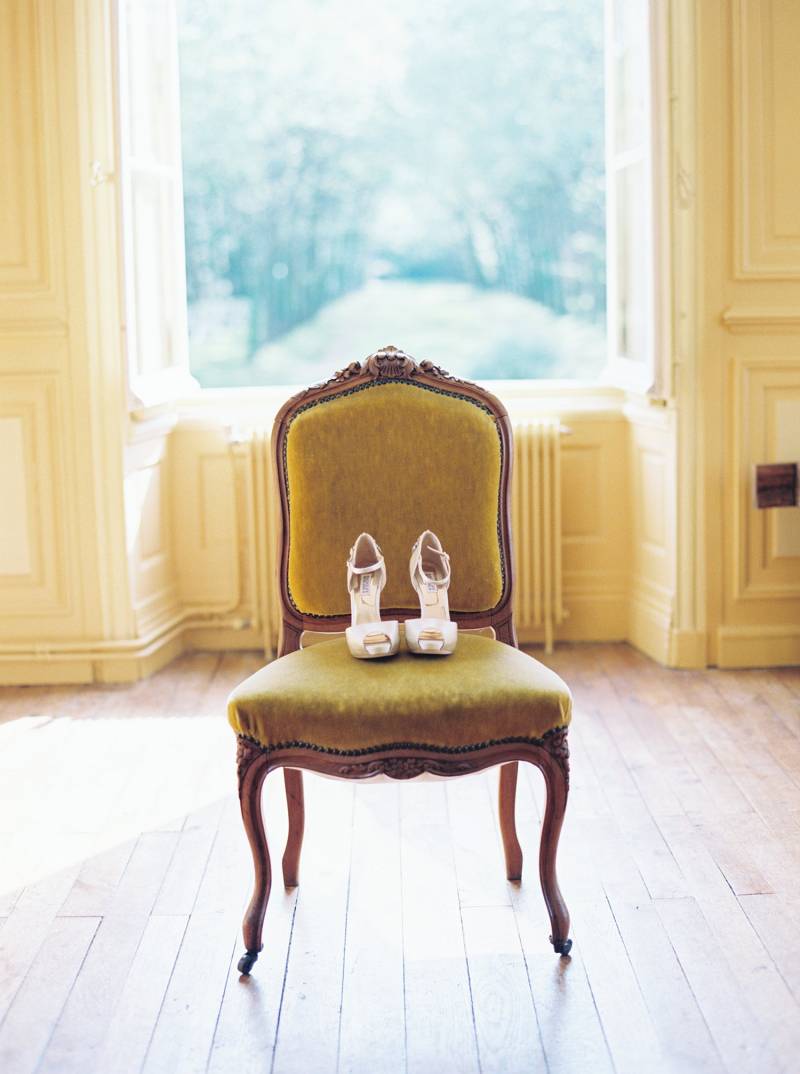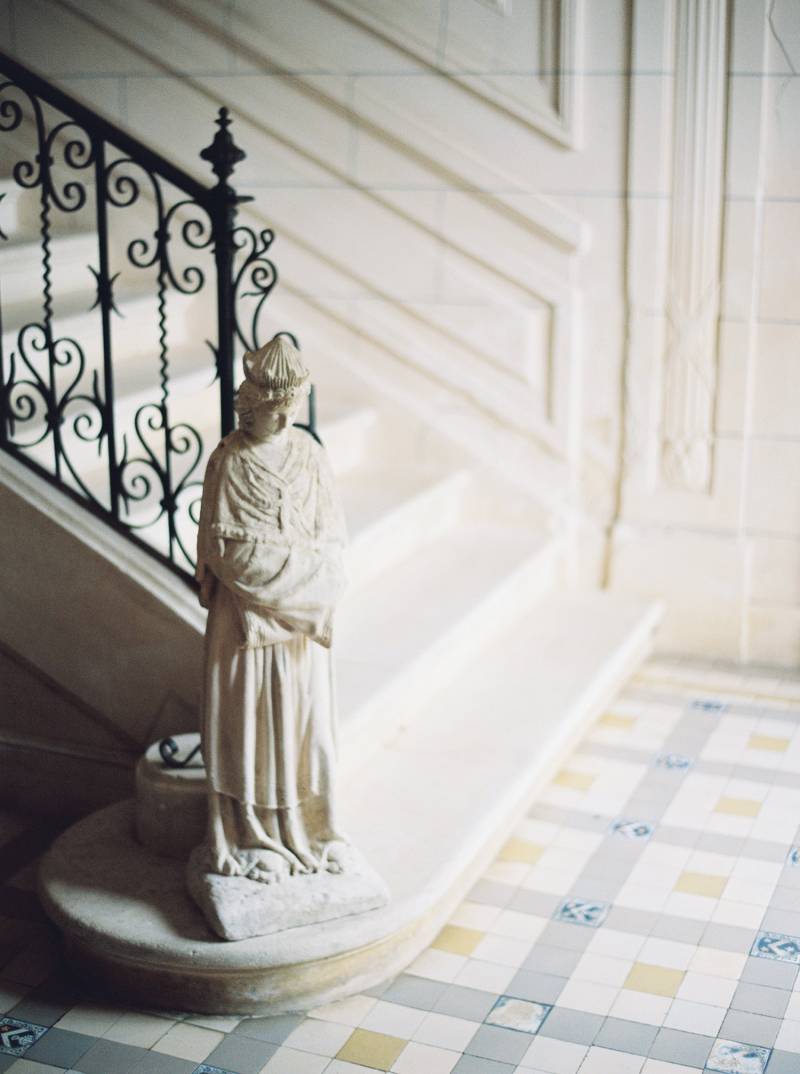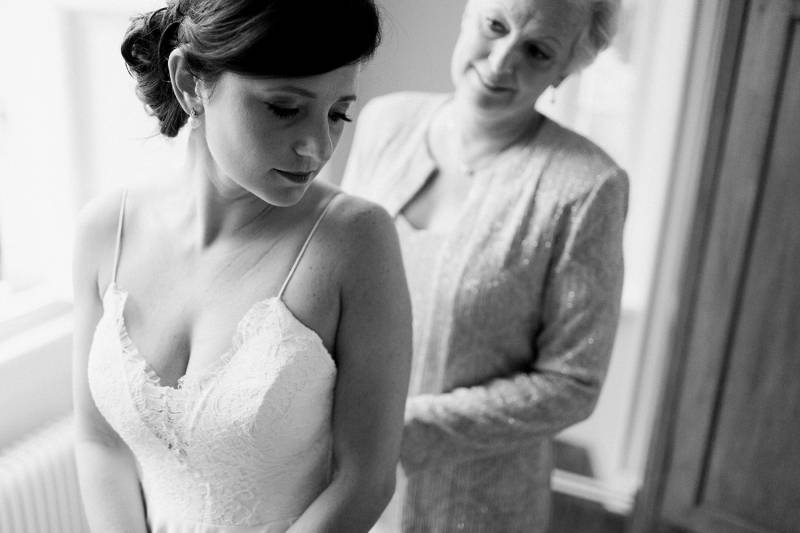 HOW DID YOU MEET? Chris and Carly studied at university together. Back then they were just friends but had much in common - both presidents of their leadership programs, both cheerleaders for the university, both dreamers about the years ahead. As their careers took them across the country they stayed in touch and continued to dream big as their friendship deepened (thanks to Google Hangout). Work brought Carly to New York where their time spent together quickly evolved into more. Their relationship began just as Carly was moving to Argentina for work. In an effort to show his commitment, Chris quit his New York City job and went down to stay with Carly in a country where he didn't even speak the language. After a year and a half of long distance, Carly made her way to NYC where the two of them have lived ever since.
TELL US ABOUT YOUR PROPOSAL: We got engaged in our favourite spot in NYC. During the period of long distance when Carly would visit New York, they would spend much time in Central Park which was Chris's reprieve from the hustle and bustle of city life. One trip Chris surprised Carly by taking her to a garden on the north east side of the park that was surrounded by thousands of tulips! This gesture melted her heart as the tulip is her favourite flower. Fast forward four years and they found themselves in that very spot again, where Chris asked her to marry him. The date was also of special significance as it was on the birthday of Chris's late mother, who wanted nothing more at the end of her life than to see Chris happy with the woman of his dreams.
TELL US ABOUT FINDING YOUR WEDDING DRESS: Pretty anticlimactic, to be honest. I wasn't sure what I wanted, but I knew what I didn't want. I took my mom toLovely Bride when she came to visit shortly after our engagement. I didn't like what I tried but I love the woman who was helping me. I proceeded to try 10-14 more shops in the coming weeks and just couldn't find the "wow" dress. I called Nicole, the sales rep from Lovely, and told her I needed her help. She invited me in for a Rue de Seine trunk show and I found my dress. I knew when I put it on that it was perfect. Fate has it, that at the time I had NO idea I would begetting married in France.
ANY DIY ELEMENTS? Centerpieces at the rehearsal dinner were a combination of candles, pedestals, and table runners we lugged all the way fromNew York. We offset them with simple vases of white tulips (fitting!) and it was one of the most gorgeous settings (pictures as the outdoor meal in the photos).
Additionally, we designed and hand printed our invitations. We included a handwritten personal note to let each person we invited know how special they are to us, regardless of whether they attended our wedding. This was one of the guests (and non-guests) favourite parts, I think.
DESCRIBE YOUR WEDDING FLOWERS: We were looking for a soft understated look that would contrast beautifully against the green grass outdoors as well as the textured walls of the chateau and the rich furniture inside. We picked dusty greens and soft pinks with a lot of texture to pull all the different elements together.
FAVOURITE DETAIL OF THE DAY: Incorporating our community of family and friends was incredibly important to us. We were therefore intentional in thinking through the details of how we would show our love and gratitude for our guests - e.g. handwritten notes in each invitation. On the day of the wedding, we set aside chairs for Chris's mom and best friend who had both passed and honoured them in our ceremony. Additionally Carly was able to carry a momentum for Pam, Chris's mom, on her bouquet. It was very special to feel her so close.
On a less sad note, I would have to say the rain was probably the biggest blessing. We had planned to have our wedding outside in the beautiful tree lined alley but a downpour two hours before the ceremony changed that. Our backup plan wasn't very well formed but since we had the entire chateau to ourselves, we had options. Our family and friends quickly scrambled to help bring tables and chairs indoors and created an incredibly intimate setting for our wedding. While the grandeur of the alley would have been breathtaking, the cozy nature of the living room provided the most intimate and personal ceremony. We're so grateful life never goes as planned.
WHAT ADVICE WOULD YOU GIVE OUT TO A COUPLE PLANNING THEIR WEDDING? Do a destination wedding. No but seriously.As mentioned before, it brings people together in the most incredible way. It does mean that certain people won't be able to be there but it provides a unique experience for those who do come and it drastically decreases the number of choices for the bride and the groom (lessening the planning). It also really helped us keep things in perspective about what mattered and where to let go of control a bit.
MOST MEMORABLE MOMENT? For Carly, it was walking down the isle and seeing Chris's face absolutely drenched in tears. He sobbed most of the ceremony and it was evident that his love and gratitude for this gift ran deep. I was so grateful he was willing to show it and not hold it back.
ANY OTHER DETAILS THAT HELP TELL THE STORY OF YOUR DAY? I think our Rehearsal Dinner was one of my favourite parts of the wedding (and maybe one of the most epic there has ever been, if I can boast for a moment). We were really keen to keep things unstructured and had a vision of a banquet table in a garden, surrounded by 65 of our closest family and friends. We imagined that the food would be rich and the wine would be flowing, as people told stories of us throughout the night. A 10pm sunset would allow the glow of dusk to trade light with the candlelit table, and that there would be laughs and tears and everything in between. That the night would be magical and transform everyone, old and new friends, to a place where there was nothing but love for one another. That is exactly how our rehearsal dinner went and I will never forget how full my heart felt with love and gratitude for the people who got us to that day and will be by our side as we put the work into a lifetime of marriage to one another.