If you were a guest at Meredith and Tyler's wedding you would've found yourself dining by candlelight, al fresco under the evening sky at VISTA HILLS VINEYARD in Dayton, Oregon. The bride wanted their wedding day to feel like they were treating their guests to a classic and elegant dinner party and these beautiful images by AMANDA K PHOTOART show that they achieved all that and more. Their main focus was creating an environment filled with love, beauty, good food and great wine and by having two long king tables for dinner they created the intimate experience they had hoped for.
"We always knew we wanted to get married in a beautiful outdoor setting, and a winery seemed very fitting for the two of us because we live in and met in San Francisco but frequent Napa wine country. After we decided Oregon would be a wonderful fit, as I grew up there and it would be a great destination for our CA guests. Although I looked at many winery venues online, I toured only two vineyards with my parents and MOH. When we went to Vista Hills, I just knew it was a special setting. Our idea of having the two long kings tables we wanted for dinner would work perfectly, and they were tucked between grape vines! The cherry on top would be the views from every part of the evening including the ceremony, cocktail hour and reception, as they're overlooking the gorgeous vineyard and sunset.

No detail was overlooked from the first impressions the guests received upon their arrival to having their monogram placed on signage and their favours. They also had an unplugged ceremony to ensure all guests were present focusing on the moment of their vows instead of snapping photos.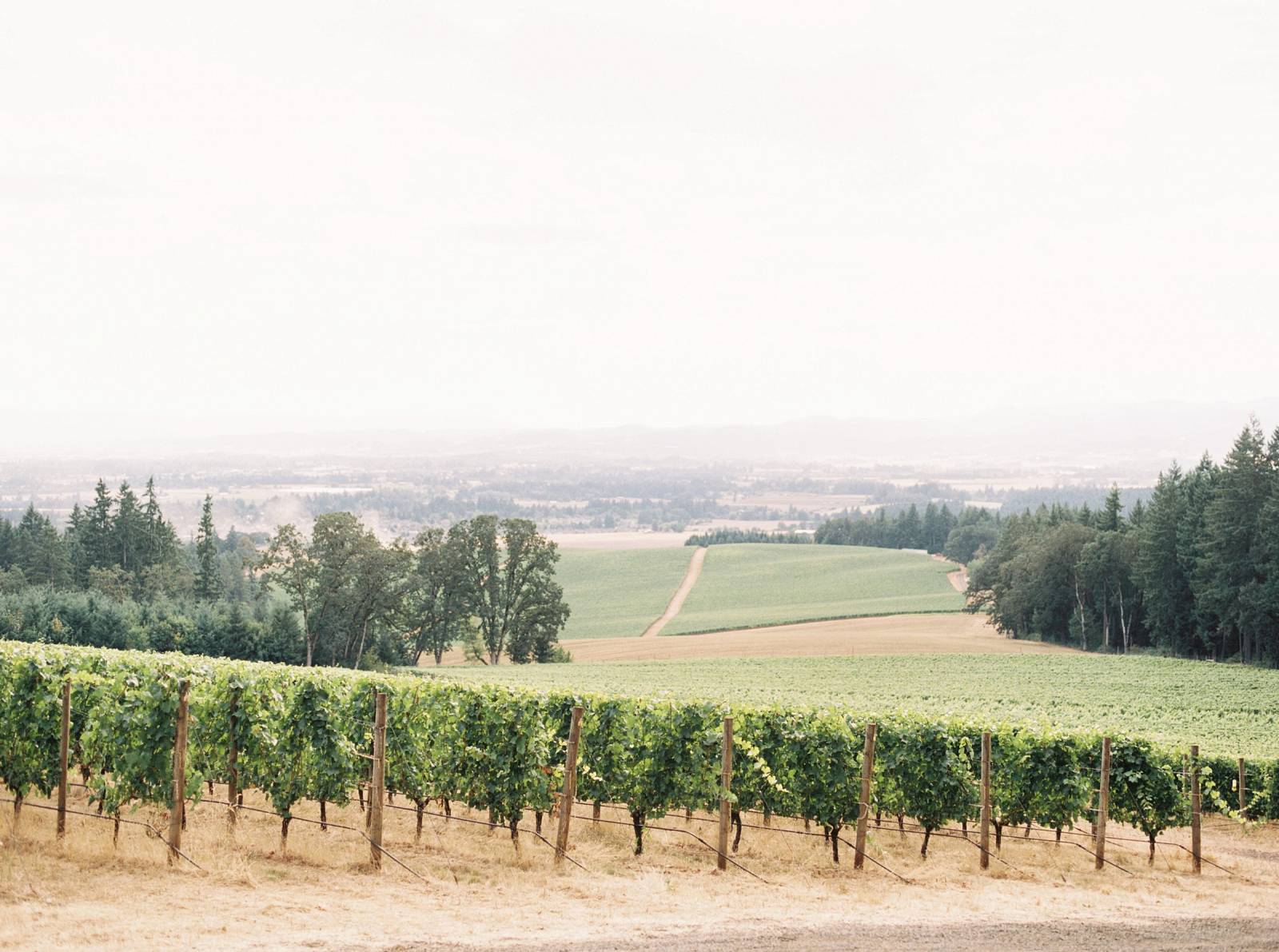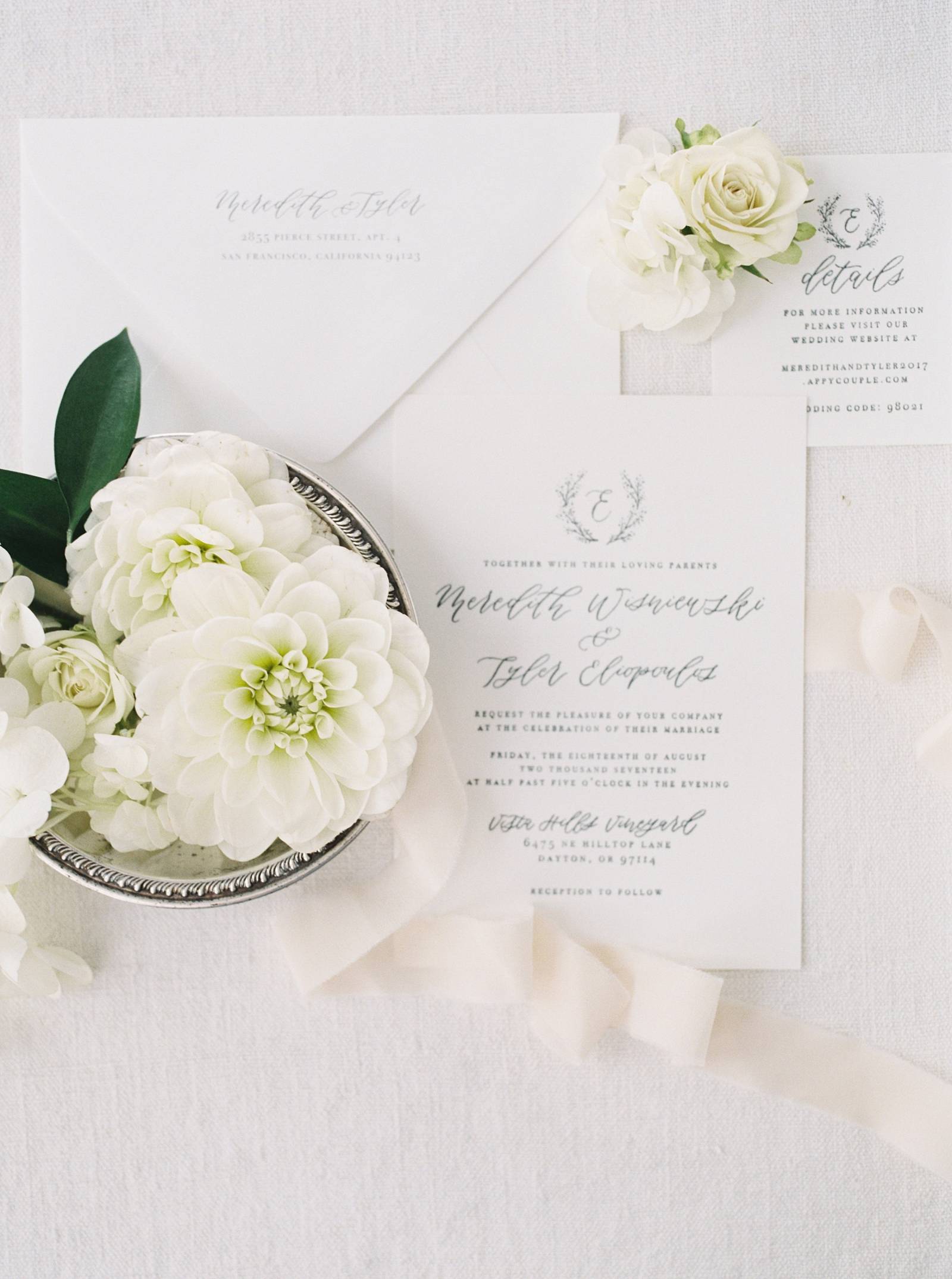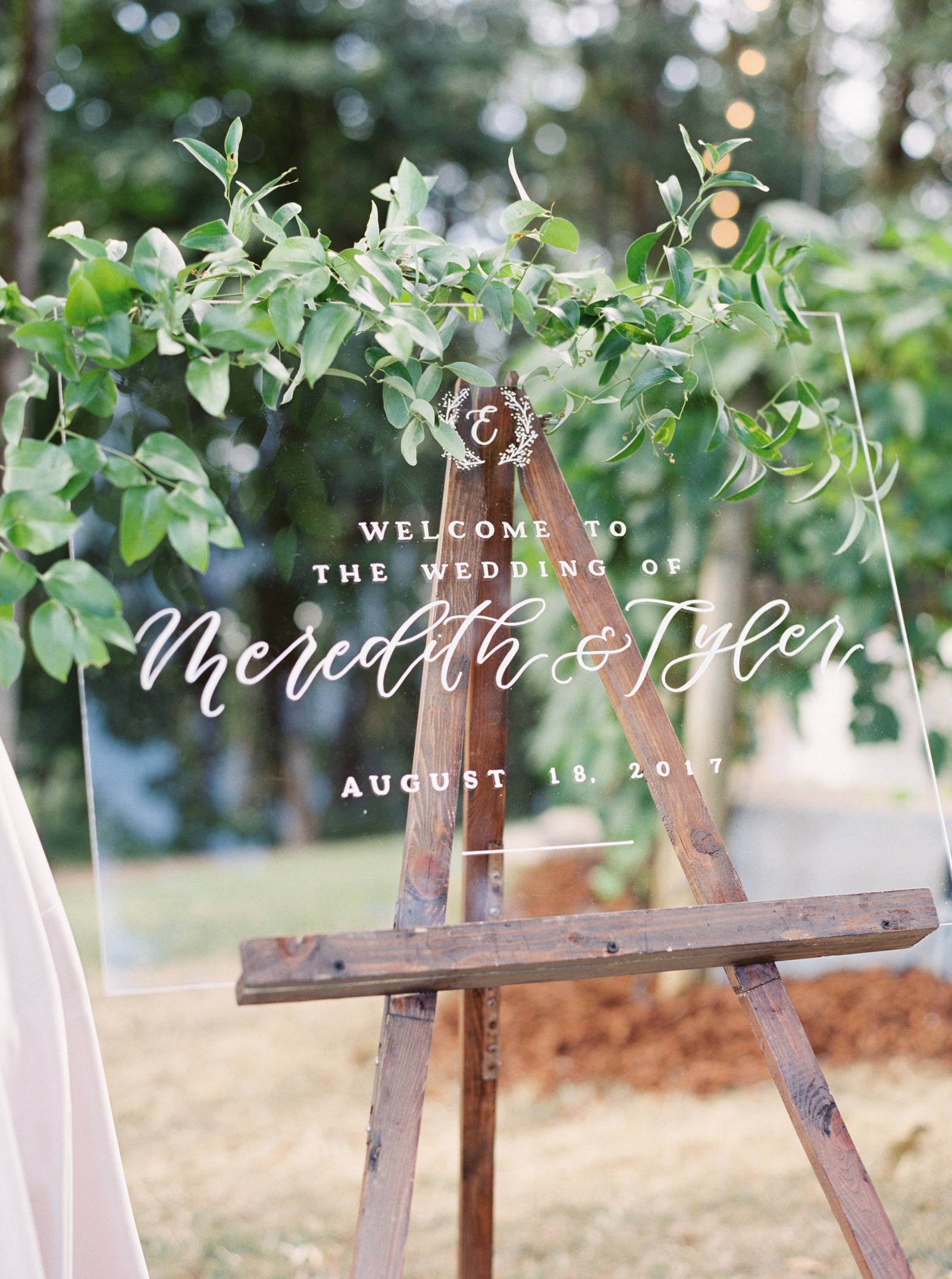 HOW DID YOU MEET? We met five years ago, online, before there were so many dating apps. We were both fairly young and our relationship was, but it has been an amazing journey as our friendship grew in to incredible love for one another.
TELL US ABOUT YOUR PROPOSAL: Tyler proposed to Meredith in San Francisco, not too far from where they live, but with a beautiful view of the bay in the background and on the trail that they often run thru on their weekend runs together. Tyler had a romantic evening planned as well as a weekend getaway in wine country (Napa Valley) to celebrate.
TELL US ABOUT FINDING YOUR WEDDING DRESS: It was a fun experience, but took a little while to find the perfect one. I went shopping back home in Portland with my mom, sister and a few besties, but then also went shopping back in San Francisco a couple of times. I kept liking certain elements of the dresses I tried, but was particular and price conscientious. A tulle skirt and some lace were a must! I wanted to feel beautiful and look timeless with a bit of sparkle.
After going on multiple trips to bridal salons, I was looking at BHLDN online and ordered three dresses I thought were very pretty. When they arrived to my house, two were obvious no's and the third was so perfect. It had all the details I wanted and finally all in one dress! So I ended up selecting my dress in my own bedroom.
DESCRIBE YOUR WEDDING FLOWERS: I have such a love for flowers and our flowers made me so happy. Our amazing florist, Seventh Stem, kept everything looking garden like, bloom focused, and in my white and champagne palate. My bouquet smelt so lovely as well.

FAVOURITE DETAIL OF THE DAY: Oh my gosh this is hard. The day was just so so magical! I loved seeing how my vision came together to amazingly and to walk down the aisle to my husband! I think our ceremony site was so gorgeous. Seeing the amazing floral arch, aisle petals and views made me so so happy. The intimacy of the dining portion of our wedding was so incredibly special. When toasts were given, we looked around and had the most incredible feeling while our friends and family surrounded us.
WHAT ADVICE WOULD YOU GIVE OUT TO A COUPLE PLANNING THEIR WEDDING? My advice is to stay true to your own wedding vision. There is a lot of inspiration available to brides, and you need to remember that it's just that, inspiration. You want your wedding to feel true to you and your hubby to be, because you and your guests are there to celebrate your love! Also selecting great vendors is crucial. Ours were absolutely amazing and we're so thankful! The day comes and goes so quickly, so be sure to be present and enjoy everything! It truly is the most special day ever.
MOST MEMORABLE MOMENT? The whole day is such a joyful memory, so it's hard to pick just one. We are so happy that we did a first look. It was very special to see each other and have a private moment to take it all in, and then get ready for the party we were about to throw.
Also, our first dance, as we love to dance together. We danced to Frank Sinatra, The Way You Look Tonight. We initially planned to take dance lessons, but only ended up taking one. We actually you tubed some fox trot steps in Tyler's room the night before the wedding. Our dance was so sweet and everyone was gathered around us.
TELL US A LITTLE ABOUT YOUR HONEYMOON: We spent 11 amazing days in Hawaii and split our time between two islands, Kauai and Lanai. Our honeymoon will forever be one of our most memorable trips together. We had the perfect balance of adventure, relaxing, delicious food and enjoying blissful married life. We can't wait to go back.