It doesn't get much more romantic than this celebration of Danielle & Korbin's at MEADOWOOD in Napa Valley - a venue that very sadly was badly affected by the fires in 2020. Southern California wedding planner AMY NICHOLS SPECIAL EVENTS worked with the couple to plan a wedding day that was classic, elegant and timeless. She tells us, "One of the things we loved about their story is the fact that they'd known each other since they were babies - their parents were long-time friends."
Captured by the very talented BRAEDON FLYNN, the couple were after a 'one stop shop' venue - a place where they could stay onsite, get married and also hold our reception. MEADOWOOD checked all the boxes and bonus - it had a golf course to keep the groom happy! It created the perfect backdrop for their outdoor celebration at which they wanted to steer away from anything trendy and rather style it as an extension of their personalities and home. As Danielle & Korbin both have an affinity for preppy details, AMY NICHOLS SPECIAL EVENTS incorporated crisp ivory and navy, with some stripes scattered through. Fantastic food and delicious specialty cocktails were also a highlight of the wedding weekend festivities - from the welcome croquet party, to a pre-wedding tennis tournament and to the big day itself!
HOW DID YOU MEET? We grew up together! Korbin's mom and my dad are best friends from high school! Our parent's parents are also good friends! Short version, we flirted in highschool but remained good friends, dated a summer during college, and then reconnected when I moved home from college. It was unspoken that when we started dating again it was for the long haul.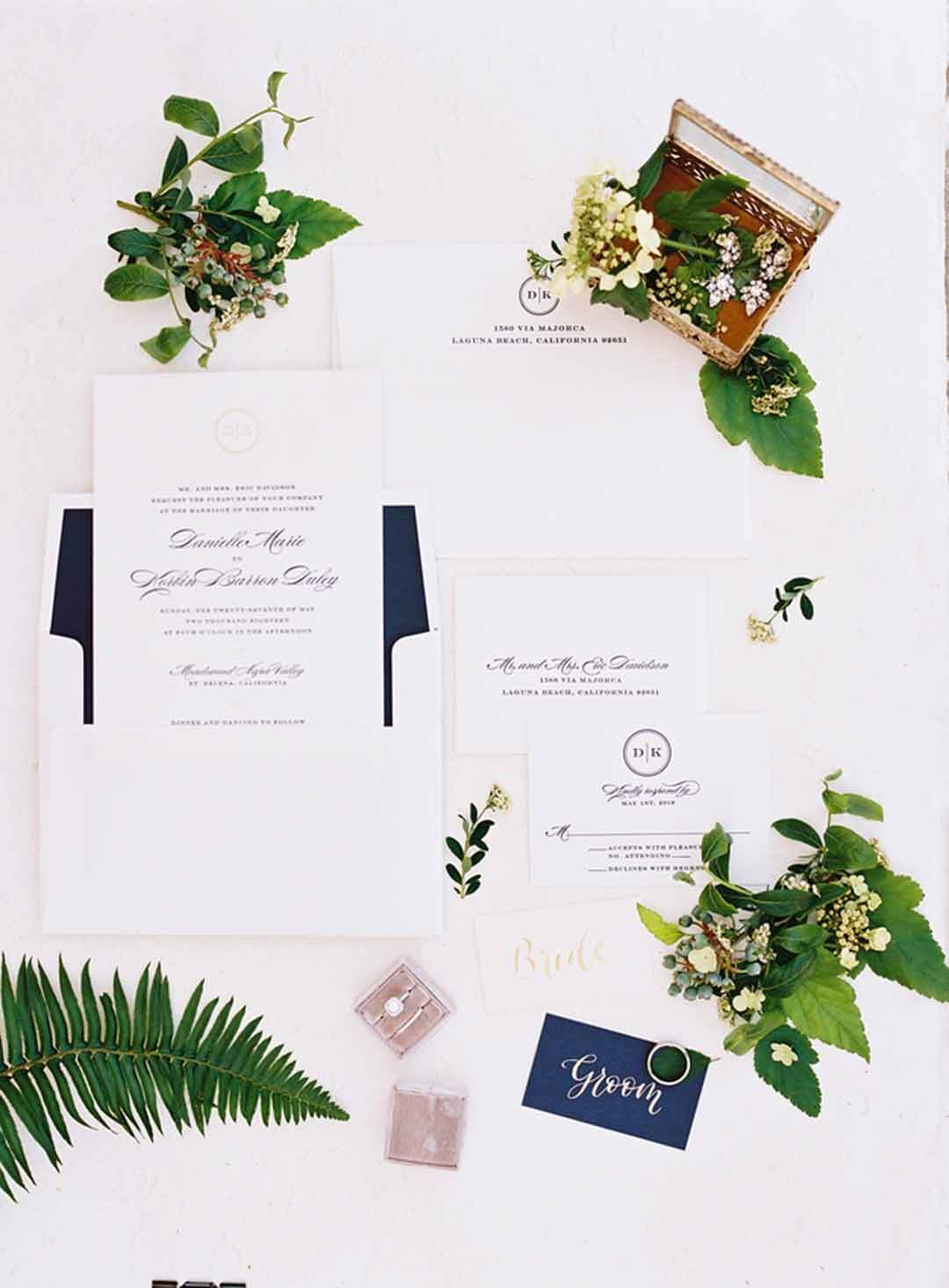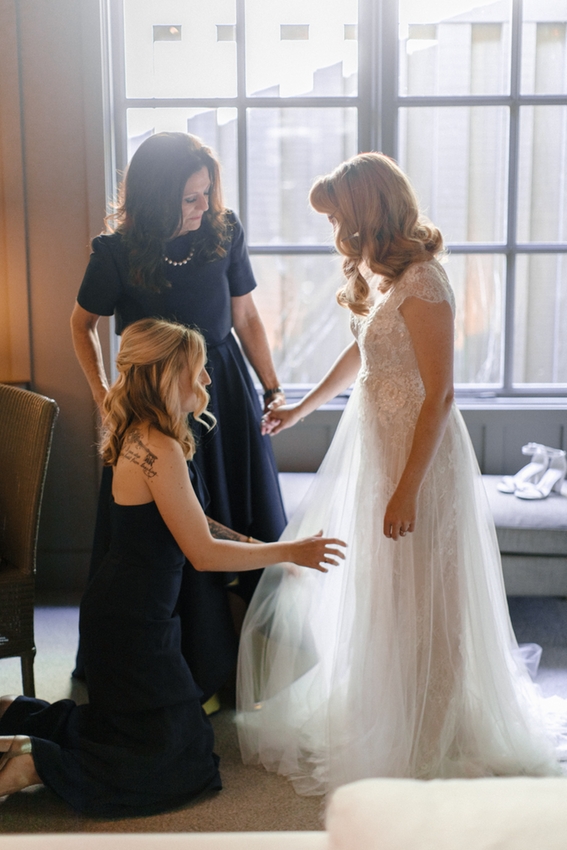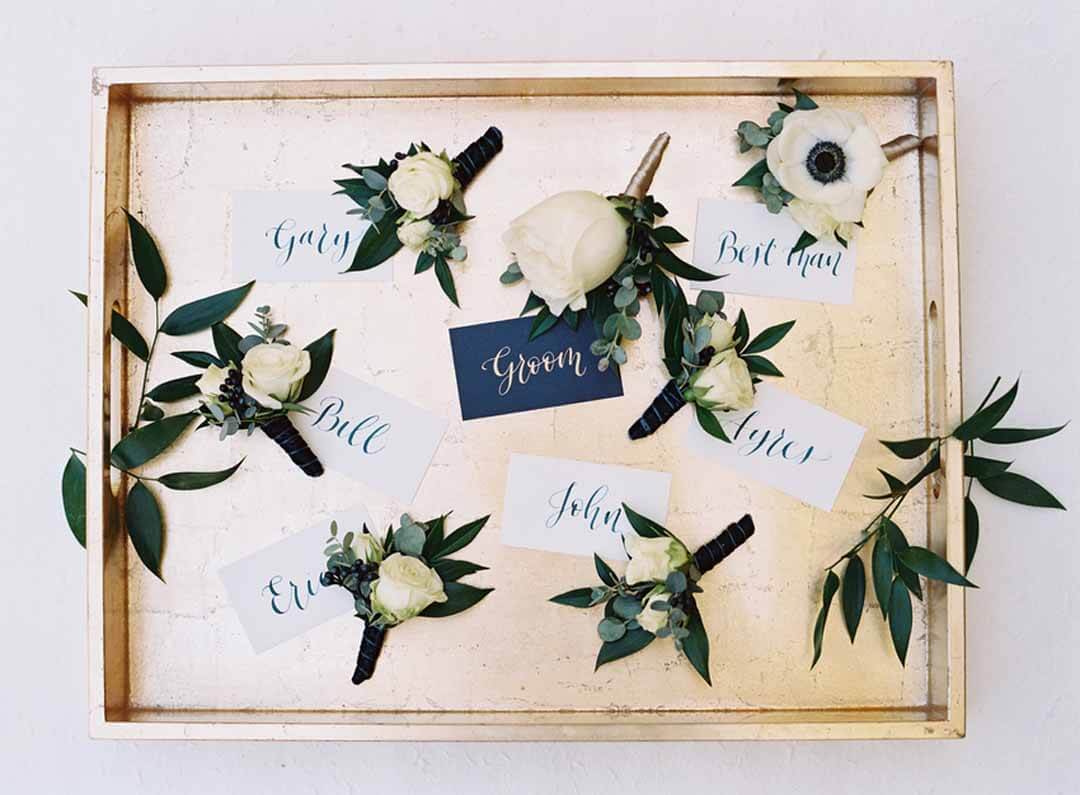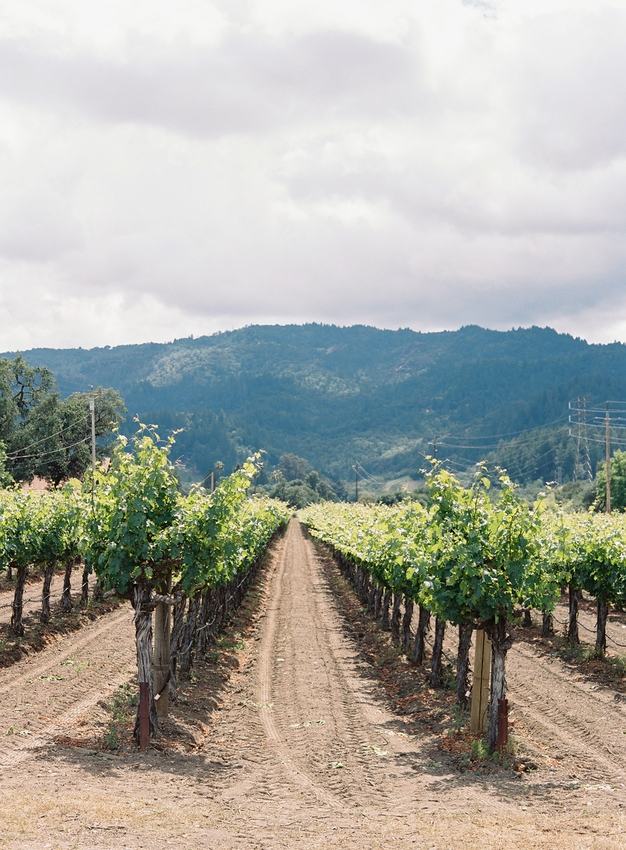 TELL US ABOUT YOUR PROPOSAL: Korbin and I were traveling for fun in Charleston, SC at the beginning of April 2017. We had designed the ring together back in January but I had completely pushed the idea of getting engaged until the summer time. So unbeknownst to me, Korbin had been planning to propose on this trip since January! We were touring the plantations and we popped into a secluded nook in the bamboo section. I looked away for a moment, turned around and there he was on his knee! Neither of us could even begin to tell you what he actually said!
TELL US ABOUT FINDING YOUR WEDDING DRESS: I'm not sure why, but I was so nervous about this!! My mom, my sister and a dear family friend (our resident fashionista) went to The White Dress in Corona del Mar. I didn't have anything particular in mind, a couple details I wanted, but nothing concrete. In the end I tried on about 12 dresses, some just for fun! About halfway through, we all fell in love with a dress but I wanted to try on all of our other choices first. After some giggles and ohs and ahs, I tried back on the dress we all loved and that was that! I said yes and we popped the bubbles!
DESCRIBE YOUR WEDDING FLOWERS: Loose romantic blooms in classic white and light blush, with natural greenery.
FAVOURITE DETAIL OF THE DAY: Korbin would say his whiskey bar! We love food and entertaining, so the table designs were so fun to create and loved the final look!
WHAT ADVICE WOULD YOU GIVE OUT TO A COUPLE PLANNING THEIR WEDDING? Have fun! We agreed that the moment the planning stopped being fun, we'd hit the pause button and get back on track.
MOST MEMORABLE MOMENT? Aside of course from "I Do", my top two moments (how to choose!) are arriving at the rehearsal wearing Korbin's late grandmother's wearing dress. My best friend redesigned the dress, keeping its true essence but adding a few new touches. It was a surprise to everyone! My next favourite moment was zipping away from the cocktail reception in my Dad's 1957 Jaguar XK140. The car roars to life and our guests loved that I, not Korbin, drove us away.
WHAT ASPECT OF THE WEDDING WAS THE MOST IMPORTANT TO YOU BOTH? The dinner experience! We worked diligently to create guest groupings at each table with a mix of my family, Korbin's family and our friends. To help encourage conversation, each course was served family style! The best part for us is hearing about all the new friendships created from sitting next to someone new!
TELL US A LITTLE ABOUT YOUR HONEYMOON: We jetted off to Lanai, Hawaii about a week after our wedding! Lanai was so stunning and so peaceful and we were more than happy to park ourselves on a lounge chair with a book and a glass of wine.