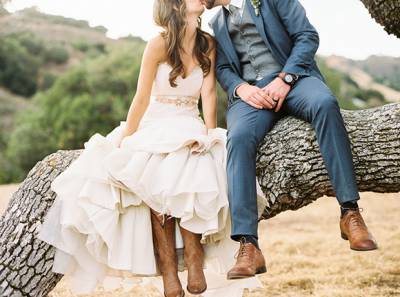 It's always fun to see a wedding at a venue you've been too. This gorgeous HOLMAN RANCH wedding in Carmel, California by DANIELLE POFF PHOTOGRAPHY brings back so many lovely memories of the FORAGE & FERN WORKSHOP I held there a few months back. It's such a lovely spot and Danielle has captured it beautifully. For Meg & Brandon it was important that their entire wedding weekend be a true reflection of us as a couple. "We wanted it to be casual, emotional, and a little rustic. Holman Ranch was the only venue we looked at, and we knew it was the perfect place right away. It had rustic charm, it was a little country, and it had just enough elegance. Most importantly, it was a venue that allowed us to house our entire family and bridal party all weekend, and that proved to create some of the best memories of my life. Because the venue itself was so beautiful, I tried to keep the details as simple as possible and let the scenery speak for itself. I kept all of the d cor and dress colors quiet as to not compete against the lush gardens."
I have to say it was incredibly lovely staying on site and it's ideal for your bridal party in the lead up to the big day. I thoroughly recommend it!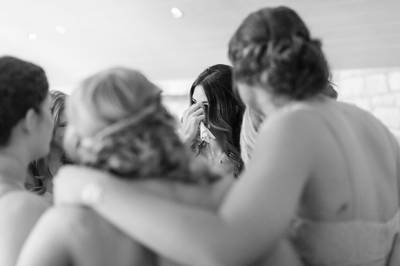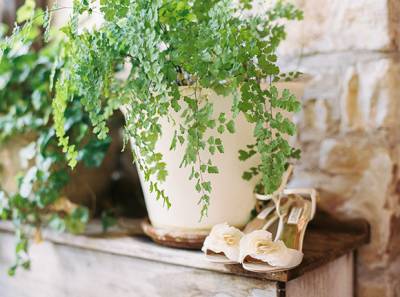 HOW DID YOU MEET? Brandon and I went to rival high schools from our small towns of Gilroy and Morgan Hill. We finally broke the rivalry when Brandon's childhood friend was a roommate of mine and introduced us.
TELL US ABOUT YOUR PROPOSAL: Brandon took me on a Christmas weekend away to his Grandparents beach house in Pacific Grove. After dinner we walked down to a spot called Lover's Point, which is right down on the water. When he dropped to a knee, I immediately dropped down to mine, and proceeded to hyperventilate for the next hour. He told me he had one more surprise for me back at the house, and when we walked in the front door, our entire family and dog Bubba awaited us with streamers and champagne!
TELL US ABOUT FINDING YOUR WEDDING DRESS: I made the somewhat questionable decision to have my entire bridal party of eight bridesmaids, my mother-in-law, my mom and dad and younger brother. I went to Haute Bridal, a beautiful boutique located in downtown Los Gatos. I walked out in the first dress and immediately burst into uncontrollable sobs, maybe because it was the first wedding dress I had ever tried on, maybe it was the room full of family and friends staring at me, but that was THE dress.
ANY DIY ELEMENTS? My entire wedding was DIY and planned on a budget. I crafted almost every detail of my wedding, and that was what most people responded to after the fact. My guests told me that they could really feel ME in the d cor, and that was very special. I hand selected every flower and succulent in the bouquets and boutonnieres, every table number and place card was handwritten, and every centrepiece was a flower that had been bred by my dad, who is a flower breeder by profession.
DESCRIBE YOUR WEDDING FLOWERS: I wanted the colors of the flowers to reflect the colors of the d cor and dresses, muted and soft and unique. My parents and I went to a local succulent garden to pick each of the succulents, which was surprisingly fun! I picked peonies, lambs ear, and garden roses to keep the bouquets feeling soft. Each of the bridesmaids wore soft variations of blush and taupe and nude, so the bouquets tied them together seamlessly.
FAVOURITE DETAIL OF THE DAY: Walking down the aisle with both of my parents by my side was such a special moment for me. I am extremely close with my mom and my dad, and I cannot imagine walking towards my future without holding both of their hands. Although it is not a traditional practice it was what felt right for me on my day.
WHAT ADVICE WOUDL YOU GIVE YOU TO A COUPLE PLANNING THEIR WEDDING? Remember that this is YOUR day, so stay true to yourself. Do not get to wrapped up with what is traditionally done, or what looks "Pinterest-Perfect", or what everyone else tells you you're "supposed" to do. Stay true to your budget, your style, and what you have dreamed of. Also, remember that this day is about love, not about decorations. Put more of your effort into the emotional elements of the day, and it will be a wedding that you and all of your guests will remember forever. Five months after my wedding, many of my guests are still telling me that my wedding was one of the most heartfelt weddings they have attended. That makes my heart smile, because when I dreamed of my wedding, that was all I could have asked for.
MOST MEMORABLE MOMENT? One of my favourite moments of the day was one that I did not even plan for. My husband and I are both huge Golden State Warriors fans, and they had just won the championship weeks before our wedding. Without our knowledge, our entire bridal dressed up in Warriors gear and had the blue and gold noise sticks and gave us a Warriors celebration on the dance floor. Now my husband will officially never forget the year we got married because first and foremost it was the Warriors won the Championship!!
Photographer DANIELLE POFF PHOTOGRAPHY / Videographer JILLIAN JACKSON / Cake NOTHING BUNDT CAKES / Florist ADRIENNE HAYGOOD FLORIST / Stationery WEDDING PAPER DIVAS / Venue HOLMAN RANCH / Bride's gown MARISSA FROM HAUTE BRIDE LOS GATOS / Shoes BADGLEY MISCHKA / Jewellery GEOFFRY'S DIAMOND / Hair & make-up MONI SEBESTYEN + CLAIRE EGURROLA / Bridesmaids' dresses VARIOUS DESIGNERS / Grooms attire MEN'S WAREHOUSE + CALVIN KLEIN / Planner CLAY & LISA JACKSON / Caterer SOLEIL PIZZA / Music DNA Entertainment