Terry and Kelly both grew up in small towns out in the country, and were looking for a location that would capture their rustic roots, whilst providing a romantic destination for their out of town guests to come and visit. The beautiful wedding venue of PIPPIN HILL just outside of Charlottesville, Virginia most certainly fit that bill and once they saw it it was love at first sight with it's perfect combination of rustic romance and sophistication. We delighted to share these beautiful images by the lovely KYLIE MARTIN PHOTOGRAPHY with you today. I have to admit this would be my dream wedding venue - that building is to die for! Read on for more of Terry & Kelly's story.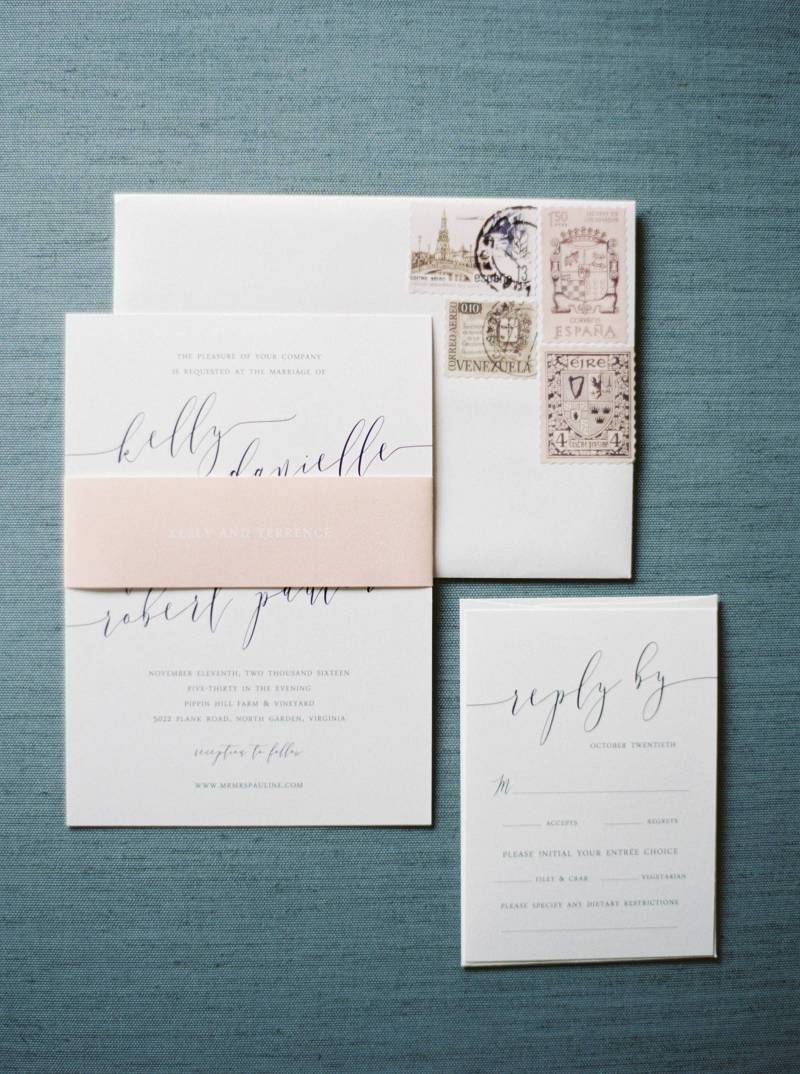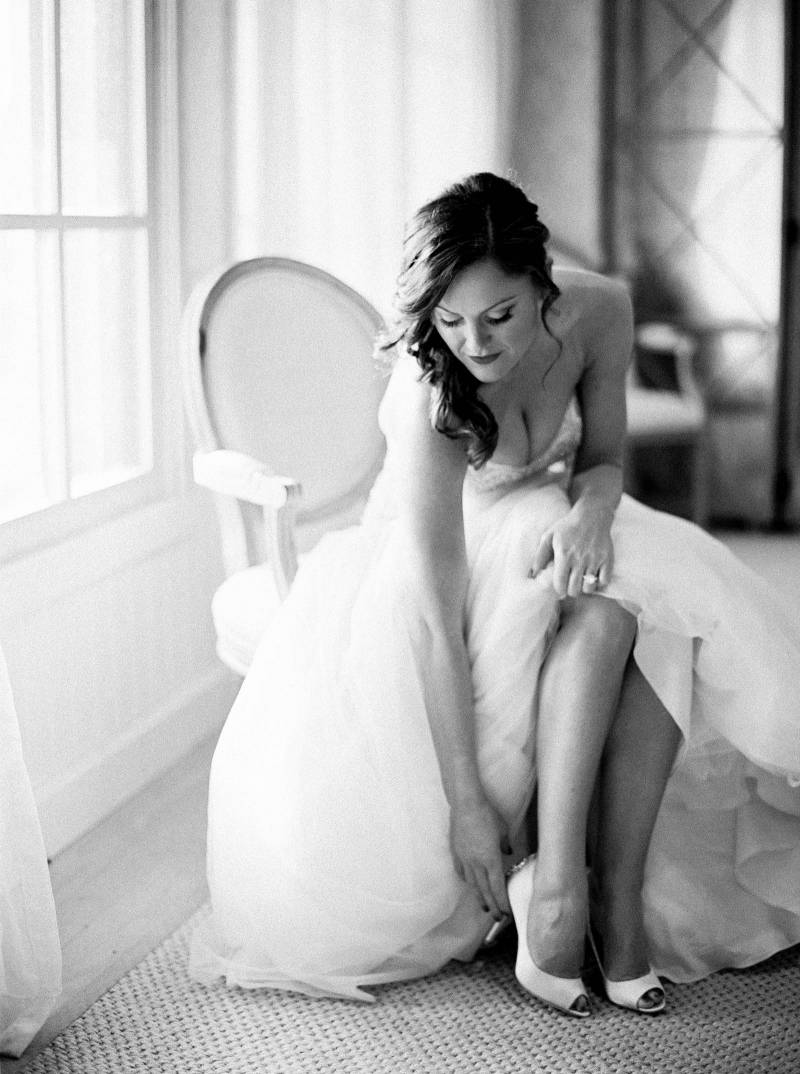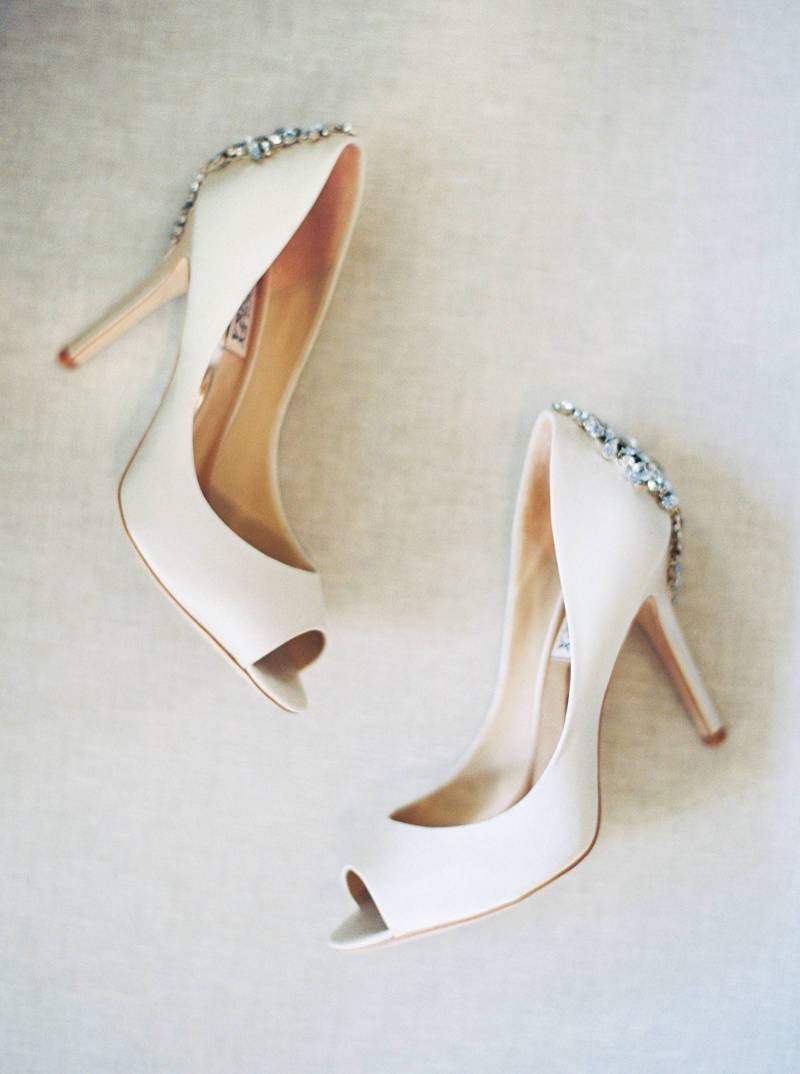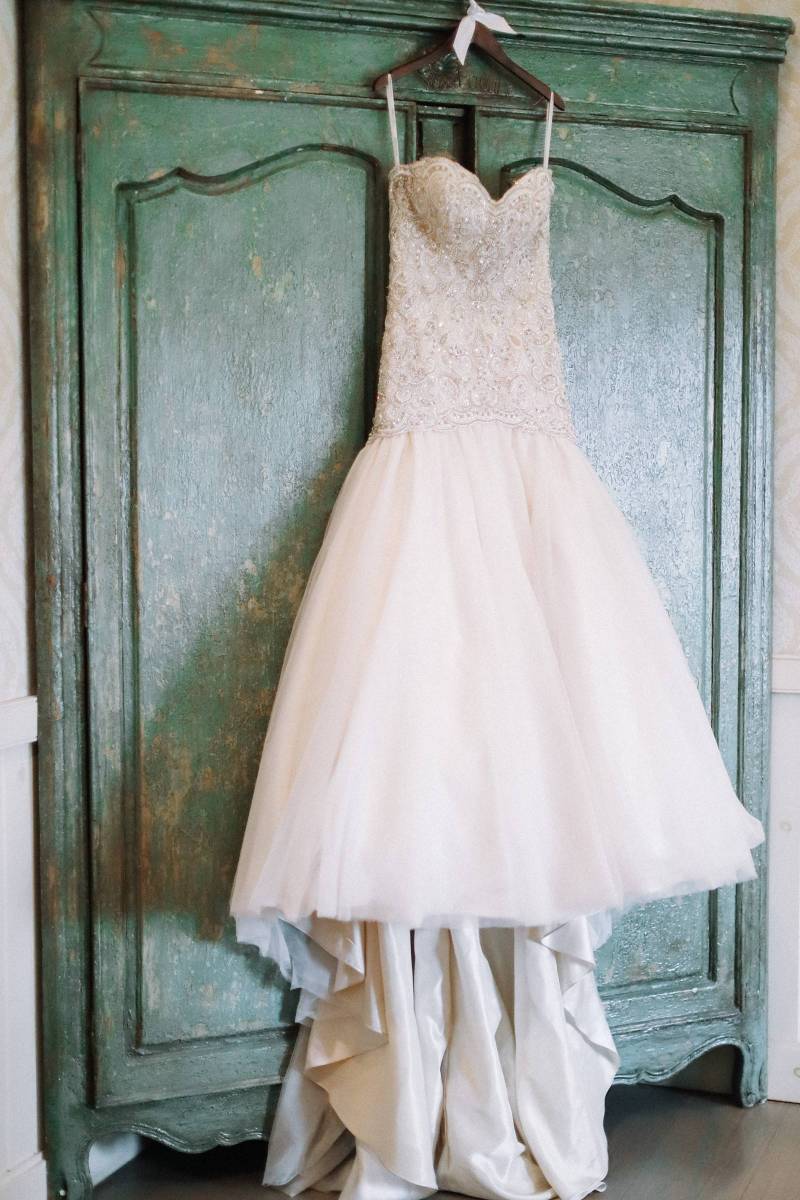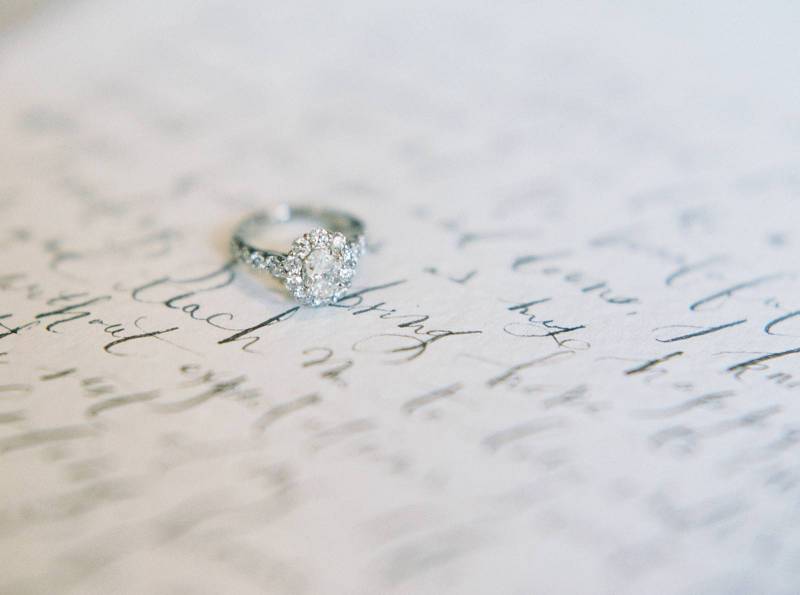 HOW DID YOU MEET? A fairytale beginning of the 21st Century... Terry and I met online! Over the last ten years, we have moved a combined total of 12 times, covering most of the US and parts of Europe! As fate would have it, we both moved back to the DC area in late 2012 for work, and a little over a year later found each other on Tinder! A fresh new approach to online dating that helped remove all the noise of unwanted suitors, and connect those that had a strong attraction at first sight! I think its safe to say, we were both captivated by each other's big blue eyes and warm smile. Over the last few years, we have been on quite the journey together; travelling the world for work and school, adding two furry babies to our family and building a home in our new house in Alexandria, VA! We are so blessed to celebrate our love for each other with the amazing community of family and friends that have been they're cheering us on with their love and support from the beginning.
TELL US ABOUT YOUR PROPOSAL: We took the most romantic private catamaran tour through the British Virgin Islands in late May of 2015 with two of our closet couple friends. It was absolutely picturesque and the most luxurious vacation we had ever experienced. I had a feeling he was going to pop the question one evening as we watched the sun set, but with each passing night, it seemed less likely it was going to happen. As we took our final flight home, I couldn't help but feel a small bit of disappointment in the pit of my stomach. I thought, maybe he wasn't ready. Maybe I had miss judged where we were headed. As we started to settle back into our routine, and unpack from our long trip, I was completely caught off guard when our puppies started to come toward me with a sign around one's neck and a ring around the others, asking me to marry their daddy. I just broke down in tears in complete surprise and disbelief! He wanted to involve our furry babies in the big moment, and create the memory in our new home. It was perfect and romantic and just his style!
TELL US ABOUT FINDING YOUR WEDDING DRESS: I was on the hunt for something romantic and figure flattering that would compliment my vision of a twinkle lit ceremony on a chilly day in November. Elegance by Roya was my second stop in old town Alexandria, and I fell in love with the boutique as soon as I walked in and met their incredible staff. They listened to my vision, and pulled out a few suggestions all of which I loved. With only six months to plan my wedding, I had time constraints around ordering a gown with enough time to have it altered. The one I fell head over heels for of course had a 6-8 month order time frame, so they suggested I buy the floor sample. I was hesitant because it was a size 14 and I needed a size 4, but they assured me it would be altered to fit by body like a glove. After several trips to the shop for fittings, they miraculously altered the vintage lace bodice to fit my every curve. I was so happy with how it turned out! The staff helped me share the special moment with my mother who lives on the west coast by holding my phone and capturing my reaction to the final fitting through Skype. It meant so much to be able to share it with my mom, who was also my Mother of Honour.
ANY DIY ELEMENTS? Of all the details we spent time putting together, the flowers and ceremony arch were the biggest undertaking. Designing the colour pallet, selecting the varieties, ribbon and other detailing accessories, while figuring out how to build them into the reception décor and ceremony layout was quite the project. We built the ceremony arch out of copper piping with a wood platform. Wired it with a curtain of twinkle lights, and draped strands of crystals along the top for added sparkle before hanging linen curtains and tying them back with white burlap ribbon. The final detail was the greenery accent along the inside detailing of the drapes. Provided the perfect amount of sparkle against the dark blue sky.
DESCRIBE YOUR WEDDING FLOWERS: My wedding flowers were created with lots of love from my incredibly talented mother. She helped bring my vision of rustic romance to life, selecting the perfect mix of texture and bold colour to complement the fall colours of the wedding party attire and the muted foliage of the Blue Ridge Mountains. Her use of silver eucalyptus, soft pink wax berries, deep red and soft champagne roses created a bold and elegant touch throughout. She lined the linen drapes on the ceremony arch with eucalyptus swag, and sprinkled similar touches of greenery on the get-away car, and welcome sign, helping to bring it all together.
FAVOURITE DETAIL OF THE DAY: We chose to get married on November 11th because it was Veterans Day, and my husband to be was retiring from the military after 20 years of service. All dressed up in his uniform, I wanted to honor his sacrifice by surprising him with the presentation of his grooms cake after we performed our traditional cake cutting. The wait staff came out and presented him with a small round cake, decorated with the Special Forces crest on top, and green vanilla cake on the inside symbolizing his service as a Green Beret. I gave a toast to him and all his fellow brothers and sisters of the Armed Forces while The Ballad of the Green Berets played in the background. He was touched and totally surprised!
WHAT ADVICE WOULD YOU GIVE OUT TO A COUPLE PLANNING THEIR WEDDING? So many lessons learned throughout the planning process! I read a lot of blogs along the way, many of which had great tips and pieces of advise. The one that resonated with me and proved to quite helpful was to pick the few items that were most important and those I was willing to splurge on, and book those first. Then do what I could to cut costs on everything else. I chose to splurge on our venue and our photographer. I knew the day would fly by, and I wanted to have beautiful pictures to hold on to forever, allowing us to enjoy and relive the joyous day over and over.
I would also encourage brides to budget for roughly $3-5K in unexpected costs. We had a few items come up at the end that never made it into the budget and drove up expenses beyond what we had planned. Most notably for us, our outdoor lighting package which was added last minute, and in my opinion should have been required by the venue for a late fall wedding scheduled after 4pm. Without it, our ceremony would have been in complete darkness.
MOST MEMORABLE MOMENT? My husband and I both lost our fathers around the same time nearly 6 years ago, and we wanted to find a way to honour them both throughout our special day. We placed white long stem roses on the reserved chairs where they would be seated during the ceremony; we featured a collection of photos and burned candles in honour and remembrance of them both; and in absence of a father daughter dance, my husband had our uncles on both sides line up to dance with me, showing their love and support and holding me in a moment that brought up so many sad and painful emotions. It was such a special moment that I will cherish forever.
ANY OTHER DETAILS THAT HELP TELL THE STORY OF YOUR DAY? One of the most memorable experiences I have of the preparations and planning process was the private dance lessons we took during the 3 months leading up to the big day. From picking our songs, to learning how to move together and communicate through our movements was such a rewarding and challenging journey. There were moments that challenged our patients with one another and personal confidence, but as the months passed and our skills improved, we started to enjoy the experience and feel a sense of accomplishment with one another. I can say on behalf of us both, that the anticipation of our first dance was the most nerve-racking part of the whole day. After we completed our two routines, we both let out a big sigh of relief and embraced each other with a huge sense of achievement and happiness. We plan to keep our dancing shoes on and keep dancing!
IS THERE ANYTHING YOU WOULD CHANGE OR DO DIFFERENTLY? It would have been great to have more time to plan and enjoy the process along the way. Our six-month engagement hit at a time where I was finishing up grad school abroad, starting a new job, and juggling my husbands travel schedule. That being said, it all turned out beautifully and I'm sure if I would have given myself more time to plan, I would have filled the extra months to the max. Just seems to go with the territory of planning a wedding. The reward of a beautiful day, and a honeymoon in Bora Bora made it all worth the hard work!