Brooke & Sean's wedding at Big Sky in the Rocky Mountains of Montana was a perfect blend of rustic touches with a more classic & elegant vibe. Captured by KACIE Q PHOTOGRAPHY and planned by Kait from BASH, the location was special to the couple for many reasons. Together they've enjoyed some of their best times together there and it was appealing to get married in a location away from their daily lives and a spot where their friends and family could gather over a few days. "There are so many fun things to do in Montana, and we thought it would be a good excuse to spend quality time with our guests outside of just the wedding day itself, which took a lot of pressure off of us at the actual reception to feel like we needed to say hi to everyone, and make the rounds. The days before the wedding we had lots of fun group rafting trips, hikes, barbeques and horse back rides. We were able to enjoy ourselves and time with our friends and family in a slightly more relaxed way over those few days."
TELL US ABOUT FINDING YOUR WEDDING DRESS: I knew I wanted something very classic and timeless, and something that didn't overwhelm me (I wanted people to look at me, not my dress). I also didn't want to spend much money on the dress, which is funny because I'd spent my entire childhood ripping wedding dress pics out of magazines. But when the time actually came, I just felt like it wasn't about the dress anymore. I found my wedding dress skirt on sale on ShopBop almost immediately after we got engaged, and tried it on at my mom's house with my bridesmaids there. It was actually the first thing I tried on, and I loved it immediately - it's this beautiful blush colour and I loved the structure, so I feel lucky about that. I didn't love the top that it came with, which was strapless and felt a little too young for me. The search to find a perfect top was more challenging than I expected, I think because I had something fairly specific in mind - I really wanted boatneck (my favourite neckline since I've been young), it needed to be cropped to the waist to go with the skirt, I wanted a small "v" in the back, and I wanted it to be ivory organza because I knew if we tried to go with anything close to blush, it would just look like we tried to match the skirt and failed. I ended up just having my top made by this amazing seamstress in NYC which I think is definitely the way to go if you do have something very specific in mind. It was also relatively simple and straightforward. I sketched it out and they nailed it. And it was relatively inexpensive. I actually ended up spending more money on my dress for our welcome dinner- this gorgeous Zimmerman white lace beauty that I'm kind of obsessed with.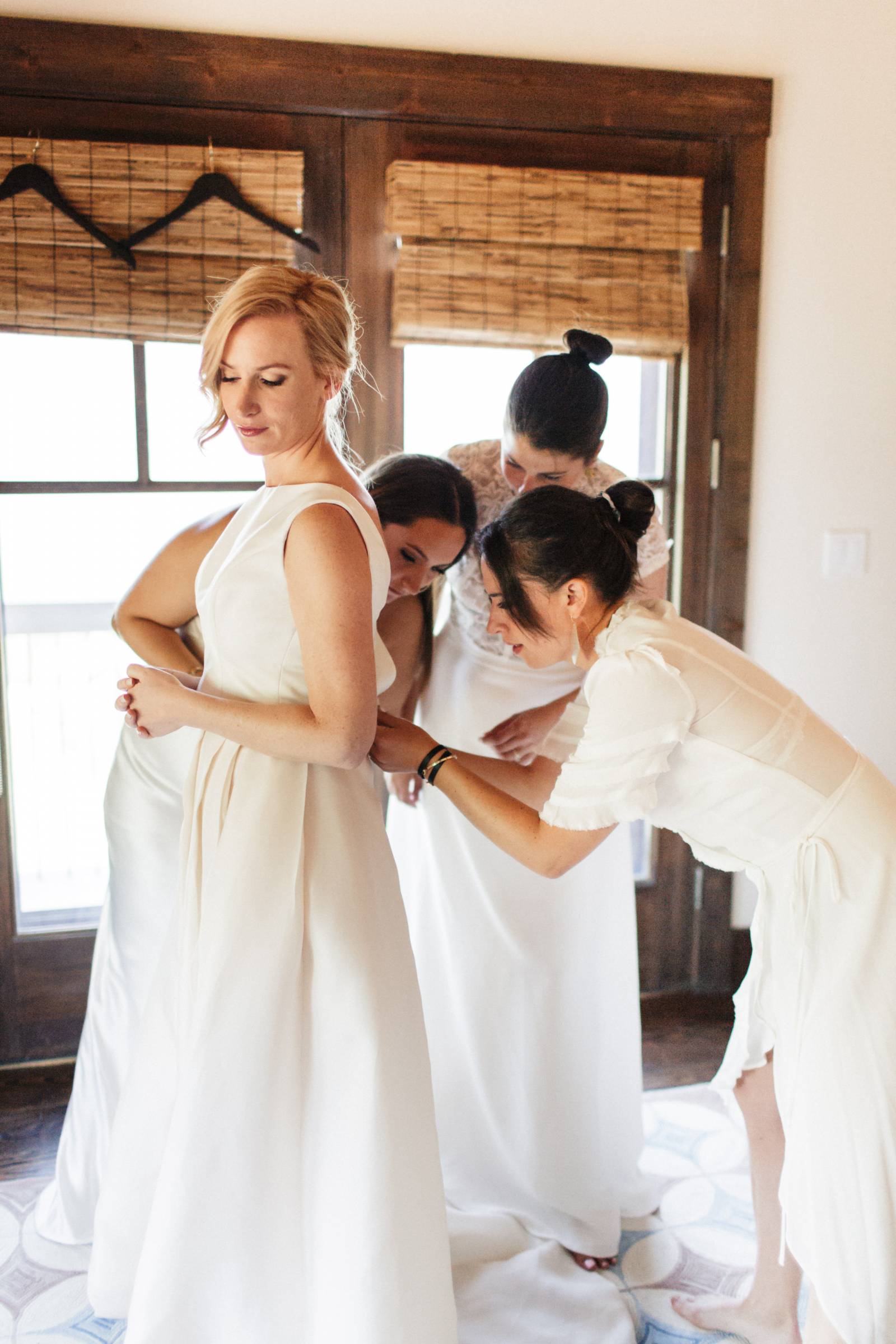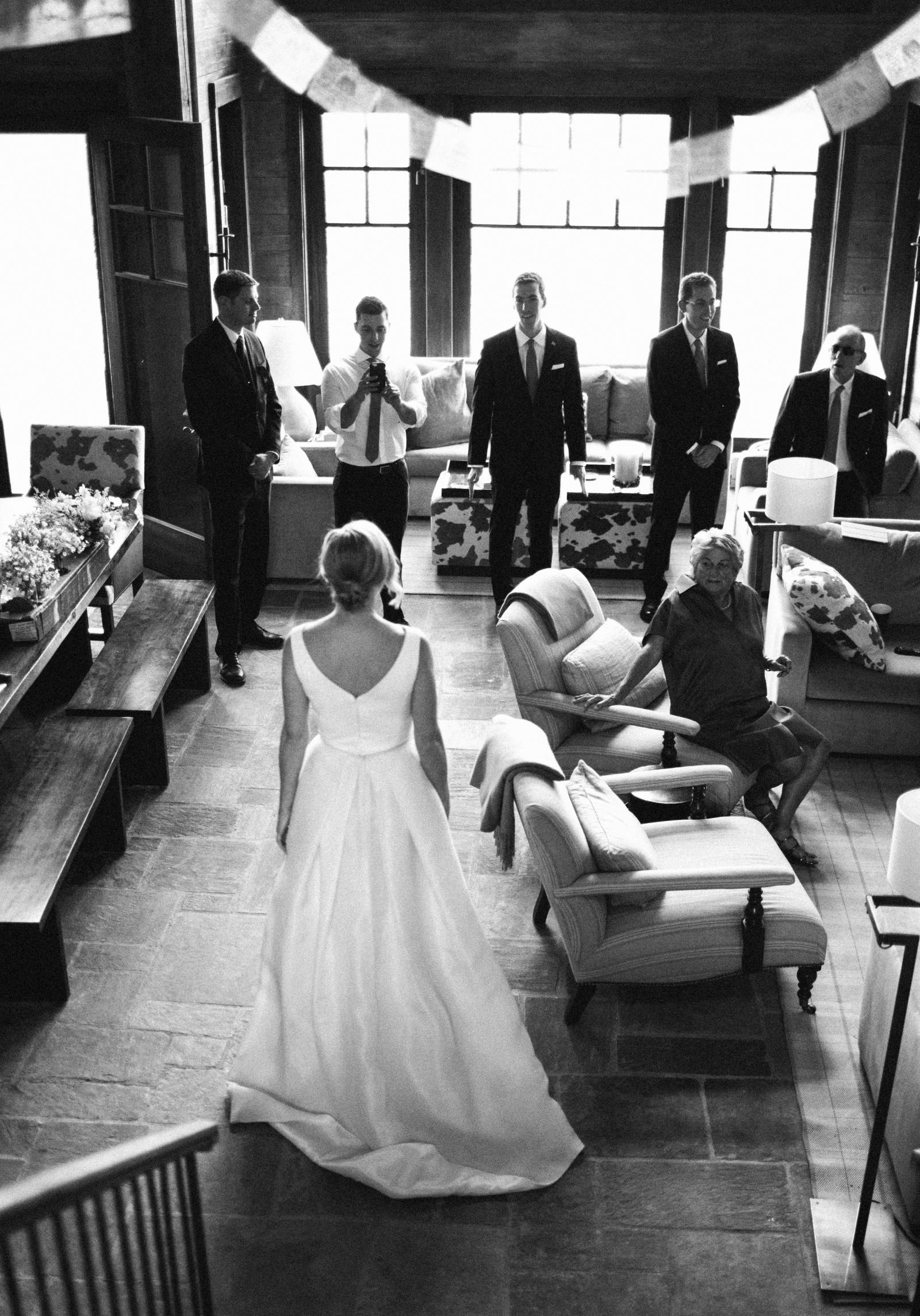 DID YOU HAVE ANY DIY ELEMENTS? My brothers did host a fireworks show for us at the end of the night which could be considered DIY. They are both engineers and also clearly have a pyromaniac side that I didn't take seriously enough. When I mentioned fireworks were something I was hoping for, I really had no idea they would take it so seriously! It was incredible. They spent months researching and figuring out where to get all the supplies, calling the fire department, testing the launches- it was hilarious. I was also shocked at how good it was - very impressed. They crushed it.
DESCRIBE YOUR WEDDING FLOWERS: We had a lot of Queen Anne's lace that grew as weeds near our home growing up and I'm embarrassed to admit from when I was little I would pick it and dream of it being my wedding bouquet. Fast-forward 20 years, and I still really wanted our bouquets to be some kind of white, delicate wildflower that had a similar look. I like the idea that each of my bridesmaids could carry bouquets of a different flower, because they are all beautiful and unique. I also really did not want big, complicated bouquets that would distract from us and our faces. I think I said to Julio I was looking for the mountain wildflower equivalent of the classic, smaller lilies of the valley look. Apparently, wildflowers are a disaster from a maintenance perspective because they wilt really quickly after you cut them, but Julio and his team made it work. We kept them in water until the last minute and they held up really well. I was happy Julio let me do that despite his concerns. On the day of he also gifted me a separate bouquet that was a bit larger and was fun to carry for some of the pictures, which was really thoughtful. In terms of the décor, I (again!) wanted to keep it pretty simple to not distract from the natural beauty around us. But I was torn because I also love flowers and had become somewhat obsessed with some incredible big, statement-making arrangements I'd seen on Instagram, so I had a hard time sticking to that vision 100%. I asked Julio if he could make a couple statement pieces which I think he and his team had a lot of fun with and that turned out beautiful.
FAVOURITE DETAIL OF THE DAY: The Cameroons, our incredible band, surprised my dad and I by customising the lyrics to our father-daughter song. My husband and mother gave them a list of memories and things my dad and I shared, even down to the name of the imaginary "Larry the leopard" that was the main character in his bedtime stories when I was little. The Cameroons wrote three or four verses out of all the stories. It was incredible! We were so surprised. It was so special, and that band is just insanely talented that they could crank something like that out.
WHAT ADVICE WOULD YOU GIVE OUT TO A COUPLE PLANNING THEIR WEDDING? Focus on your ceremony. Especially if you aren't getting married in a traditional ceremony, it's a great opportunity to have a conversation between the two of you: What do you want to promise and commit to each other? What traditions or stories or words do you want to incorporate? That's the most important piece. The rest is just frosting and fun.
Oh, I'd also say, very tactically:
If you have an outdoor wedding, have a good microphone and speakers. People cannot hear you otherwise, and it's a big reason why they came is to hear your vows!
Not nearly as fun to think about as flowers, but make sure you have a good power source that can support all of what you need - ceremony speakers, catering, band, bathrooms, etc. We were fine on this front, but after a good friend's wedding had some issues with this and it was a real bummer, so I like to give her advice to everyone
Water down the booze if you're at altitude and especially if you have a shot ski. Will never admit this to our guests, but it was definitely a good decision. Everyone still had a LOT of fun, but we didn't have to worry about calling an ambulance
Don't choose a venue where you would be the first person to throw a wedding there unless you have time and energy and desire to be highly engaged (e.g. visiting the venue multiple times)
MOST MEMORABLE MOMENT? It was true Montana weather and we got SO lucky. It was sunny and beautiful for our outdoor ceremony and cocktails, and then right as it was time to sit down under the tent for dinner it started raining... and then hailing. Like large, loud hail. And it turned so quickly the tent got really chaotic for a second as people got up from dinner and tried to help out, or get to the center where it was drier. I remember seeing my cousins running around trying to help the crew put the flaps on the tent down and cover the electrical equipment and their shirts got soaking wet. It was really fun to see everyone chipping in and coming together, getting cozy under the tent. The energy from all of our friends and family was palpable, in a good way - it was kind of cathartic and helped me to let go of the formality of the timeline and just kind of go with the flow. After about 15 minutes it stopped, the sun came out and two beautiful rainbows came out over the mountains, and it felt like we were in a dream. It was incredibly spiritual and emotional actually. Words can't describe that moment. And I was just super relaxed after that, because it helped me just let go and enjoy the moment.
ANY OTHER DETAILS THAT HELP TELL THE STORY OF YOUR DAY? We cannot talk about our wedding without talking about The Cameroons, our amazing and insanely talented band. To say they bring the energy is an understatement. They played, and we danced, for three hours straight- no sets, no breaks. And they played all the music we love most, from classic rock to 90s hits to bluegrass, folk and country. I was worried people were going to have heart attacks from the altitude and all the jumping around. I had to wear my hiking boots for days after the wedding because my feet were so bruised from dancing. And I'm so happy that several of our guests have since booked them for other events after our wedding!
IS THERE ANYTHING YOU WOULD CHANGE OR DO DIFFERENTLY? I would have not picked a venue that had never hosted a wedding before, and that our planner had never worked with before. The other piece was managing our timeline. Somehow, despite all our planning, on the wedding day it went from feeling like we had all the time in the world, to my bridesmaids and I being over an hour late to meet my then fiancé for photos before the wedding. It was only a bummer because we didn't have nearly enough time for all the photos we wanted, and I felt really badly that he'd been waiting there for over an hour.