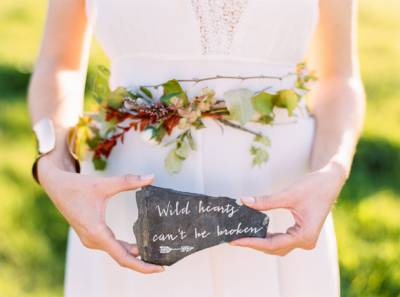 This gorgeous shoot by BUBBLEROCK is timely for downunder brides given technically we're now in Autumn (although it sure didn't feel like it as I sweltered under the sun yesterday!!). Stylist Veronique from QUELQUE CHOSE DE BLEU wanted to create a simple atmosphere through her decor and flowers, taking advantage of whatever was available around her: foraged flowers from the garden, simple pottery plates and glasses and a big wooden plank from her grandfather's workshop. She wanted to create something grounding, simple, and very elegant and she's certainly achieved that and more.
The invitation and other stationery were done on slates, retaining the earthy theme throughout, the menu is a calligraphic print on cotton material. The choice of raw material was the base of the vision for this inspiration shoot. The bouquet, centrepieces, crown and flower belt were a mix of foliage and flowers, structured and wild all at the same time.
This is one of those shoots you just want to jump through the screen into and be a part of… looks like such an idyllic way to spend the day! Beautiful job team!