'Simple with a statement' was how gorgeous bride Rebecca envisioned her wedding to Clay. "I wanted our families and our guests to feel comfortable and I didn't want to lose the special moments to the glitz and glam of it all. Besides, the Gadsden House is beautiful enough to speak for itself and I didn't want to overshadow that. My planner, HALEY KELLY EVENTS, heard me and executed this so perfectly – she helped make a large event feel intimate while still incorporating the most beautiful statement pieces and special design elements and details. Clay and I, along with our guests, were blown away at how incredible everything looked. Charleston wedding photographers THE HAPPY BLOOM captured their day to perfection!
WHY DID YOU CHOOSE THIS LOCATION? Clay played baseball at the College of Charleston all throughout our undergrad years. I was 6 hours away at Auburn University. Being a college athlete, each weekday was occupied by practice and each weekend was spent at games (and hopefully a bit of schoolwork in between), so it was a rare occasion that he was able to leave campus. On the other hand, I spent a lot of my time traveling to see him and we spent a majority of our time together in Charleston, which became a special place for the two of us. After getting engaged and starting to talk about where we might like to get married, Charleston felt like a no brainer for us. We took a weekend trip down to look at a few venues, and we walked out of the Gadsden House in love with the space and booked it that same day.
HOW DID YOU MEET? We grew up in the same town and went to high school together. To me, this has been so special because we've lived out almost every phase of life together, which only helped us to grow stronger and closer as we grew in our relationship.
TELL US ABOUT YOUR PROPOSAL: Clay joined my family on a short beach trip last September. My parents were celebrating their 35th wedding anniversary that weekend, so my sister, Clay, and I were planning to surprise them with a romantic picnic. We spent the weeks leading up to the trip gathering items to make the surprise special, but what I didn't realise was that I was helping to set up my own proposal. While I was trying to help pull off what I thought was a secret for my parents, everyone else was whispering when I left the room and playing hot potato with the ring. My sister, Clay, and I left early to set up the location - a beautiful old church ruins site in Beaufort, SC - and "while we waited on my parents to arrive", Clay suggested that we walk around and check out the ruins. Shortly after that, my sister disappeared and Clay was down on one knee. As soon as I came back down to earth and realised what was going on, I looked over and my sister was hidden behind a wall with a camera and had captured the whole thing. My parents were in a car right behind us and were hiding out around the corner. It was so special and I was completely caught off guard.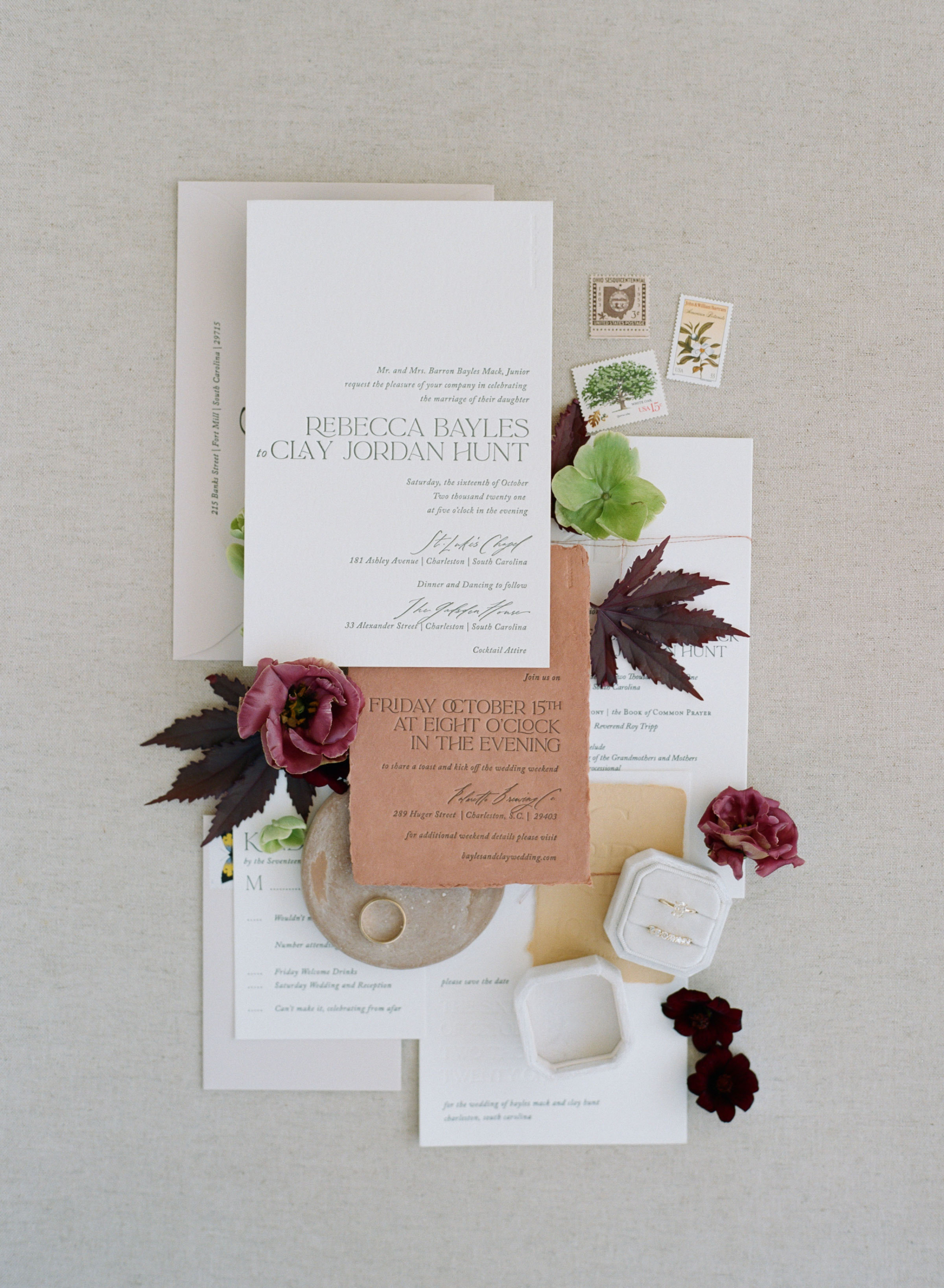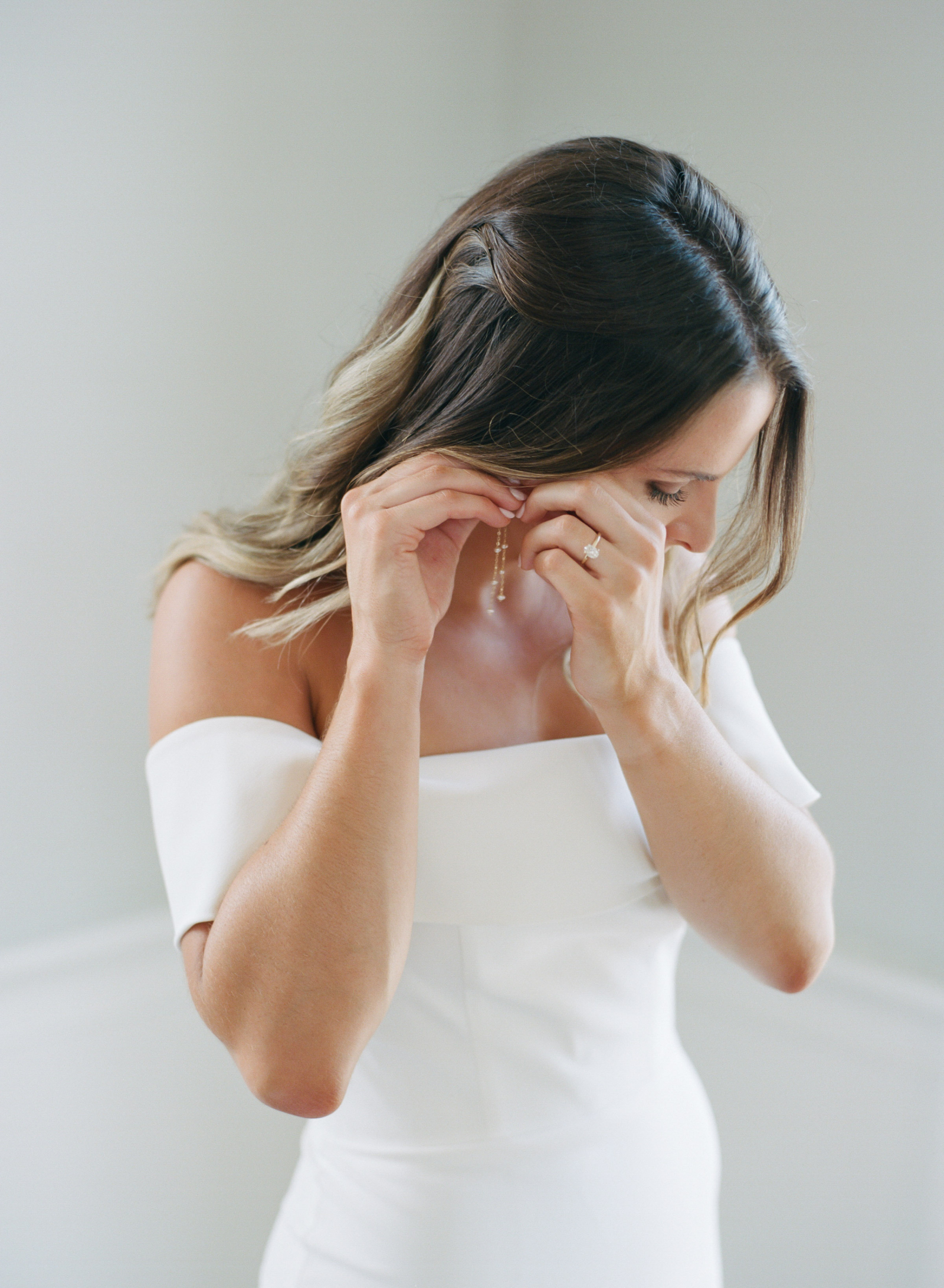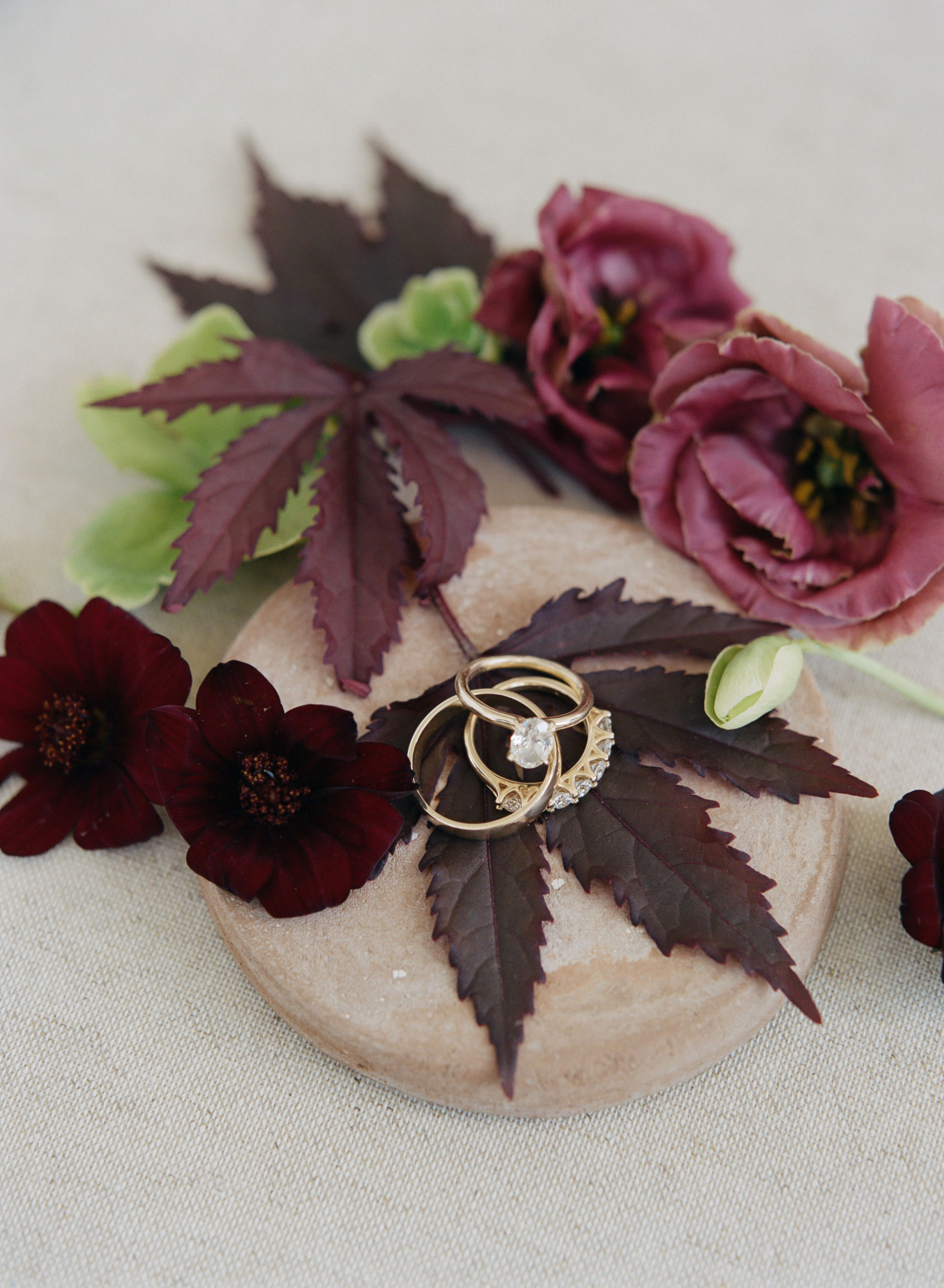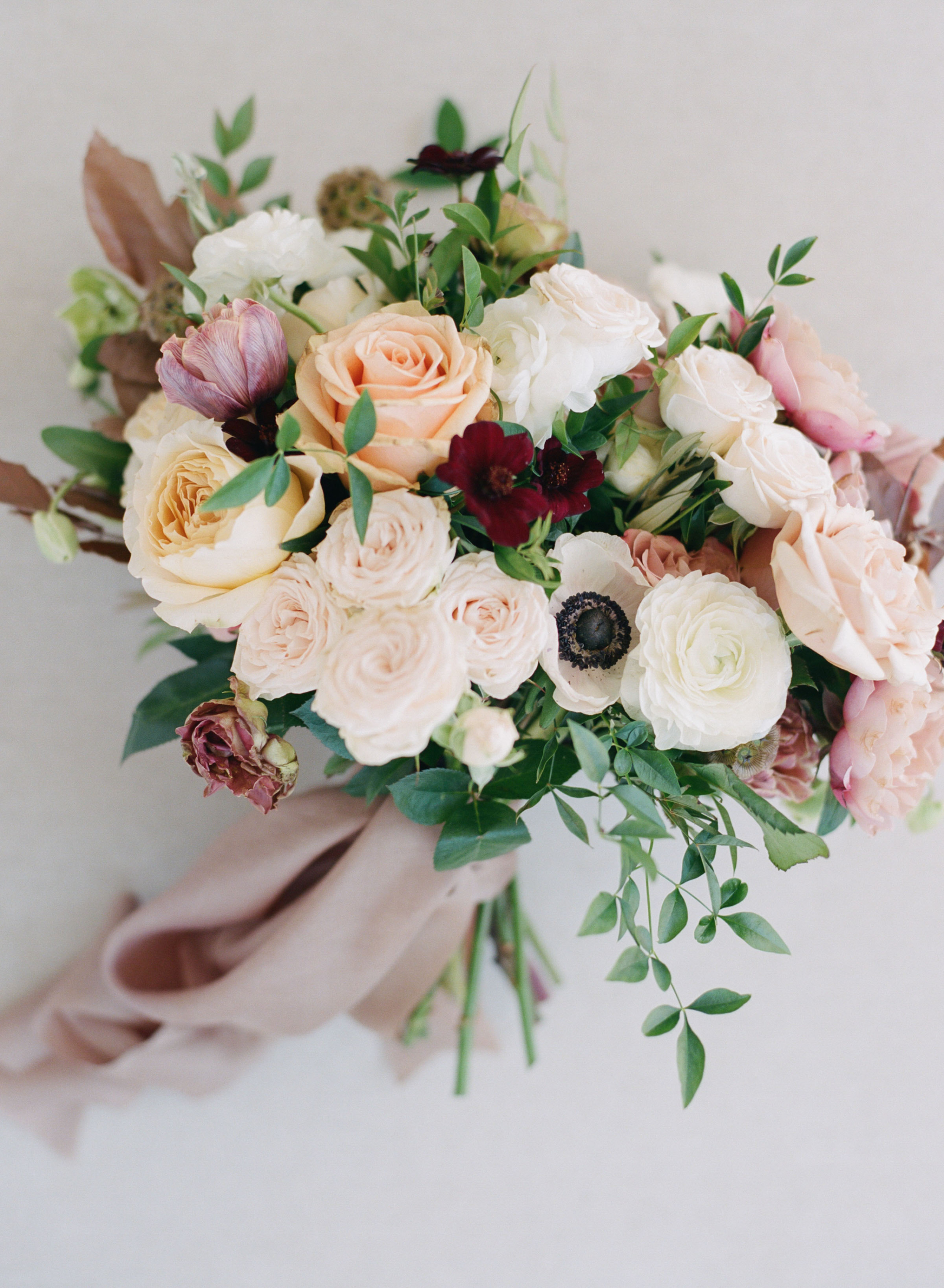 TELL US ABOUT FINDING YOUR WEDDING DRESS: My mom, sister, and I packed up the car and headed to Atlanta to look at dresses. We didn't expect to find the dress, but we thought it might make for a fun girls weekend spent somewhere different after a year spent in lockdown. I am the most indecisive person ever, so as you can imagine, looking for a dress was not a simple task. We had three appointments in two days and I tried on almost 45 dresses, loving and hating each of them for different reasons. I was sure we would go home empty handed, but the very last dress I put on felt different. This elegant and timeless wedding dress made me feel like me, and I knew that months down the road, I would be excited to wear it again and I would feel just as beautiful as that first day. I think brides are the most radiant when they are comfortable and happy, and this dress gave me just that feeling.
DID YOU HAVE ANY DIY ELEMENTS? Not really – and thank goodness for that! If I had done any DIY-ing, it would have been a disaster. Haley, her team, and our vendors are far more creative and talented than I could have ever imagined and I was so lucky to have had them on my side to create and capture such an amazing day.
DESCRIBE YOUR WEDDING FLOWERS: Flowers are my thing. My parents are both gardeners and I've grown up loving fresh flowers. Clay surprises me regularly with beautiful blooms. Flowers were the one place I wanted to make a statement – on the beautiful Gadsden House mantels, throughout the reception venue, with the wedding party, and in the chapel to remember my sister. Vero Designs captured all of those things perfectly.
FAVOURITE DETAIL OF THE DAY: It was really important to me to incorporate my oldest sister, who passed away suddenly seven years ago, into the details of our big day. One of my favourite ways we came up with to do this was by placing hydrangeas, her favourite flower, on the altar at the ceremony. After the ceremony, these arrangements were then moved to the corners of the stage and dance floor at our reception, which is exactly where you could have found her dancing all night long.
WHAT ADVICE WOULD YOU GIVE OUT TO A COUPLE PLANNING THEIR WEDDING? Decide on just a couple of things that are most important to you – once you prioritise your list, decide that you aren't going to get worked up about all the tiny little details in between. This was one of the first things that Haley had me do and trusting her judgment made such a huge difference. It all goes by so fast and if you get too caught up in the smallest things, some of which you have no control over, then you're going to miss it. At the end of the day, the most important part of the whole weekend is that the two of you are getting married and all of your favourite people are gathered in the same place to celebrate and support you.
MOST MEMORABLE MOMENT? For me, the most memorable moment of the whole night was the exit. In my head, I had dreamed of the perfect exit with sparklers, a cool getaway car, and a perfectly timed photograph of us kissing as we rode away. When the time came, we had all of those things and more - but things happen. After our grand sparkler exit, we walked out to the car only to find that it was broken down. At this point, guests were starting to exit the venue, so Haley whisked us away to the nearest bench hidden behind the bushes. She brought us a bottle of champagne and a piece of our wedding cake and Clay and I sat there and laughed until the next car came. Honestly, this turned out to be one of my favourite moments and one that I will continue to talk about for years to come because it forced us to slow down, look at each other, and take in all of the excitement and joy of the day that we had just experienced.
ANY OTHER DETAILS THAT HELP TELL THE STORY OF YOUR DAY? Some would say that I'm a little obsessed with details and they would be right. I wanted to capture everything – not just how it looked but also how it felt. One of the first things our photographer Justin told us was to trust him, and we did. He did such an amazing job capturing the big moments but probably more importantly the emotion of the day. When I look at all of the photos, I feel like I'm right back in those moments. We also captured the story of our day with a live painter. He chose one of my favourite moments without even knowing it and it's been fun to hear the stories of our guests who posed for him to secure their spot in the painting.
TELL US A LITTLE ABOUT YOUR HONEYMOON: We spent the first half of our honeymoon in Charleston. We've spent a lot of time together in Charleston, but we used this as an excuse to treat ourselves to all of the fun and fancy restaurants, bars, and activities that the city has to offer. After a few days there, we caught an early flight to a small island in the West Indies called Nevis. Being the middle of hurricane season and a global pandemic, we were one of only about eight couples at the entire resort on an already small island. Splitting our week between two very different places gave us what felt almost like two separate honeymoons, making it even more exciting.
IS THERE ANYTHING YOU WOULD CHANGE OR DO DIFFERENTLY? Honestly, I wouldn't change a thing. Even the things that turned out a little differently than we expected ended up being exactly how they were meant to be.
A big thank you to Charleston wedding photographers THE HAPPY BLOOM for sharing this beautiful wedding with us. Husband and wife team Justin & Amanda specialise in fine art wedding photography with a Southern heartbeat. All of the soft dreamy film goodness - with a small Charleston twist. They focus on images that put emotion and happiness at the forefront. "We want to capture you in your happiest, natural moments from beginning to end! Our goal is to photograph a wedding with authentic intention and genuine emotion." You can see more of their work in their portfolio here.