Classic, simple & elegant, neutral earth tones... all elements that Bree wanted to incorporate into her wedding design. She tells us, "I knew for my wedding I wanted it to be timeless and elegant. I didn't want to look back in a few years and say "what was I thinking choosing THAT colour?"." Atlanta wedding photographer A. THOMAS PHOTOGRAPHY captured their beautiful day at WHITE OAKS BARN in the North Georgia mountains. Being under a two hour drive from the couples home it offered them not only convenience, but stunning views.
Photographer Abigail shares her thoughts on their wedding, "Dan & Bree's mountainside wedding day was full of the details every photographer loves: stunning bride, beautiful floral design, and an incredible view, but what really stood out to me about their wedding was the love that they share with one another and their family and friends. The day was truly about everyone getting to come together and celebrate their union, and the details, although stunning, didn't hold a candle to the beauty of their love."

With a stunning mountain backdrop, an incredible day of sunshine, and a couple this madly in love...nothing could dampen their fairy tale day - even when the groom broke three fingers making pieces for the wedding day and had to wear a full arm cast after surgery four days before the wedding!."
HOW DID YOU MEET? Dan and I went to the same high school together., but at the time, we were at a pool party with mutual friends. Dan tells everyone he was walking up the steps while staring at me by the pool and he fell right on his face. His grandfather told the same story while marrying us – that he fell for me, literally.
TELL US ABOUT YOUR PROPOSAL: We had recently bought a new house and we were in the process of painting to get ready to move in. We looked a hot mess with paint all over our hair, clothes, etc. Dan took a break from painting outside while I stayed inside finished up. He got something from his truck and came to the window. (Yes, you guys, he was outside and I was inside and due to the house being on a basement, he could barely reach me.) He said this was the house he wanted to raise a family in and that there wasn't a more appropriate place to ask and he asked the question. It was perfectly us – a hot mess and I wouldn't trade it for the world.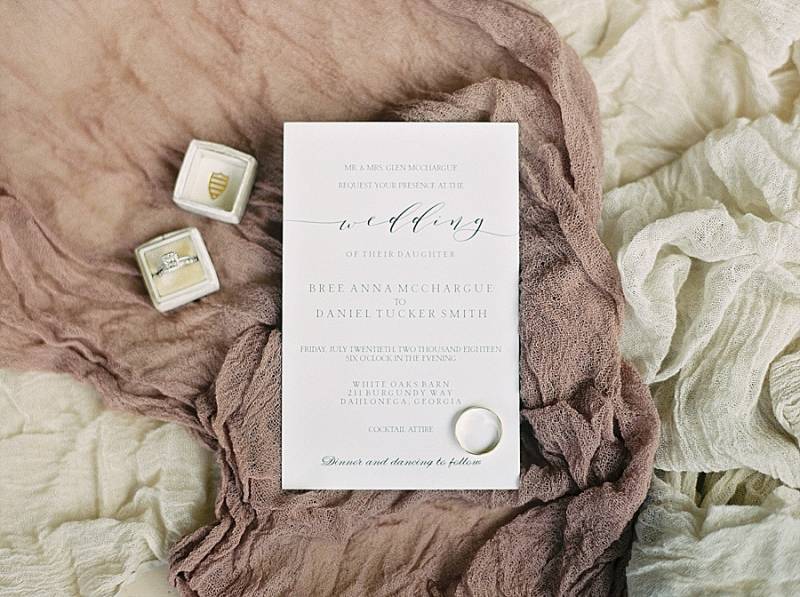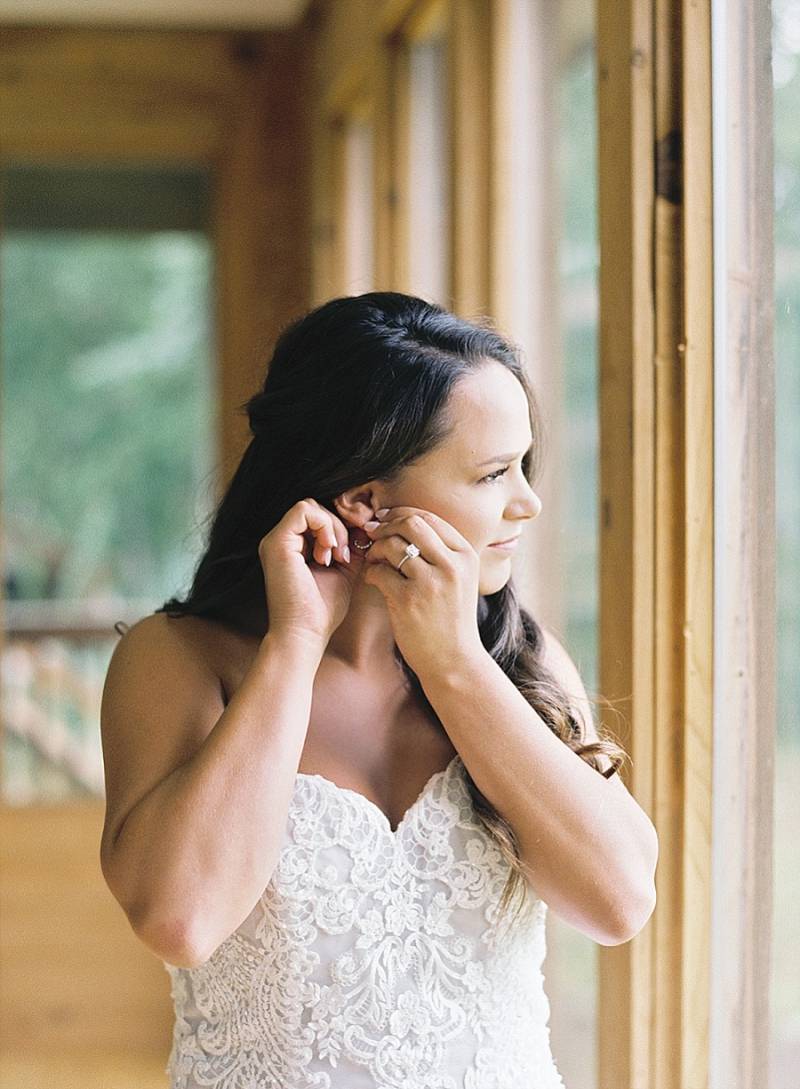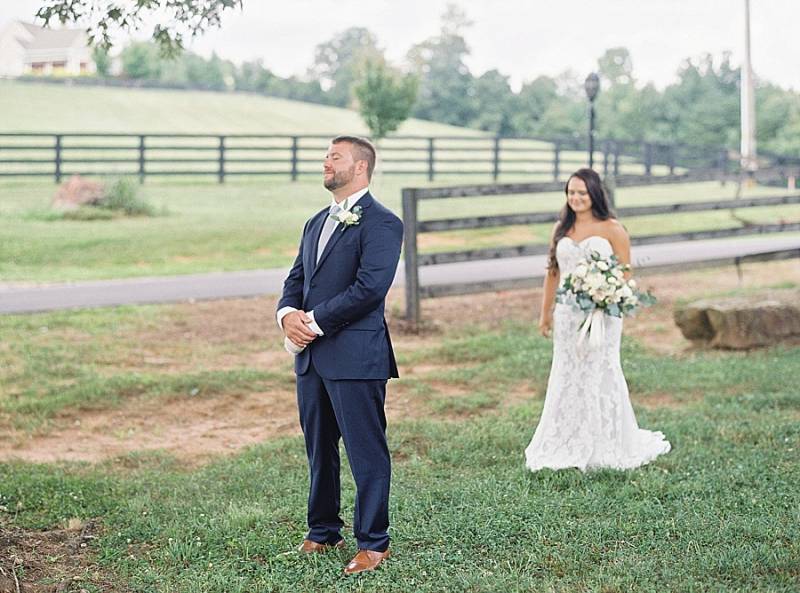 TELL US ABOUT FINDING YOUR WEDDING DRESS: The first or second one? I wish I was kidding. Ha! I'm not your typical bride. I wanted to be in and out. (Advice: take all the time you need.) When I bought the first dress, I was never in love with it, but I figured, eh, the seamstress can take these straps off and alter this & that, etc. aka I was not happy. I have absolutely no idea what I was thinking. It was a beautiful dress, it just wasn't 'me'. About a month before the wedding, I went to my appointment with the seamstress to see if she could do alter all of those things I wanted. I put the dress on without saying a word and she said "you hate this dress, don't you?," - my face said it all. If I couldn't hide my feelings about how I was feeling in a dress for a complete stranger, how in the world could I hide it from my closest family, friends, and most importantly, my future husband? That day I was supposed to get my dress altered, the seamstress locked up her business and went dress shopping with me. How incredible, right!? I have tears writing this because there aren't many people in the world who would do that for someone they know, much less a complete stranger. We ended up finding a dress together that day and it was so much more me!
DID YOU HAVE ANY DIY ELEMENTS? We had tons of DIY elements. The seating chart, welcome signs, multiple table signs, coozies, invitations, and last but not least, the table numbers and their stands. Oh, those tables numbers are a story to tell. Dan was using a table saw to make the table number stands I had been picturing. He does wood work very often, so I was certain these would be no issue for him. Low and behold – I was wrong. Oh, so wrong. Dan made a groove in the wood and the wood kick backed on him…. And, yes, you guessed it. He. Cut. His. Fingers. With. The. Table. Saw. SIX days before the wedding. The entire way to the hospital he kept saying "I ruined the wedding, I'm so sorry!" I felt so bad for the guy. He ended up having surgery FOUR days before the wedding to clean the bones on three fingers and get a pin put in. He had to wear a cast for the wedding and honeymoon unfortunately, but the good news is – he kept most of his fingers! Our wedding will always be unique because of that goofball. He will forever lose something every day (seriously, as I type this he is looking for his wallet that he hasn't seen in over 2 days. HOW do men survive?!) - this day it just happen to be a portion of his fingers.
DESCRIBE YOUR WEDDING FLOWERS: I would have to say flowers were the trickiest and what I was most concerned about. I had a certain vision in my head and I had to trust someone else with that vision. I tend to do all things deign on my own, so handing it over to someone else was a little challenging for me, however, the flowers turned out to be even better than expected. Sarah Warner with Flourish Florals and Décor surpassed my expectations. She made my vision come to life, even better than I had imagined. She was easily one of my favourite vendors of the day and so easy to work with!
FAVOURITE DETAIL OF THE DAY: We had an amazing baker named Laurie Duncan out of Loganville, GA. Laurie made a total of 7 cakes for our cake buffet that were all different flavours – Peanut Butter, Red Velvet, Oreo, Putter Pecan, Strawberry, Key Lime, and a southern Pound Cake for the three tiered bridal cake. They were all stunning and absolutely delicious! Everyone at the wedding raved about them.
WHAT ADVICE WOULD YOU GIVE OUT TO A COUPLE PLANNING THEIR WEDDING? It's no one's wedding, but yours. Make your wedding what you want as you only do this once, but also keep in mind your budget. Dan and I did a great job of recognising where our money should go. I personally think everyone planning a wedding should invest in your photographer. That's the one thing you can take from your day! Huge thank you to A. Thomas Photography for being mine.
MOST MEMORABLE MOMENT? Honestly, Dan and I really didn't want to have a wedding – we wanted to elope. Our parents were not too keen on that idea. They wanted us to have a wedding and so, we decided we would. We are so glad we listened. We can say it was 100% worth every penny and second spent planning. It's hard to say what was the most memorable moment because honestly, every part was memorable. I always thought it was cliché, but it was truly the best day of our lives!
ANY OTHER DETAILS THAT HELP TELL THE STORY OF YOUR DAY? We had a tough time trying to pick a date. We switched back and forth between spring and summer – March, April, June, July? My grandmother and I were at lunch one day, and she said her wedding anniversary was coming up on July 20th. I looked at the calendar I saw that July 20th of the following year happened to fall on a Friday. I knew that moment that was the day I wanted to marry Dan, and Dan agreed as well. My grandfather would have been so proud to share this day with us. It made our wedding day that much more special.
TELL US A LITTLE ABOUT YOUR HONEYMOON: We went to Sandals Barbados for our honeymoon. There was so much to do – beaches, pools, rooftop bars, bowling, excursions, you name it. The food and drinks were amazing. There truly wasn't a meal we didn't like.
A huge thank you to Atlanta wedding photographer A. THOMAS PHOTOGRAPHY for sharing this beautiful Georgia wedding with us. Abigail is a valued member of the Magnolia Rouge Vendor Guide where you can see more of her work. You should also check out this Plantation wedding inspiration with an old Hollywood vibe by her or this interview to get to know more about her.