The excitement on this gorgeous couples faces is a joy to witness! I mean how happy do they look? Of course I know all couples do but some just exude it more! Having grown up in a big family Caroline had developed simple and somewhat old-fashioned tastes. Prizing quality time over material gifts was how she went through life (a lesson we could all learn!). She wanted this concept to be present on their wedding day. Whilst candles, flowers and greenery were the main decor during the ceremony and reception, it was timeless and simple. The stunning bride shares with us, "My mom and my sister each hand wrote their programs, and I did as well, continuing a mini family tradition. My bridesmaids picked their dresses from a selection I had given them, and they thus created a beautiful colour palette of blush, lilac, and dusty blue that I couldn't have planned better for. My husband looked so handsome in a charcoal gray suit, a perfect addition to our colour palette. Our wedding style was a collaboration of our and our loved ones' favourite things."
The venue of ORCUTT RANCH was chosen due to the ability to bring in their own vendors and the beautiful grounds didn't hurt either. Photographer RACHEL OWENS captured their heartfelt celebration and had this to say about it, "This couple is graced with youth, soft elegance, and the sweetest love. Caroline & Thomas wed on a late afternoon in September, just as the season began to shift and the magical September air fell upon us. The bride and groom were smitten & decided to save their first look for the aisle. As her vintage silk SHOP GOSSAMER gown glided down her svelte frame, she walked the tree-topped aisle to her one great love. Her gown, a halter neck, low back, with soft blue beading, was sophisticated and timeless. Their wedding began with songs of praise, and was honoured with the symbol of a unity candle. Young & in love, this sweet couple wanted their wedding to be about the intimacy of beginning their lives together. Caroline has excellent style and chose soft colours, blooming florals, and classic details. Her bridesmaids stood in complimentary pastel tones, accenting the beautiful blooms orchestrated by WILD MUSE FLORAL. The men lined up in classic bowties and later danced under paper lanterns. Thomas beamed at Caroline all day and the two happily were sent of as the newest Mr. & Mrs. Love (yes, literally their new last name!)"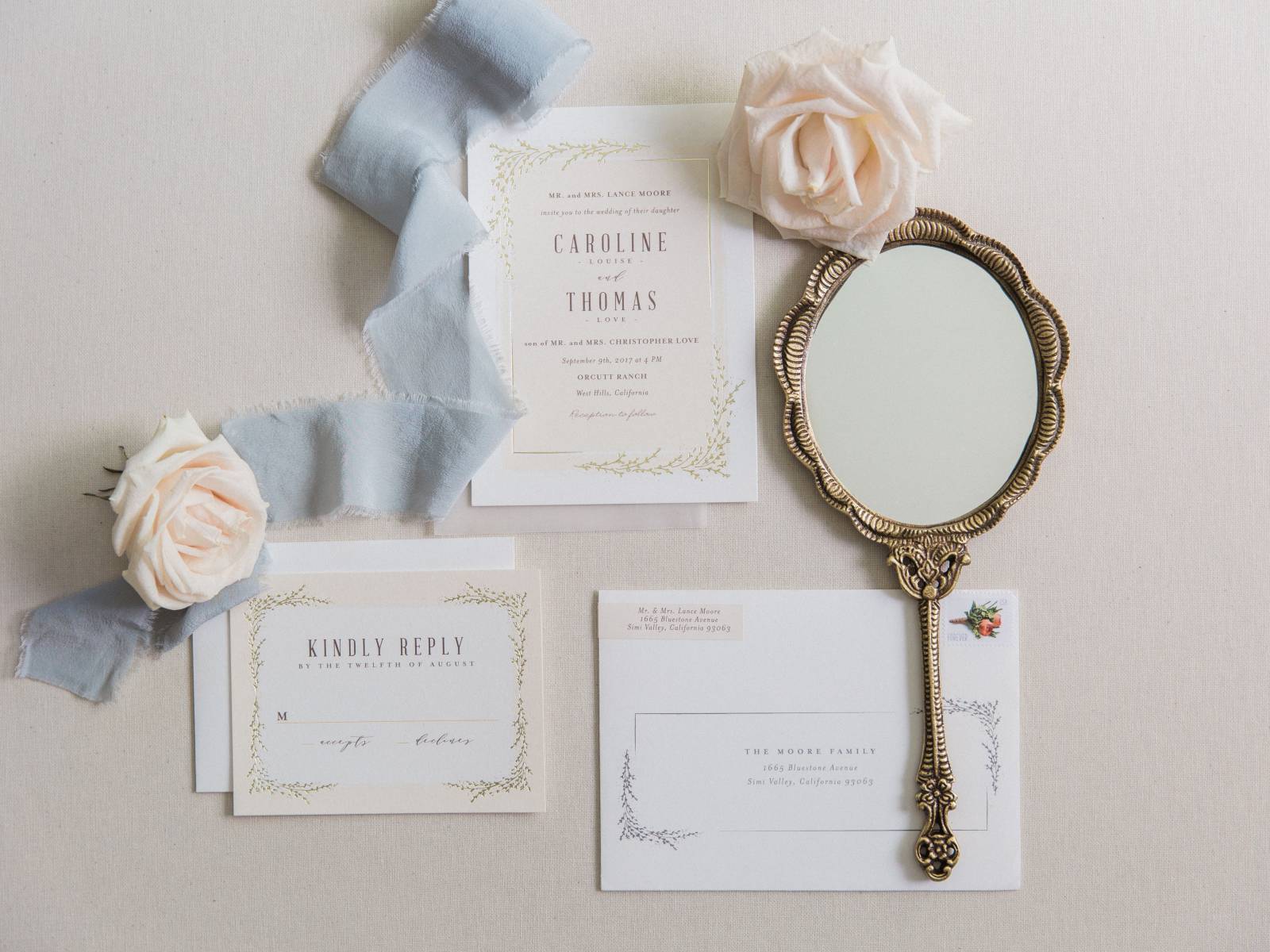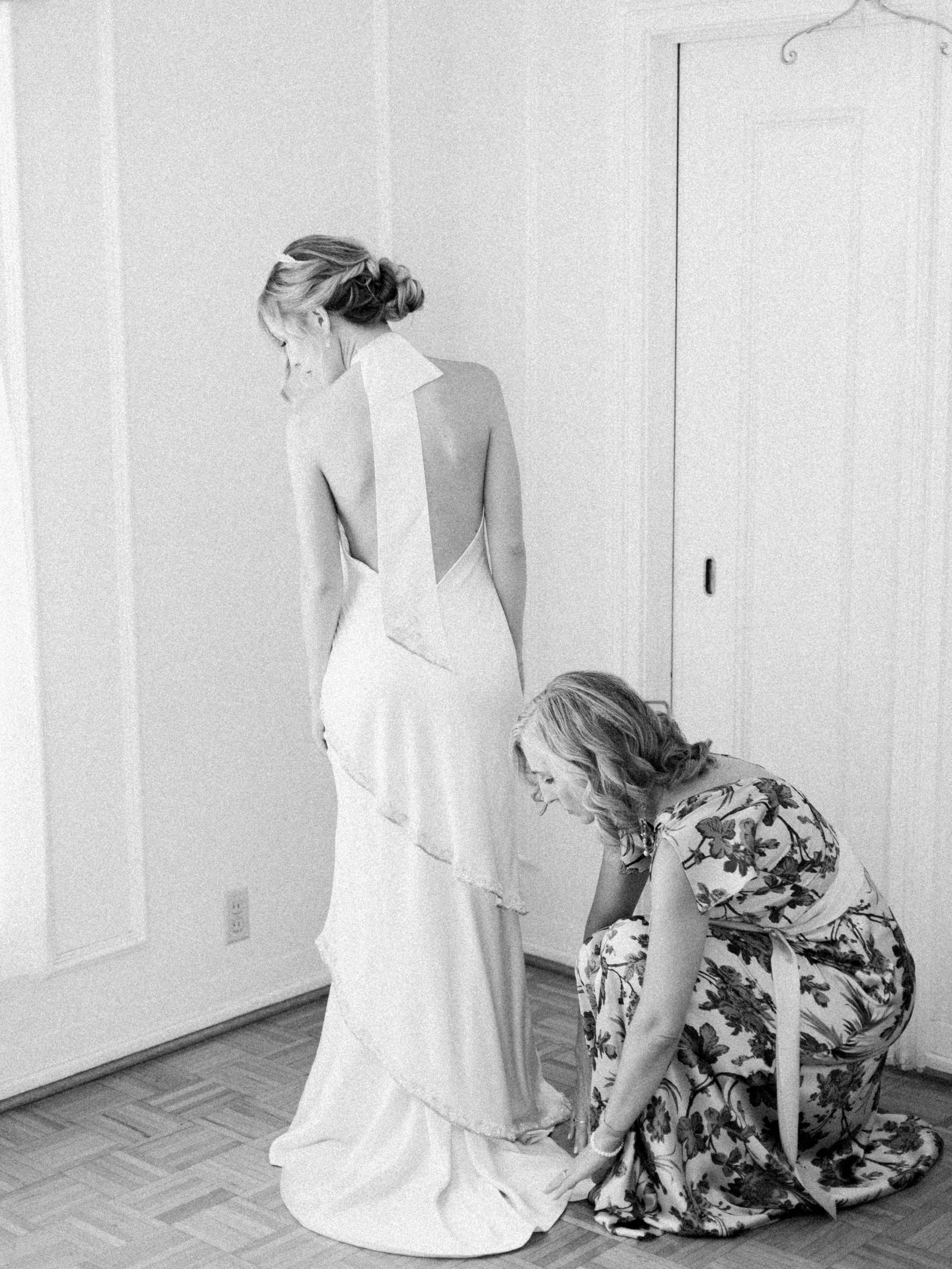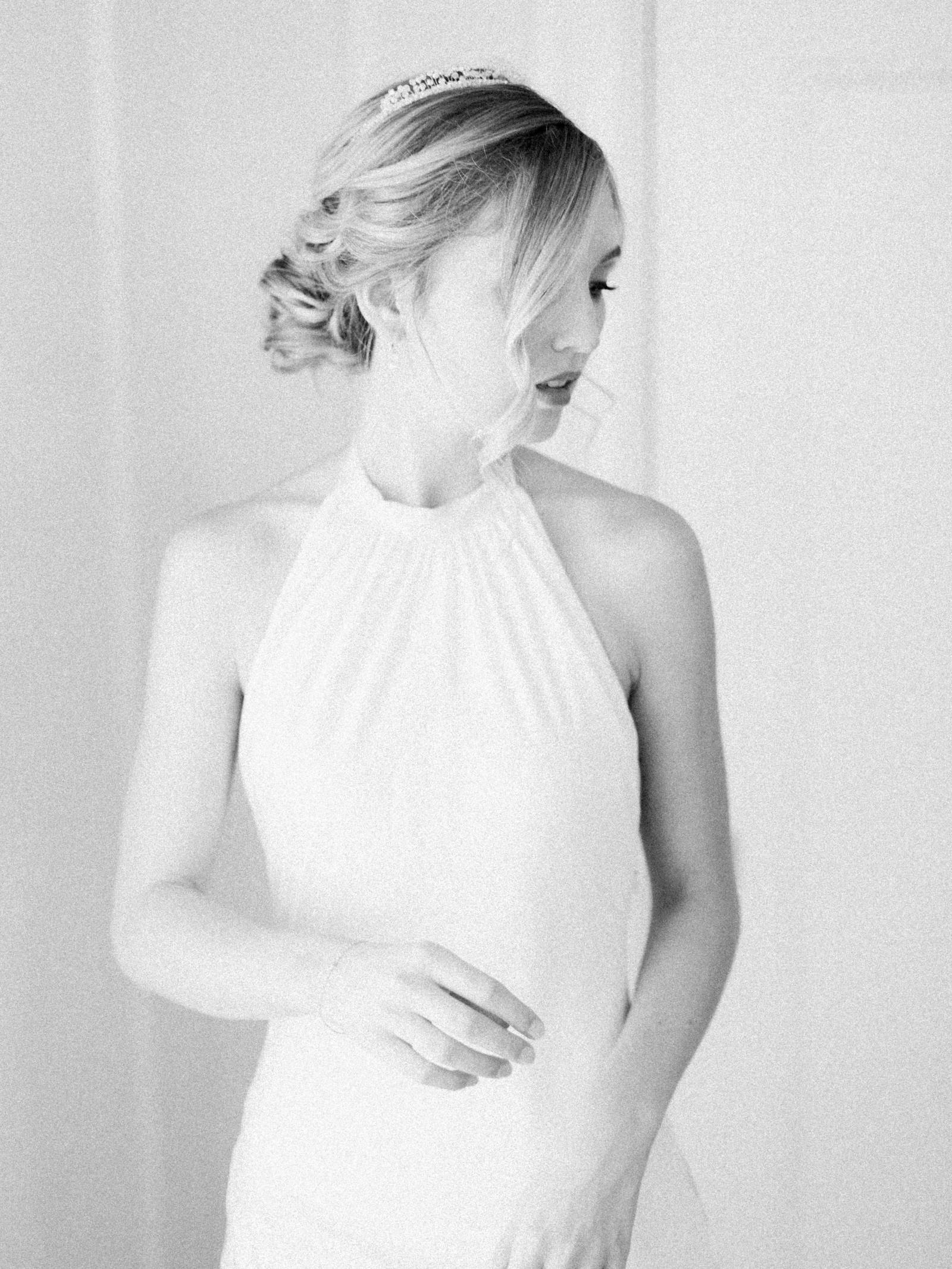 HOW DID YOU MEET? Thomas and I met in middle school when we were both in the 8th grade - though, truthfully, I had a crush on him in the 7th grade before he knew that I existed. We were in the same US History class, and one day, instead of sitting in class, we had to attend an assembly. He stood next to me as we walked to the auditorium AND sat next to me during the entire assembly, and I couldn't stop laughing at his jokes. 8 years later, it's hard to forget that first meeting and all of the butterflies that came with it.
TELL US ABOUT YOUR PROPOSAL: Thomas took me out to a French restaurant I had been dying to try for quite some time, Bouchon. We got all dressed up for fun and had an adventure trying escargot for the first time - a first for both of us. After dinner, we went walking outside in a beautifully-lit courtyard next to the Montage Beverly Hills, a courtyard we had walked in before. We sat down near a fountain, and Thomas began talking about how he couldn't wait for the many more "firsts" that awaited us - our first time getting engaged, getting married, buying a home, having kids, etc. He then got down on one knee and opened up a box to show me a stunning engagement ring - I was shocked! And, of course, I said yes. There are no photographs, there was no one around, it was just us - and that made it extra special.
TELL US ABOUT FINDING YOUR WEDDING DRESS: My wedding dress experience was unusual - at least according to what a lot of people told me. I had at least four wedding dress appointments, purchased five different dresses, and was unsure about everything. With every dress I thought was "the one," I had a hesitation about, some hesitations more urgent than others. On the verge of giving up, I made a trip to Downtown LA with my mom to take a look at Shop Gossamer, a curated vintage gown collection I had been following on social media for some time. I was on a time limit, so we went in, grabbed every gown that was a potential wedding dress for me, and eventually, I found the silk halter, open-backed, column gown that was my wedding dress. When I looked in the mirror, this dress stood out to me - it was glamorous, daring, unique, and something from another time. I bought it, but I was scared. I was scared because it didn't look like the dresses I had seen on the runway, or in the wedding magazines, or on wedding blogs. It was, for me, a bold choice. And I don't regret it, not one bit.
DID YOU HAVE ANY DIY ELEMENTS? I wrote out my programs, one of my bridesmaids and I spray-painted candle votives, and another one of my bridesmaids sewed the cheesecloth ceremony arch. I also took many trips to thrift stores to find mirrors, votives, and silver pieces.
DESCRIBE YOUR WEDDING FLOWERS: My wedding flowers were whimsical, colourful, and fanciful. They were a modern complement to my old-fashioned gown. My florist, Morgan Wynia of Wild Muse Floral, arranged roses, ranunculus, dahlias, and more flowers in such a way that evoked movement and life - and the beautiful Silk and Willow ribbon she tied around the bottom of my bouquet added to this effect. All of the floral colours played off of my bridesmaids' dresses and my own gown, as well as the flowers and greenery at the venue itself. Morgan went above and beyond by adding greenery to our ceremony arch and by adding flowers to my wedding cake. The flowers were absolutely beautiful.

FAVOURITE DETAIL OF THE DAY: I have two favourite details of the day: one that I wore and one that I ate. My beautiful, floor-length veil with a blusher was handcrafted by a sweet friend, Lauryn of Kinuyo. That veil was the icing on the cake of my bridal style: dreamy, lightweight tulle floating all around me. Lauryn did an incredible job pulling together the look I envisioned. Additionally, my mother made and decorated my wedding cake, and it was absolutely beautiful. My mom's love language is baking, and it was so special to see her love and her art on display behind glossy glass windows with a few wedding day flowers adorning it. I'm still amazed that she pulled off being the Mother of the Bride AND creating my wedding cake.
WHAT ADVICE WOULD YOU GIVE OUT TO A COUPLE PLANNING THEIR WEDDING? Don't compare your wedding day to anyone else's, before or after the big day. It's so tempting to either strive to be wedding-trend savvy or to strive to be the opposite of trendy, but do whatever it takes to dwell on what is truly important for you and your spouse-to-be rather than on what is trendy. I believe that every part of your wedding day ought to accurately reflect your relationship with your future spouse. From your wedding dress to your first dance song, make your decisions based on who you are and the nature of your relationship and you will have a BLAST planning a wedding. The minute you begin to worry about what other people (whether that be your guests or the world of social media) may think of your decisions, you will lose out on the awesome details that will make your wedding unique, original, and extraordinary.
MOST MEMORABLE MOMENT? My most memorable moment was walking down the aisle - it was truly out-of-this-world. Being led down by my wonderful father and seeing the love of my life at the end of the aisle, while all of these kind, excited, teary-eyed faces of family and friends surrounded me and watched me and my beloved meet and join hands, was inexplicable. It may be cliché, but it is so true - that moment is unreal and unforgettable. I wish I could relive it!
ANY OTHER DETAILS THAT HELP TELL THE STORY OF YOUR DAY? I'm so thankful for the care my make-up artist, Taylor Bohn, and hair stylist, Lauren of Hello, Darling Hair, displayed in making sure I was 100% satisfied in my wedding day look - and I was so happy that they contributed to my vision. My wedding day planners, Lori Holland and Kelly Yurica, along with their staff, were so energetic, supportive, and loving - my day would not have gone so smoothly if it hadn't been for them. Kelly also collected keepsakes from the wedding, pressed some of my flowers, and gave these to me in a memory box - so unbelievably thoughtful! My friend Natalie hand lettered onto a mirror as a welcome sign and hand lettered our menus, and she did a lovely job. Our DJ, Terry Gomez of Bouquet Sound, was energetic and kept the party going! He encouraged many of our song choices, and I was so thankful for that. And, finally, my wonderful photographer Rachel and her second-shooter, Angie, as well as Rachel's husband, Nicholas, were a great team to have capturing our wedding day. Rachel captured parts of my day using her film camera, perfect for my old-soul tendencies. I loved the moments she captured digitally as well as on film. I think it's safe to say that everything about my wedding day far exceeded my expectations, and I have these incredible vendors to thank for that.
Most importantly, though, my husband and I wanted our shared faith in Jesus Christ to shape our wedding day. We sought to praise and honor God with our celebration of marriage, and I'm so grateful that our vendors cooperated with this goal. What a truly wonderful blessing!
TELL US A LITTLE ABOUT YOUR HONEYMOON: We honeymooned in a cottage in the woods up in Mill Valley, CA. It was charming, secluded, relaxing, and romantic!
IS THERE ANYTHING YOU WOULD CHANGE OR DO DIFFERENTLY? I should have written all of my letters ahead of time. I made the poor decision to write my notes the day-of, and I got too emotional to finish all of the notes I wanted to write. Words are my favourite gift to give, so I definitely regret not giving myself enough time to put as much effort as I wanted to into writing letters and notes.