On a beautiful summers day, Laura and Taylor held an intimate summer elopement at the gorgeous CALISTOGA RANCH in California's Napa Valley. The couple visit the area often and knew it was where they wanted to get married. It was the otherworldly, secluded feeling that the venue offered them that sealed the deal. A bonus being that the staff were incredible to work with! Thanks to MEGHAN MEHAN for sharing these beautiful photos of their day with us.
When it came to her wedding look Laura kept in mind her every day style; crisp pieces with fun design details. The JILL STUART dress she wore featured a open back and worked perfectly with minimal accessories - the JENNIFER BEHR headband being the perfect addition to such a modern gown.
Meghan tells us, "In an emotional ceremony set against a backdrop of a gorgeous, secluded canyon in Napa Valley, the couple exchanged their vows on July 4th surrounded by their closest family and friends, all of whom traveled to be there with them. Taylor wore his Navy whites for the ceremony, and then he changed afterward for the reception. CALISTOGA RANCH held an elegant, natural, and serene energy for their wedding day as they were nestled the sanctuary of a private canyon for both the ceremony and reception.

After the ceremony, guests mingled and enjoyed cocktails in the warm Napa sun before being seated for dinner on the lawn. They shared an al fresco meal that was beautifully prepared by Calistoga Ranch, incorporating colourful, seasonal, and local California cuisine. The natural setting provided a warm, intimate ambiance as guests celebrated into the evening, ending with Laura's father introducing them for their first dance to Frank Sinatra, which they shared underneath string lights in the late summer sun."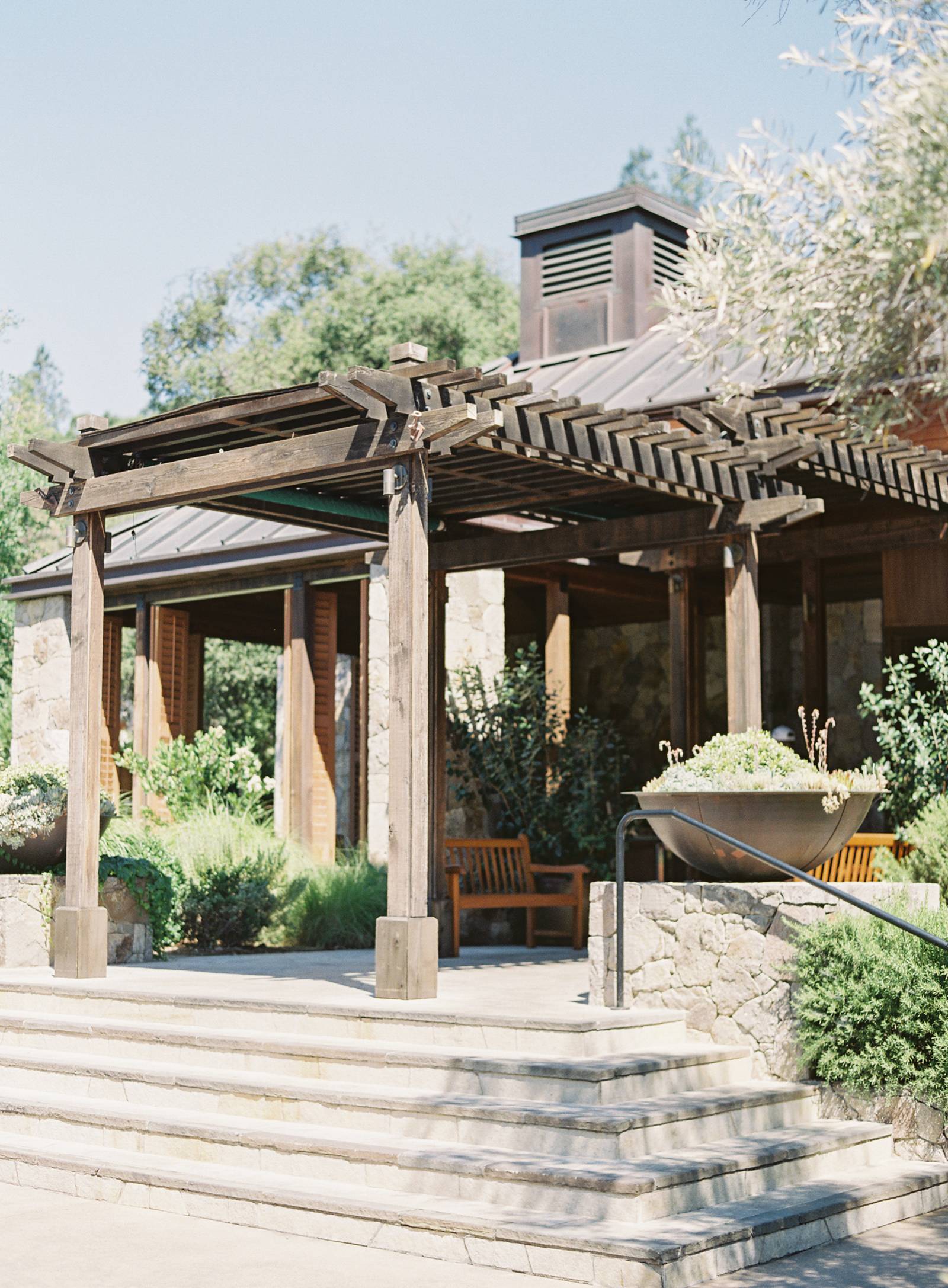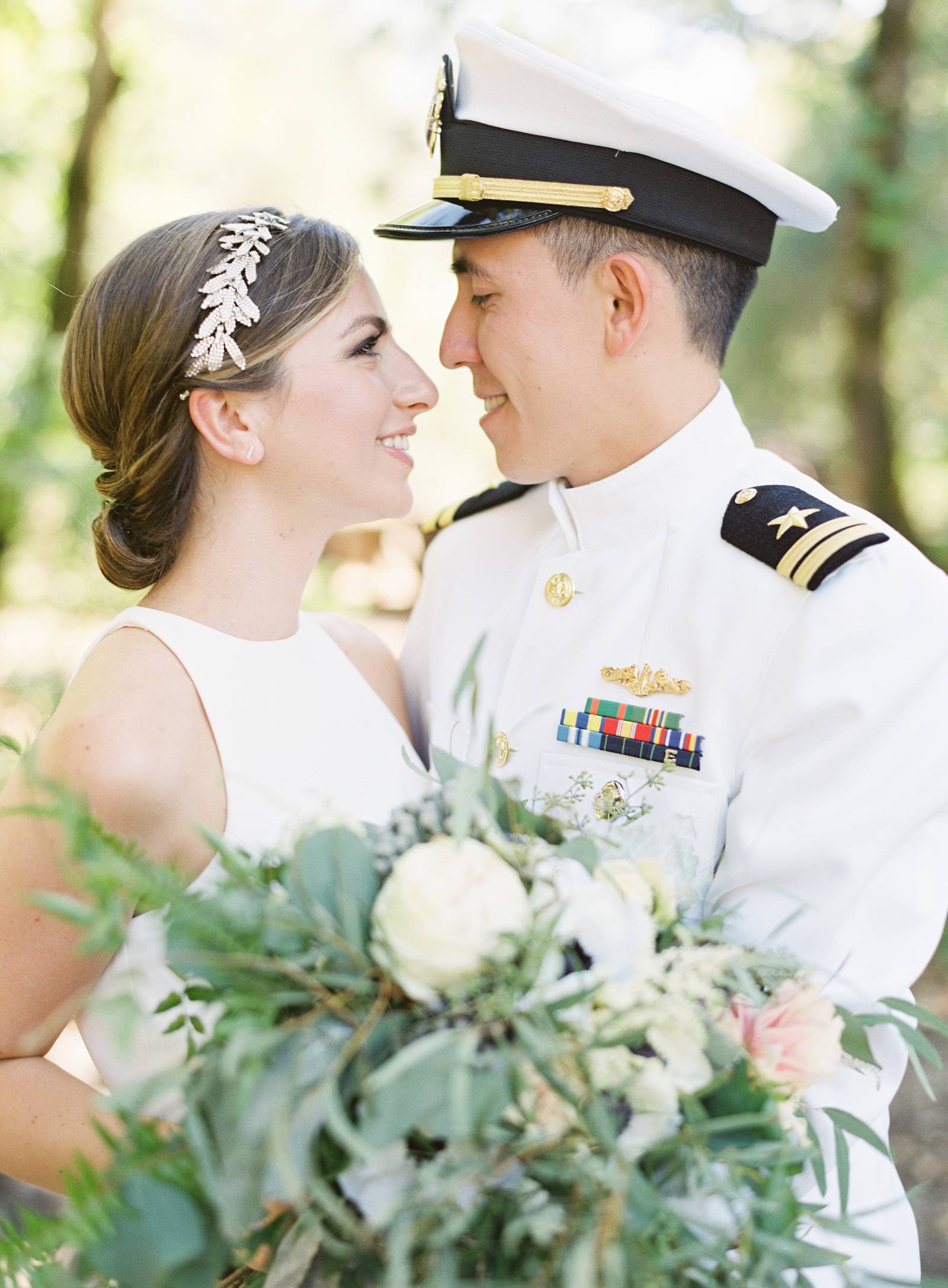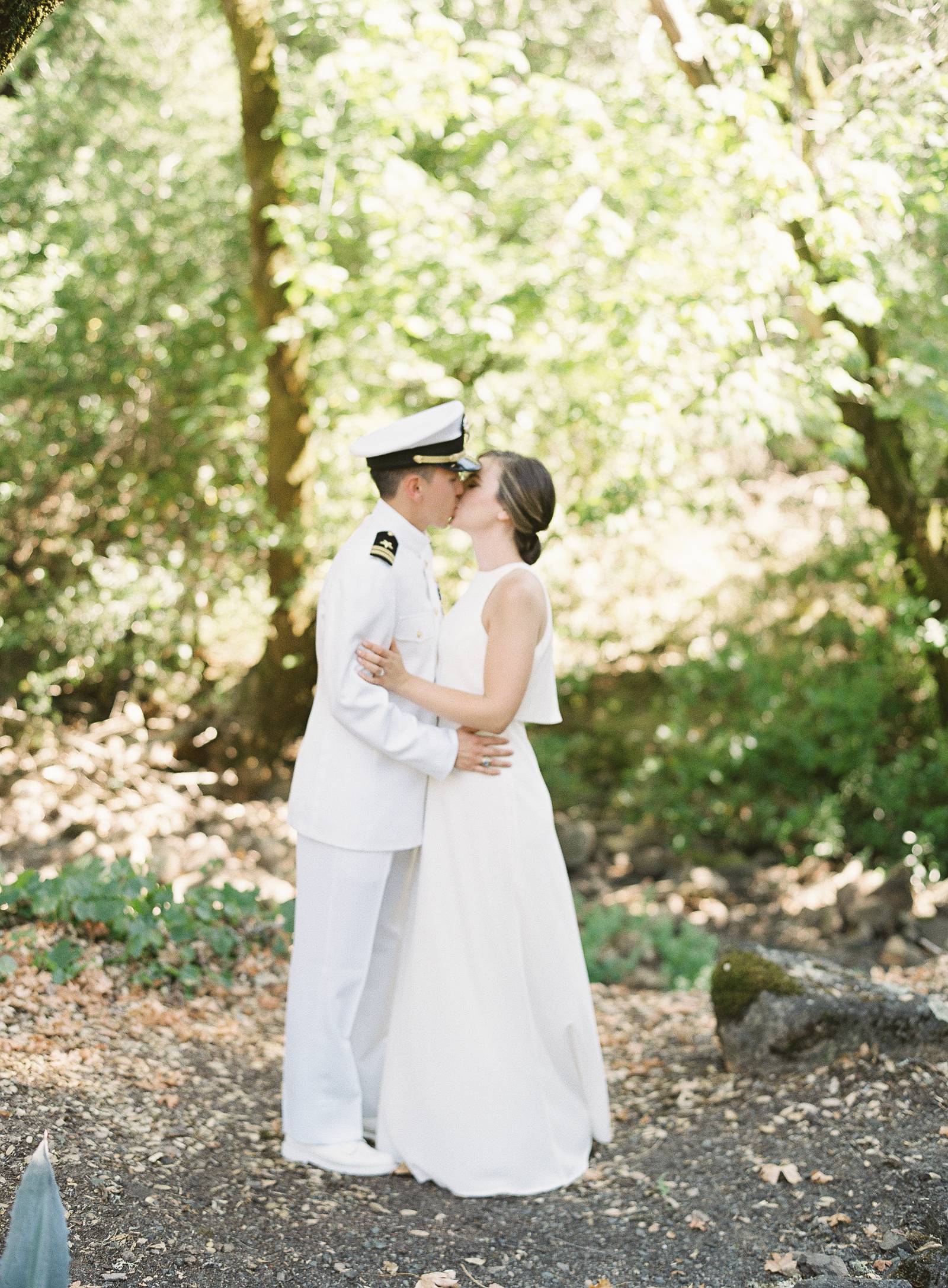 HOW DID YOU MEET? My best friend from high school was dating Taylor's best friend from the Naval Academy. We ended up getting married within a year of one another!
TELL US ABOUT YOUR PROPOSAL: As I mentioned previously, Taylor is a graduate of the Naval Academy in Annapolis, MD and as such, Annapolis is a very special place to us because it's where our relationship began. We decided to spend the weekend there for our 3-year anniversary, and that's when Taylor popped the question!
TELL US ABOUT FINDING YOUR WEDDING DRESS: I knew that I wanted my dress to be very simple and classic. I am a huge fan of online shopping and had been browsing online here and there but figured that for something as important as my wedding dress, I should still go to try on in stores with my mom and friends (it's a rite of passage as a bride, after all!) Then one day, I was on my Instagram explore page and noticed a photo of this simple but beautiful dress—I instantly knew it was the one! So I ordered it online and luckily, it was a perfect fit.
DESCRIBE YOUR WEDDING FLOWERS: My bouquet was everything I wanted and then some! I chose to go with a waterfall style bouquet with a lot of neutrals, some light pinks, and cascading greenery. The ribbon is one that I had ordered from Froufrou Chic—their fabrics are works of art! My favourite part of the bouquet is the panda anemones—they are my favourite flower but have a really limited growing season that usually falls outside of the timeline of when our wedding was. Susan, our amazing florist, was somehow able to track some down.
FAVOURITE DETAIL OF THE DAY: Taylor and I opted to write our own vows, which made our special day even more so.
WHAT ADVICE WOULD YOU GIVE OUT TO A COUPLE PLANNING THEIR WEDDING? Don't sweat the details! Little things will fall into place somehow and even if they don't, it doesn't matter because you are getting married to the love of your life so who cares about the little things.
MOST MEMORABLE MOMENT? Dancing under the stars with my new husband to Frank Sinatra!
ANY OTHER DETAILS THAT HELP TELL THE STORY OF YOUR DAY? Our wedding was very small (only 14 people!) because of a lot of logistical factors. For instance, Taylor is in the Navy and I am in dental school, so planning a big wedding at the time wasn't really feasible, but we also didn't want to wait too long until we got married. We decided an intimate ceremony would be the best option for us, and the event planners at Calistoga Ranch we so helpful in making the planning process as stress-free as possible. We were also so fortunate to have Meghan there to capture our day so we could share it with friends and family!
TELL US A LITTLE ABOUT YOUR HONEYMOON: Since we both had a limited amount of days we could take off for the wedding, we just did a short trip to Santa Barbara right after. We are planning a longer trip to Greece for this year!
IS THERE ANYTHING YOU WOULD CHANGE OR DO DIFFERENTLY? Not a thing! Our day was truly perfect in every way.