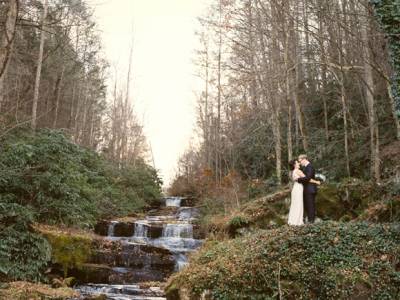 This beautifully wedding – full of simple, natural and organic details – by JO PHOTO took place right next to a beautiful waterfall in the Smoky Mountains of Tennessee. The couple included their two dogs in their wedding – which has made for some utterly adorable images!! I just love how pared back this wedding is, staying true to what it's all about! And these photos are truly gorgeous! Read on for their sweet love story below…
"Our dogs (fur babies as we call them) were our matchmakers. We both lived in the same apartment building in Charlotte, NC, but on opposite ends of the building. One summer evening, the fire alarm went off and everyone had to go outside. We both took our dogs with us and as we were walking them around, we ran into each other and our dogs immediately pulled towards one another. We (and they) have been inseparable ever since.
We knew we wanted a small intimate wedding ceremony with our immediate family members and our dogs in attendance. I've always dreamed of having my wedding in front of a waterfall and we were able to find the perfect location at Serenity Falls in the Smoky Mountains in Tennessee. My most memorable moment was walking down the aisle with my dad and Speck and seeing Michael and Baloo waiting on me.