Meredyth & Adam got married on a beautiful late summer day. The sun was shining, there was a light breeze and it was a very comfortable temperature - all things that I know brides obsess about in the weeks leading up to the wedding! The bride's family had rented THE RETREAT AT COOL SPRING for the weekend which offered them the ultimate getting ready house - not only for it's beauty but for the fact that it had two separate wings meaning they could all get ready in the one place. "The Retreat was built in 1799 and we fell in love with it the minute we saw it. We absolutely loved the history and how grand and magnificent it felt. My maids and I all stayed the night there after the rehearsal dinner and had one last girls sleepover together, and the next morning the boys arrived and we all got ready there before heading to the ceremony and reception at SHADOW CREEK. Adam's father is a minister and he officiated our ceremony. It was really special to have him join us together as we become our own family."
With a neutral palette, the overall feel of the wedding was simple and modern. Wooden farm tables featured geometric copper and glass lanterns in various shapes and sizes, and were set with matte black plates, copper metal rope flatware, stone table numbers and striped napkins - giving them an organic textural look that was finished off with a greenery garland.
"Adam and I had decided to opt out of a "first look", so the first time we saw each other was as I was walking down the aisle. We wanted that moment to be special and have the real emotion of seeing each other while it is all happening. We didn't want a first look to take away from the most important moment of the day. I know we definitely made the right decision, because seeing him at the end of that aisle is something I will never forget.
Thanks to NIKKI SANTERRE for these beautiful images.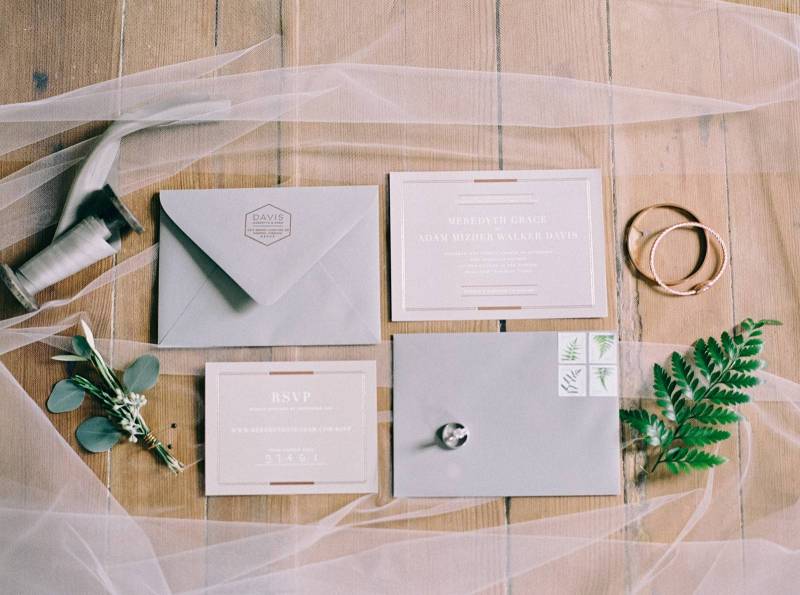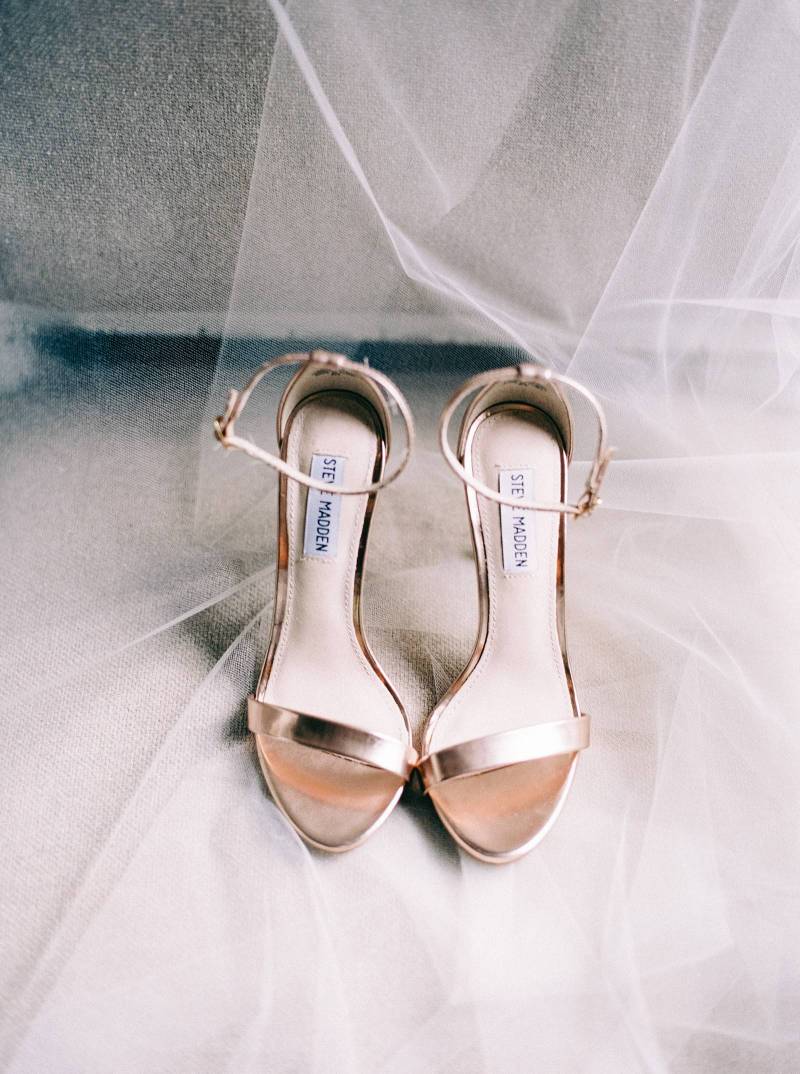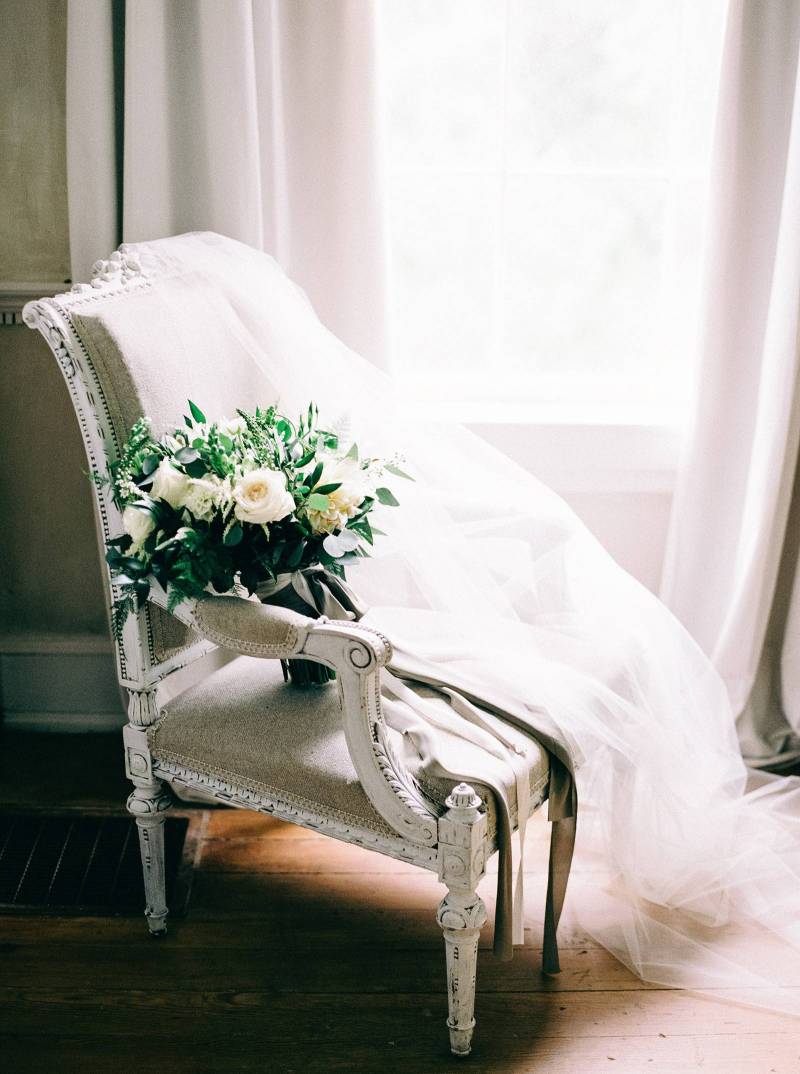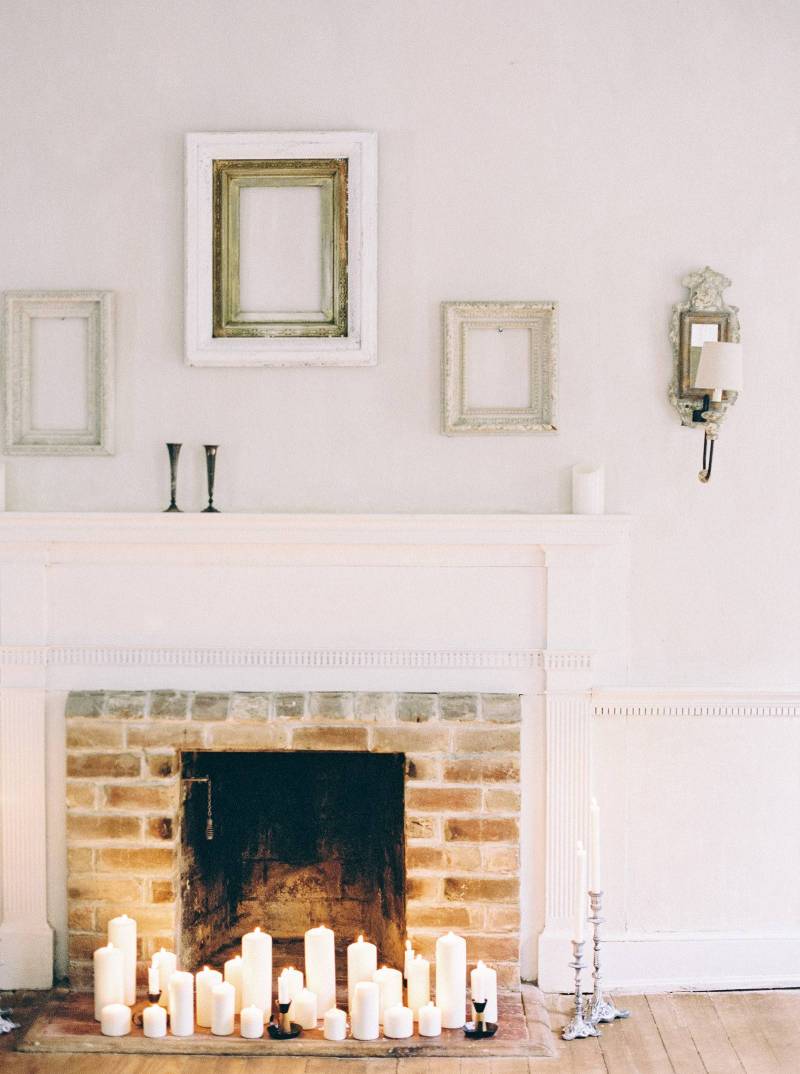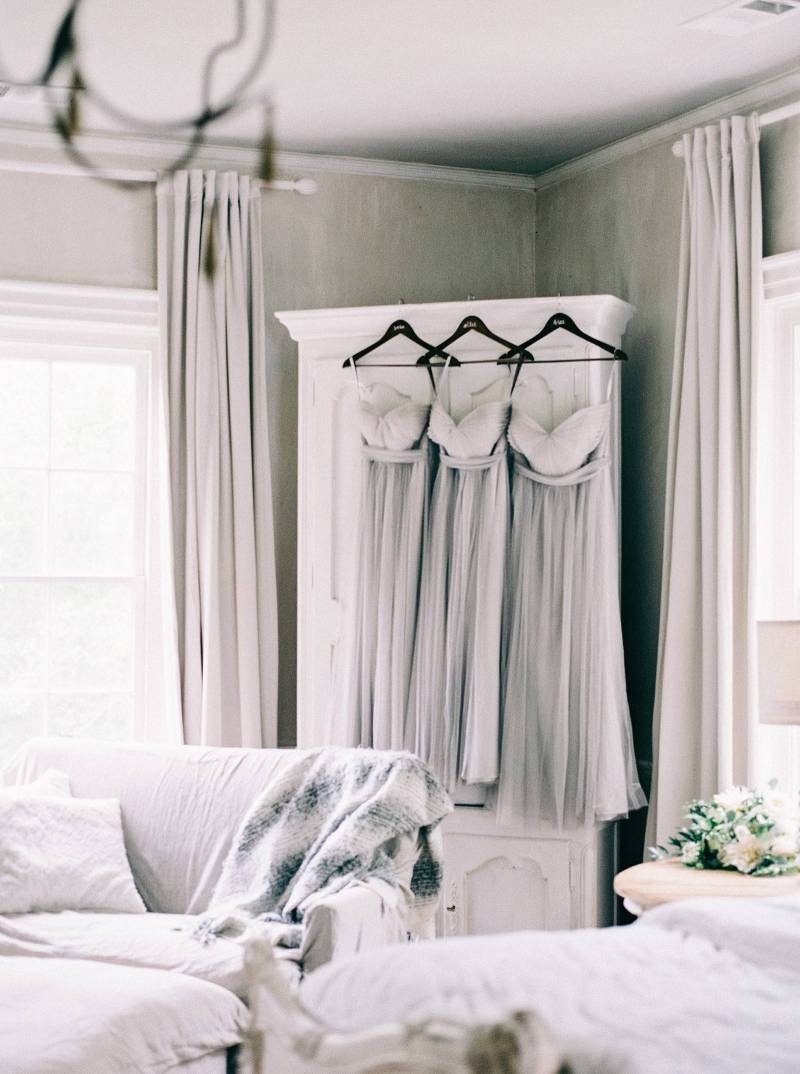 "My sophomore year at James Madison University, I lived in the Alpha Phi house with about 20 other girls. My very good friend Julie lived downstairs. One day, Julie and I were getting lunch on campus and while standing outside the dining hall, she stopped mid-sentence and said "DO YOU SEE THAT GUY?!" Of course I had no idea who she was talking about because it was lunch time and there were hundreds of guys walking by us. He must have been a fast walker because I missed him. "No.. Who?", I said. Julie replied, "He's had a HUGE crush on you for the longest time! He lived in my dorm freshman year and always talked about how beautiful he thinks you are. His name is Adam."
Somehow Julie had failed to mention this to me before, but now it was all that I could think about. She told me that she had mentioned setting us up to him, but he has always been hesitant to meet me. He was either extremely nervous or was simply scared of the unknown. After that day though, things changed. Julie talked him into a casual "lunch date" with me. And on November 5th, 2009, we did just that. We went to Mrs. Green's and sat at a picnic table out by Newman Lake. I could tell he was nervous, and it was oddly charming. Much to my surprise, my nerves quickly disappeared... it felt as though we had known each other forever. Somehow, regardless of just meeting minutes before, Adam made me feel incredibly special... as if no one had ever noticed me the way he did.
After lunch, Adam walked me to my art class on the Quad. We were both dragging our feet, in no hurry to say goodbye. Right after we exchanged phone numbers and he walked away, I found the biggest and most perfect leaf. It was giant - about 12 inches wide! I framed it and to this day, it hangs as a centerpiece in our living room, above the couch that we share as we have our nightly Netflix binge.
I never thought I would meet my husband when I was 19. We both had things we wanted to accomplish, some growing up to do, and more of the world to see. We dated off and on, and even while we were no longer together... we never really grew apart. After a couple years of remaining friends - trips to visit and many 'I miss yous' - we finally made it official again and never looked back."
Our first dance might be my favorite memory of the day. I was so nervous leading up to it - all of those people staring at us, what if I trip? We had always joked at other weddings wondering to ourselves 'What do they talk about while they're dancing?' And looking back now, I can't even tell you what we talked about. But I can tell you huge that a sense of relief, unbounding happiness, and overwhelming love fell over me. I felt like I was melting into his arms, and I wasn't even aware that there were other people in the room.
Months prior, as we were in the thick of wedding planning, I came home to a home cooked dinner and Adam telling me he had a surprise for me. He created a game for us to play in order for us to pick our first dance song. We both love music, and knew it would be difficult narrowing it down to a single song. So, he surprised me and typed up an entire page of rules and examples, and on the second page was a spreadsheet with a list of songs and spaces to write our scores. He had come up with a point system for us to fairly rate each song based on speed/danceability, meaning, uniqueness, etc. Each category was scored from 1-5, and then the totals were calculated for each song. But at the end, we compared our scores on our "worksheets" and averaged them together. It was the cutest and greatest idea, as we enjoyed a night of drinking wine and testing the "danceability" to songs in our dining room by candlelight, just the two of us.
"One of the most special elements of the reception were the napkins. I know hearing the words "special" and "napkins" together might sound strange to some people, but my mom hand stitched each and every napkin that our guests used that night as everyone sat down and shared a meal with us. It was truly a testament to her hard work and dedication, and devotion to me and Adam. My mom and I are best friends, and we can hardly go an hour without speaking to each other. We planned and styled everything for the wedding ourselves, and I could not have done it without her help.
My dad surprised me after our father/daughter dance with a bouquet of wildflowers. I thought this was especially adorable because we danced to the song "Wildflowers" by Tom Petty. He had planned it out for months, and it just shows how incredibly sweet, thoughtful, and sentimental he is. I was raised by such a wonderful man, and he set a great example for the type of man I wanted to marry.
I would wake up tomorrow and do it all over again. The love we were surrounded with on that day is insurmountable. I am so grateful to have such wonderful images and videos so we can relive it for many years to come! I have the best friends and family and HUSBAND in the world, and I am so excited to finally be starting our life together."