With a modern & simple style, Kathleen & Zachary celebrated with their family and friends with a classic, timeless wedding at THE CLINTON LIBRARY in Little Rock, Arkansas. Having both grown up in the area it was important for them to celebrate close to home and it offered them a unique location. They tell us, "The Clinton Library is nestled in the heart of the city and on the shores of the Arkansas River. The bold architecture and overall look of the Clinton Library and gardens was a perfect fit for an outdoor sunset ceremony, and the ballroom with floor-to-ceiling windows allowed us to party the night away with our guests with a romantic view of the city skyline at night. With ample natural light and windows, a ceremony on a floating patio, and lots of sleek acrylic details, we wanted the whole day to feel light, bright, happy, and elegant." Arkansas wedding photographer ERIN WILSON captured their beautiful day.
HOW DID YOU MEET? We meet Freshman year of college at the University of Arkansas. We had many friends in common from Little Rock, and even went to rival high schools. I joke that we never would have dated in high school due to the rivalry, so thank goodness we met in college! We enjoyed years of cheering on the Razorbacks and attending sorority and fraternity functions together, while our love blossomed. After college, Zach spent a year living on the ski slopes in Colorado before I was accepted to medical school at UAMS, and we got a home in Little Rock and our first fur-baby Layla.
TELL US ABOUT YOUR PROPOSAL: The two of us were going to Florida for my spring break during my second year of medical school. Zach suggested we go for an evening walk on the beach, and it was one of the most incredible sunsets. I kept asking him to dip his feet in the waves with me, not knowing that he was too nervous about the ring in his pocket. At the end of the walk, he got down on one knee and asked me to marry him. I cried, we hugged, and a sweet bystander took lots of beautiful pictures of us by the water. After tearful calls to loved ones, we drank champagne and danced the night away on our beach condo balcony.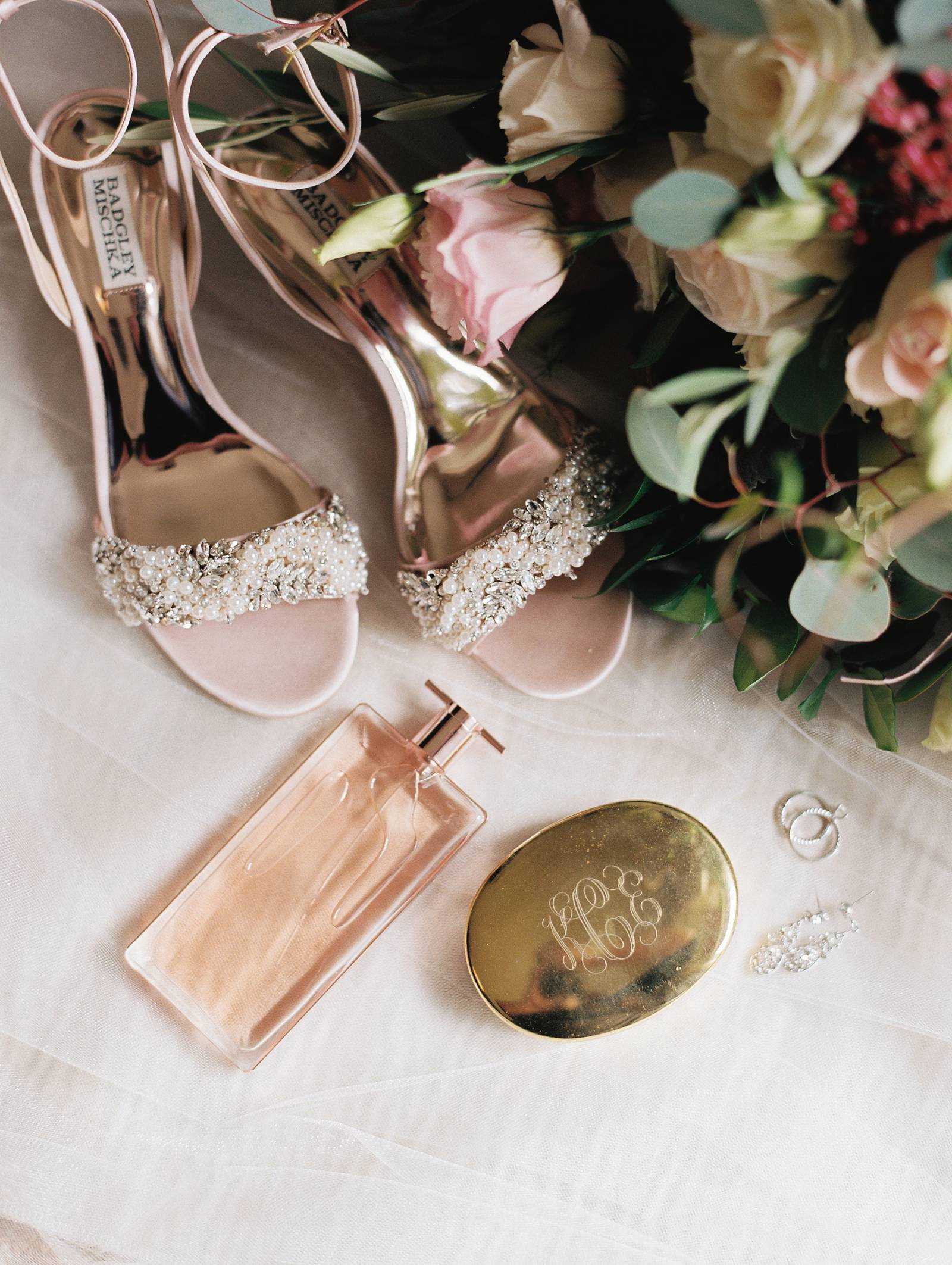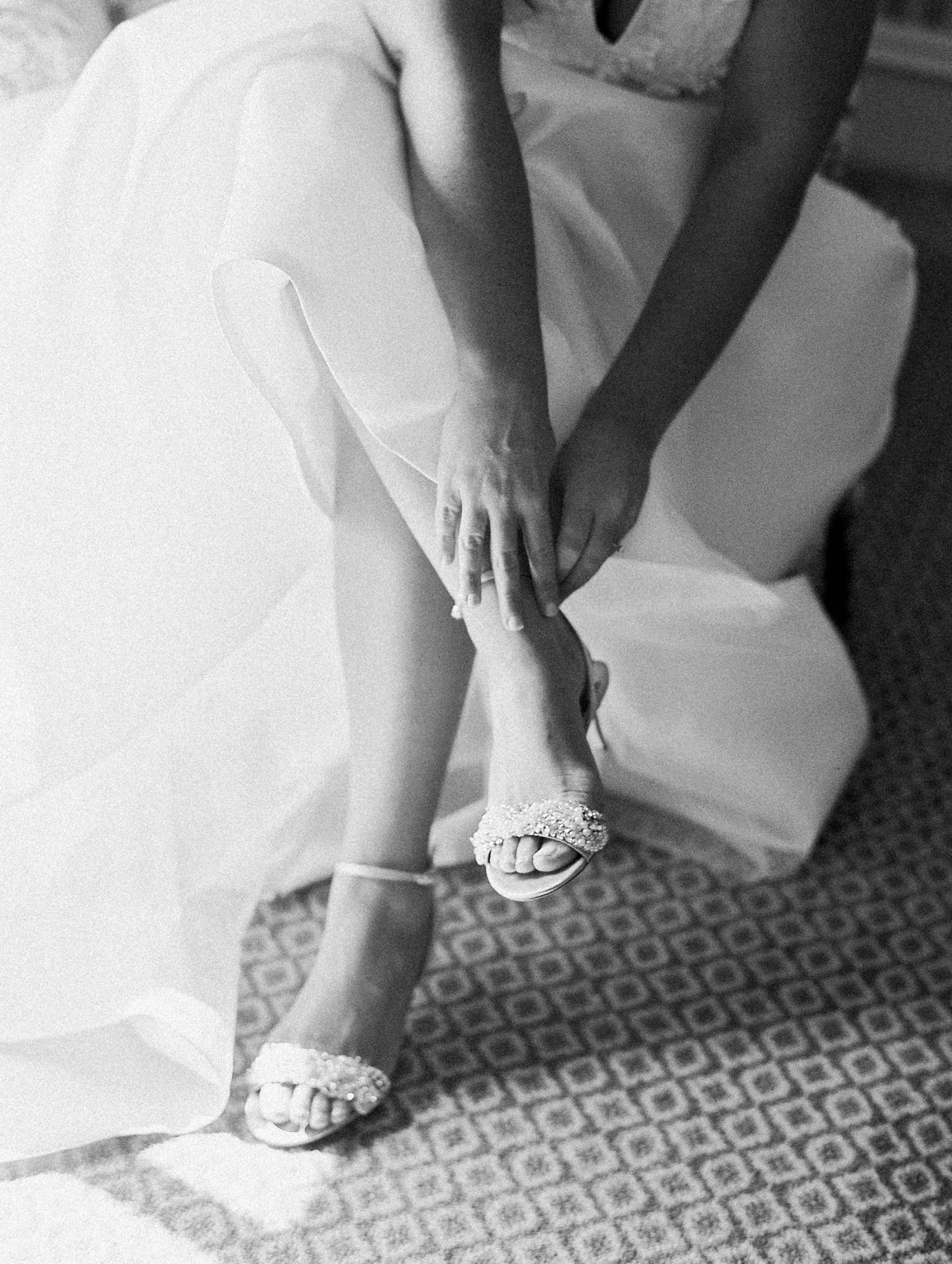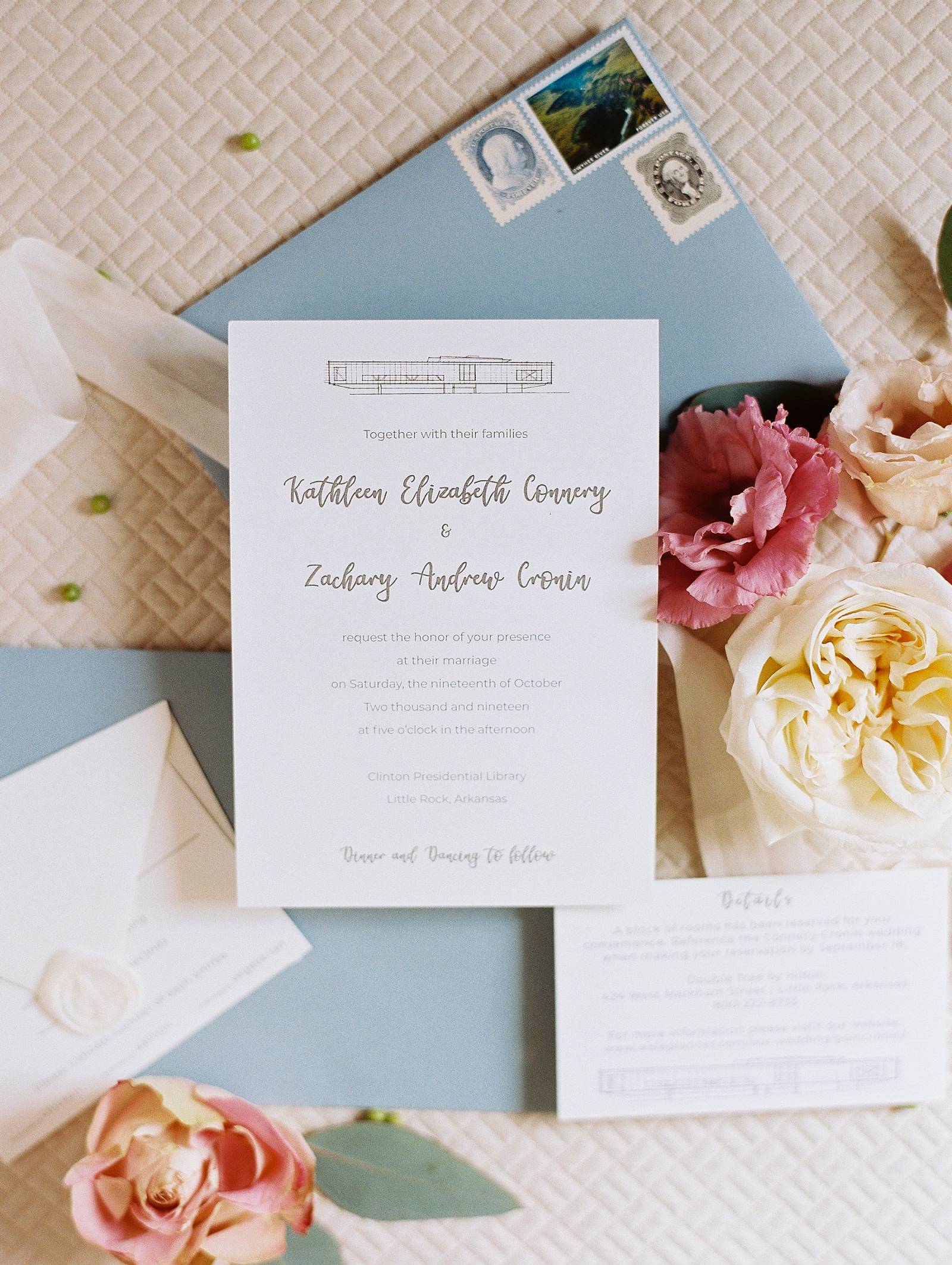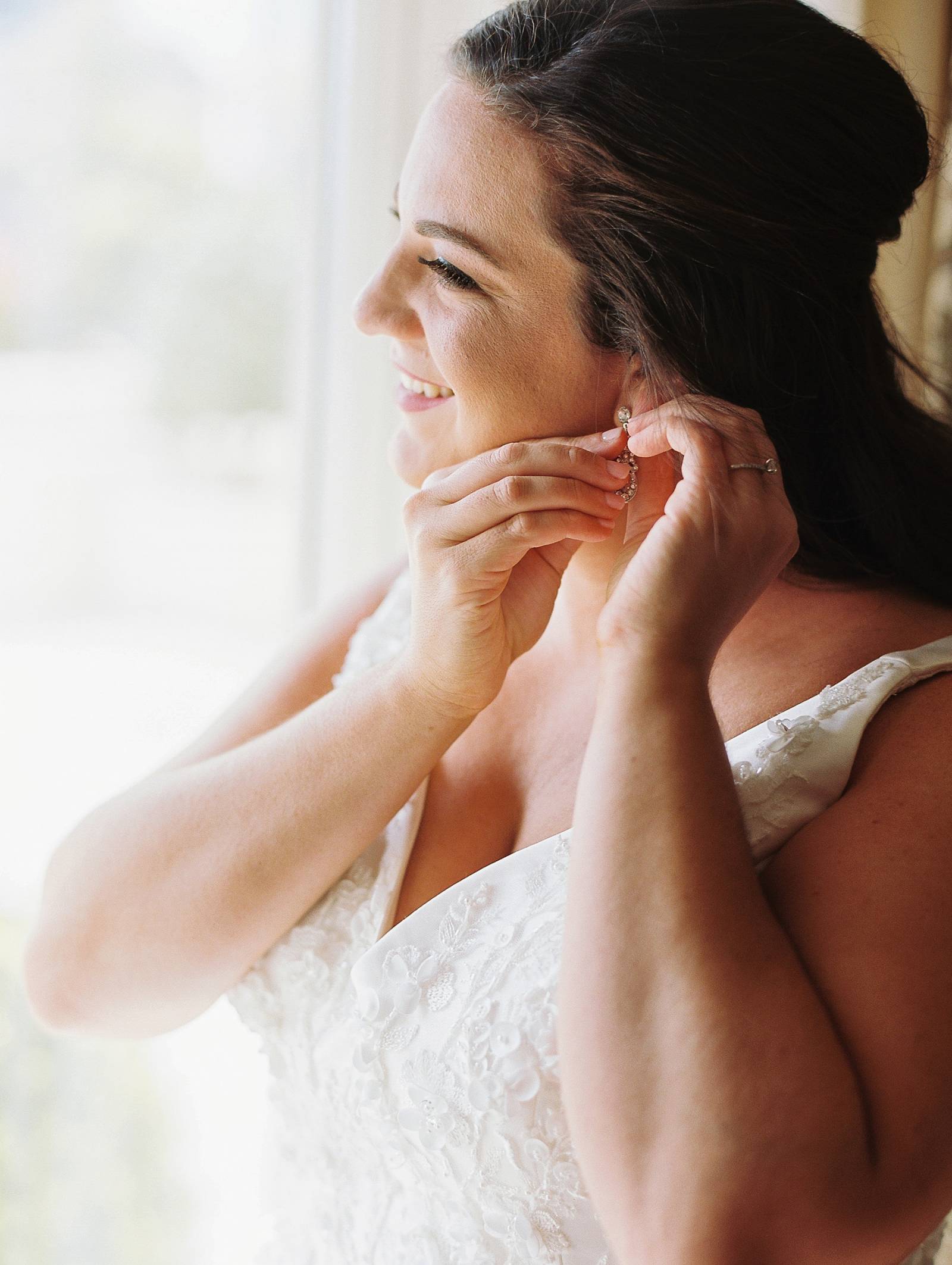 TELL US ABOUT FINDING YOUR WEDDING DRESS: I had no idea what kind of wedding dress I wanted! I could imagine myself in all kinds of gowns, but I knew I wanted to feel elegant, classic, and comfortable. I tried on a few at David's Bridal with no luck. A few weeks later, I stopped into a cute local store named Inverness Bridal to try on a specific dress I noticed in passing, but, again, it was not the one. Luckily, I kept my eye on this special store, heard they had a "White Saturday" sale on Thanksgiving weekend, and booked the last available appointment...an hour before they closed that night! I brought my whole girl gang and the owner of the store helped me try on about 10 dresses, before my mom found the perfect one hanging on the rack! It was modern, feminine, dramatic, elegant, and classic. And it had pockets!
DID YOU HAVE ANY DIY ELEMENTS? Highlighting the talent of our friends, family, and small businesses was very important to us, so we worked with many very talented people to create unique DIY-feel pieces for our day. We were able to design our own save the dates and invitations from scratch with the help of Zach's family printing company. It was so fun seeing our designs come to life! Our good friend, Jordan, sketched a simple, black-and-white image of the Clinton Library for our paper goods and custom coozies. Another friend runs a freelance design company, Collab Design Co, that created a cartoon image of the two of us celebrating with a bottle of champagne and our dog Layla, which we had printed on a large foam-board for our cute alternative "Guest Book". For some true DIY, I hand-made little details to complete the day, like our seating cards, table numbers, and seating chart display, while my younger sister made helpful signs for the reception. Our wonderful wedding planner Jessika helped this all come together to fit perfectly on the day of our wedding.
DESCRIBE YOUR WEDDING FLOWERS: After describing the overall inspiration and tone of the wedding, Tanarah Luxe Floral absolutely blew us away. Minimalistic floating greenery adorned the clear glass wall surrounding the concrete patio that was our ceremony space, highlighting the natural beauty of the gardens below and framing the space filled with acrylic chairs. For the reception, we wanted to compliment the high ceilings, floor-to-ceiling windows, and romantic hurricane candles on the dining tables. Sprawling elevated arrangements with gorgeous blooms in tall glass vases were the show-stoppers framing the dance floor, while numerous colourful bud vases and votives lined the banquet-style tables. Lastly, our three-tier white cake had an explosion of floral colour, berries, and greenery that tied the room together as a focal point.
FAVOURITE DETAIL OF THE DAY: Without a doubt, our bar and lounge area were my favourite detail of the day. Not only did we taste test many many craft cocktails to create our own signature drinks for the bar (we are big cocktail fans!), but we spent hours with our planner picking out the pink couches, the white bar, and all the beautiful décor around each. Jessika even introduced us to an artist friend of hers, Hannah Hill, and we were able to completely customise the incredible work of art that sat behind our bar. I absolutely love art and supporting local business, and that art piece now hangs in our home and reminds us every day of our perfect wedding day.
WHAT ADVICE WOULD YOU GIVE OUT TO A COUPLE PLANNING THEIR WEDDING? Hire professionals and TRUST THEM. We had an all-star team, and it was absolutely stress free. During the planning process and on the wedding day, we were able to be true to ourselves and enjoy every minute of it. I could rely on Jessika and our other vendors, and they helped us to make smart decisions. For example, after booking all of our rentals through one company, it went out of business, with only a few months until the wedding! My planner had a solution within 2 days, and we ended up actually saving money. That is why you trust professionals with your big day; I would have been lost without her. It is worth every penny to get a planner if you can!
MOST MEMORABLE MOMENT? We hired an amazing 8-piece band from Memphis with a horn section, including my favourite instrument the saxophone. During the last song of the night "Can't Stop The Feeling" by Justin Timberlake, the party turned into a conga line, and Zach and I were dancing on stage. The band began to lead the conga line and play us out of the ballroom, down the escalator and out the door, while all our friends and family followed, still singing along. Everyone spilled out the front of the Clinton Library and waved us goodbye as we got in our getaway car. An unforgettable ending to an unforgettable day!
WHAT ASPECT OF THE WEDDING WAS THE MOST IMPORTANT TO YOU AND YOUR PARTNER? Zach and I wanted our guests to feel comfortable and enjoy celebrating with us. Almost every detail we choose for our day had our guests in mind. From the food and drink, to the live band, to the venue and location itself, we wanted it to feel like a fun party with all our guests. Nothing makes me happier than hearing some of the amazing memories and fun that was had on our wedding day.
ANY OTHER DETAILS THAT HELP TELL THE STORY OF YOUR DAY? I wanted to symbolically represent the important branches of our families in a meaningful way. The three family heirlooms attached to my bouquet belonged to Zach's late grandmother, my late maternal grandmother, and my paternal great-grandmother.
TELL US A LITTLE ABOUT YOUR HONEYMOON: We spent a week at a boutique resort on the beaches of Belize, in a region called Placencia. We had to take a "puddle jumper" plane to get there, and it was just us and the pilot! We filled our days stand-up paddle-boarding, snorkeling, fishing, exploring cave with Mayan ruins, zip-lining, river tubing, getting massages, driving a golf cart to the local villages, and mostly importantly eating good food.
A huge thanks to Arkansas wedding photographer ERIN WILSON for sharing this gorgeous wedding with us. Erin is known for her dreamy wedding photography and loves to serve others by encouraging their creative sides, reminding them how beautiful they are and being as positive and calm in wild situations. "I am extremely passionate about people, art and love. I photograph weddings on film and digital and very inspired by timeliness images that have a little artful vibe." You can see more of Erin's portfolio in our VENDOR GUIDE and you may also want to check out this Stunning Italian garden wedding inspiration.