It was the mountains that inspired Danielle & Brian to hold their wedding at Lake Tahoe. Or rather the view of the mountains from their venue of ZEPHYR LODGE. "The backdrop was so beautiful that our style was meant to complement the beauty surrounding us and not take away from that. A simple and natural style was key for us." And you can see that clearly in these beautiful images by Northern California wedding photographer SARA WEIR.
"Northstar is a very special place to Brian and to our relationship. Brian's family has spent many winters and summers in at their cabin in Northstar which is in Truckee, near Lake Tahoe. We started officially dating on a New Years Eve trip at the cabin. Over the years we have spent many days skiing at Northstar in the winter and hiking the surrounding mountains in the summer and fall. When skiing we often stop to eat lunch at Zephyr Lodge and marvel in the view of the mountains. The venue was obvious choice for us. We love that we can go back there and relive all the wonderful memories from our wedding day. It was also such a fun experience for our guests, as the only way to the venue is to ride a chairlift up the lodge."
HOW DID YOU MEET? Brian and I met in a black and white 35mm film photography class in college. It wasn't love at first sight but we remained friends throughout the year. The following year at school we coincidentally ended up living right next door to each other. Our story as a couple began there and continued for the next 8 years.
TELL US ABOUT YOUR PROPOSAL: Brian proposed while we were travelling in Spain. It was so uncharacteristic and bold of him to bring a ring with us that I was completely surprised! We were in San Sebastian in northern Spain and we hiked up to a lookout with a view of the entire coastal city below us. We were the only ones up there and Brian got down on one knee and proposed at sunset.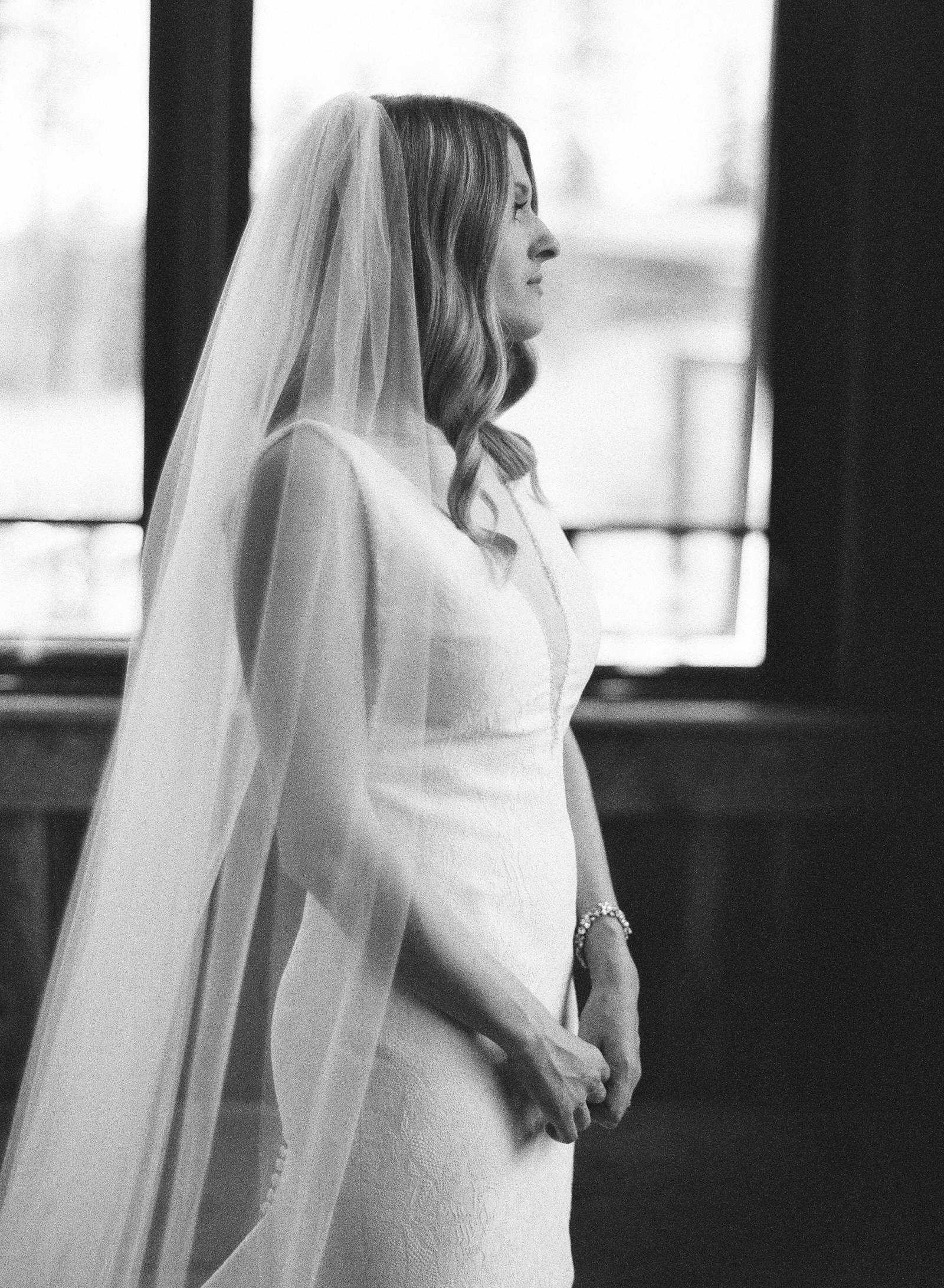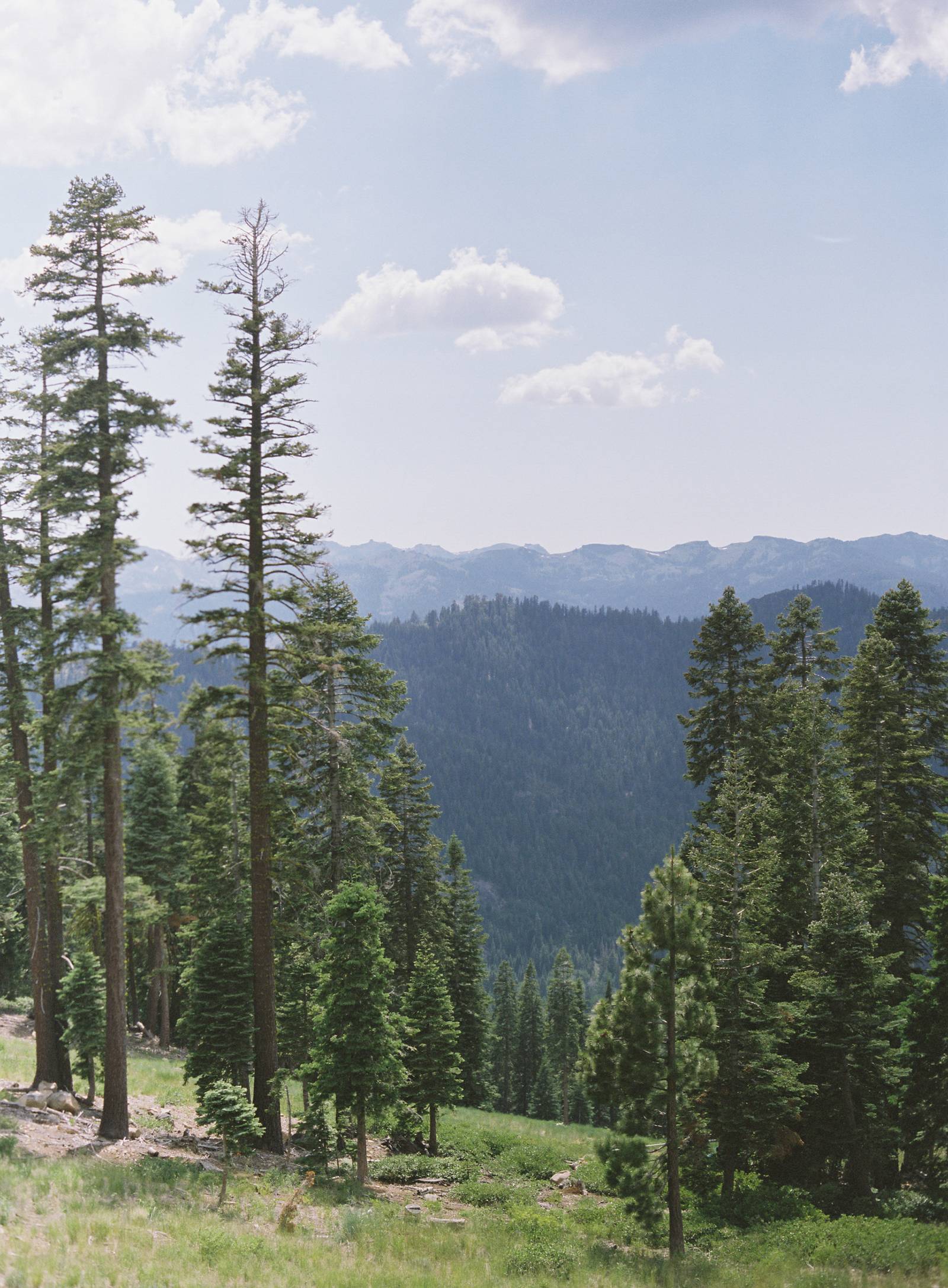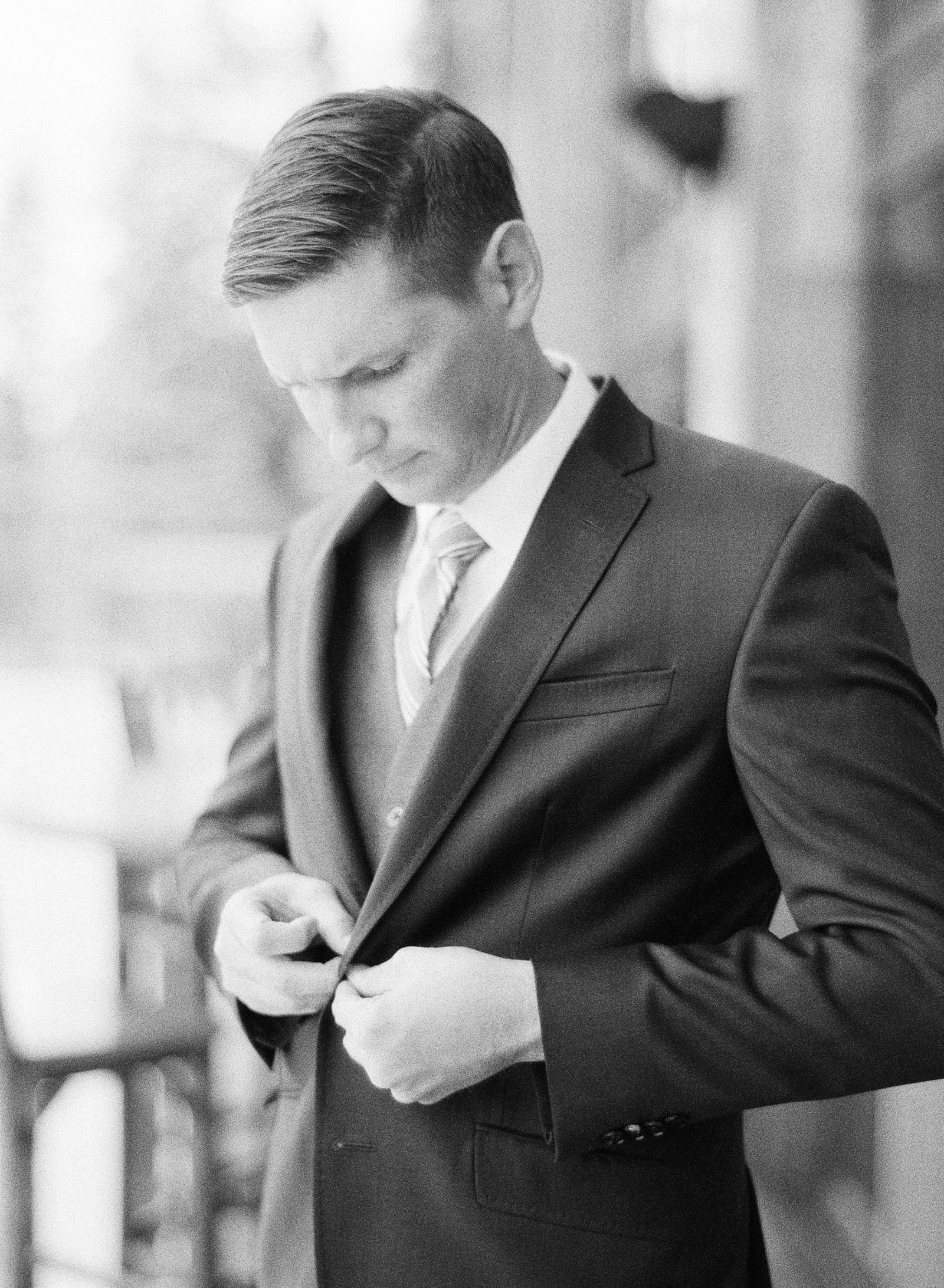 TELL US ABOUT FINDING YOUR WEDDING DRESS: Finding the dress was not my favourite part of the process but I was so happy with my dress in the end! I never thought I wanted a fitted dress so I started out looking at A-line dresses but once I put that dress on it completely changed my perspective. I actually purchased a different dress initially but went home and looked at pictures of the other dress that night. I immediately cancelled my order the next day and purchased the other dress (and I am so glad I did!). My dress was quite different than any other dress I had tried on. It was a Pronovias dress with a long train and subtle floral pattern. the design felt suiting for the mountains. The dress had a plunging V neck so I added some sheer fabric to make a high neckline and give me a bit more coverage.
DID YOU HAVE ANY DIY ELEMENTS? Quite a few! Brian is a graphic designer so he designed our own Save the Dates, Invitations, and name cards. We bought some nice Italian paper and printed them ourselves. We did a black and white mountain sketch theme throughout and included our venue and chairlift in the drawing. We thought it would be fun to elude to the venue on the save the date and invites. For the name cards we glued small printouts to baby pinecones which were placed on each table. We also put mason jars filled with baby's breath down the aisle and had a handful of other mountainous decorations throughout the reception.
DESCRIBE YOUR WEDDING FLOWERS: We wanted our florals to complement the backdrop of the mountains. We wanted simple, natural looking florals with lots of greens and whites. Garlands were placed on the reception tables with mountainous greens. Meghon from Love and Lupines did a wonderful job incorporating some lovely blues into the florals which ended up matching the blue mountains in the background perfectly.

FAVOURITE DETAIL OF THE DAY: The views and the aisle! The view at the end of the aisle was so stunning and wonderful for our guests to look out on. We loved the simple look of the baby's breath in mason jars down the aisle along with two floral arrangements on top of wine barrels to mimic an alter.
WHAT ADVICE WOULD YOU GIVE OUT TO A COUPLE PLANNING THEIR WEDDING? Make sure at the end of your wedding day you can say it was exactly what you both wanted. There are so many opinions throughout the process which makes it challenging but looking back and being able to say we wouldn't change a thing is the best feeling!
MOST MEMORABLE MOMENT? Our first look! It's such a special moment together. It allowed us to get our nerves out relax before the ceremony. We also got to take the chairlift up to our venue during our first look and got some fun photos in our wedding attire.
ANY OTHER DETAILS THAT HELP TELL THE STORY OF YOUR DAY? We included our dog, Finnley, a miniature Australian shepherd in our wedding. He is a part of our family so including him in our wedding was important to us. He was the ring bearer and brought us our rings during the ceremony.
TELL US A LITTLE ABOUT YOUR HONEYMOON: We didn't have much time for our honeymoon as we were moving and had a wedding to attend shortly after ours. We went to Placencia, Belize for a week and it was just what we needed – a quiet, relaxing beach vacation that wasn't too far away. We did a lot of adventurous things on our honeymoon – snorkeling, exploring Mayan ruins, and cave tubing.
IS THERE ANYTHING YOU WOULD CHANGE OR DO DIFFERENTLY? We wish we could have paced ourselves to make it around to more people during our reception. We felt so bad that we didn't get the opportunity to talk to everyone who traveled to be there for us on our wedding day.
Thank you to SARA WEIR (Northern California wedding photographer) for sharing this beautiful California wedding with us today. Sara is a fine art wedding photographer who is passionate about both editorial and commercial work. "I feel each is necessary to my aesthetic and feeds into the other giving me a unique perspective." If you're a bride looking for a Northern California wedding photographer be sure to check out more of Sara's work in our Vendor Guide and you should definitely check out this California Wedding with an old world romance appeal.