In my humble opinion you really can't go wrong with a simple palette of green and white for your wedding and that's exactly what Beata and Billy had for their autumn wedding in Capetown, South Africa. Regarding their venue gorgeous bride Beata tells us, "I'm not going to lie, LOURENSFORD is the crème de la crème of venues. I'm very fortunate to have had our special day there. Being a simple person I loved the white on white with a touch of green. It stands out beautifully to me and didn't want an over the top design for our wedding." DEHAN ENGELBRECHT captured their beautiful day with these stunning light filled images.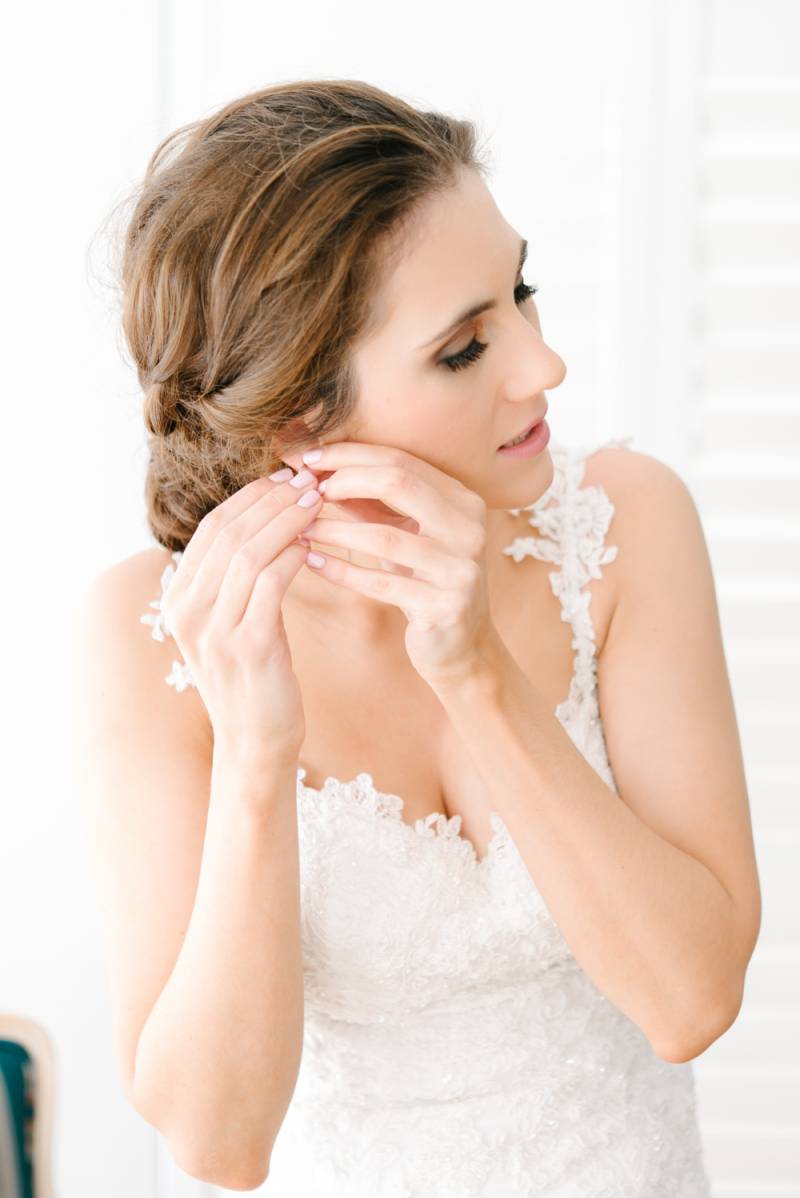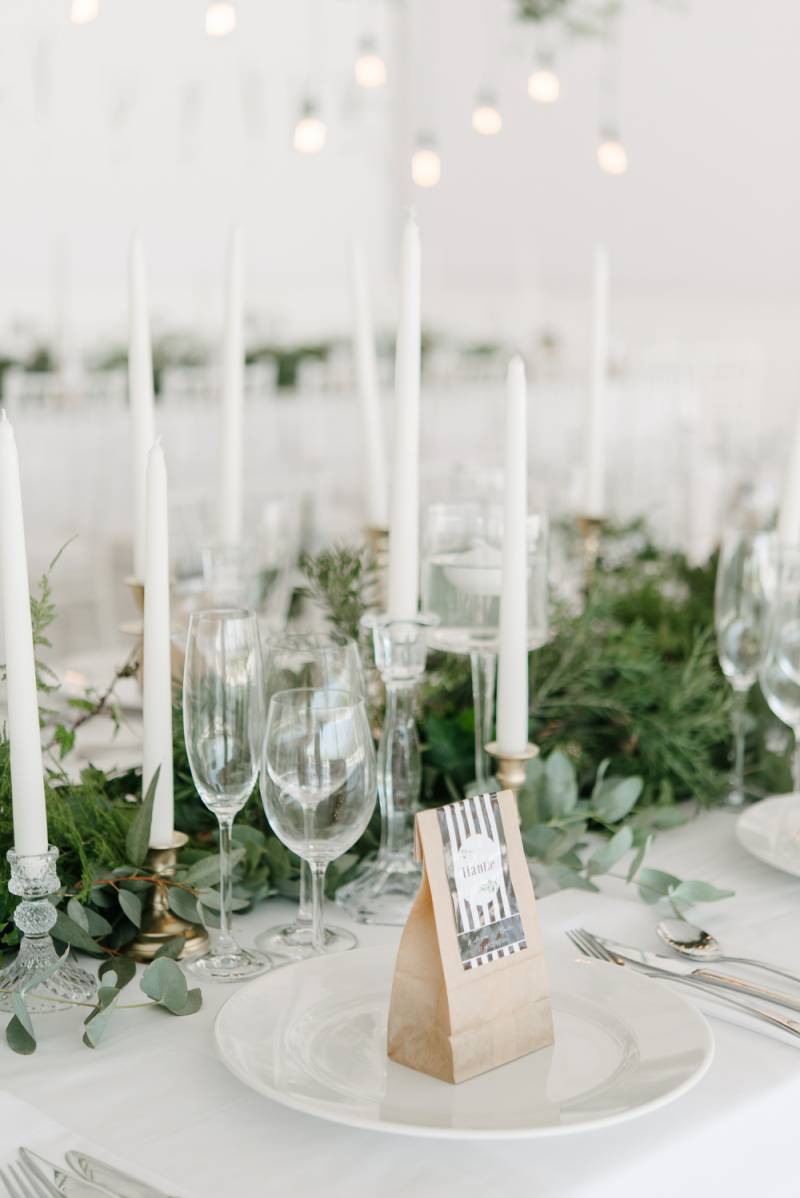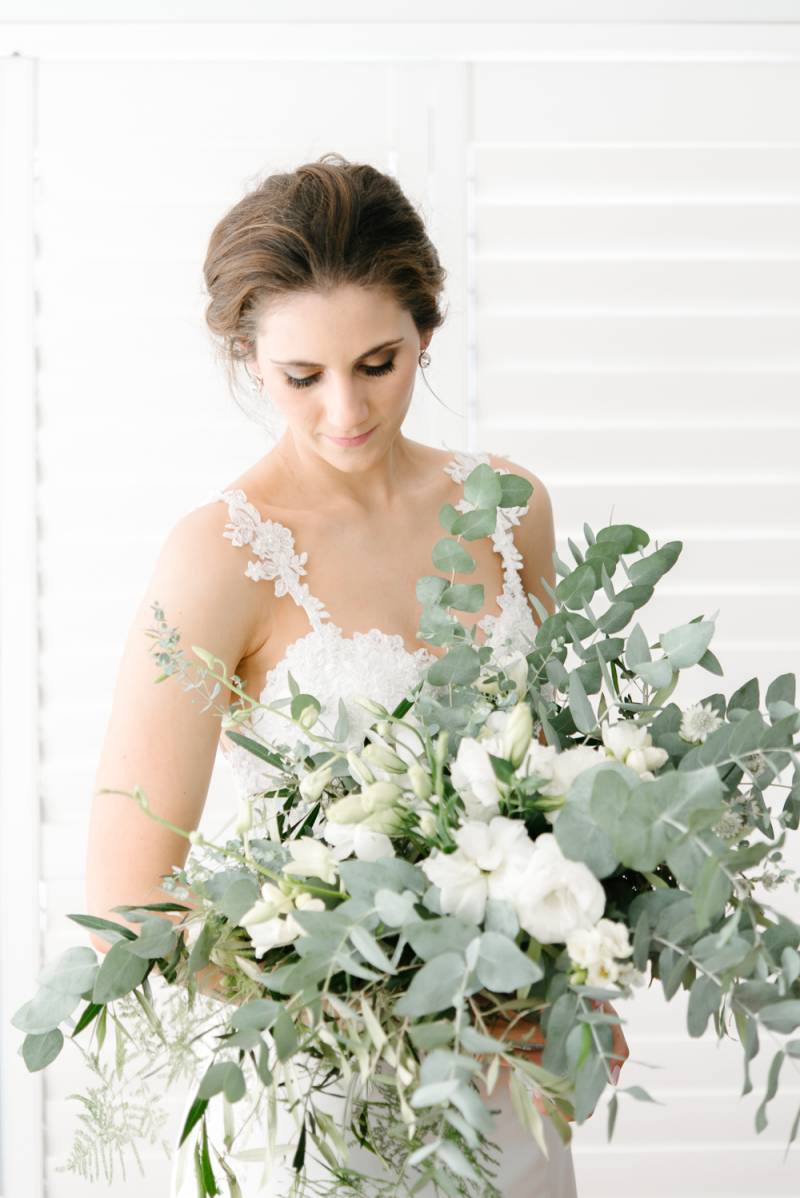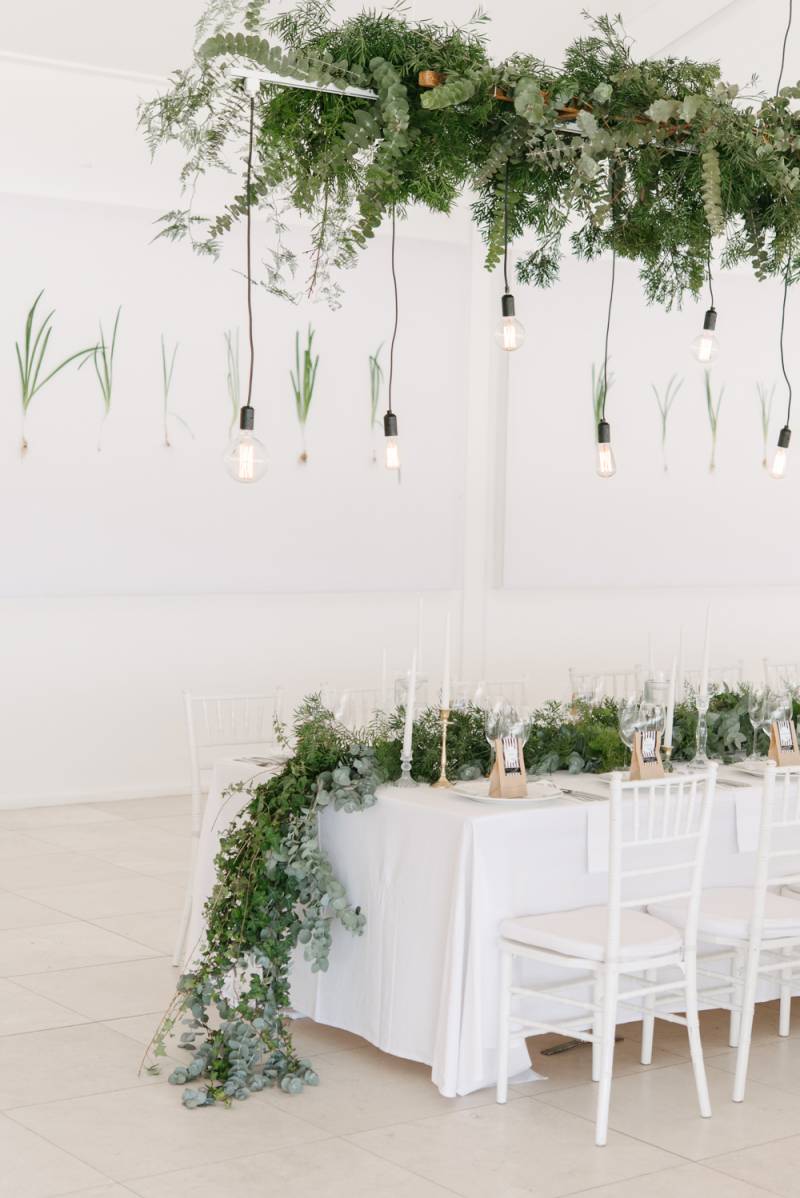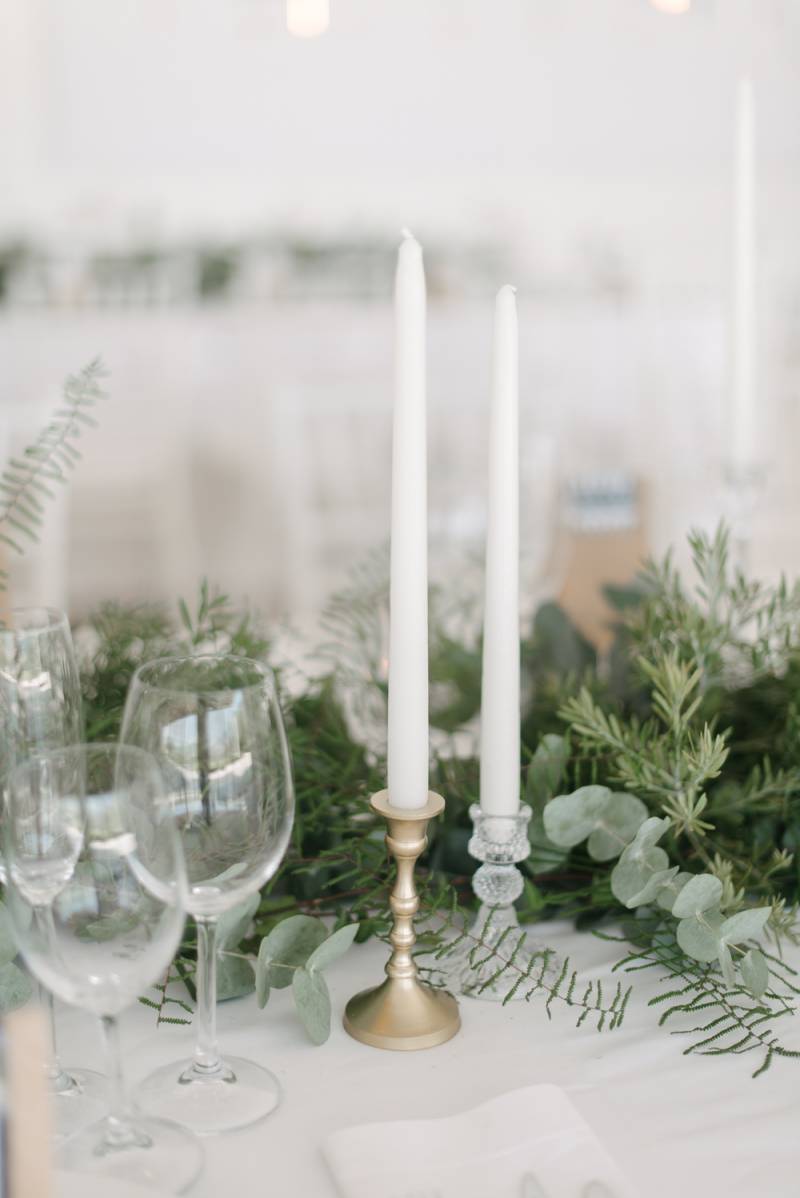 HOW DID YOU MEET? As I like to say we knew each other from school, he was my prefect, but sadly he didn't know me. We had met after a big night out in the dodgy Hatfield Square in Pretoria, where I was out with my good friend. Billy had known her because he is close friends with her sister. He was out celebrating exam results, and wanted to buy my friends a shot; I had declined as I was still suffering from the previous night out. He was not too impressed by my reaction and asked 'if I was too busy flirting to have a shot with him' and that's how it started. We chatted over water all evening till 5am waiting for my friends. I had left to go work overseas on a cruise liner. Even though I was gone for 9 months we had kept contact all the time, especially in the last 3 months before I returned home. I kept saying he should visit me in CT not thinking he would. And all of sudden I had to tell my parents this guy is flying from JHB to visit me? Don't really know him but let's see. He was with me in CT for a week; I then flew back up with him to JHB for the week. Originally I was going to move up but found a job I couldn't decline so we decided to do long distance. We had done it for a year after which I moved up for love.
TELL US ABOUT YOUR PROPOSAL: We had gone on a skiing trip last year December to Austria with his mom and fiancé who live in London. As I was a newbie to it all, I was in ski classes while the rest gallivanted on the slopes. On the 4th day after my classes were finished he took me out on the slopes to see more of Obergurgle and Hockgurgl. He had heard that there's a restaurant right on top of the slopes 3480m above sea level. We had left our equipment at the bottom of the gondola and went up to have a hot chocolate. It was nerve wrecking, so high up and steep off a cliff edge. We climbed iron gated steps to the circular restaurant supported by beams. We got seats on high chairs by the bar and ordered our yummy hot chocolate. Mine had the cream. We still took a photo when next minute he 'wants to ask me something' I had seen him reach for the box out of the bag behind him. Then he asked 'will you marry me?' I was so shocked that my first words were 'nononono' but eventually YES. In total bliss I needed to tell someone. I turned to the lady next to me and showed her but sadly got the response in poor Dutch English 'don't speak Eneglich'
TELL US ABOUT FINDING YOUR WEDDING DRESS: I had originally set out to only rent a dress. As I understand the cost of wedding dresses are beyond high. My sister had gotten a recommendation from a college at work of a lady who used to work for a well-known designer in Capetown, who is now working on her own and is making wedding dresses. My mother, sister and I opted for this decision after we had shopped at all the bridal stores in Capetown, to only find they all provide the same dresses and styles, nothing that stood out. I can in all honesty say that it's probably not the best option to have a dress made in Capetown when you are living in Johannesburg. It was a lot of traveling and also it never comes out the way you hope it to. Nevertheless it came out to be a beautiful dress.
ANY DIY ELEMENTS? I am definitely not one of those brides that opted for this route. However one element was assembled by my sister, husband and I, which were the gifts on the tables. We had the brown bags which we had to stick the name tags on (to my husband surprise I am horrible with sticking) as well as filling the bags with the grounded coffee from the roastery on the Lourensford wine farm. 'Love is Brewing' these worked as two purposes, table arrangement for people to find their name where they were sitting and a thank you gift.
DESCRIBE YOUR WEDDING FLOWERS: Again I tried to avoid wastage in weddings and didn't want flowers. I love the simplicity of whites with greenery. I had often seen the foliage on tables and hanging from the roof. But don't be surprised that foraging costs just as much as flowers would.
FAVOURITE DETAIL OF THE DAY: Seeing everything come together. You plan for months, and work off images and ideas but once in place it's amazing. A late thought was put to the Onion leaves on the canvases against the wall. And it turned out to be such a statement art.
WHAT ADVICE WOULD YOU GIVE OUT TO A COUPLE PLANNING THEIR WEDDING? Avoid the stigma of weddings. You don't have to follow tradition anymore. Do what suits you as a couple and individuals. Not everyone's budgets and lifestyle are the same why should weddings be. Also and this surprised all of us, coordinators are the best thing you can invest in. We were fortunate enough to have won a competition for coordination and these ladies from Pretty Different were amazing. I did not worry about a single thing and wasn't even made aware of a mishap where white wines weren't ordered.
MOST MEMORABLE MOMENT? Every bit of the wedding was memorable. Getting ready with my mom, sister, cousin and best friend. Crying for no reason. My sister driving me up in the lane to the wedding. My dad walking me down the aisle. The joy of saying I do. Seeing Billy on the most beautiful day, perfect weather, greenest grass and white sheets blowing in the wind. Having had our wedding end of August in CT we really didn't know what weather to expect. We had plan A B and C. And I think mostly when we were taking photos Billy and I had used the opportunity to be with one another, we caught up on all the events that took place leading up to the wedding, our thoughts on things so far. That our photographer Dehan will even tell you we just were casual and at ease.
ANY OTHER DETAILS THAT HELP TELL THE STORY OF YOUR DAY? You can never predict the way you will be on the day of your wedding. I had woken up very relaxed (didn't sleep too well) but I wasn't stressed out, but after I had my hair and make-up done and my friend gave me a gift I couldn't stop crying at the most silliest of things and then laughing about them. Billy and I don't fuss over things and I think we pulled that off with the wedding. Our goal was that our guests have fun that we celebrate the day with the people that are dear to us. And I know that everyone that was there are in our lives. And we still get compliments as too how much fun the wedding was. We were only 73 guests in a very big hall but never felt awkward or empty.
Food was also a very important element especially to Billy, and honestly it was delicious. We had skipped a lot of wedding traditions such as the cake; I wasn't prepared to drop $7k on a cake so we opted for four different dessert canapés. Also instead of the cutting of cake tradition, a year before for my birthday we were at Warwick wine farm where with their wine tasting they have a Wedding Cup. Myth goes that a rich king's daughter was in love with a silversmith. The king did not favour this romance but when he saw how heartbroken his daughter was he set out a mission for the silversmith whereby he had to make 1 cup out of which 2 people could drink at the same time. The silversmith had mastered this and got to be with the one he loved. We loved this so much so had this as our special moment, we had purchased the cup and will engrave it with our wedding date, and keep as a souvenir for all time. We also didn't go for the whole bridesmaids and groomsmen thing, purely for the reason that if we did all the guest would of stood with us and that would looked a little odd!
Because I'm the only one with a sibling my sister was my maid of honour and my best friend who had done our invites and engagement shoot was my unofficial official bridesmaid. So she was still with me when we got ready I had given her a gift and she helped me with a lot of stuff but I am very happy to have not had all the bridesmaid dramas. My friends, mother and sister still made it special by surprising me with a kitchen tea and bachelorette which I am so grateful for.