When you have enough nieces and nephews to make up two entire football teams it's quite the challenge giving them all a special role at your wedding, so Lisa & Allan - upon asking the girls - gave them the roll of 'peppermint girls'. Of course they didn't know what this meant but were promptly told that it's when they hand candy to the guests. Ulterior motive if you ask me! Either way it sure added to the cuteness factor with all 9 nieces dressed in adorable dresses with florals crowns lining the walkway to the ceremony handing peppermints to the guests. I mean whose heart wouldn't be melted seeing this!
This gorgeous wedding by California wedding photographer MEGAN WELKER is pure eye candy! Held at the gorgeous venue of VISTA VALLEY COUNTRY CLUB - which added the European touch they were after - wedding planner TO LA LUNE and florist PLENTY OF PETALS did a stunning job of the wedding decor. Bouquets of luscious garden roses were the perfect accompaniment to the bridesmaids' array of pastel gowns.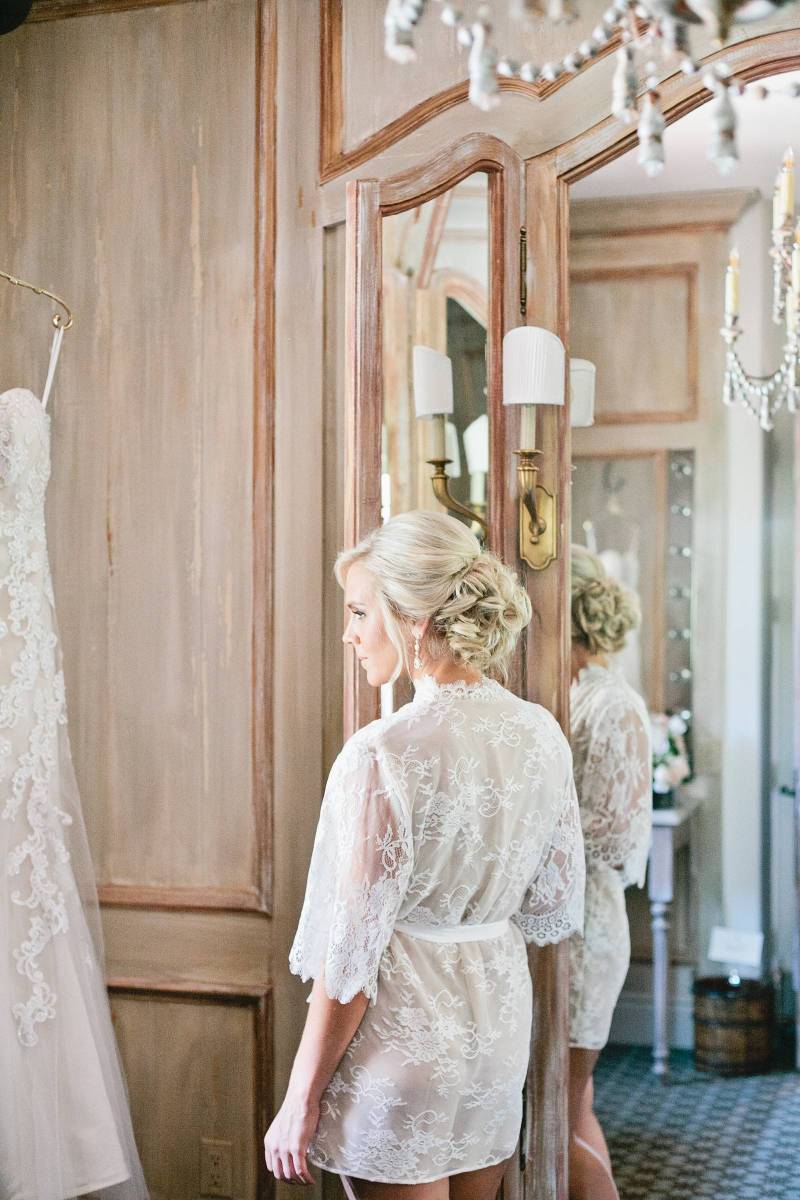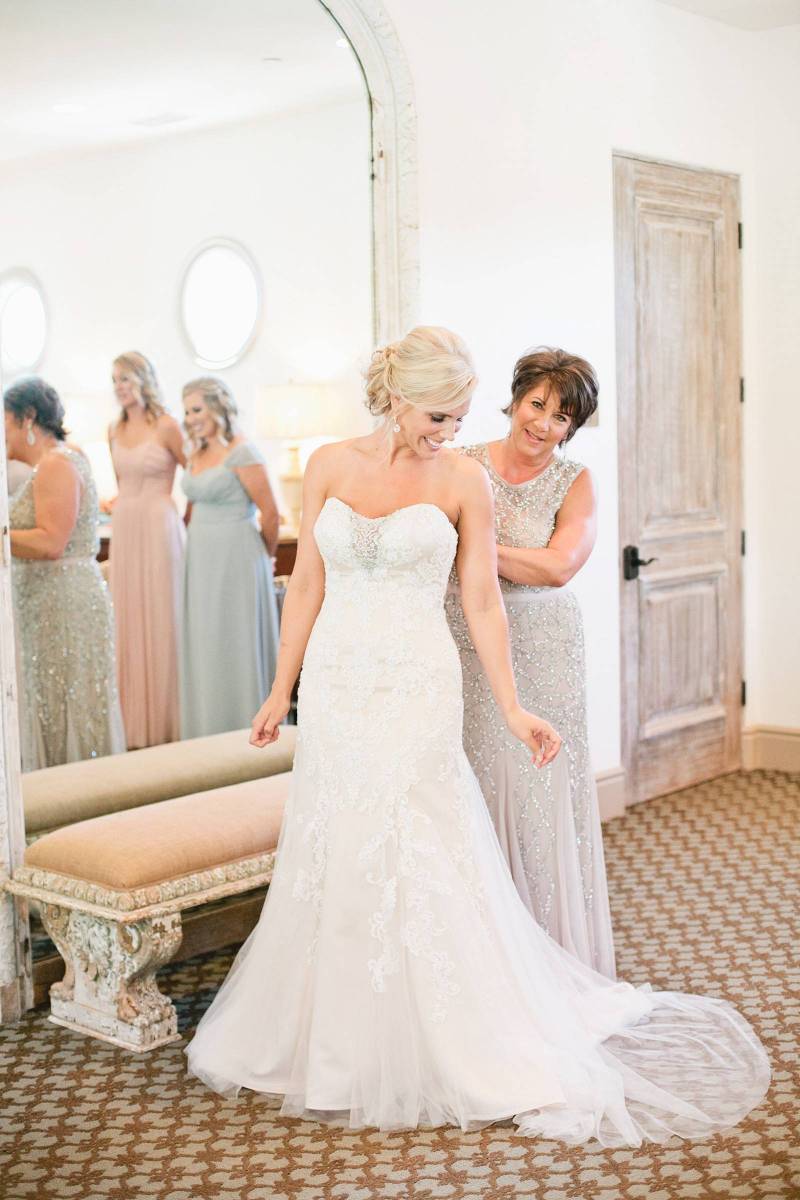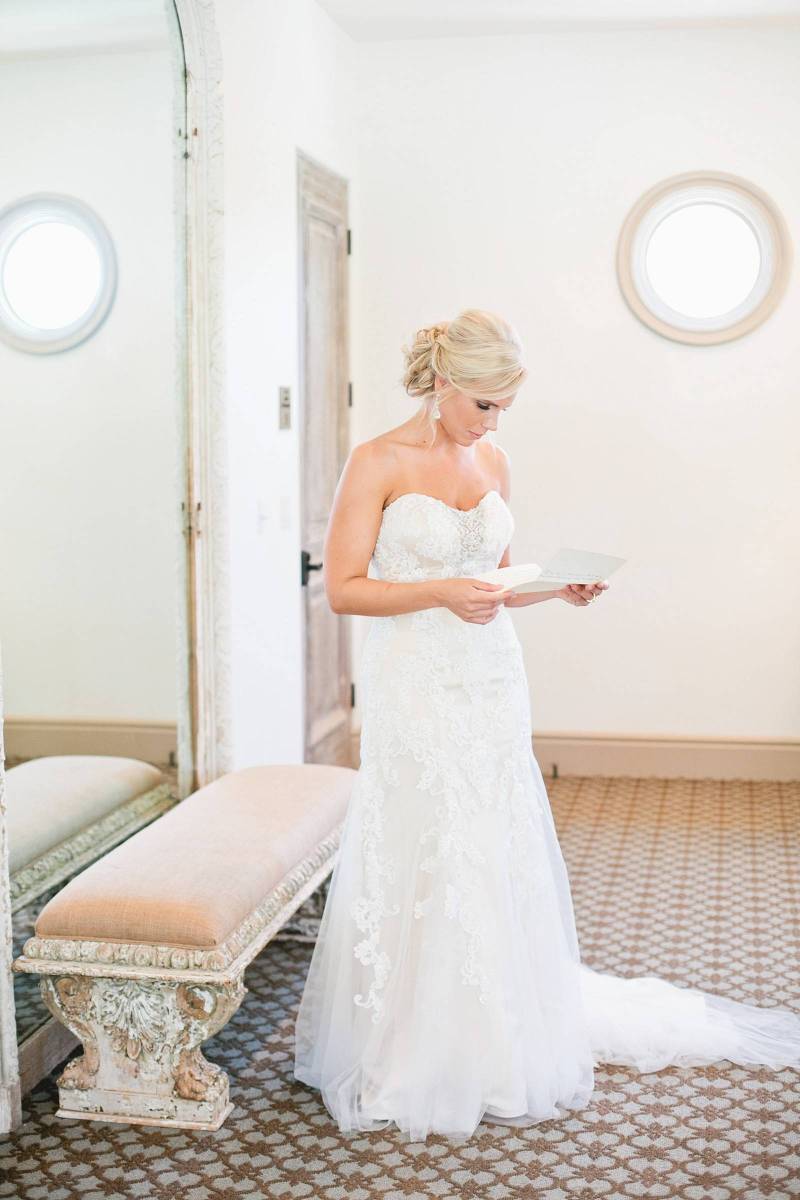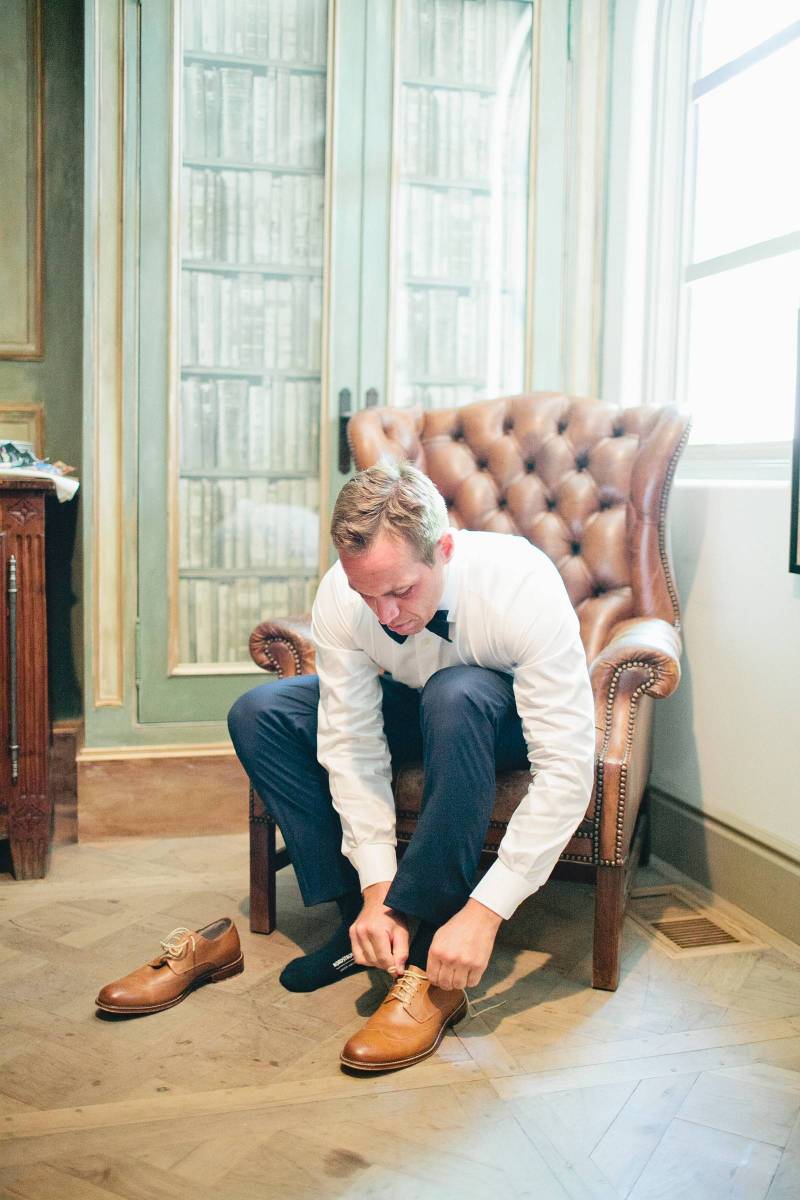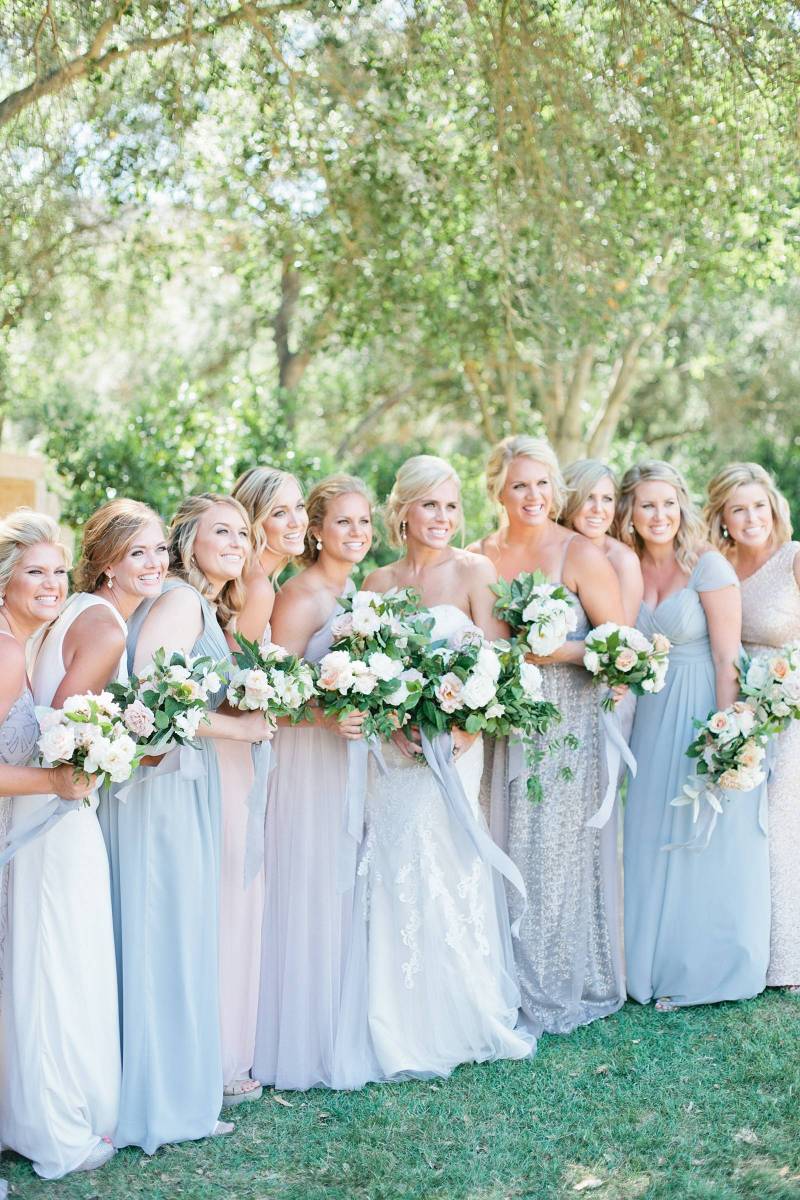 HOW DID YOU MEET? We 'met' on a Christmas card!!! Allan and I have mutual family friends and he saw me on a Christmas card. He was dating someone at the time, so it wasn't until several years later that he came across me again (on a Christmas card) and asked about me. My sister called and asked if I'd be okay with giving my number to her friend's brother in WA. I looked him up on FB and saw his picture and thought he was super cute (he was wearing a sweater vest and I'm a total sucker for sweater vests!) so I said yes. Honestly, I didn't think much of it since he lived in WA and I lived in CA. Sure enough, Allan sent me an email later that week. We wrote back and forth for awhile and then he asked if he could call me. After chatting back and forth on the phone, he asked if he could take me on a date. So we decided to meet in San Diego (neutral territory) and have a date. We shared our first date at Extraordinary Desserts in San Diego and dated long distance for the next five years!
TELL US ABOUT YOUR PROPOSAL: I was up in WA visiting Allan for the weekend and it we were having a very normal Sunday. We had gone to church, shared a lunch with his family, and we were heading back to his house and he mentioned he wanted to make a dessert for later that evening. We stopped at the grocery store...totally normal, right? When we got back to his house, I had some blogging to do and he started baking in the kitchen. After about a hour, he told me to come to the kitchen where he proceeded to lead me outside. There, on the roof of his carport, he had placed a table and chairs with candles and roses. I still thought nothing of it as we had frequently shared 'dates' up on the roof looking out over the hills by his house. And to make it officially clear how unprepared I was, I was wearing my comfy yoga pants and my beloved tie-dye t-shirt. We sat and shared a piece of his homemade almond joy pie (my favorite) and chatted. He asked what my favorite thing we've shared together this past year had been. Oblivious to his leading, I rambled on and on about all my favorite things we've done together. After my long-winded rant, I returned the questions which he proceeded to get on one knee and ask me to marry me. After the initial surprise set in, I replied YES! in which he followed the night by telling me this was his favorite moment of our year together.
TELL US ABOUT FINDING YOUR WEDDING DRESS: Finding my wedding dress was a JOURNEY! I had an idea in mind of what I wanted but didn't find it until way WAY later in the search. It had all the elements I was looking for...whimsical, lace, allusion back, sweetheart neckline, and champagne colour. I was in love!
DESCRIBE YOUR WEDDING FLOWERS: When I saw Kasia's work, I knew I wanted to work with her. She is a true artist of her trade through and through. I shared my overall vision/feel I had for our wedding day.... whimsical, romantic... like an old black and white photo from your Grandparents wedding. I love flowers that feel and look like they were hand-picked from a garden and she absolutely and positively nailed what we were looking for...the flowers took my breath away! They were stunning!
FAVOURITE DETAIL OF THE DAY: I honestly loved so much about our wedding day its hard to pick just ONE detail. From the cake, to the flowers to the tables, to all the vendors that went above and beyond, this day was truly magical for us. I had dreamt of this day since I was little and played wedding with my Barbies, and this day was so much MORE than I could have ever imagined or dreamed!
But by far and without a doubt, getting to walk hand-in-hand as Mr. and Mrs. down the aisle was my favourite!
WHAT ADVICE WOULD YOU GIVE OUT TO A COUPLE PLANNING THEIR WEDDING? My advice for brides would be to be present over Pinterest on their wedding day. As a wedding photographer myself, I see so many brides on their wedding day trying to re-create images from something they have seen on Pinterest when the real and actual scene is just as gorgeous. But they get hung up on these ideas. My hands-down advice is to be present on your wedding day. It's such a precious, sacred day to experience. Your wedding should be a unique story of you as a couple rather than a re-creation of something from someone else's day.
MOST MEMORABLE MOMENT? Getting to have our first look. That was so incredible and a feeling I will never forget.
ANY OTHER DETAILS THAT HELP TELL THE STORY OF YOUR DAY? We had Extraordinary Desserts make our cake as an ode to our first date together there, and choose San Diego as our wedding destination because thats where we first officially met!
For the guest tables, we had each table named a 'city' that had been part of our story, or upbringing, and also included the names of the few cities we'd be traveling to on our honeymoon. We had so many friends & family coming from out-of-town and it was such a fun way to share some special moments from our relationship and also create a table 'destination' for each group!
Two of my grandmas had passed away before our wedding so for the wedding day, I carried my Grandma Joyce's hankie with my bouquet for my 'something borrowed' For my other Grandma (Fritz) I had a piece of one of her nightgowns sewn in to the inside seam of my dress. It was so special to me to feel like both of them were still part of our day even though they couldn't be there.
Both Allan and i come from families that operate dairy-farms so we thought it'd be extra fun to incorporate that part of 'us' into our day so instead of having a typical champagne toast, we had each guest served a chilled mini glass of milk for the toast! Milk toast!! Also as guests arrived to the wedding, we had a table set near the entry with wedding portraits from the generations before us... from our parents all the way to our great-great grandparents.