We are pretty smitten with everything about this stunning celebration by Los Angeles Wedding Photographer THIS MODERN ROMANCE. The bride's incredible INBAL DROR wedding gown, the delicious array of colours and styles of the bridesmaids dresses, and the insanely beautiful floral arch by CAMELLIA FLORAL DESIGN. Be sure to head to the GALLERY to pin away!
Allison first caught her future husband's eye when he spotted her on TV - working for Fox Sports - in the Detroit Tigers clubhouse after a game, exclaiming "Who's that?". Thanks to a high school acquaintance of Allison's who overheard his curiousity, the two soon found themselves on the same flight back to Los Angeles, albeit with Brennan in first class, and Allison in coach. Brennan manage to sweet talk the gentleman next to him into relinquishing his seat and so the romance began. After three years he proposed and they went about planning their dream wedding at The Biltmore in Santa Barbara. Offering guests the best of different worlds with an o of different worlds with an oceanside cocktail hour, garden ceremony spot, and indoor reception, they went about bringing the outside in with a stunning wooden pergola dripping with vines and exotic blooms.
"It was the most memorable day of my life and I wish I could relive it a million times over! The day started with a Bloody Marys and brunch at Geoffrey's in Malibu with Brennan's sister and her husband. On the way home Brennan played the song "When I get my hands on you," by Bob Dylan (which later became our first dance song) and I saw my fiancée-to-be flash the sweetest smile to his sister knowing what was about to go down. We had recently bought a house in Malibu with private beach access, and decided it was the perfect day to head down and build a bonfire. After the pit was dug, and the blankets lay out, Brennan invited me to go for a stroll. I happily accepted and at this moment, I did think for a second, how perfect a proposal would be right then, but the thought was gone as quickly as it came. We walked around the rocky point at Little Dume, and Brennan started saying the sweetest things to me as he always does, and then something was different, he dropped to a his knee and showed me the ring and I screamed, "what are you doing!" and squeezed his head with the biggest bear hug ever. His sister came flying out around the corner, as her husband had been following us the whole way and captured the moment perfectly on film. I then ran to call my parents to share the news, followed by our bonfire & bubbly with my new in-laws-to-be."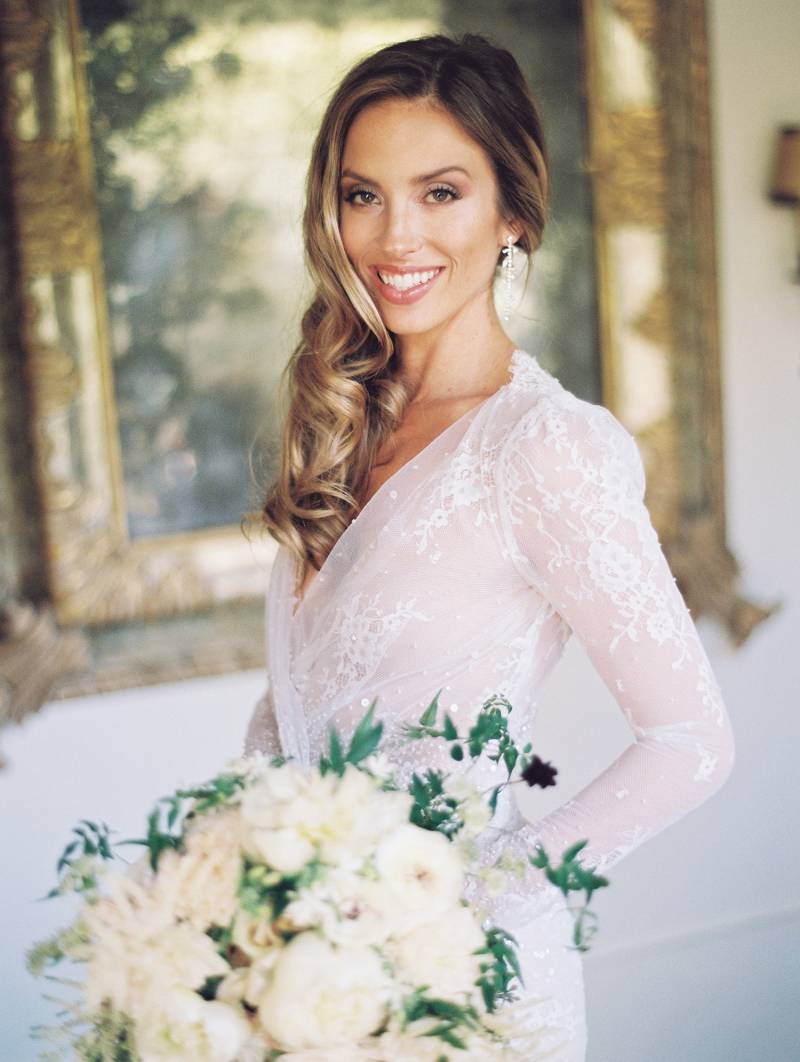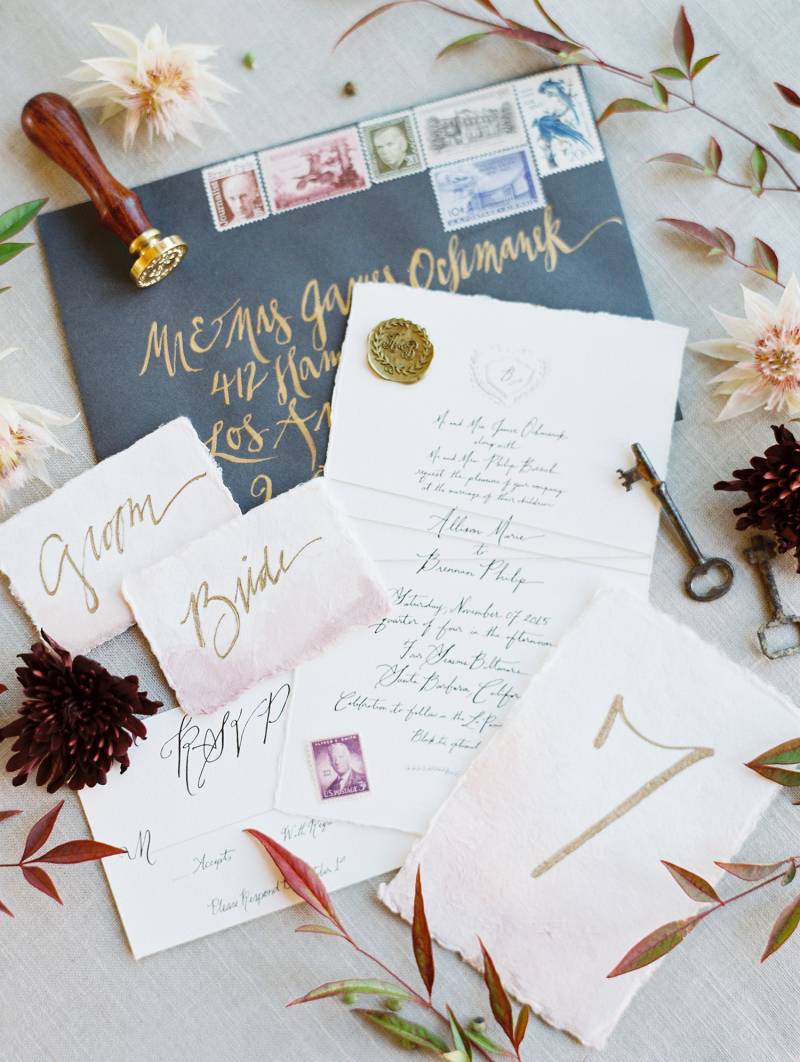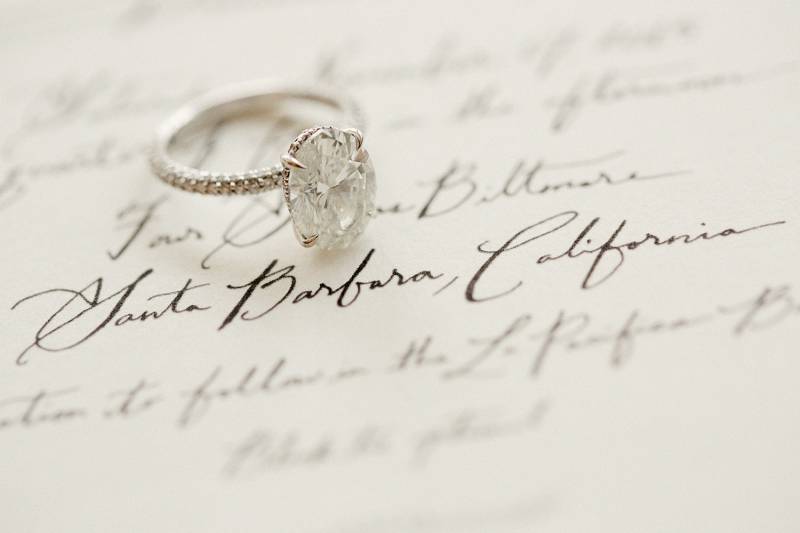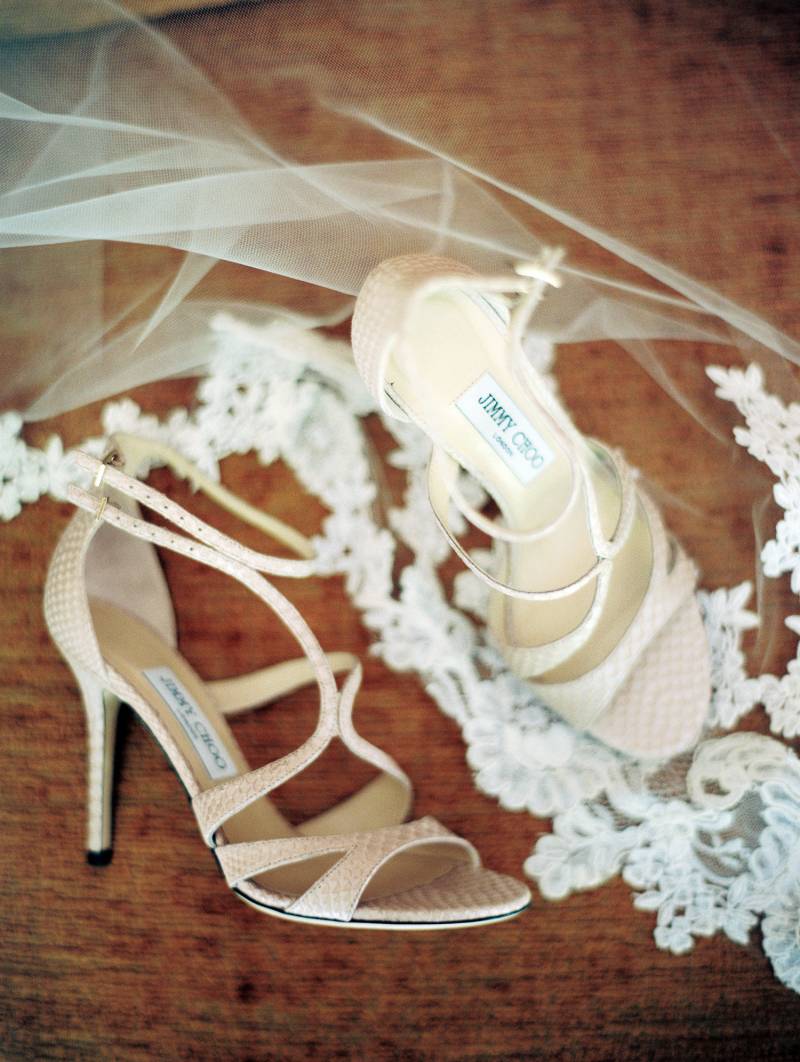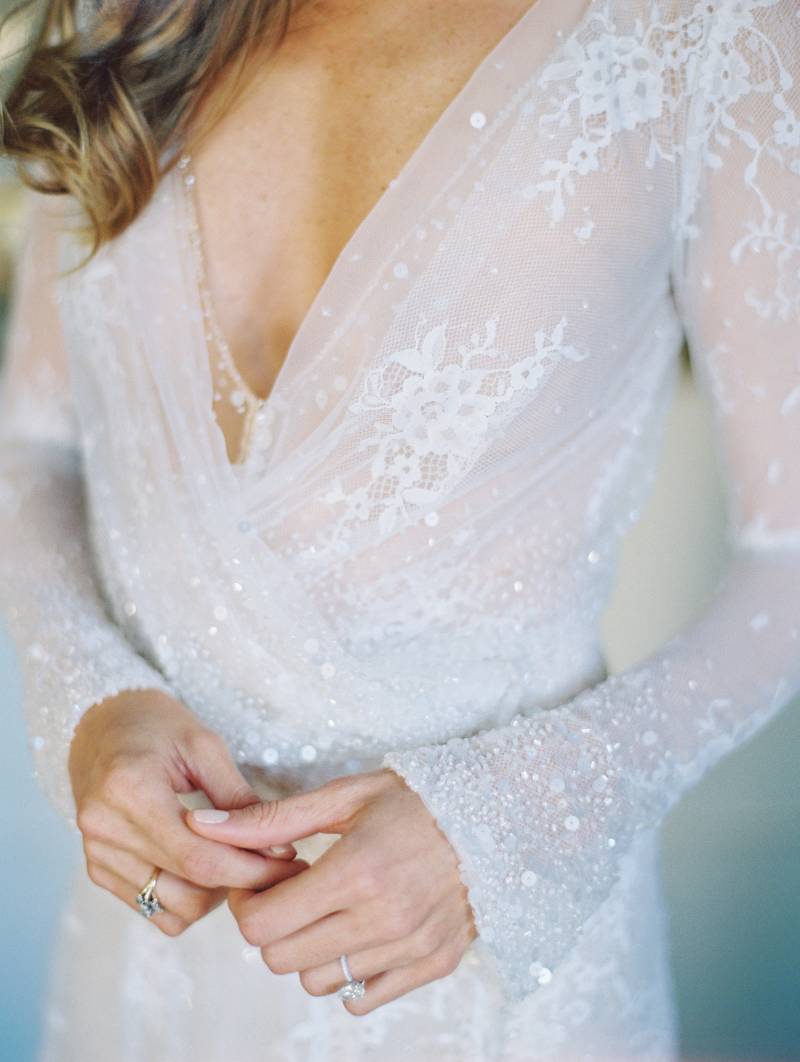 "My flowers were everything to me! I must have driven Camille crazy with a million photos taking bits and pieces from different bouquets, but she absolutely nailed it, and I could not have been happier! I wanted the feel to be perfectly messy with loose organic lines and a little wild. My colour palette included moody neutrals in shades of ivory and champagne, sandy peach, and nudes with a pop of plum to tie in the fall vibes. We incorporated the most beautiful garden roses, dahlias, peonies, ranunculus, anenomes, and my favourite, the king protea. When describing what I was going for, texture was key. This is where the thistles, berries, scabiosa, and cascading vines of jasmine and olive branches came in. We did a mixture of medium low sprawling arrangements on some tables and groupings of various blooms in vintage glassware and bronze containers on the others."
TELL US ABOUT FINDING YOUR WEDDING DRESS: My mom flew out from Michigan and it was just she and I for round one. We had so much fun while I tried on a million dresses saying, "I could be this bride," but it still wasn't right. On the third day of shopping I was with my sister-in-law and I tried on the most amazing long sleeve lace number I had ever seen. She videoed me as we cried and thought this wst amazing long sleeve lace number I had ever seen. She videoed me as we cried and thought this was it! I hzing long sleeve lace number I had ever seen. She videoed me as we cried and thought this was it! I had it in my mind that I wanted to wear Inbal Dror-her lace is so delicate and beautiful and truly one of a kind. I knew this gown was going to be hard to top, but I had to see every option. I waited for the Inbal trunk show, and tried on about eight other gowns, saving this one for last. I slipped my arm in and at the moment I knew this was my dress! I had my best friends there who had flown out from Chicago, and they couldn't have agreed more! This is one decision I've made, and never looked back. I feel like this gown was made for me.
WHAT WAS YOUR FAVOURITE MOMENT: When Ashley, my day-of coordinator, took Brennan and I inside the ballroom before everyone else entered and I saw everything I poured my heart and soul into come together. Then we listened to the band warm up just he and I before our guests were invited in.