Rachel and Danny started planning their first European vacation shortly after they met, and it was on the trip that Danny proposed. So it's fitting that they were married on beautiful Vis Island in the groom's home country of Croatia, in a wedding that was classic and timeless, with simple green and white florals that really let the beauty of their venue shine through. Missouri wedding photographer MIKE CASSIMATIS (and valued Magnolia Rouge vendor!) has captured their day in the most stunning way. I'm obsessed with the images of the bridal party walking through the town - how great will these be to look back on in years to come? This stunning wedding also features in Issue 19 of MAGNOLIA ROUGE MAGAZINE.
"Danny's Croatian heritage is very important to his family, so we thought getting married in Croatia would be a wonderful opportunity to introduce our friends to the beautiful country. Although we booked the wedding venue sight unseen, Fort George and the Island of Vis were even better than we could have imagined. We fell in love with the island. It was the most authentic place in Croatia and seemed virtually untouched by tourism. Fort George was absolutely stunning and was a dream of a wedding venue. We were able to have our ceremony in the courtyard with the stone walls as a backdrop, the cocktail hour on the rooftop overlooking the ocean, and the reception in the garden, with the most gorgeous sunset view you could ever imagine."
We wanted to focus on traditional Croatian details, so we chose lavender to be tossed when we were leaving the ceremony. We created cones from the pages of an English to Croatian dictionary that Danny's family had used when they first moved to the United States. The cones held the lavender and were passed out to the guests when they arrived."
TELL US ABOUT YOUR PROPOSAL: Right after Danny and I met we were watching a soccer game and he invited me to go to France with him the following summer to watch Croatia play in the UEFA tournament. We both laughed because we barely knew one another but by the time that summer came we had already moved in together and planned our trip to Europe around the soccer game. We decided to go to Croatia where Danny is from and we each chose one additional country. I picked Iceland, a country I always wanted to visit and Danny chose Norway, so that could hike Trolltunga. When we arrived in Norway we fell in love with it right away. Everywhere we looked was pure beauty. We left our apartment in Bergen at 5:00am and made the scenic drive to Odda, Norway to begin our hike. The whole way up I kept exclaiming that this was the best day of my life because I was completely in heaven and truly felt this was the most beautiful place I had ever been. Little did I know that Danny really was going to make sure it was the best day I've ever had.
After five hours, we got to the top and waited our turn to take a photo on the famous Trolltunga cliff. Danny told me to go on the rock so that he could focus the camera. He set up his intervalometer and ran down to join me. I was out the ledge in complete awe of the fjords and glaciers that we were overlooking. I could tell Danny was nervous but I thought it was just because we were on a 10,000 year old rock formation. He let me know that the timer was ready and we could start taking photos. I replied, "oh my gosh we didn't talk about what poses we should do yet", as many people do crazy things on the edge of the cliff. He replied, "How about this one" as I turned around to see him down on one knee. He asked me to spend the rest of my life with him and we had the most wonderful moment as I fell to my knees to join him. The other hikers cheered and it was the most wonderful hike down with my new fiancé. We got back to Bergen at 2:00am after a long day and called our family and friends to tell them the news. We left that day for Iceland where we were able to celebrate our engagement at the Blue Lagoon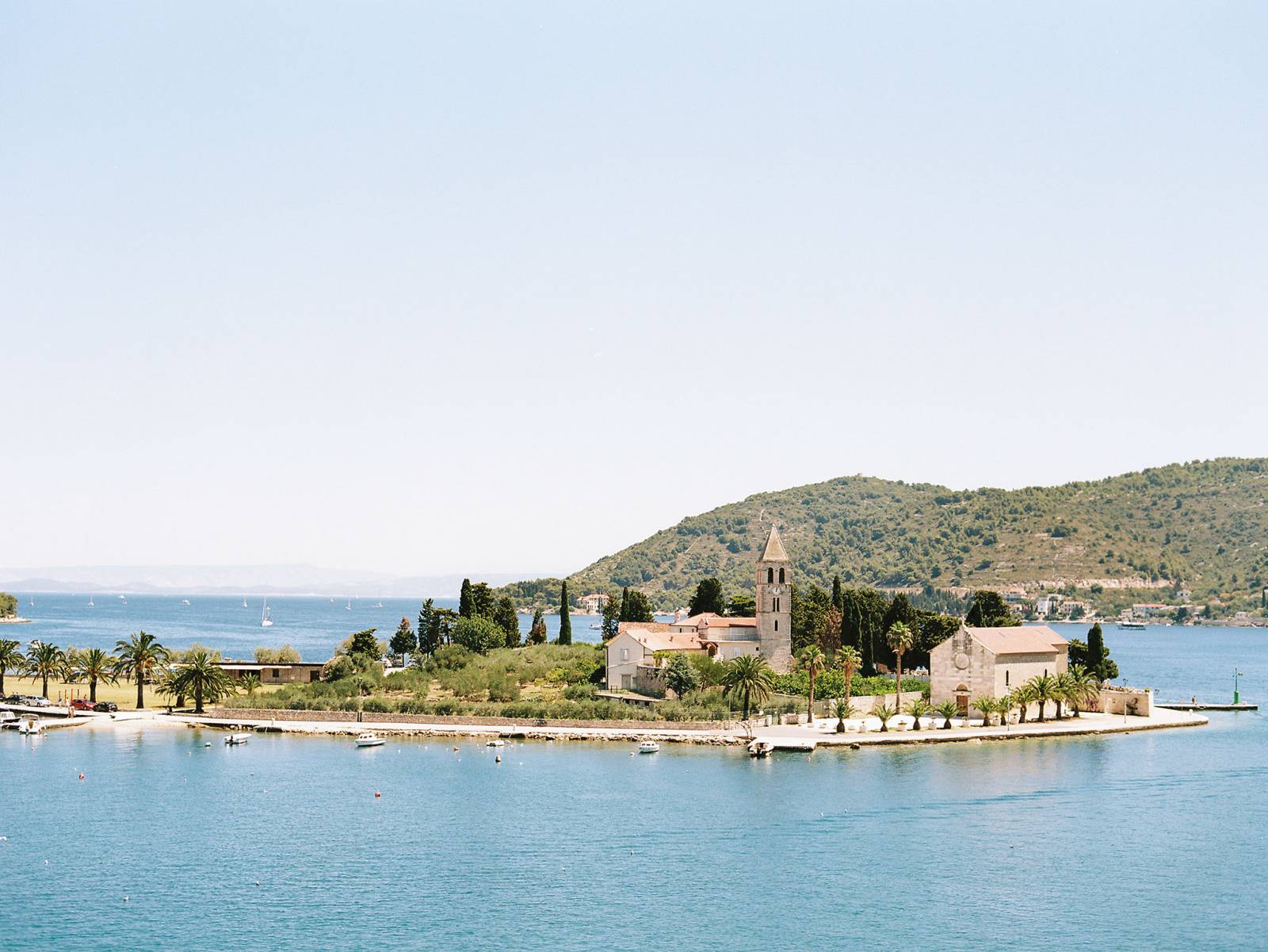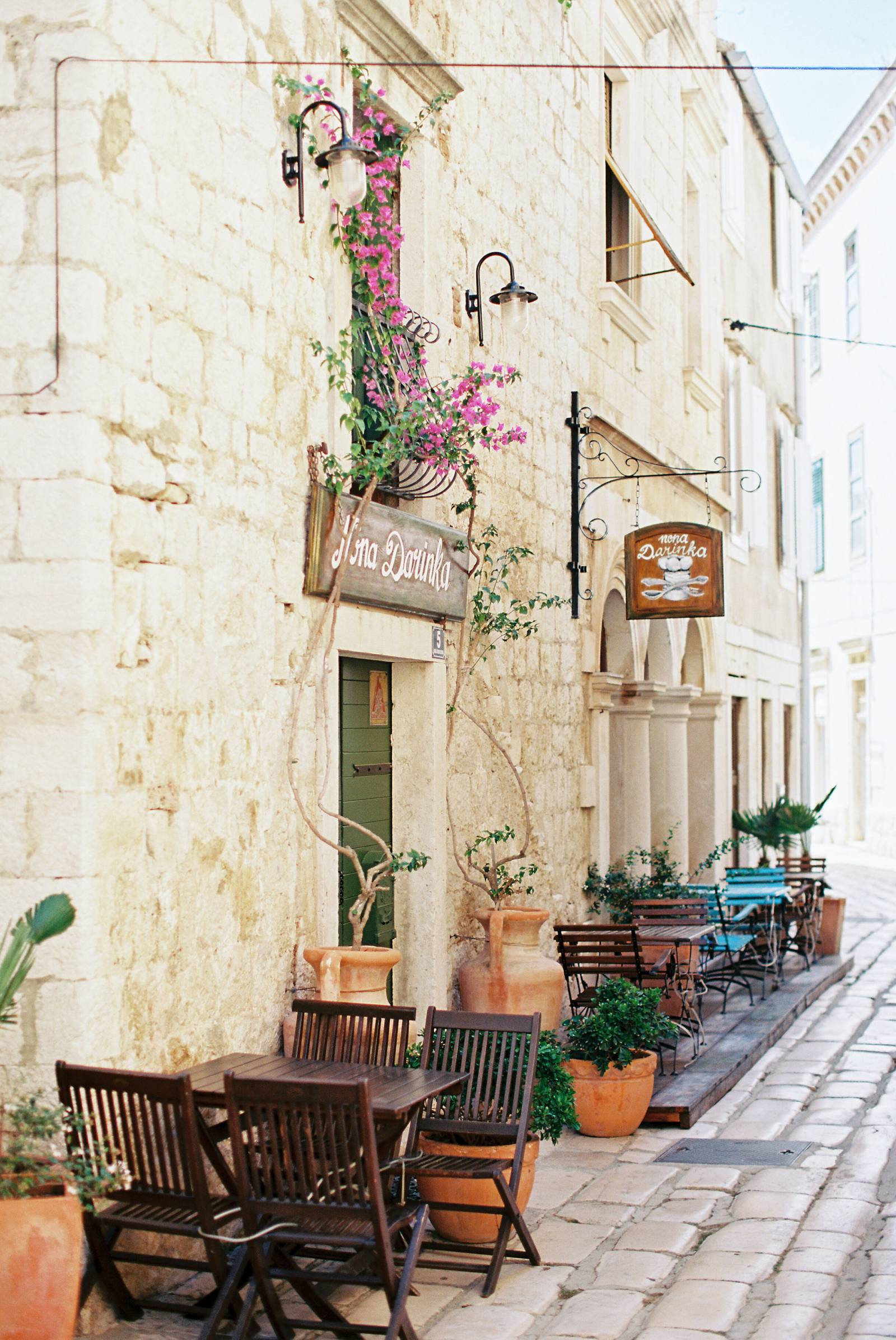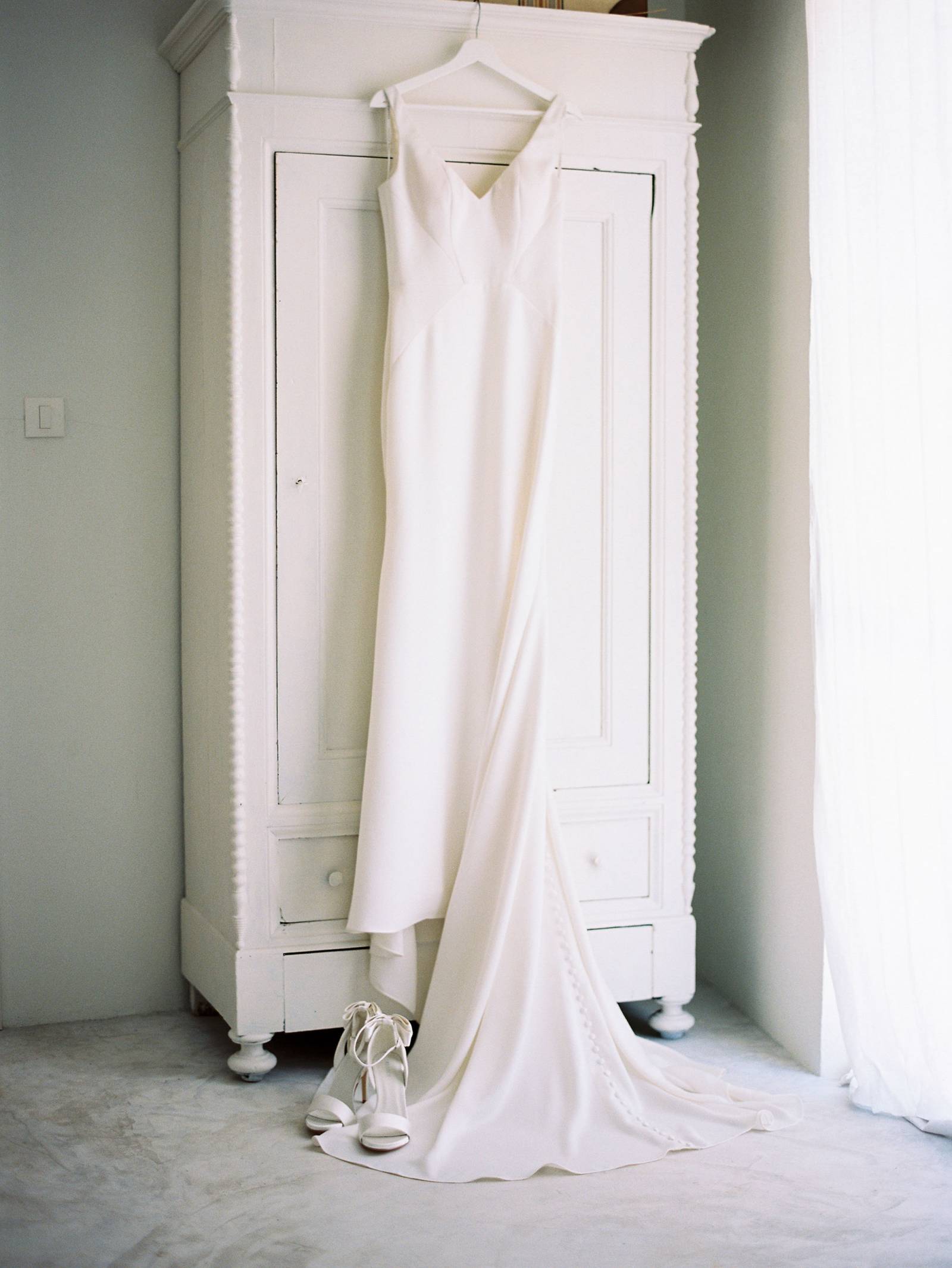 TELL US A LITTLE ABOUT YOUR HONEYMOON: We thought it was silly to leave all of our friends after the wedding since they had traveled all the way from the United Sates for our big day so we invited them along on our honeymoon with us and it was wonderful. The day after our wedding was the 4th of July so we charted a large boat to island hop around Vis. It was an unbelievable day. After that, 80 of our friends joined us for an amazing 3 days in Dubrovnik, Croatia and then 25 of us went to Santorini and Mykonos, Greece. It was the trip of a life time.
The day was also filled with personal touches. "Our advice is make it your day and do what will make your day special rather than just following the standards or the norms," says Rachel. "The best part about our wedding is that it was us."
A huge thank you to Missouri wedding photographer MIKE CASSIMATIS for sharing this beautiful Croatia wedding with us and showcasing such beautiful celebration! Mike is a fine art wedding photographer based in the Midwest with a passion for medium format film. His lighthearted approach and calm demeanour puts couples at ease in front of the camera, allowing their true personalities and emotions to shine through in his photographs. With a sentimental heart and a keen eye, he focuses on capturing luminous images that are genuine, romantic, and timeless. You can head over to his profile to view more of his work and see more incredible weddings and editorials he has photographed and you should definitely check out this Classically elegant wedding at Castle Hill Inn in Newport.