Beautiful bride Stacey used to always say that dating Gabe felt like a fairytale come true, so she wanted our wedding to feel like it was out of a storybook as well and looking at these stunning images by Northern California wedding photographers THE GANEYS it's safe to say they achieved that. Stacey tells us, "I wanted our wedding style to be soft, romantic and classic, with personal touches added throughout to pay homage to our relationship. While I was initially bummed about deciding on a micro-wedding rather than waiting out the pandemic, I was glad that I chose to still make the most out of it by incorporating the traditional elegant style I had hoped for since I was a little girl." With planning by JMK EVENTS, it features divine florals by HAWTHORN FLOWER STUDIO.
WHY DID YOU CHOOSE THIS LOCATION? The moment we drove up to VIANSA and saw the property situated on top of the hill, we instantly fell in love. Stepping foot onto the venue felt like we had traveled to Tuscany, and we were immediately drawn to the beautiful greenery and the breathtaking view of the Sonoma Valley. After being cooped up from the pandemic, VIANSA felt like the perfect place to host our wedding safely outdoors while offering a magical escape for our guests.
HOW DID YOU MEET? We attended the same church together for a few years, but never crossed paths despite having mutual friends. A couple of our friends decided to intervene and set us up (so of course we had to give credit where credit's due with our welcome sign). After a few months of patient pursuit by Gabe, I decided to take a leap of faith and give things a shot - and I'm so glad I did! Everything fell into place after that.
TELL US ABOUT YOUR PROPOSAL: Turning 30 during the height of the holiday surge of the pandemic bummed me out since I couldn't really celebrate with friends. But Gabe ended up making it the best birthday yet by proposing to me at the Lyon Street Steps in San Francisco. He had a few friends scatter rose petals at one of the break-off points in the middle section of the stairs, and we both cried happy tears as he asked me to marry him.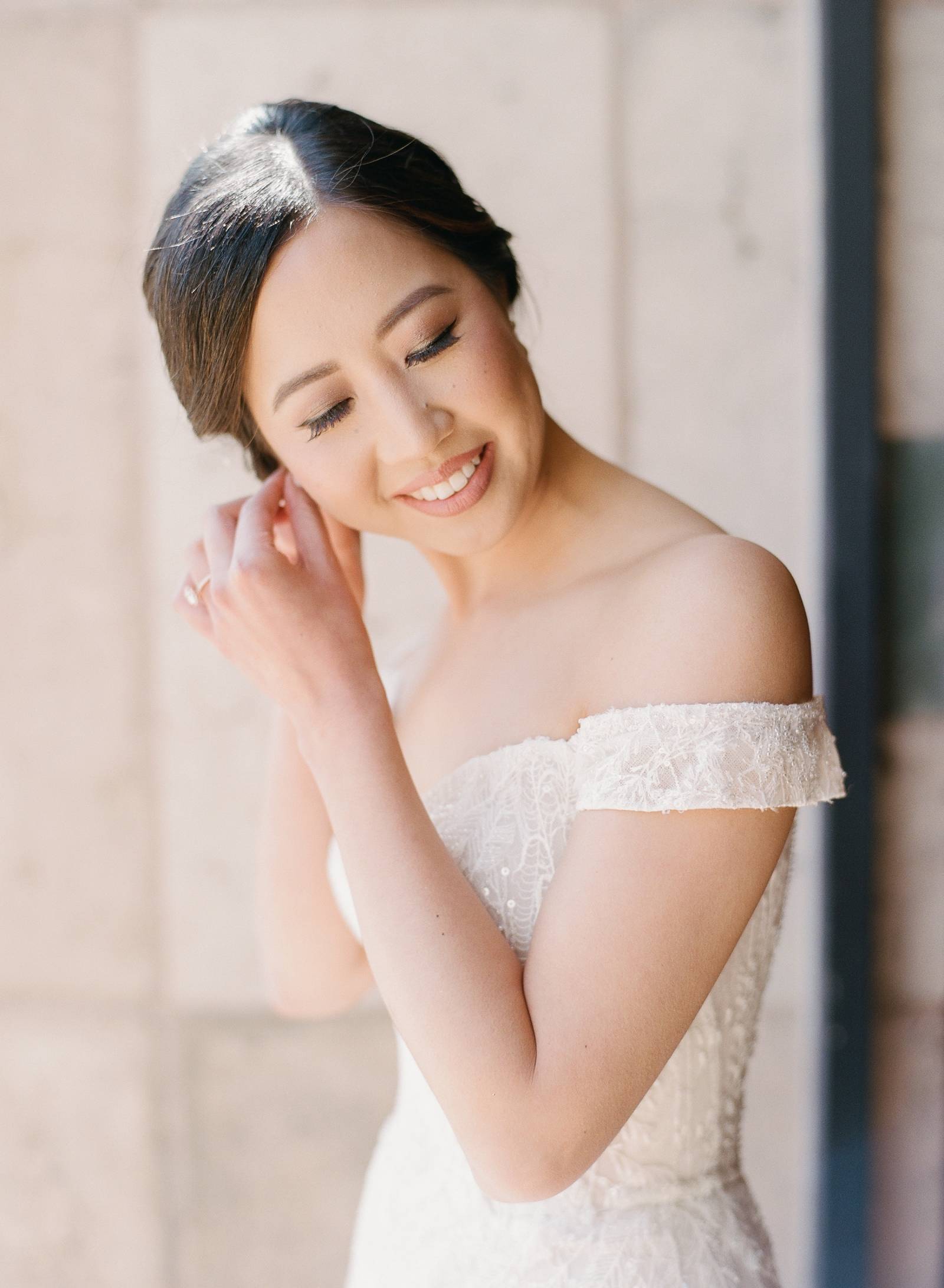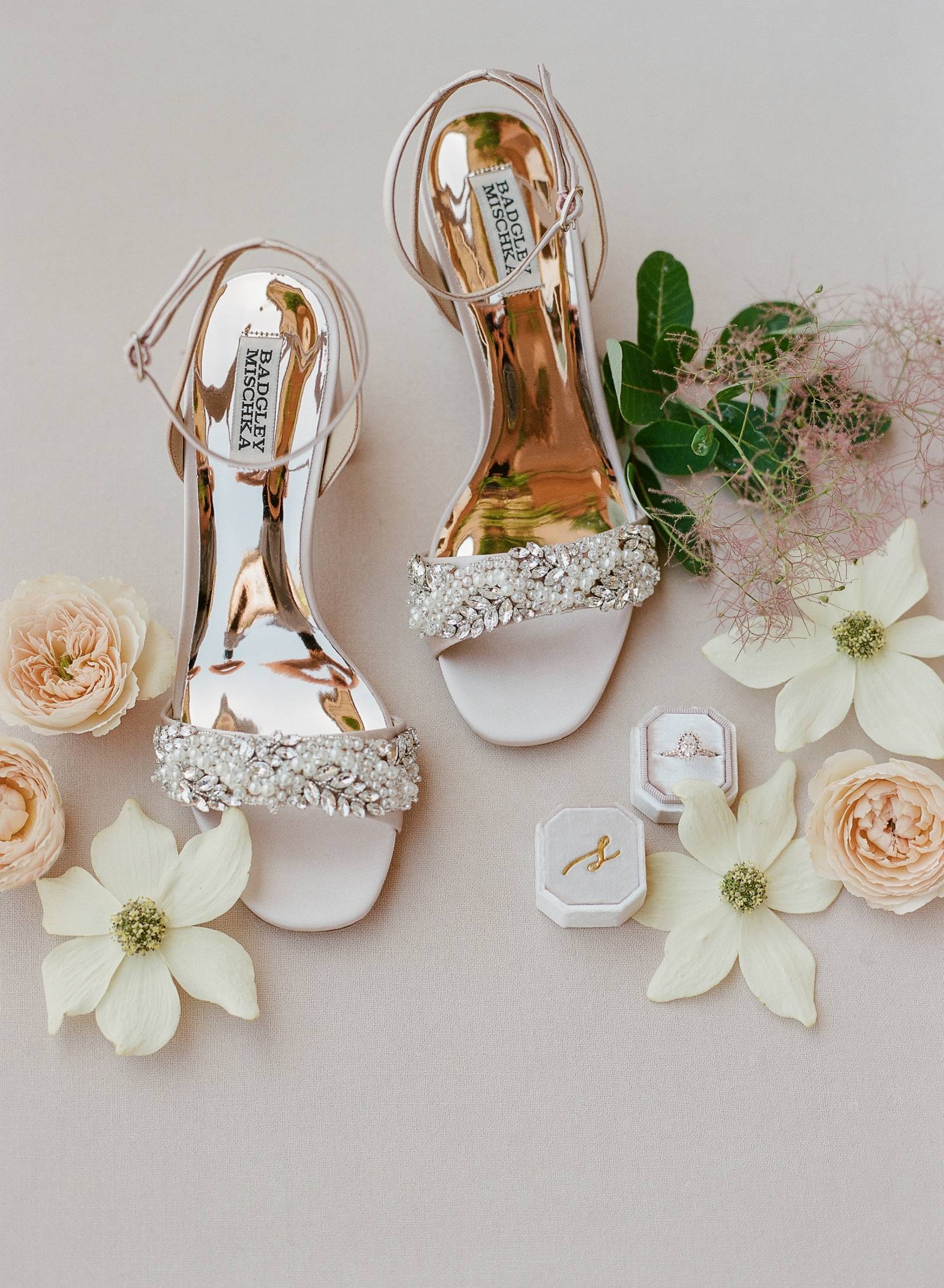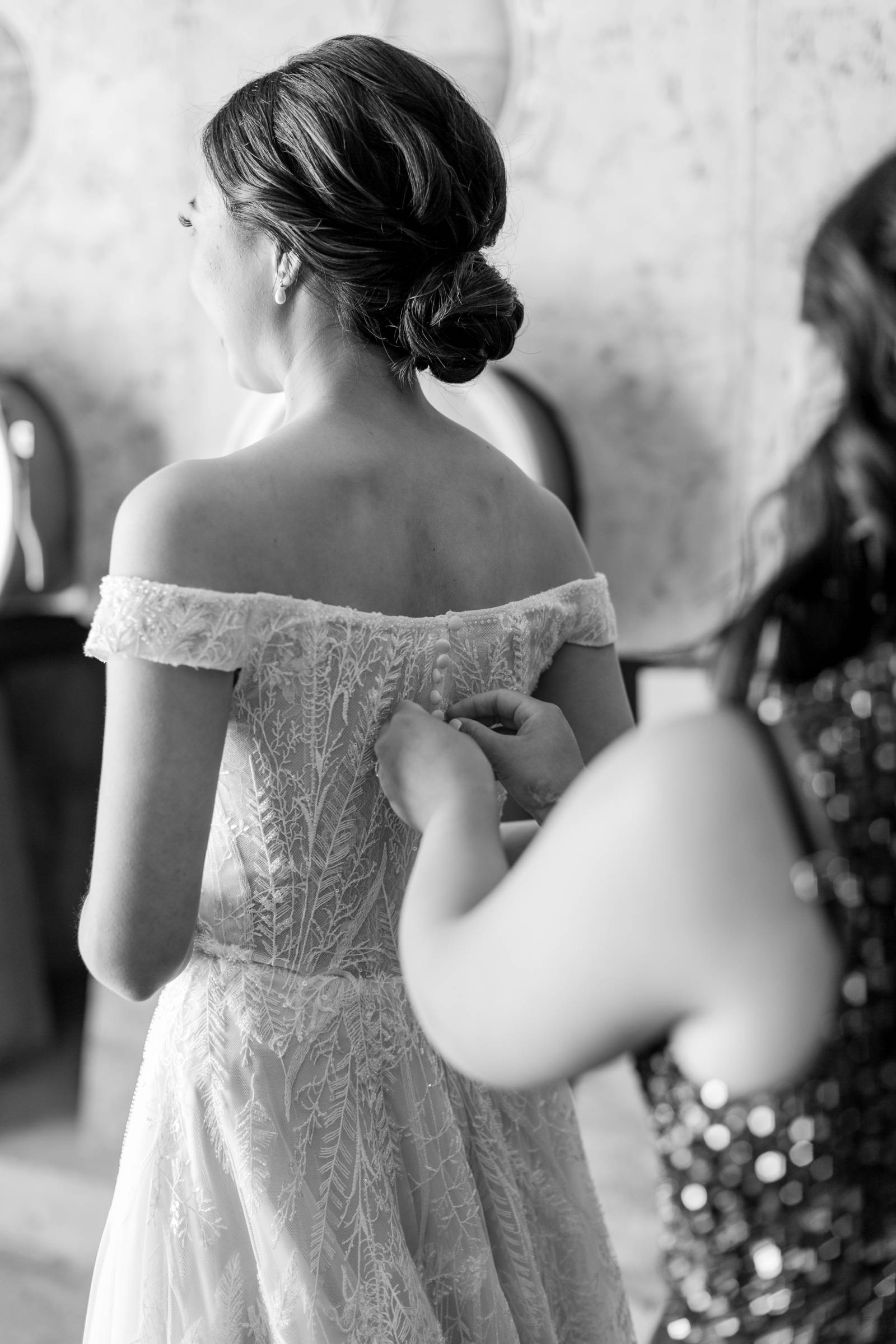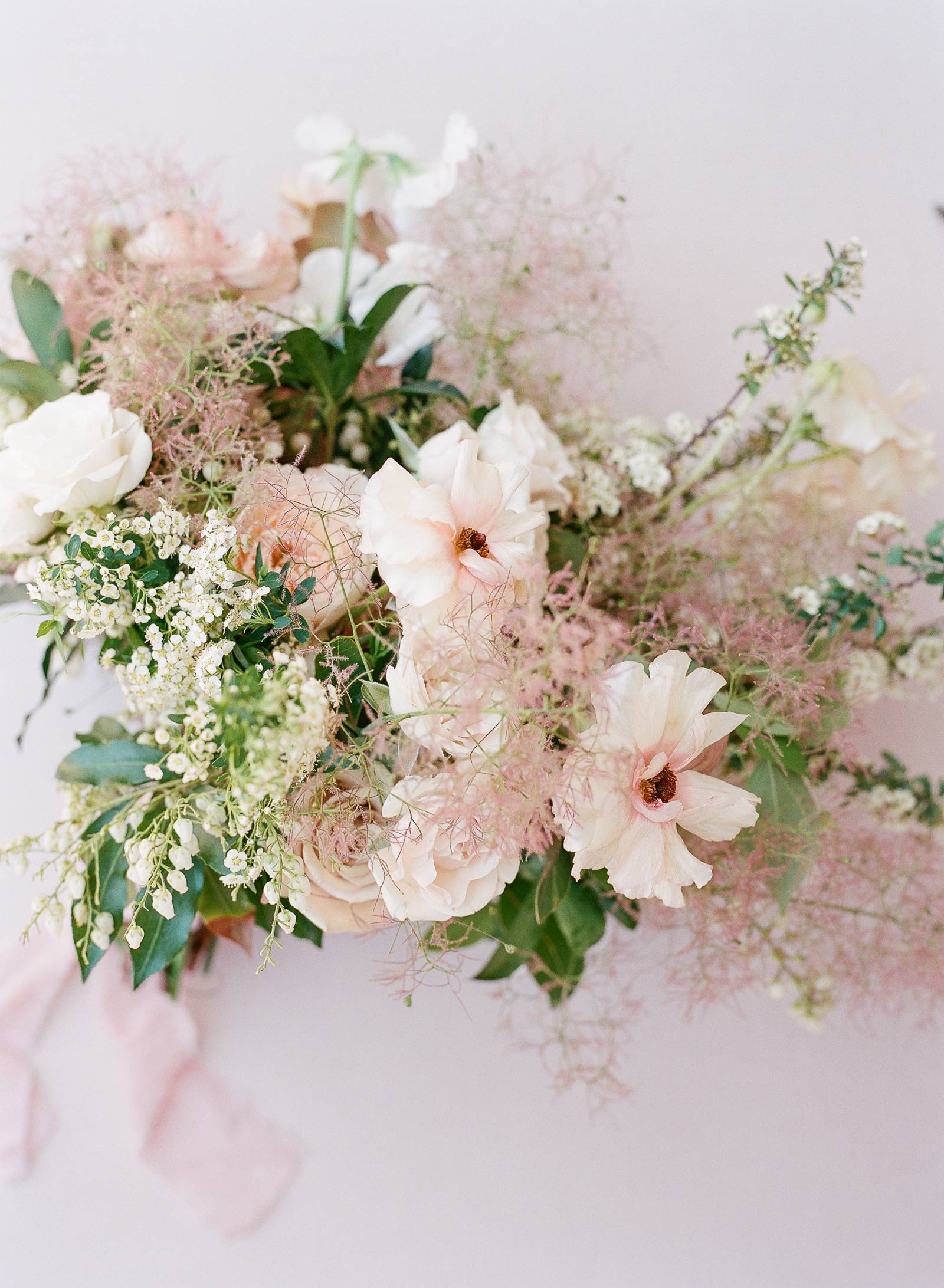 TELL US ABOUT FINDING YOUR WEDDING DRESS: I used to always roll my eyes when I would see brides on tv shows proclaim "the one" while dress shopping. I thought it was the stuff of rom coms and didn't really believe in it. After trying on a few dresses at BHLDN, I headed to BoLee Bridal Couture in Sunnyvale. Lo and behold, I put on a dress pulled by one of the stylists and had "the moment" where I knew I had found the one. The LILLIAN WEST gown that I ended up going with had a flattering sweetheart neckline, and beautiful lace detailing that was unlike anything I had seen before. It was the perfect romantic dress I had hoped for and I felt like a princess wearing it - I didn't want to take it off after every fitting!
DID YOU HAVE ANY DIY ELEMENTS? Etsy was our best friend as we were planning some of the smaller decor pieces. Since we decided on a micro-wedding due to the pandemic, we didn't want to go too crazy with some of the details knowing everything adds up quickly. We found beautiful templates on Etsy for our programs and table numbers, along with fun "his/her favourite" stickers to use for our Sugarfina favours.
DESCRIBE YOUR WEDDING FLOWERS: We enlisted the help of Hawthorn Flower Studio for our florals and couldn't have been happier with our choice. Melanie was great at helping us think through how best to bring our wedding to life with florals, while giving us invaluable advice like how to navigate the weather elements of Sonoma (hello, wind!). Our florals ended up as a beautiful complement to our soft and romantic theme, with lush flowers in blush and mauve.

FAVOURITE DETAIL OF THE DAY: Our favourite details were the welcome sign/mirror with beautiful calligraphy from @handletteringbybritt, and the tablescape courtesy of Encore Event Rentals.
WHAT ADVICE WOULD YOU GIVE OUT TO A COUPLE PLANNING THEIR WEDDING? Don't sweat the small stuff. While wedding planning can be overwhelming and stressful, the most important aspect to focus on is what happens after the wedding day - your marriage and the life that you will build with your future spouse.
MOST MEMORABLE MOMENT? My most memorable moment was doing our first dance to Ben Rector's "Love Like This" while surrounded by our nearest and dearest loved ones. The soft, golden light and panoramic view of the Sonoma Valley made it feel like straight out of the ending to a fairytale.
WHAT ASPECT OF THE WEDDING WAS THE MOST IMPORTANT TO YOU BOTH? Our vows and the letters to our parents were the most important aspect of our wedding. We wanted to make sure our vows were sincere, heartfelt and meaningful, a reflection of our faith and what we value. We also wanted to make sure we honoured our parents by expressing our deep gratitude for their love and care for us as we embark on this next chapter of life together.
ANY OTHER DETAILS THAT HELP TELL THE STORY OF YOUR DAY? Coffee was a main focal point for our dating relationship - it was the setting for many dates, as well as some of our sole outings when the pandemic first started - so we wanted to make sure we incorporated that as part of our wedding day. We decided to have a coffee cart welcome our guests, complete with personalised coffee sleeves, as a way to make our wedding more personal. We also thought it'd be helpful to have coffee hour act as a buffer in case any of our guests were running late due to unpredictable wine country traffic.
TELL US A LITTLE ABOUT YOUR HONEYMOON: We decided to do a minimoon to Yountville after the wedding. We drove an easy 30 minutes from Sonoma to Yountville that evening and checked into Bardessono, a gorgeous hotel right behind Bouchon Bakery. It was the perfect way to unwind and soak in our newlywed bliss - the weather was beautiful and the restaurants in the area were unmatched. We're looking forward to traveling internationally for a "bigger" honeymoon once things open up more in Europe and Asia.
IS THERE ANYTHING YOU WOULD CHANGE OR DO DIFFERENTLY? Nope! We were both so happy with how everything turned out and couldn't have asked for a better vendor team to help make our day so special.
Thank you to Northern California wedding photographers THE GANEYS for sharing this truly beautiful wedding with us today. As a husband and wife team, Emily & Thomas are driven by capturing real moments and documenting love stories in an organic way. "Some of the favourite aspects of our job are hearing unique stories, meeting amazing people and capturing love that can move mountains. We seek out couples whose weddings embody these ideas. We're inspired by authenticity and adventure, and as your photographers we'll rejoice in celebrated moments and tear up during emotional ones." You can see more of their work in the MAGNOLIA ROUGE VENDOR GUIDE and you might also want to check out this Old world meets modern day in this wedding inspiration at Vizcaya Museum & Gardens.