Natalia and Michael married on a perfect summer day at the WYE RIVER CONFERENCE CENTER near Baltimore on the East Coast. Their outdoor wedding captured by Virginia Wedding Photographers MICHAEL & CARINA was nestled in the most perfect garden setting. Planned by BELLE FETE DC the bride wore a stunningly detailed MIRA ZWILLINGER gown and carried a sweet and simple white bouquet by CACHE FLORAL.
Gorgeous bride Natalia came to the conclusion - through the imagery she was loving on social media - that she loved a classic neutral look when it came to wedding style, so she worked with white mixed with metallics and greenery for their wedding. To compromise with her colour loving husband to be, they added in touches of light blue - seen in the bridal party - and fresh lavender.
HOW DID YOU MEET? In Physics class! Michael went to Princeton for college where he majored in History. Afterwards, he worked for a couple of years in investment banking before deciding he wanted to become a doctor. He enrolled in the premedical post-baccalaureate program at Columbia (where you do all of your pre-med classes), where I was a junior. We happened to be in the same physics lab class and were paired on a project measuring changes in velocity, acceleration and position of marbles flying off of ramps. We realised we had a lot in common and immediately hit it off. This very romantic Physics class led to our first date, and then many more over the next 9 years! We both went to Columbia Medical School and now we're both in residency at Johns Hopkins. After years in NYC, we're back in Maryland, where we're both from, as doctors!
WHY DID YOU CHOOSE THIS LOCATION? I am originally from Bethesda, Maryland and Michael is from Annapolis, Maryland. We are both very close with our families and knew we wanted to get married in the area, and always knew we wanted an outdoor wedding. We searched all over in DC and Maryland and absolutely fell in love with Wye River. The house and grounds are absolutely stunning! We loved that it was on the water (Michael grew up on the water in Annapolis!) and that it would be able to house our entire bridal party for the weekend to make for a fun wedding weekend getaway. We also loved that we would be able to have the ceremony, reception, and after party all in one location but in different parts of the estate itself. That way, guests were able to explore different areas of the grounds and gardens at each step of the wedding.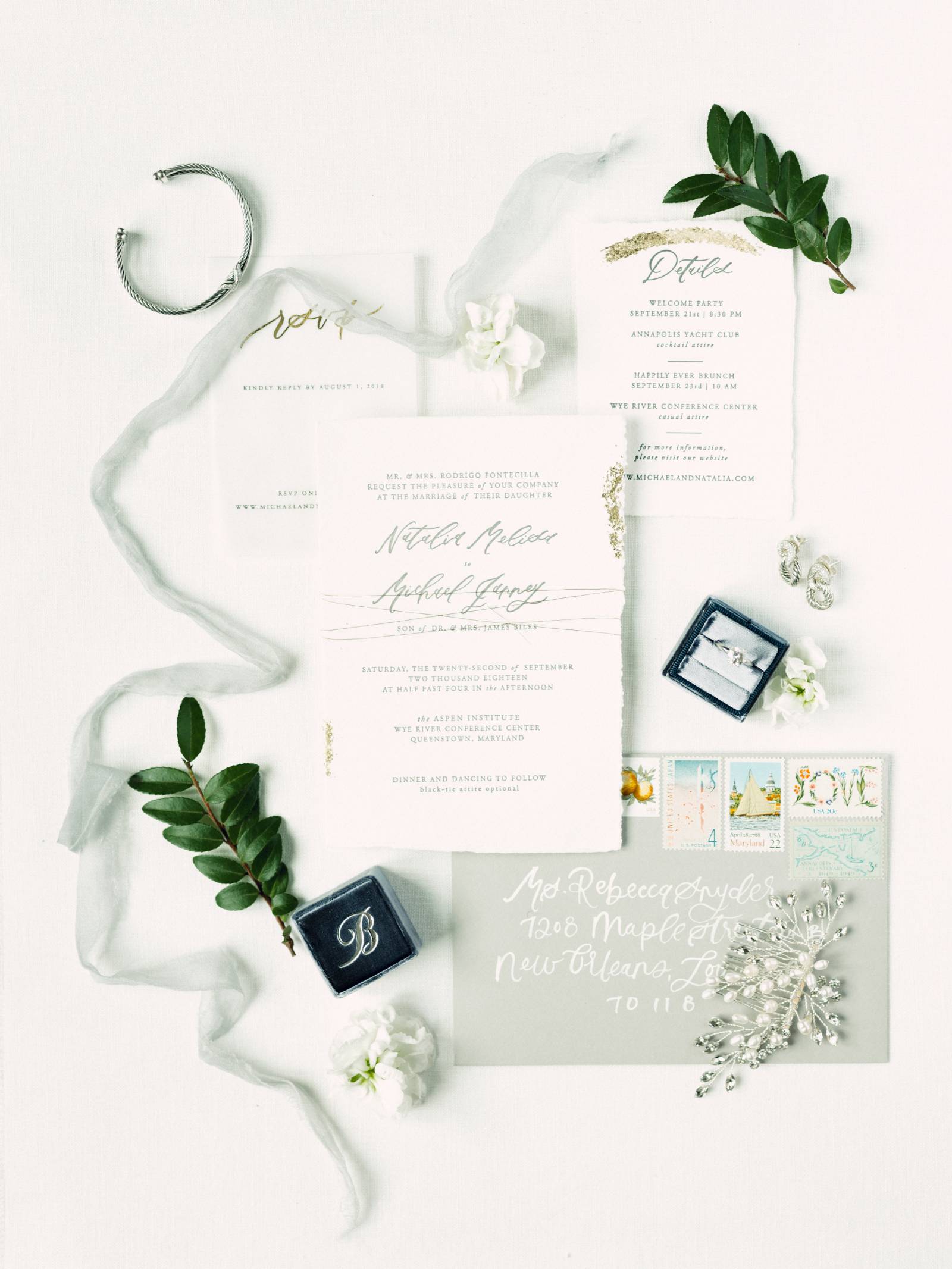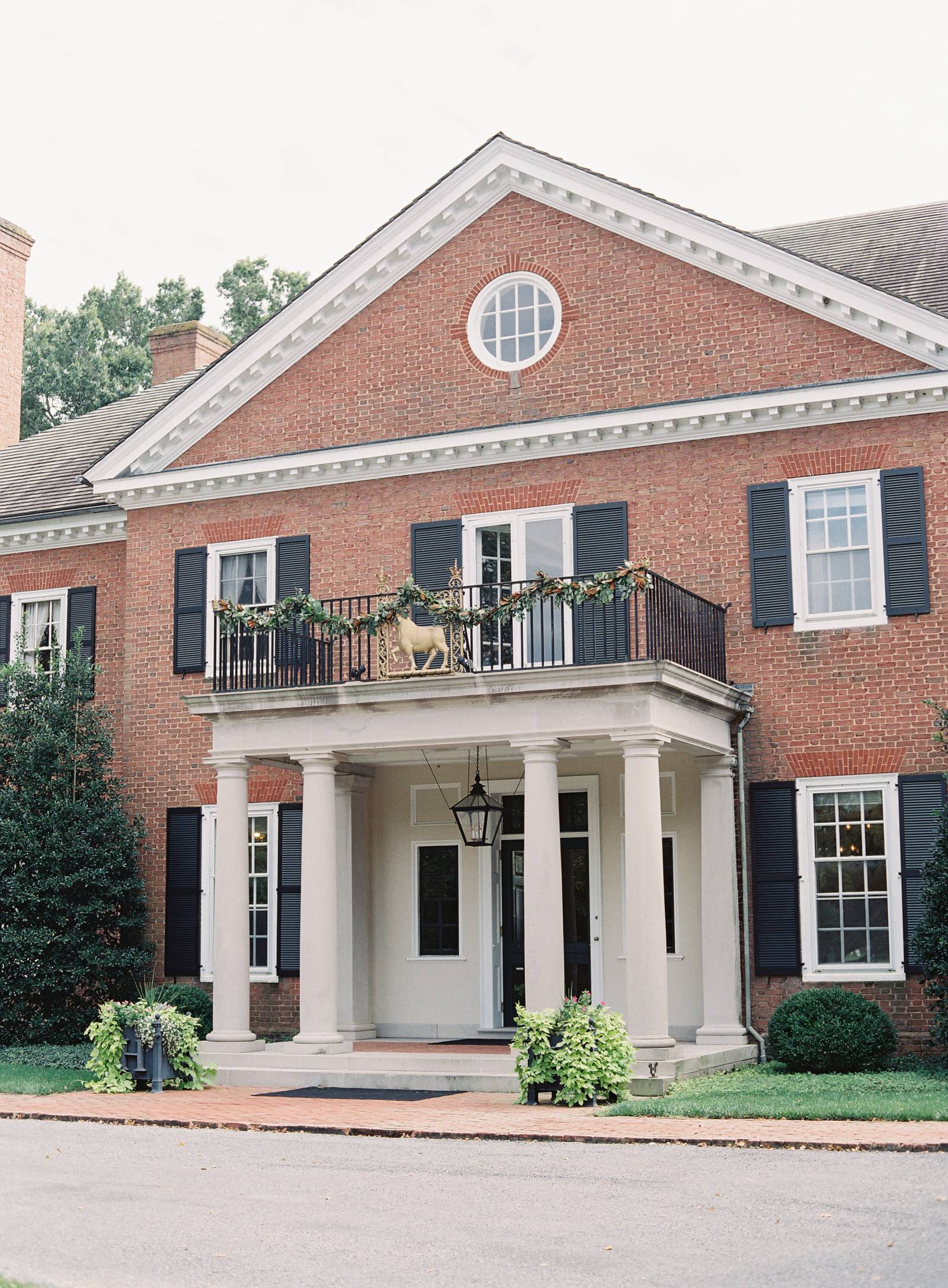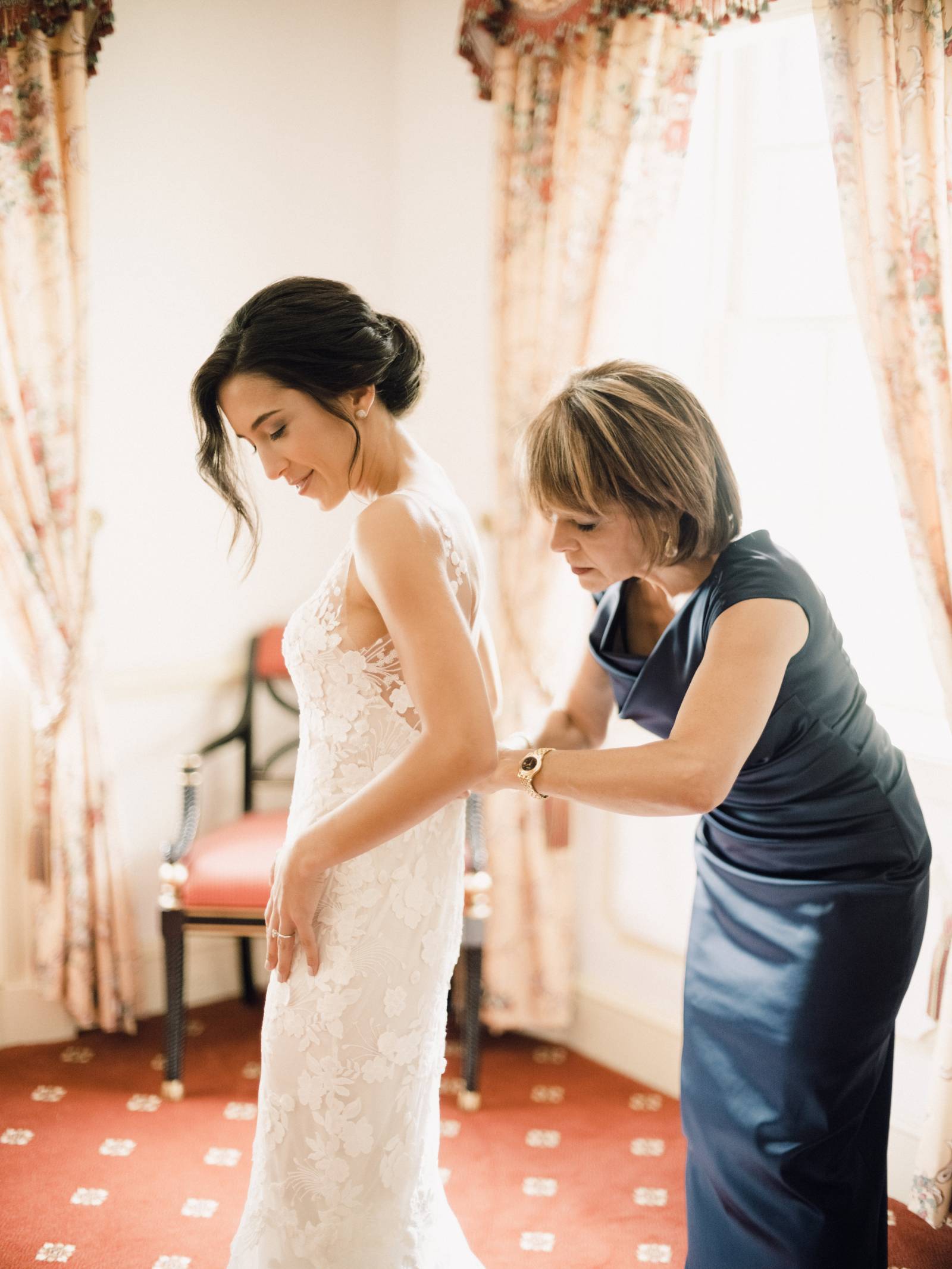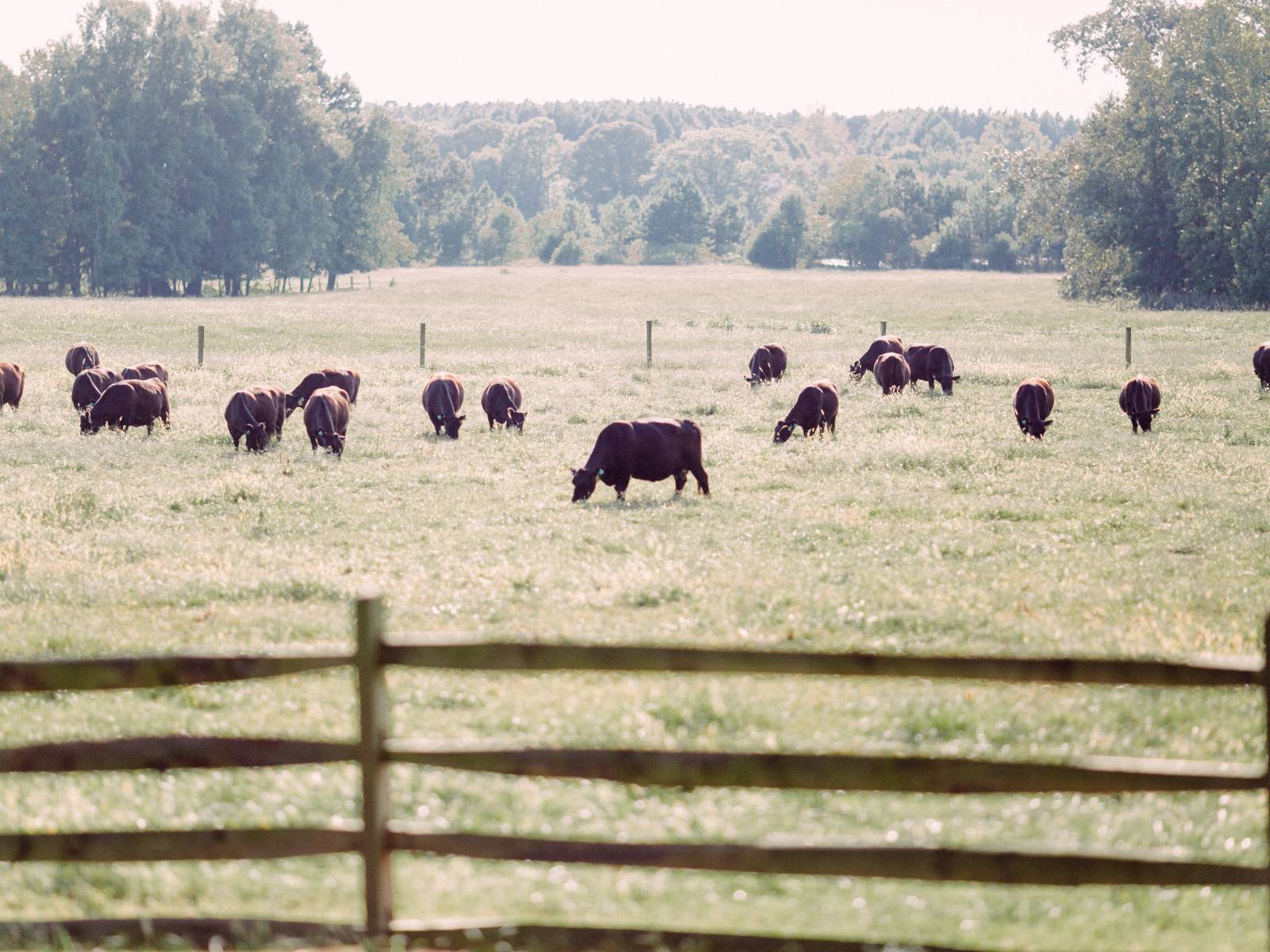 TELL US ABOUT YOUR PROPOSAL: Birthdays are a huge deal in my family, so Michael always tries to make mine special. He surprised me with tickets to a wine tasting event at RDV vineyards in Virginia. It was lightly drizzling that morning, and after our wine tasting tour, they encouraged us to explore the beautiful grounds. Unbeknownst to me, this was all part of the plan! Given the light rain, we had the vineyards to ourselves. We walked up through the vineyards and when we reached the top of the hill overlooking the beautiful rolling hills and vineyard, I turned around and he was down on one knee! We then went back to the lodge where RDV brought us more wine to celebrate. On the ride home, Michael explained he had left plans for the rest of the day open depending on what I wanted to do. I face-timed my parents (he had taken them out to dinner to ask for permission the week prior), my brothers and sister (he had called them as well!), his parents, and my best friends. We discussed where we should go for dinner to celebrate. But, when we arrived at my parent's house in Bethesda and I entered the house, both of our families were there to surprise me!! We had an amazing dinner, celebration drinks, and family game night to celebrate. It was perfect.
TELL US ABOUT FINDING YOUR WEDDING DRESS: I must have tried on 50 dresses! My mom and I are best friends so she was my main shopping companion. We went to almost all of the studios in DC and although I had a general idea of what I wanted, I did not find one I loved. I have lived in NYC the past 10 years so I believed that would be the place I would find my dream dress. My mom and I planned a girls weekend in NYC and we hit all of the main studios. I still remember when Ayanna at Mark Ingram Atelier walked out with what would become my Mira Zwillinger wedding dress. I had always thought girls were joking when they said 'you'll know when you find the one', but it really happened! I was obsessed! It was perfect.
DID YOU HAVE ANY DIY ELEMENTS? Yes! We placed a fresh piece of lavender on each person's plate with a grey chiffon ribbon wrapped around their individual name tag. We also made our own Welcome Bags which included sunscreen (I am a dermatologist!), Berger cookies (a Baltimore staple and where we live now), Maryland postcards, veggie chips and kind bars (doctor's orders to stay healthy!), two Voss waters, and other goodies! We had a family day where my brothers, their wives, and my parents played music and drank rosé while we all tied the ribbons and packed the welcome bags. It was so fun!
DESCRIBE YOUR WEDDING FLOWERS: I love neutrals so I wanted a mix of shades-of-white flowers, greenery, and touches of lavender. Our florist (Carolyn of Cache Fleur) is absolutely amazing. She did the flowers for Michael's older sister's wedding which were also amazing, so I knew I wanted to work with her. She is based in Annapolis and was very familiar with Wye River. From the start, I knew I wanted a clear tent and huge hanging fixtures including the biggest one (over 6 feet wide!) over the entire all-white dance floor. I wanted the hanging fixtures to be filled with beautiful greenery and flowers that were different shades of white, with hanging glass globes with candles inside. Carolyn did all of this and more. And Carolyn's husband built by hand our arch and all of our hanging fixtures in our tent!
FAVOURITE DETAIL OF THE DAY: The food details! My parents are from Venezuela so we wanted to add Venezuelan details to share our culture with all of our guests. We had a plantain appetiser topped with shredded pork and sprinkled with shredded cheese, a full arepa bar with unlimited toppings (Arepas are Venezuelan specialties made of corn), and mini flans for dessert. Speaking of dessert, we had a full make-your-own ice cream sundae bar and we LOVED our three tier momofuku cake. I have a slight obsession with rainbow sprinkles, so their 'birthday cake' is my favourite. We knew we had to have it for our wedding.
WHAT ADVICE WOULD YOU GIVE OUT TO A COUPLE PLANNING THEIR WEDDING? 1 - Start planning early and always have 1-2 people that are your go-to people for suggestions and advice. Too many people giving you different advice can get overwhelming so it's good to have a couple of close friends or family that you know will tell you the truth and give you great advice.
2 - I planned the entire wedding myself with help from my mom, mother-in-law, Michael and several others. It can get very stressful. So the most important thing is to always remember – the whole point of this is love, family, and fun! At the end of the day, it's not about the little details, it's about that moment when you look around and realise that all of your favourite people are all in one room celebrating you and your significant other! On the day of, try to keep taking small moments where you just take a deep breath and look around. Best. Day. Ever.
MOST MEMORABLE MOMENT? The Hora Loca! In Latin culture, especially Venezuela where my parents are from, we have a tradition called La Hora Loca which translates to 'the crazy hour' – and it was that and more! Latin weddings usually last until 4am or later and the hora loca is meant to get everyone energised around midnight when people may be getting tired. The music gets louder, you wear different costumes, and there are performers. We had baskets of small head pieces and other accessories including huge LED beams, LED sunglasses, crazy hats and props that my siblings passed out to all of the guests right before Michael and I came out. We hired two Latin drummers who came out before us, and then Michael and I followed with my big headdress and wings and he followed with his big hat on, and both of us had lit sparklers in hand! It was amazing! At that point we had our amazing band, Free Spirit, take a break while their lead Mike became DJ who DJ'd top Latin and Avicii hits. It was the best dance party! Even our grandmothers were jumping up and down on the dance floor!
TELL US A LITTLE ABOUT YOUR HONEYMOON: Since our schedules are pretty crazy and hard to sync up because of residency, we split our honeymoon in two. We did 8 days in Greece right after the wedding and went to Santorini and Naxos and it was incredible! Amazing food, beautiful weather, great hikes and swimming (we love to scuba dive!). Next week, we leave to South Africa for a safari! We'll do 3 days in Cape Town, 5 days in Maratabe for the safari, then the Seychelles for some scuba diving and much needed beach time.
IS THERE ANYTHING YOU WOULD CHANGE OR DO DIFFERENTLY? Not one thing – it was honestly perfect. We had a beautiful clear sunny day – which is very lucky, because the week before there had been a hurricane on the east coast! The morning of our wedding I went on a run around Wye River and it was lightly raining on me and I was so sad. And then suddenly it cleared up and was a perfect 75 degrees and sunny day!
A huge thank-you to Virginia Wedding Photographers MICHAEL & CARINA for sharing this beautiful wedding with us today. They share a passion for what they do and appreciate simplicity & attention to detail. We're delighted to have them as part of our vendor guide. You might also like to view this Romantic Italian wedding inspiration by them. Be sure to check-out more of Michael & Carina's wedding photography work here.