Hanna and Thomas had a big celebration wedding planned for March 28th in 2020 in Arkansas where they're both from. A little over a week before their wedding the country was called to quarantine because of the pandemic and the couple were understandably disappointed. They both work in the medical field and not only were serving by taking care of patients during everything going on but also had to heartbreakingly postpone their big wedding day. They pushed their date back twice and then decided they just didn't want to wait any longer and brought their parents to Park City Utah near where they live to have a small six person wedding so they could finally be husband and wife.
"After our wedding was cancelled and rescheduled multiple times, Thomas and I both felt like we were letting the pandemic put the rest of our lives on hold. We decided to have just our parents come to Utah. We couldn't control Covid's affect on our early wedding plans, so we wanted to keep this wedding simple, focused on our love, and shared with the people most important to us." They chose a beautiful place with mountain views and Utah trees to say their vows and then sunset portraits in the mountains of Park City - all exquisitely captured by Arkansas wedding photographer ERIN WILSON. To finish the day off they had a private chef cook for them and it was the most magical day and evening for them.
WHY DID YOU CHOOSE THIS LOCATION? Park City is one of our favourite places. It's a quick drive from our home in Salt Lake City and we love going up to ski and enjoy the outdoors. It's a beautiful vacation town that we knew would be perfect to host our parents for a fun weekend.
HOW DID YOU MEET? After college we both moved to Little Rock, Arkansas to attend nursing and medical school. One weekend, I went with my best friend to a party to meet her new medical school classmates. Thomas was there and immediately caught my eye and I introduced myself. Turns out we went to the same college, had a lot of the same friends, and our paths had crossed numerous times without us meeting. Our friends tried to set us up but it took over a year for him to finally ask me out. And here we are!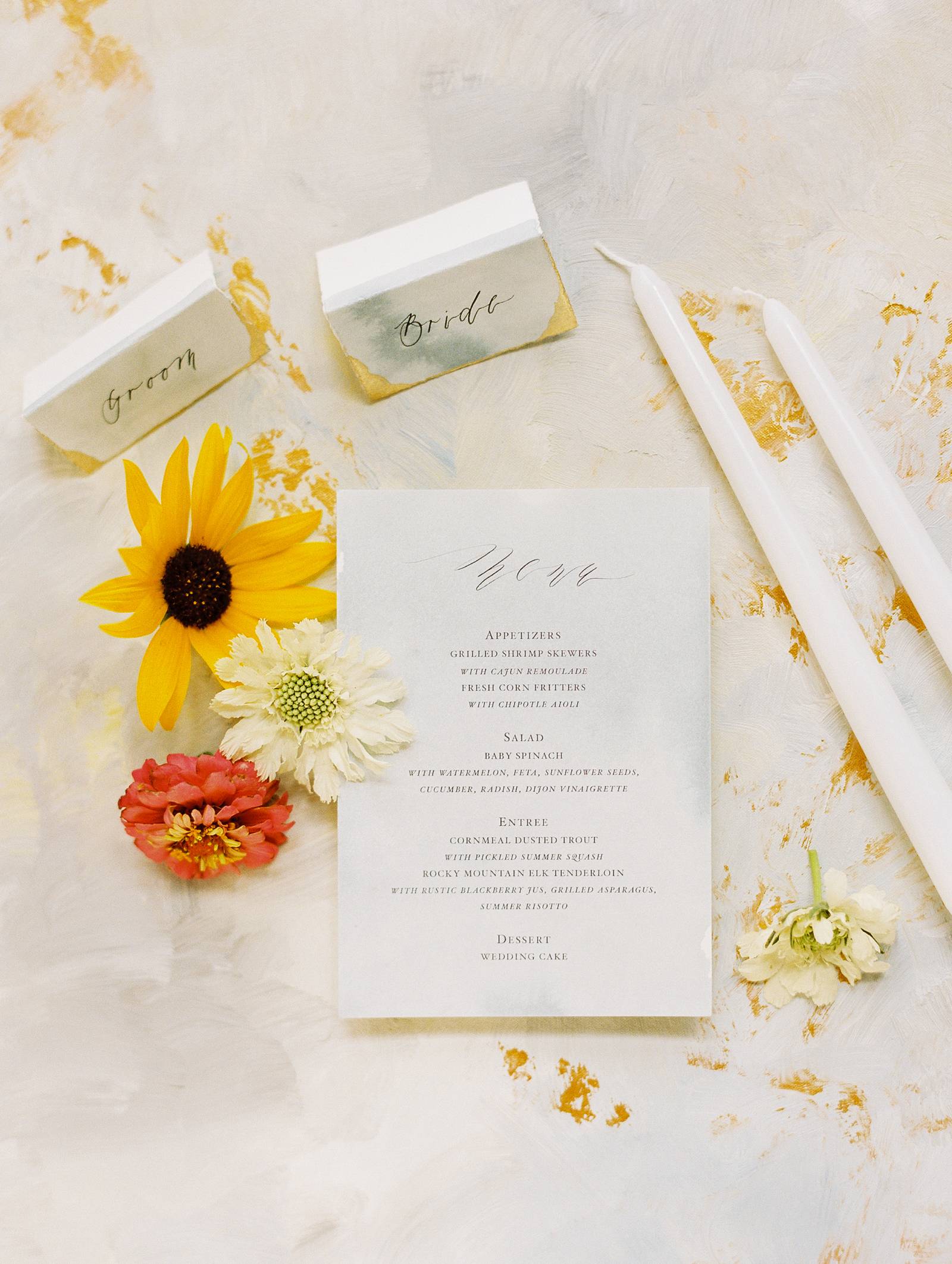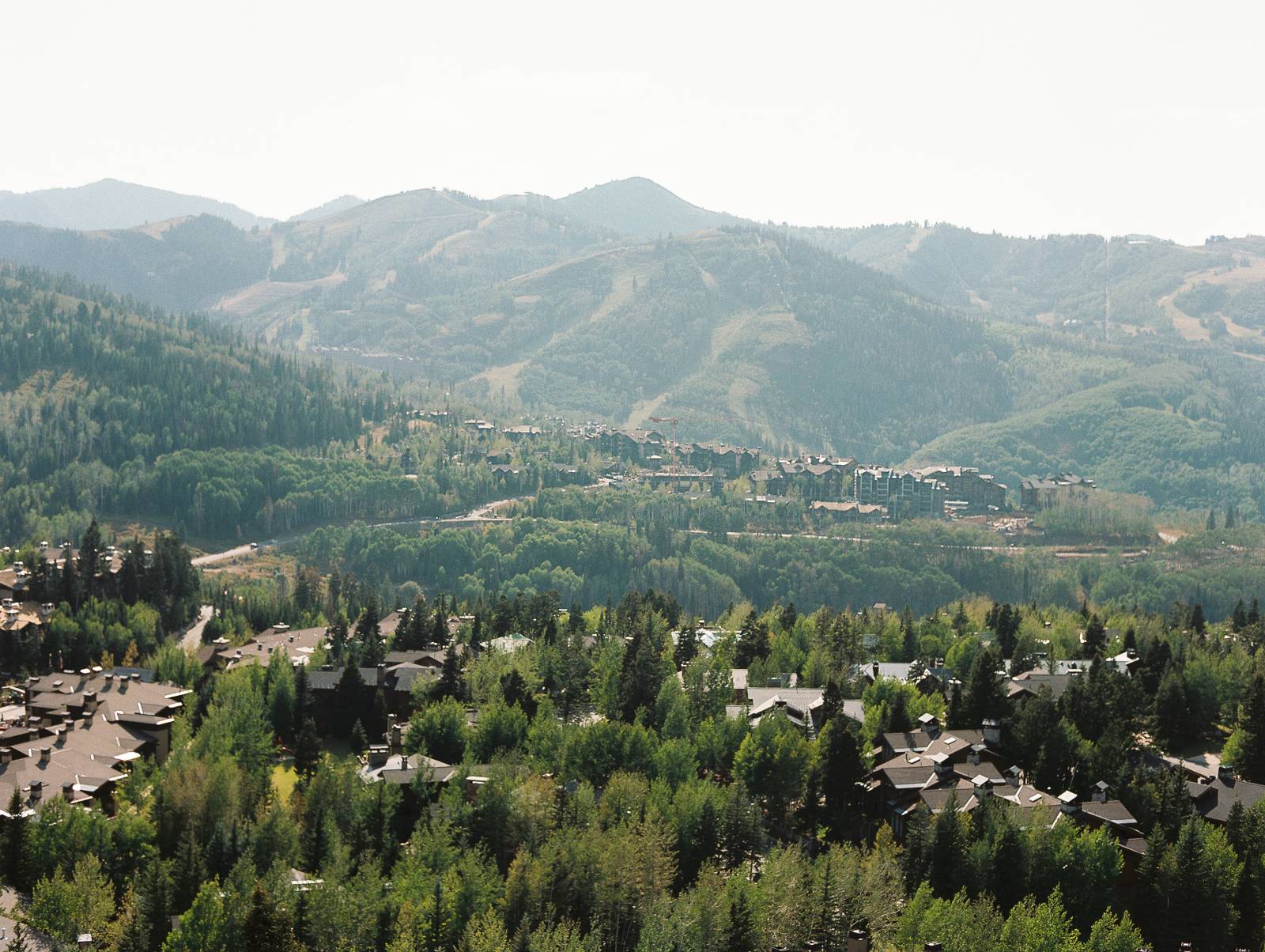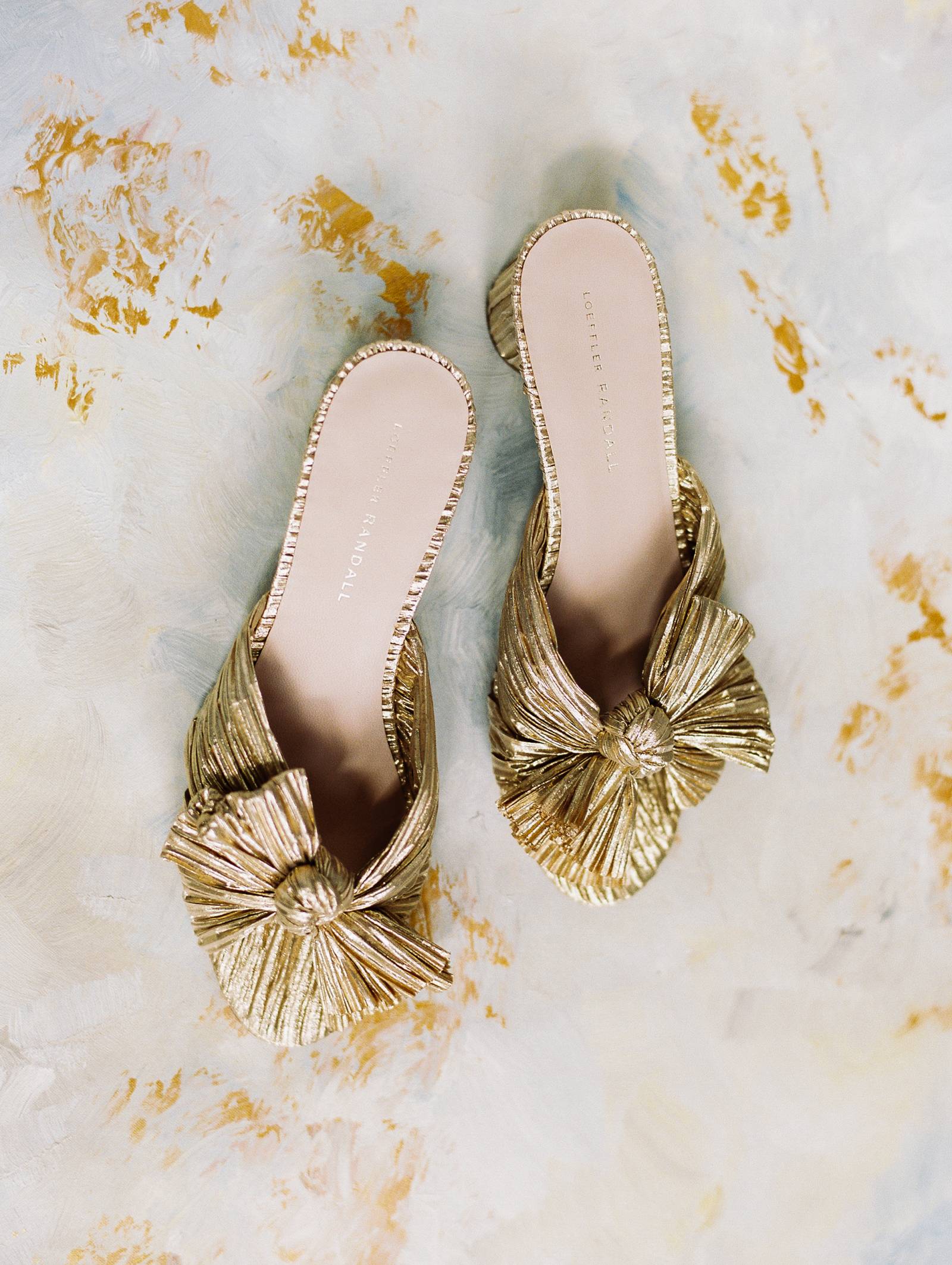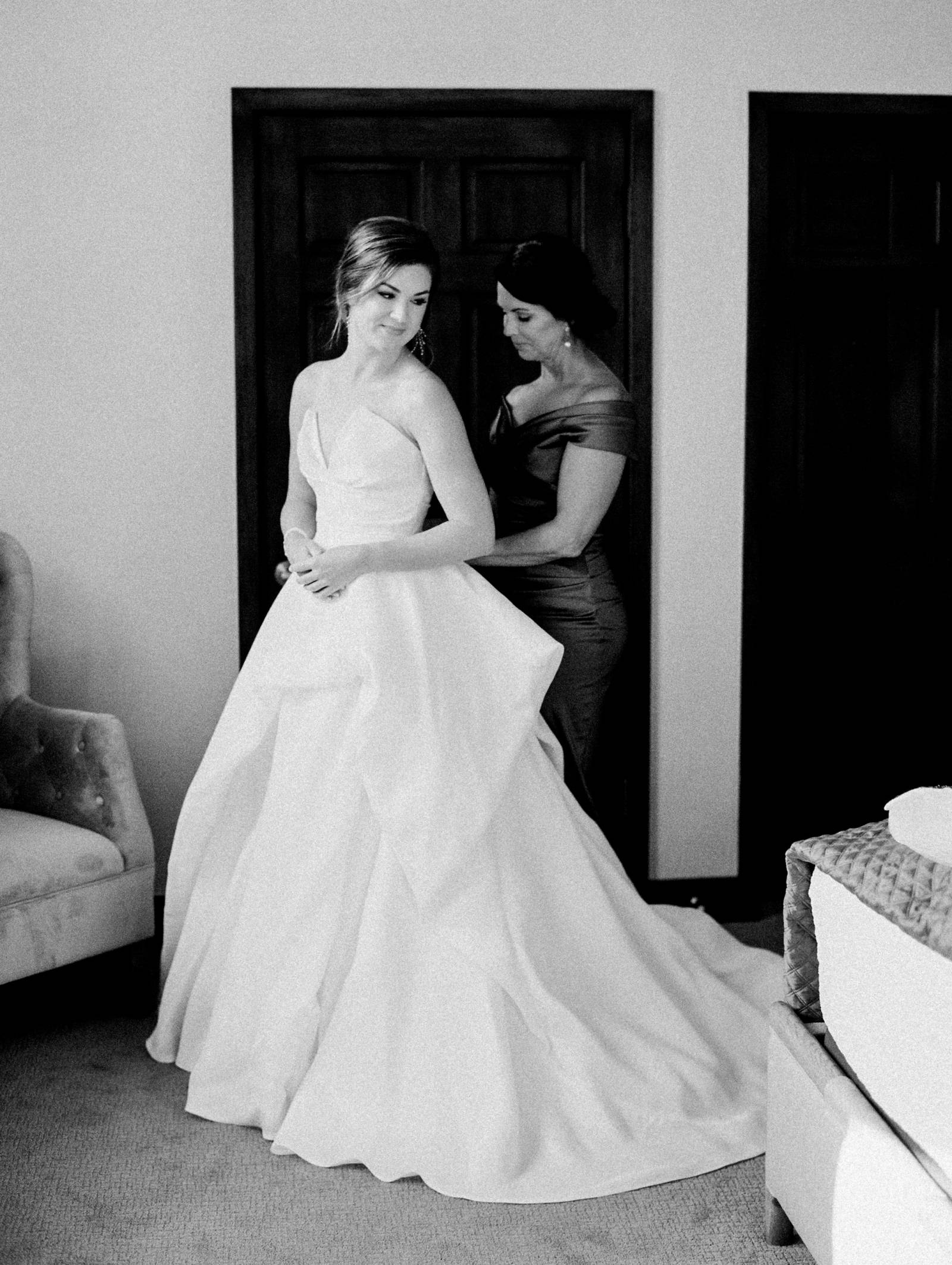 TELL US ABOUT YOUR PROPOSAL: Thomas and I made plans to go snowshoeing one day. While we were driving up the mountain, a huge blizzard hit. The whole time in the car I kept waiting for Thomas to cancel our plans but he was determined. When we got to our destination, Thomas led me out onto a beautiful frozen lake where flowers and champagne were waiting. After he proposed I looked up and both of our parents were cheering us on from shore! We spent the rest of the day skiing and celebrating and it was a perfect and very us day.
TELL US ABOUT FINDING YOUR WEDDING DRESS: I tried on dresses at a few stores before I finally found the one. I went into dress shopping with a totally open mind and no idea of what style I wanted. After trying on the most beautiful Monique Lhullier dress, I knew it was the one. It was the easiest decision about our wedding!
DID YOU HAVE ANY DIY ELEMENTS? When we decided to have an elopement style wedding it felt like a very "come hell or high water" situation. We called our parents and told them to book flights. I found the perfect house in Deer Valley with a beautiful backyard for our ceremony. Luckily, it had a last minute cancellation and was only open for the weekend we were planning. Our photographers were available and were already planning a road trip out West. My hospital's chaplain married us. All of the details were arranged over a few days and it was a miracle that we pulled it off.
DESCRIBE YOUR WEDDING FLOWERS: We had minimal flowers because the Utah summer is so pretty! I called the florist and told them I wanted our flowers to reflect the Utah wildflowers, and they pulled it off perfectly.

FAVOURITE DETAIL OF THE DAY: Having family style dinner with our parents and photographers was so much fun! The entire day was very relaxed and stress free from start to finish.
WHAT ADVICE WOULD YOU GIVE OUT TO A COUPLE PLANNING THEIR WEDDING? At the end of the day, your wedding is only about marrying the one you love. Do what feels right for you.
MOST MEMORABLE MOMENT? Not having our friends and family around us was the hardest decision we made when we decided to get married. After the ceremony, my dad played a video that my cousin had coordinated for us. It was a montage of all of our friends and family toasting us and sending their love. It even started with our flower girls walking down their front sidewalk in their flower girl dresses. It was so meaningful to both of us and we felt so supported and loved.
WHAT ASPECT OF THE WEDDING WAS THE MOST IMPORTANT TO YOU BOTH? Thomas and I both had to go back to work in ICUs on Monday after getting married. It was so important for our wedding weekend to be full of love and fun, but still be safe for our family. Everyone involved was careful to limit exposure in the weeks leading up to our wedding so we could all be together.
TELL US A LITTLE ABOUT YOUR HONEYMOON: We're still working on that! Working in healthcare during a pandemic didn't leave either of us with a lot of vacation opportunities. Thomas is an Internal Medicine Resident and I'm a Neonatal Intensive Care Nurse, so after our wedding weekend we both went right back to work! We'll hopefully be able to take a vacation this fall after Thomas finishes his residency program.
A huge thanks to Arkansas wedding photographer ERIN WILSON for sharing this lovely engagement with us. Erin is known for her dreamy wedding photography and loves to serve others by encouraging their creative sides, reminding them how beautiful they are and being as positive and calm in wild situations. "I am extremely passionate about people, art and love. I photograph weddings on film and digital and very inspired by timeliness images that have a little artful vibe." You can see more of Erin's portfolio in our VENDOR GUIDE and you may also want to check out this A Chic downtown engagement session in Little Rock, Arkansas.