Ok now THIS is an elopement! I love everything about it! Captured by SHANNON ELIZABETH PHOTOGRAPHY, it took place on a dried river bed just outside of Las Vegas. FLORA POP worked with the couple who were travelling from Australia for a family wedding and decided to take the (childless) opportunity to tie the knot on their own terms. The result was a intimate celebration with some stunning unique images!
TELL US ABOUT YOUR PROPOSAL: We had known for some time that we were attending a family wedding in the States. Richard's brother, Jamie, was marrying his Californian partner, Nicole, and we were off to Las Vegas for their bachelor and bachelorette weekend, and their wedding in Temecula. I had previously been married, but my first husband died four years earlier. I understood that the importance of a wedding was the commitment to marriage and not the party, and I felt very strongly that I wanted my wedding to Richard to be intimate and private. I had therefore broached the prospect of a secret Vegas elopement from time to time, in the lead up to our upcoming holiday. We would be kid-free for over two weeks (woohoo!), and could incorporate our honeymoon and wedding into one trip. Richard was hesitant because we were making the trip for his brother's wedding. One night as we were getting ready for bed, two weeks before we were due to leave, Richard surprised me by pulling out a ring! I am sure that Richard had envisioned his proposal being more elaborate, but I thought it was perfect. Simple, personal, and private.
TELL US ABOUT FINDING YOUR WEDDING DRESS: It was done in haste! I toyed then dismissed with the idea of hiring a gown to be waiting in our hotel when we arrived in Vegas. I then visited boutiques and department stored in Perth looking for a non-wedding dress that would be suitable as a wedding dress, and came up with nothing. Then 10 days before we were due to depart, I was driving through Subiaco when the sign for a bridal shop caught my eye. I bought the second dress I tried on, and was in and out of the shop in less than an hour. As only one inter-state friend knew about our elopement, I was sending her photos to ensure I made the right choice. Shopping for a wedding dress alone is daunting! I was lucky that the owner allowed me to buy the floor-stock. She altered the dress herself, and I collected it two days before we left.
WHAT WAS THE INSPIRATION BEHIND YOUR WEDDING STYLE? The Flora Pop Instagram! I knew that I wanted our Australian wedding party to have a vintage feel, with festoon lights, bunting, lanterns, rocking chairs and my grandparents telephone table that sat in their entrance hall back in the day when phones were attached to walls – but I didn't know how to create the feel I wanted in Vegas, with just two weeks to plan and only two people scheduled to be in attendance. I let out a sigh of relief when I came across Flora Pop on The Knot and knew I could leave it in their hands. I asked for a floral altar and chose a photographer with a vintage-feel style, and handed over control of the rest.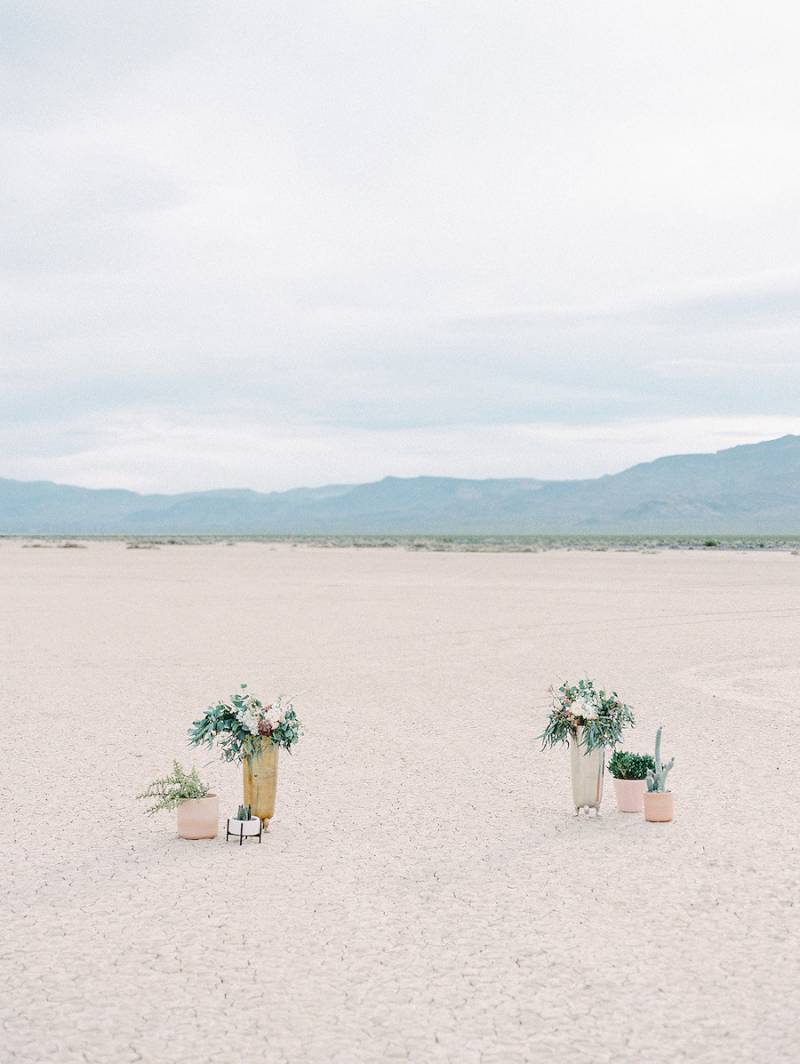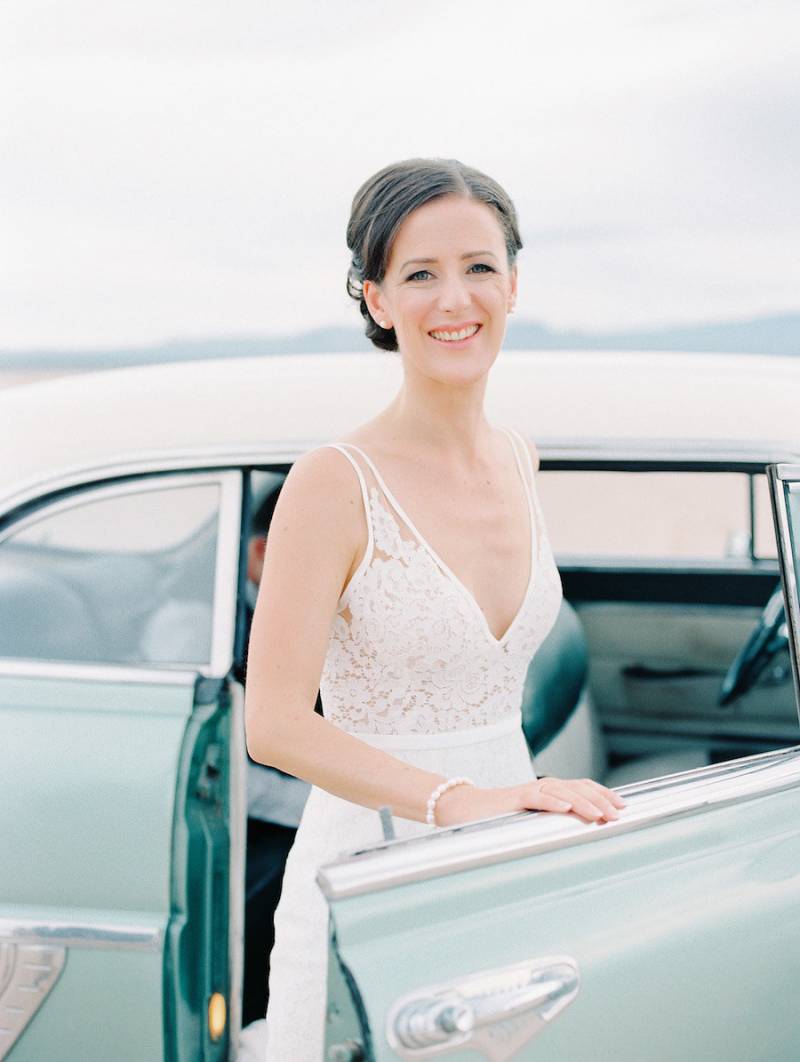 WHY DID YOU CHOOSE THIS LOCATION? Planning a wedding from another continent is tough!! I had originally looked into Grand Canyon Helicopter weddings, but upon seeing photos direct from the vendors, realised that the reality was not as shiny as their website. With only two weeks until the big day, I was frantically googling alternative Vegas weddings (ie. Not an Elvis, neon-light special), when I came across FLORA POP on The Knot. I looked at their Instagram and was hooked! The easiest way to communicate what I liked was to "like" posts on Flora Pop and my photographer's Instagram pages. The venue was decided upon through consultation between me, Flora Pop and our amazing photographer, Shannon of SHANNON ELIZABETH PHOTOGRAPHY. I love how strikingly bare the lakebed was - there was nothing to detract from us.
DID YOU HAVE ANY DIY ELEMENTS? Having an international elopement made it difficult to incorporate DIY elements. However, a month after we returned to Australia, we hosted a party at our home for 100 of our friends and family. Our wedding dress and suit got another wear, and our daughters got to be flower girls. This party was largely DIY. We had a clear marquee erected in our backyard, and staged it ourselves, bringing our personal indoor furniture outdoors and displaying photos from our elopement. Who else can say that they've had photos of their wedding at their wedding?!
DESCRIBE YOUR WEDDING FLOWERS: A perfectly composed bouquet of native Nevadan flowers, that looked as though they had simply been picked from a bush. Making something look so natural and simplistic takes skill.

FAVOURITE DETAIL OF THE DAY: Even though we planned it in no time at all (and from afar!), it was all about the detail. Everything from the car, to the cupcakes were perfectly coordinated. I can't pick one thing.
WHAT ADVICE WOULD YOU GIVE OUT TO A COUPLE PLANNING THEIR WEDDING? Weddings are about you as a couple, no-one else. Don't over-think it. Take the stress out of it. Make it fun.
MOST MEMORABLE MOMENT? You hear so often that a bride and groom will spend most of their wedding day apart. They are always too busy entertaining their guests, directing their service providers and generally keeping other people happy. It all seems like a blur now, but I am so appreciative that we got to spend out entire wedding day together, and were present for every moment - except when I sent a photo to the one person who knew about our elopement and Richard threatened to throw my phone away! But it was so beautiful that I wanted to share a photo with someone.
ANY OTHER DETAILS THAT HELP TELL THE STORY OF YOUR DAY? I loved that we spent the whole day together, and could focus solely on each other - but buttoning up my own dress was difficult and time consuming! I gave up mid-way through and had to make the big reveal only half done up, then ask for help.
The day was overcast, and perfect for taking photos, but the sun came out as the photographer asked us to dance. Perfection. When we arrived for dinner, we were seated on a small table, in elbow-bumping reach of our neighbours on both sides. It only took about 15 minutes before someone came and asked me if they could move us to a nicer table. My reaction was a short (but grateful), "yes you can"!
I thought that people in Vegas wouldn't look twice at a newlywed couple, but we got some amazing reactions as we walked down the strip. When walking back from dinner at Nobu to our hotel, we passed a group of girls who congratulated us. I grouped them together and did a bouquet toss right to them, in front of the Bellagio fountain.
When we returned to our hotel room, we were greeted with champagne and strawberries, compliments of housekeeping. We sat on our balcony, overlooking the Bellagio fountain and the strip, and finished the day in our cocoon, eating chocolate strawberries and drinking champagne. Bliss. I think our mix of photographs is amazing. We got the sophisticated, romantic photos form the Lakebed at dusk, and then headed into Fremont Street and the Strip for some glitzy Vegas shots. We got the best of both worlds.
TELL US A LITTLE ABOUT YOUR HONEYMOON: Our wedding and honeymoon were bundled into one! We landed in Vegas on the Sunday, and were married on the Thursday, which gave us five relaxing days to ourselves. We parted ways for three days and joined Jamie and Nicole's bachelor and bachelorette celebrations, our rings in the bottom of our suitcase and news kept to ourselves. We then snuck off to Palm Springs for four days off the radar, and then joined Jamie and Nicole's wedding celebrations in Temecula - I even caught the bouquet!
IS THERE ANYTHING YOU WOULD CHANGE OR DO DIFFERENTLY? We were at a bar on our first night in Vegas, listening to a great acoustic musician. He was taking requests from the crowd, when a couple from England, who had married in Vegas 25 years earlier and were back in town for their anniversary, asked him to play their wedding song. We told the musician that we were getting married two days later, and asked him to play us a song. We spoke to him about playing at our wedding, but didn't follow up, and I wish we had! Dancing on a dry lake bed, to live music, as the sun set would have been magical.