Puglia is such a hidden gem in the south of Italy and definitely on my bucket list to get to one day! Claire and Brad's destination wedding captured by Chicago wedding photographer BONPHOTAGE, took them to the all white city of Ostuni to the amazing MASSERIA Il FRANTOIO located a short distance from the Adriatic Sea. When you step into this biological farm you areimmersed in a timeless atmosphere where culture and tradition intertwineSeemingly and never-ending Athenian olive groves dating back to the 16th century surround you from every direction.
Claire and Brad's wedding was inspired by the incredible nature that enveloped them. Their intimate ceremony took place under an almost 2000 year old olive tree with an asymmetrical floral arch that framed them as they exchanged their vows. The piece was dense with greens ranging from Olive branches to Clematis Vine and Foraged Grasses sprinkled with a variety of roses and white dahlias. As a play on the landscape Bird and Bumble used Mastic Bush Foliage to incorporate the wheat colour of the grounds all around them. Claire was a stunning bride in her ALEXANDRA GRECCO gown and LOEFFLER RANDALL rose gold heels. Her bouquet was soft and whimsical with the use of silk ribbon, quicksand roses and organic greens. After their ceremony they ran through the ancient olive groves at sunset, captured on film by Bonphotage as they took in the breathtaking moment as newly weds.
The tablescape was full with long greenery garlands and textured taper candles for the guests to enjoy dinner al fresco by candle light. The incredible eight course dinner was made from all ingredients grown on the property and accompanied by wine pairings from the region. They danced the night away in the courtyard of the Masseria while the Blue Moon Jazz Trio seranded them. It was a perfect evening filled with love, dancing, delicious local cuisine and of course wine.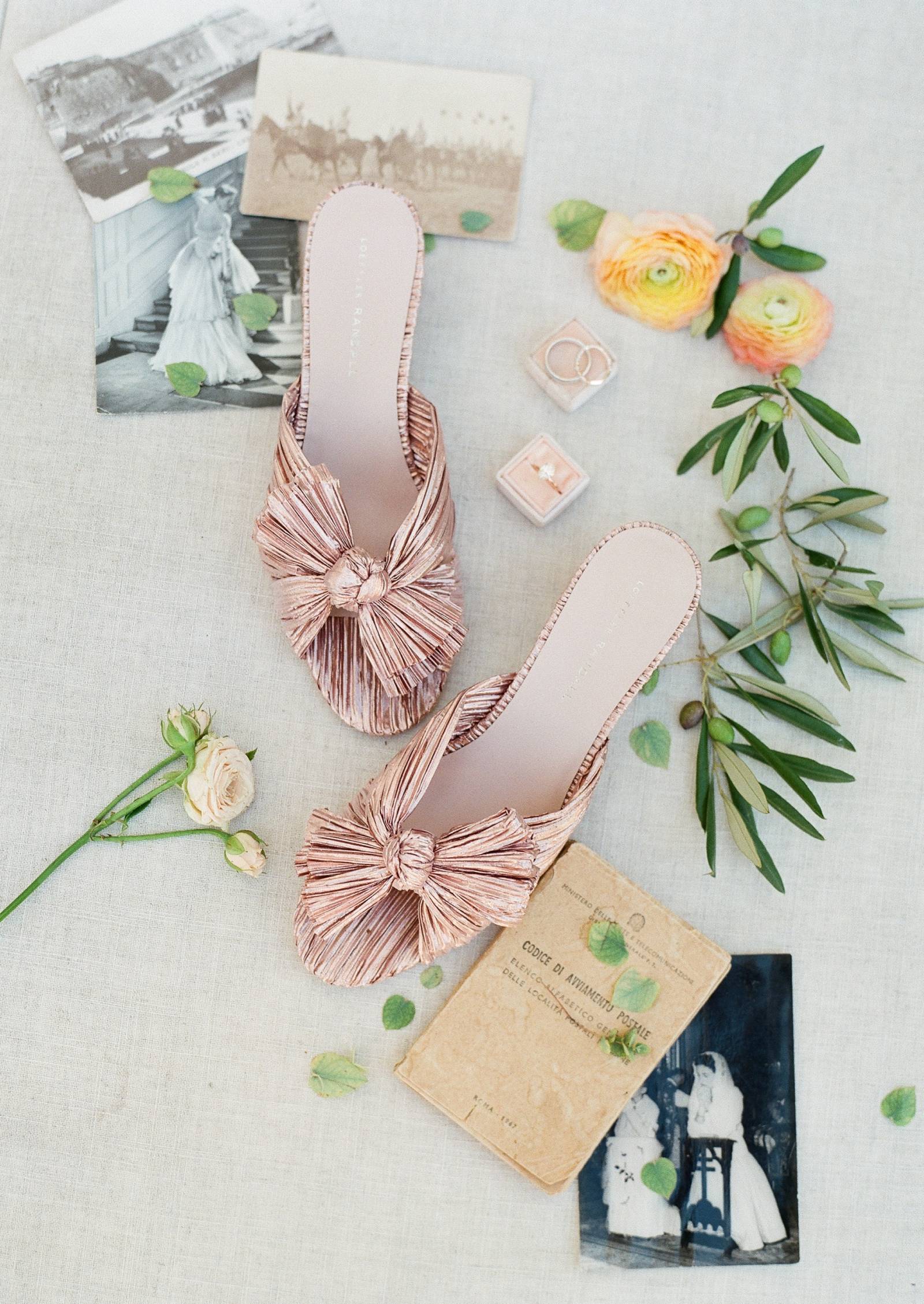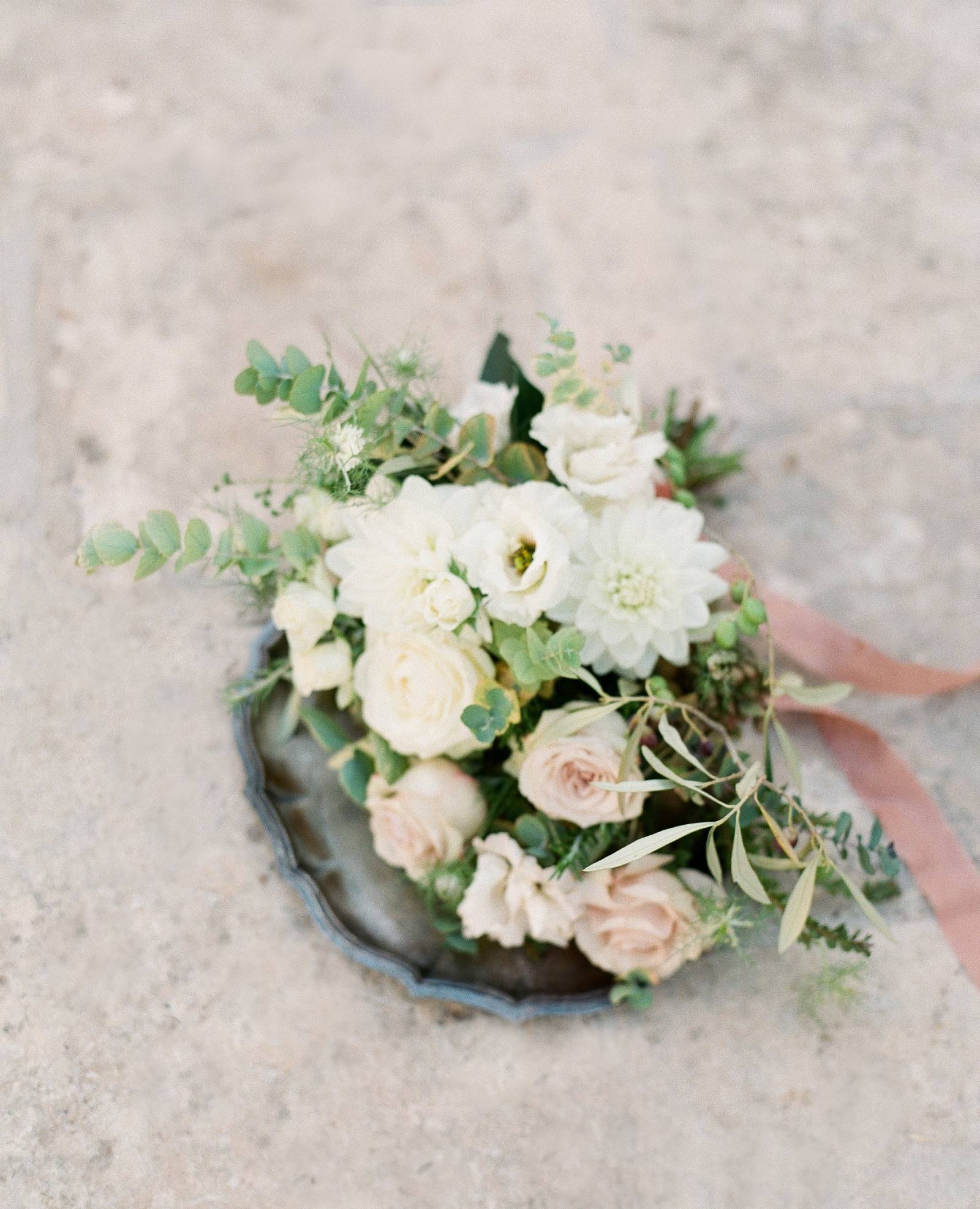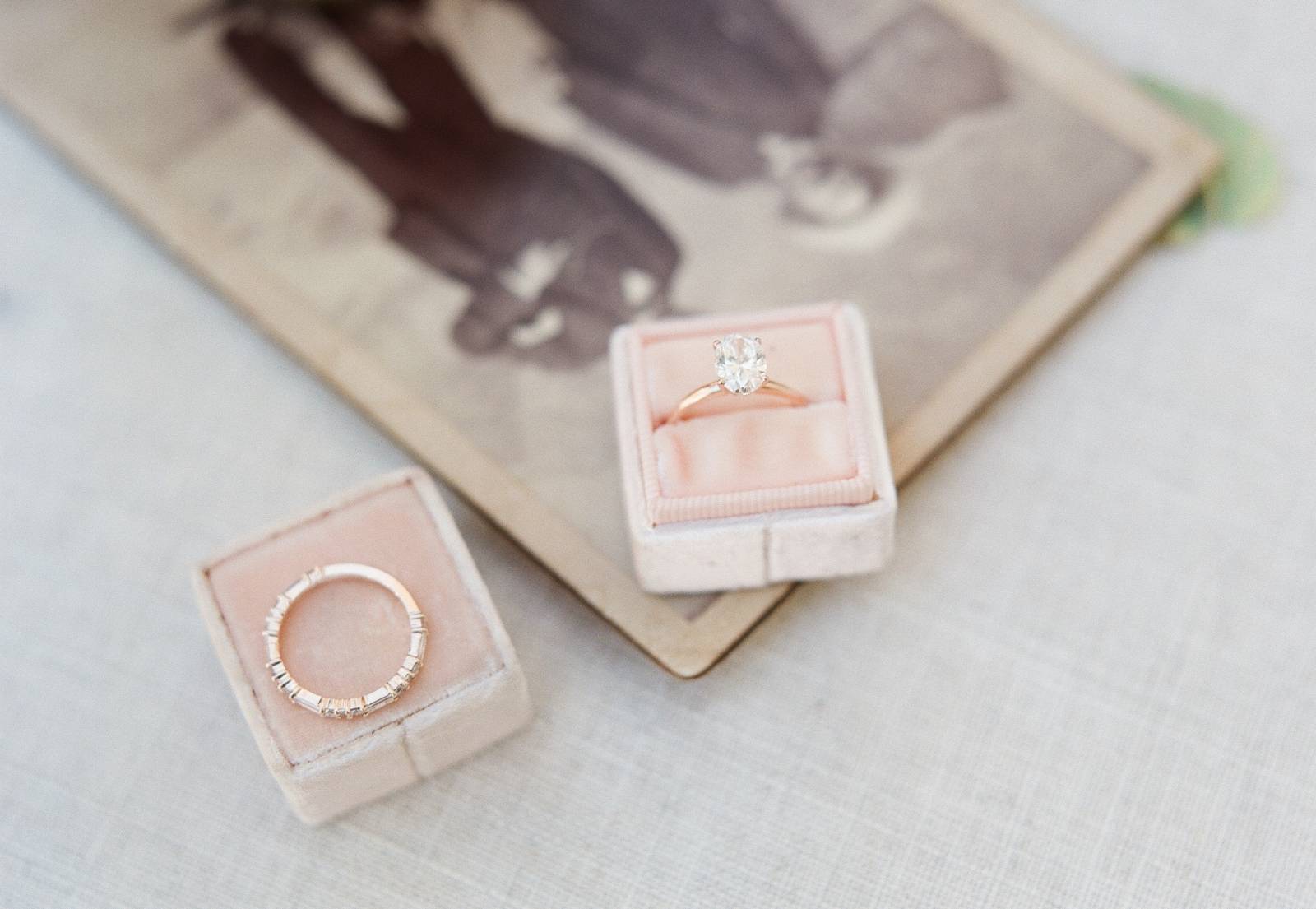 HOW DID YOU MEET? On June 9, 2016, Claire arrived home from a business trip to a dozen dead daisies on her doormat. Months earlier, Jean Andrew and Norm Jennewein were dining at Our Lady of Life in St. Louis. As most grandparents often do, their conversation quickly turned to grandchildren. Norm shared that his grandson lived in Chicago and coincidentally, Jean's granddaughter did too (in fact, only blocks away from each other.) Norm and Jean exchanged Brad and Claire's contact information.
Soon after, Claire's details were passed to Jo Ann and then on to Brad. In the meantime, Brad's information was shared with Sally, Claire's mother, who then passed them on to Claire. Signals were crossed though – Claire was under the impression Brad was around her age (not quite – he is 5 years her junior), new to Chicago (he had lived there 9 years) and needed friends (he had plenty). Jean thought Claire could show him around town, but Claire was reluctant to take on such a charity case.
Since grandparents can be a bit naïve at times, Jean had not only given out Claire's name and number, she also had given out her address. Thankfully, she didn't know her social security number. Brad, being the better grandchild, followed through with his grandpa's request to reach out to Claire in the same way he got the information – pen and paper.
On June 8, 2016, their fate was unknowingly sealed. Brad dropped off a handwritten note and a bouquet of daisies at Claire's apartment. The following day, Claire returned home and was surprised to see a bunch of dead flowers on her doormat and a letter without a stamp in her mailbox. Did she have a stalker? Ooh, was he cute? Much to her chagrin, Claire did not have a stalker but a cutie he was. After a handful of texts between the two, it was decided they would meet up the next night for drinks. Claire and Brad would both be out with friends and thought this was the easiest way to meet up without the blind date awkwardness.
After three successful dates later that week, Brad and Claire realised what their grandparents knew all along- matchmakers do their best networking at Our Lady of Life's 4pm dinner seating.
TELL US ABOUT FINDING YOUR WEDDING DRESS: My mom and Brad's mom came in together from St. Louis after one of the coldest days ever recorded in Chicago. Due to this extreme weather, the bridal salon I was most excited to visit had to cancel my appointment due to lack of heat in their showroom. Luckily, I had other boutiques on the books for that day and had such a fun time trying on dresses with my mom and soon to be mother-in-law. I quickly realized what style I felt most special in- a flowy A-line skirt with a v-neck bodice. While I ended up buying a stock dress that day (with the idea that I could return it if I found something I loved more), something told me I still needed to check out the salon I had missed out on that day. I had fallen in love with an Alexandra Grecco design on their Instagram and couldn't get it out of my mind. So I made another appointment to go with a couple girlfriends a few weeks later. My mom surprised me by driving up for the appointment and I'm so glad she did because when I tried on that dress, we both knew. This was THE dress. We both cried and we knew that this was exactly what I had been looking for the entire time.
DID YOU HAVE ANY DIY ELEMENTS? Brad is a graphic designer and designed everything from the invites and menus, to the welcome bags and itinerary cards. We made a concerted effort to draw a connection to the region and chose a typeface designed by an Italian type foundry. We would have loved to have done more, but the logistics of an abroad wedding proved challenging for transport.
DESCRIBE YOUR WEDDING FLOWERS: When we first met with Rebecca to discuss floral inspiration she immediately called attention to a consistent theme throughout the images -- monochromatic greens of different textures with pops of white flowers. We wanted balance simple with textured, timeless with contemporary, and Rebecca ran with these themes beautifully. The vibrant greens, subtle ochres, and distinct textures brought life to the storied past of the Masseria. Given the rustic structures and arid groves, we felt that the bouquet should be unstructured, loose, and contain natural elements that tied it to the honest setting. The two asymmetric deconstructed arches that framed the ceremony were not only a perfect leap into the contemporary, but also later doubled as a backdrop to the sweetheart table. These large gestures complimented subtleties like the ornate candlesticks and antiqued precious metals at the dinner tables and intertwined the past with the present.
FAVOURITE DETAIL OF THE DAY: The first look immediately jumps out in our memories. We were insistent from the start that a first looked was possibly too formal, traditional, or even fussy for either of us. We opened up to it when our ceremony schedule seemed to call for it, and we're glad we did. Not only is it impossible to describe the cascade of emotions that ensued, but also allowed us to spend a few hours together prior to an afternoon of friends, family, and celebrations. Afterward we discovered our mothers we're hiding in the bushes all along to sneak a peek.
WHAT ADVICE WOULD YOU GIVE OUT TO A COUPLE PLANNING THEIR WEDDING? Choose to have time on your side. There much to do and decide, but it can be manageable if spread out of the course of many months. Most importantly, remember this day is to celebrate you and your partner. Your beautiful day may not go as precisely as planned, but we can guarantee it will be the most celebrated day of your life.
MOST MEMORABLE MOMENT? Thanks to Lynzie, we have photographic evidence of this! We really loved the idea of getting married amongst the ancient olive trees on the Masseria's property. However, the late afternoon sun and the long walk for our guests proved to be challenging. So instead, we escaped to the olive grove after our ceremony to take some of the most memorable photographs. Our favourite is of us running (Claire in heels and Brad in stiff patent oxfords!) and laughing through a grove of over 4000 olive trees.
WHAT ASPECT OF THE WEDDING WAS THE MOST IMPORTANT TO YOU? Since this wedding was held in Italy and was a huge ask of anyone making the trip, we wanted to make sure our guests felt they were being taken care of every step of the way.
ANY OTHER DETAILS THAT HELP TELL THE STORY OF YOUR DAY? While the Masseria's remote location added its own challenges for the transportation, it was this remoteness that built the allure. We coordinated a big group to take the train from Rome down to Ostuni. Another memorable part of the trip - two dozen of our closest friends and family all on the same train soaking in the beautiful mountain views! With some careful planning, patience, and a round of cheap beers to pacify an unexpected layover in the Ostuni train station, we successfully made the trek via planes, trains, and automobiles.
TELL US A LITTLE ABOUT YOUR HONEYMOON: Though our travels to Portugal following the wedding were so far beyond expectations, our official honeymoon is on the horizon for 2021. Check back in to see if we find our way back from Torres Del Paine National Park. Fingers crossed!
IS THERE ANYTHING YOU WOULD CHANGE OR DO DIFFERENTLY? We would not change a single thing. When anyone asks how the wedding went, we launch into a half hour tangent on southern Italy, all things food, and every last drop of wine.
A huge thank you to Chicago wedding photographer BONPHOTAGE for sharing this beautiful wedding with us. Having travelled extensively and captured weddings in some of the most beautiful locations in the world, Lynzie continues to be inspired by art, different cultures, and faraway places. I have photographed weddings and engagements around the world, including Paris, Positano, Istanbul and the Caribbean. "My style is soft, romantic and elegant and my preferred medium is film. I love the creamy skin tones, richness and texture it provides." You can see more of their work in our vendor collective here and be sure to check out this Contemporary Terracotta Bridal Inspiration.