Classic elegance blends with glamour in this chic and stylish wedding captured by California Wedding Photographer CZAR GOSS. Fashion and lifestyle blogger ELLEN and husband John wanted their wedding to have plenty of fun elements with the decor whilst bringing in a glamourous feeling with the fashion. Surrounded by fashion in her daily life meant that this was an important and inspiring factor for the bride - whom wore an incredible powder blue MARCHESA gown. "I think that the bridesmaid's dresses were a big part of the visual aspect of our wedding. It was important to me that they were all different to balance their own styles but when together, we all complemented each other just like our friendship in real life." They knew that their location of RANCHO LAS LOMAS was the one right away. Nestled under sycamore and oak trees, it features an open-air theatre with a marble ceremonial stage which is where the couple held the ceremony. With the classic elements this couple chose rather than anything too 'of the moment', their wedding will stand the test of time.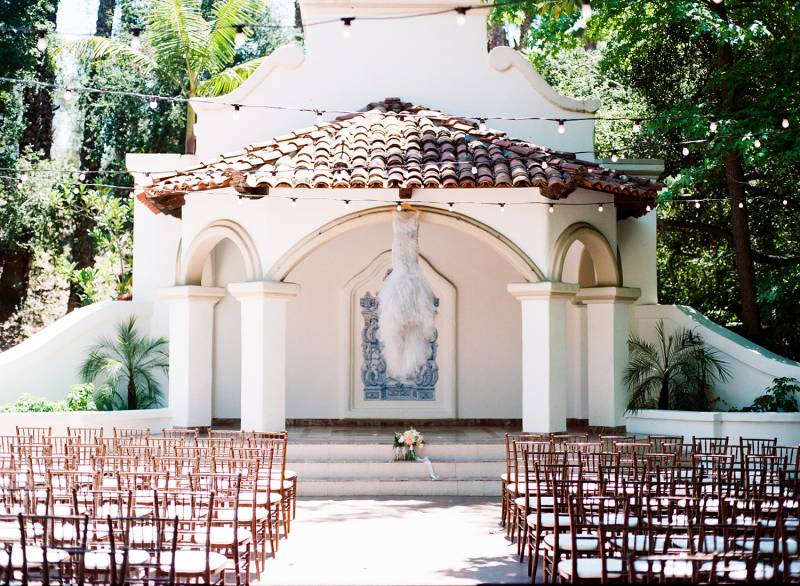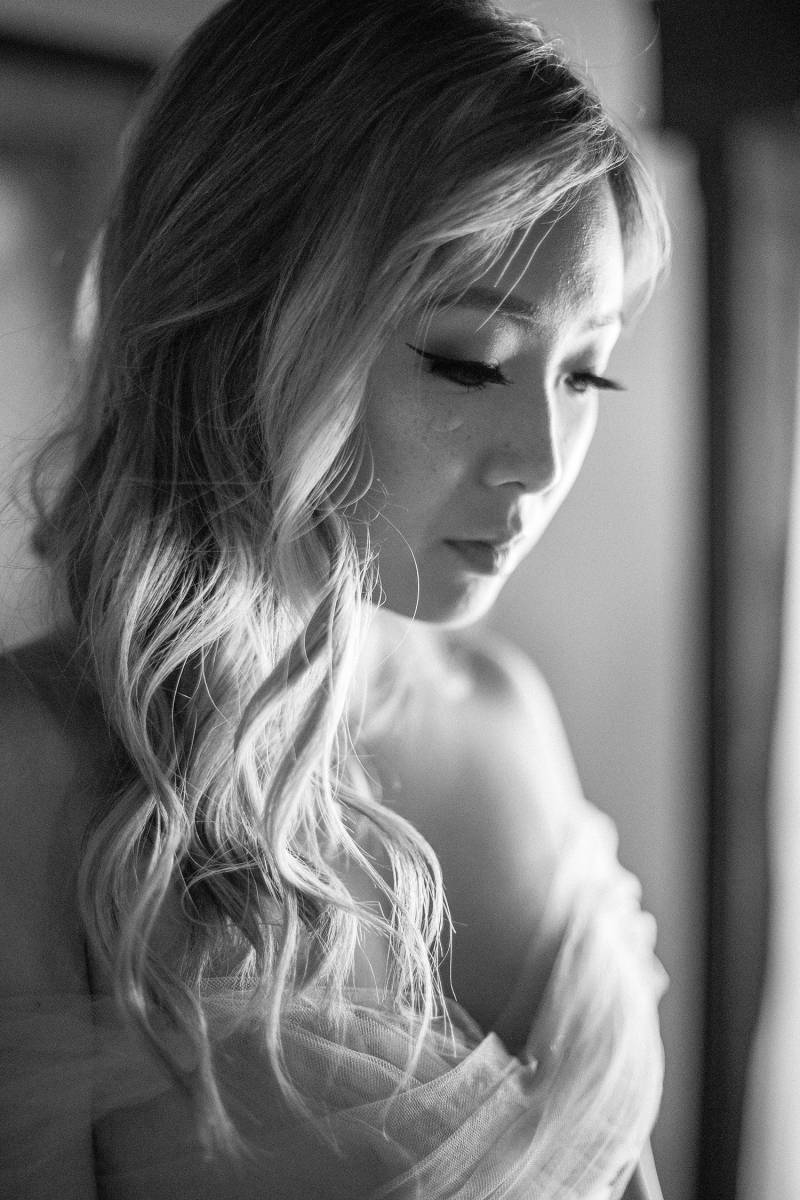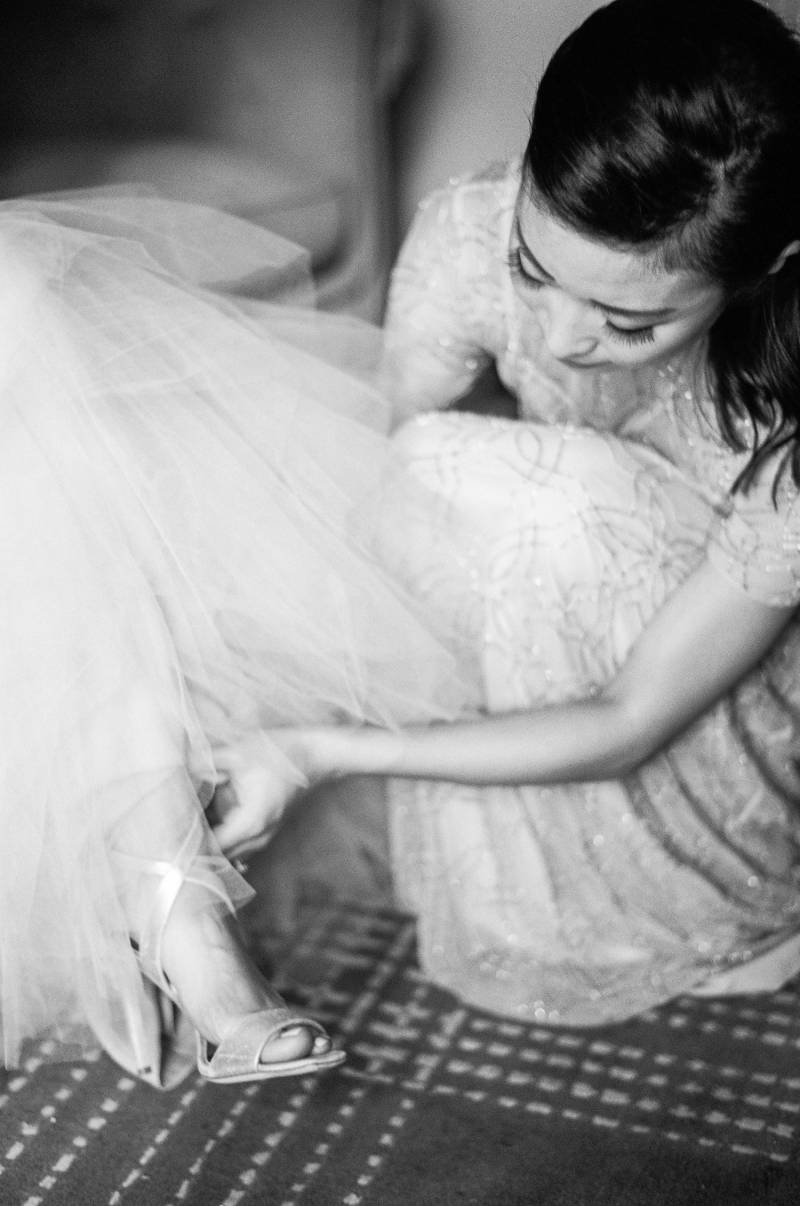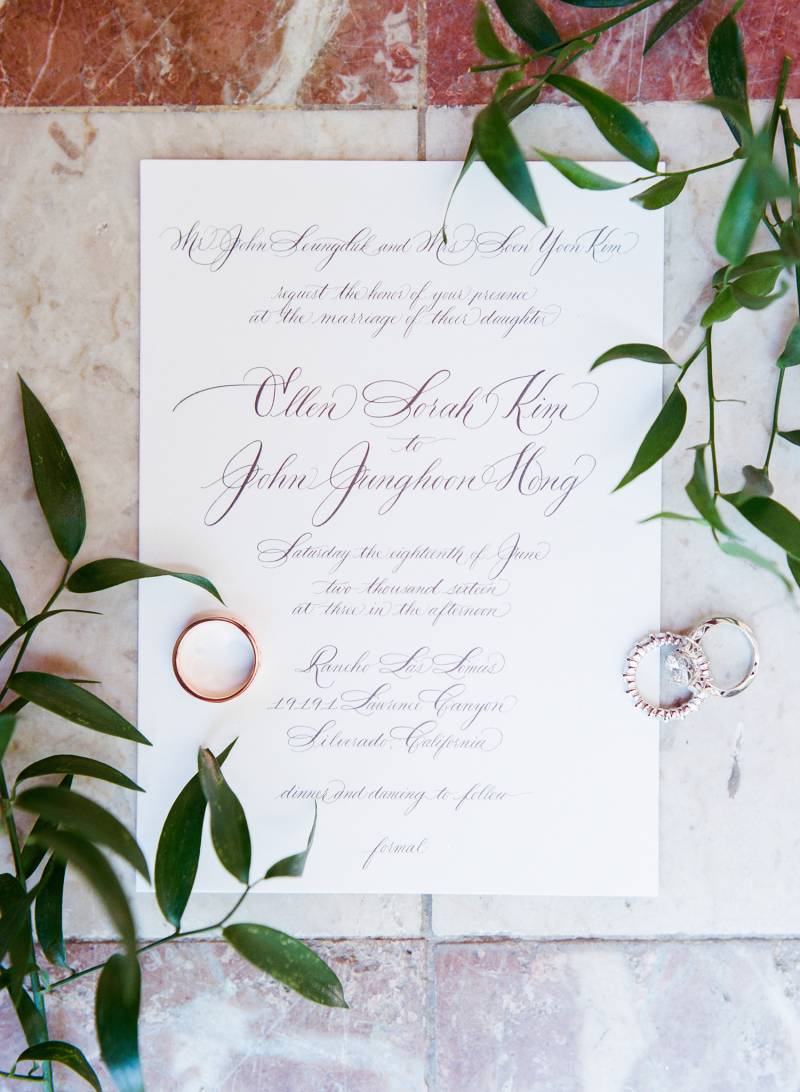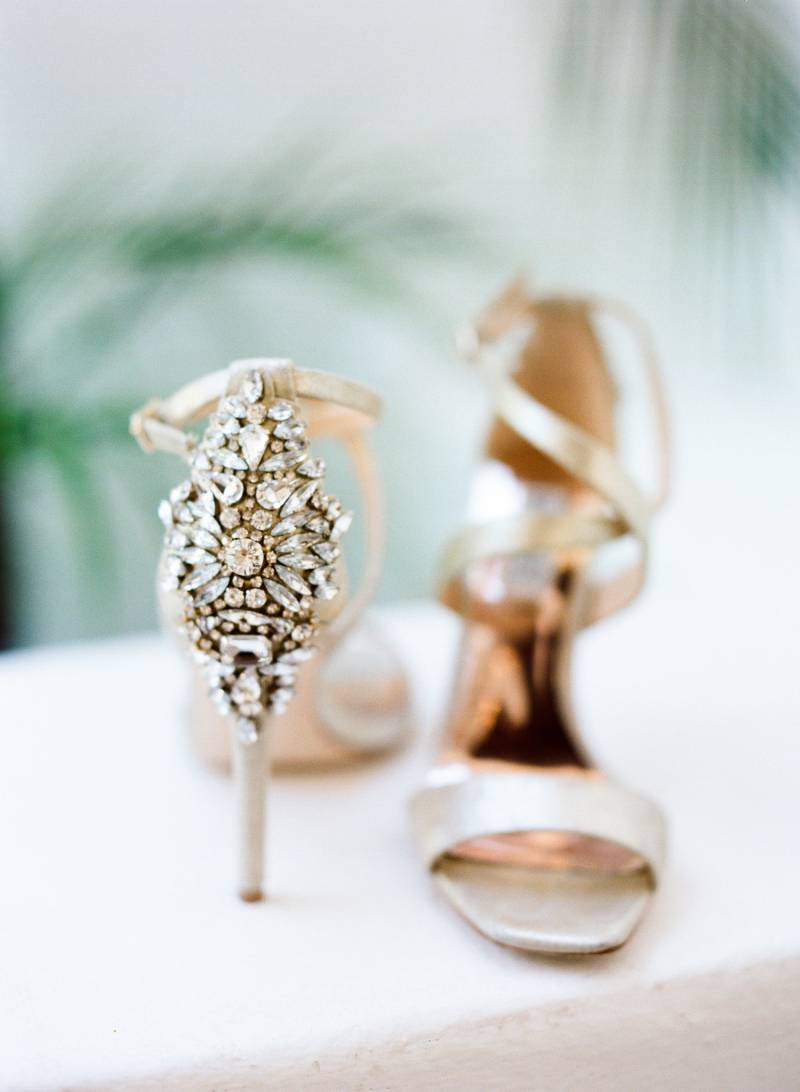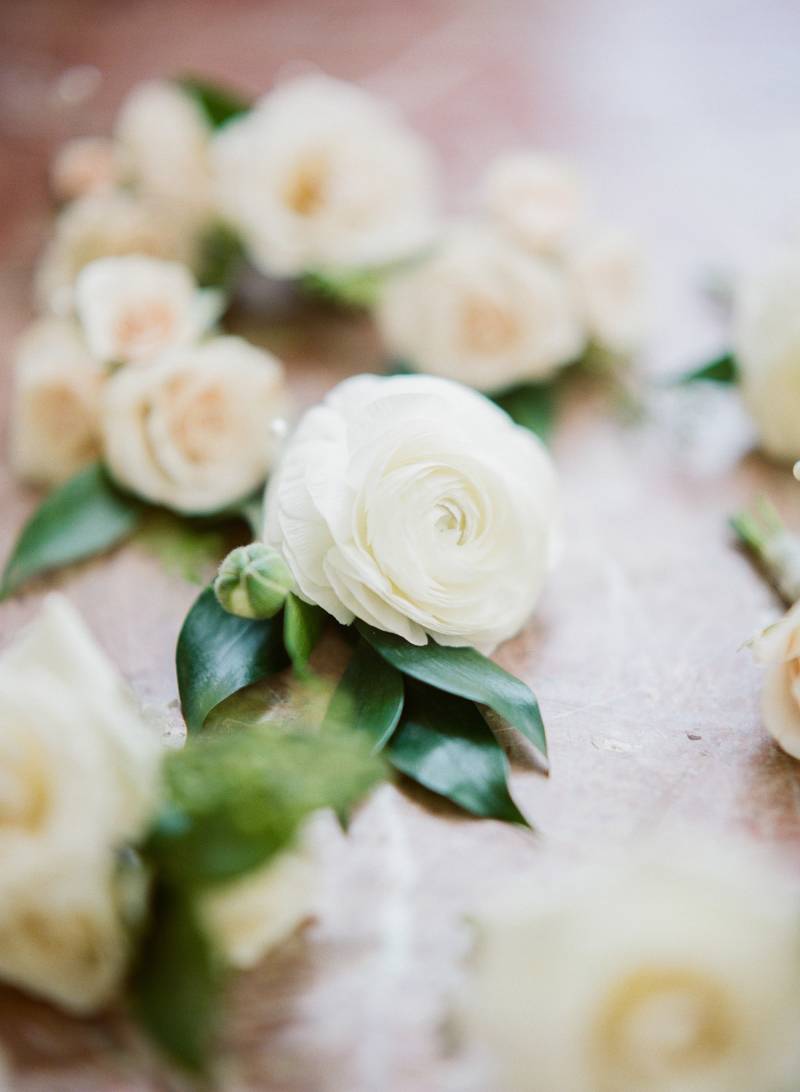 HOW DID YOU MEET? John had moved down from Seattle to Los Angeles to further his career leaving his home town behind. At the same time, I was just about to graduate college and move to Los Angeles. We were both single and starting a new chapter in our lives unaware of what or who was to come. On a spontaneous night out with my friends I ended up hanging out at our local bar, when I noticed another group near by. By luck of the straw, there my future husband was, also doing the exact same thing. Our eyes met and immediately connected. I never believed in love at first sight, but hey... never say never. Since then, we've been inseparable. On our second date, John recalls me dancing around and laughing, and said he knew that I was the one. One year later, he popped the question and happily ever after began.
TELL US ABOUT YOUR PROPOSAL: We both had Veterans Day off from work, so we planned to hang out together and go on a day date! Last minute he told me his work needed him to come in so we had to post-pone our date. The night before Veterans Day my sister had asked to go shopping together, so while we were shopping, John was secretly planning with his friends a proposal in our house! He moved all our furniture out of our living room and filled the space with rose petals, candles and a sea of balloons. After shopping, I headed back to our house and when I walked in I saw him standing in our home on one knee. It was intimate, breathtaking and exactly who we are. Afterwards, he surprised me again, with all my friends and family at a rooftop bar to celebrate together! It was such an amazing, memorable night!
TELL US ABOUT FINDING YOUR WEDDING DRESS: The wedding dress search was truly unplanned and accidental! I've had my heart set on a Marchesa Resort Gown since 2013. I wasn't even dating yet, but I saw this dress in the Resort line and FELL IN LOVE! I looked for two years everywhere, scrummaging through vintage consignment stores, eBay, online stores, retailers but no avail. I knew there was no chance of find that dress from 3 years ago so I ventured off to other boutiques. I tired on 2 dresses at Vera Wang and 1 at Monique Lhuillier but my heart wasn't set on either or. One day at work, I was just looking online to buy a gift for a friend, when I saw my dress on the same website! It was brand new, still in box. I bought it immediately! Never tried it on till it came to my house. It was 3 sizes too big but I found a great alterations place and never regretted my decision!
My reception dress was made by my MOH. She's a designer with her own wedding dress line, LeeLim. It was amazing being able to wear something that was so dear to my heart. I wanted something comfortable and easy to dance in. She came up with the idea of an open robe dress, that had a slit. It was all lace and fit my body like a glove. It was a dream to wear something my MOH designed. It was more meaningful and truly completed the story of our wedding day!
ANY DIY ELEMENTS? The flowers on the escort table was all done by my MOH. The day before the wedding both my MOHs went to the flower market and assembled them before the rehearsal dinner! My other MOH made the donut tower for our dessert table which came out spectacular! It really was the star of the dessert table. My bridesmaids all helped out with cutting all the name cards and menus, as well as the gold paint mark on the name cards were all done by hand!
DESCRIBE YOUR WEDDING FLOWERS: Our bouquets were filled with beautiful white peonies, cafe au lait dahlias, white ranunculus, and garden and spray roses. We also incorporated different types of greenery within the bouquets to add various texture as well. We made sure to include lush and elegant florals to compliment my personal style. We kept all the colors of the florals neutral with creams and light blush to flow with the rest of the soft wedding scheme.
FAVOURITE DETAIL OF THE DAY: Our schedule was behind so John and I weren't able to do a first look. Our first look was when I walking down the aisle. Walking down the aisle seeing John he had tears rolling down his eyes, which was the most beautiful part of our whole wedding! I'll never forget his face. I felt like the luckiest girl in the world!
WHAT ADVICE WOULD YOU GIVE OUT TO A COUPLE PLANNING THEIR WEDDING? I would say find a photographer that you trust and truly love their work! It's the only thing you'll have after your wedding, and I promise the wedding is over before you even know it! Take every moment in, and enjoy your day start to end!
MOST MEMORABLE MOMENT? At the end of the night, all our close friends and family gathered around the dance floor all holding hands and singing to Ed Sheeran's Thinking Out Loud. It was just perfect, underneath the bistro lights. It was one of those things where no one planned it but somehow we were all together singing and just enjoying the night.
IS THERE ANYTHING YOU WOULD CHANGE OR DO DIFFERENTLY? The only thing I would change was our timeline. I wished I got ready earlier so I wouldn't feel rushed before the ceremony. But other than that, there's nothing I would change!
Thanks to CZAR GOSS for sharing this beautiful wedding with us. We love how they've combined that laid-back California vibe with a more glamourous aesthetic. You can find more California Wedding Photographers in our Vendor guide.