If this wedding by ANA LUI PHOTOGRAPHY doesn't make you want to pack your bags and head to Ibiza to get married nothing will!! Being huge fans of everything Spanish after falling in love with Ibiza on a previous visit, Lesiele & Stephen chose to hold a very laid-back and relaxed wedding on the island. Lesiele tells us, "When I first visited the island it was not at all what I imagined it would be; I thought it would be really tacky and noisy but I was blown away lots of beautiful little pockets, especially in the north of Ibiza. The whole island has an element of magic, romance and of course lots of great music, which was important to us. The first time we discussed wedding details, Stephen asked me if where I wanted to get married - which I half jokingly, half seriously replied - what about Ibiza? This of course got a resounding yes from Stephen."
The couple had all their wedding party dressed in white and neutral tones - the bridesmaid's looked gorgeous all in various white dresses. They introduced a few elements of rose gold to the mostly white wedding decor - a nod to Ibiza's rustic, white washed walls, simple white flowers and green foliage. As self-confessed massive foodies, they served their guests a selection of food and wine which was the perfect fusion of traditional Spanish cuisine paired with modern, contemporary flavours and trends.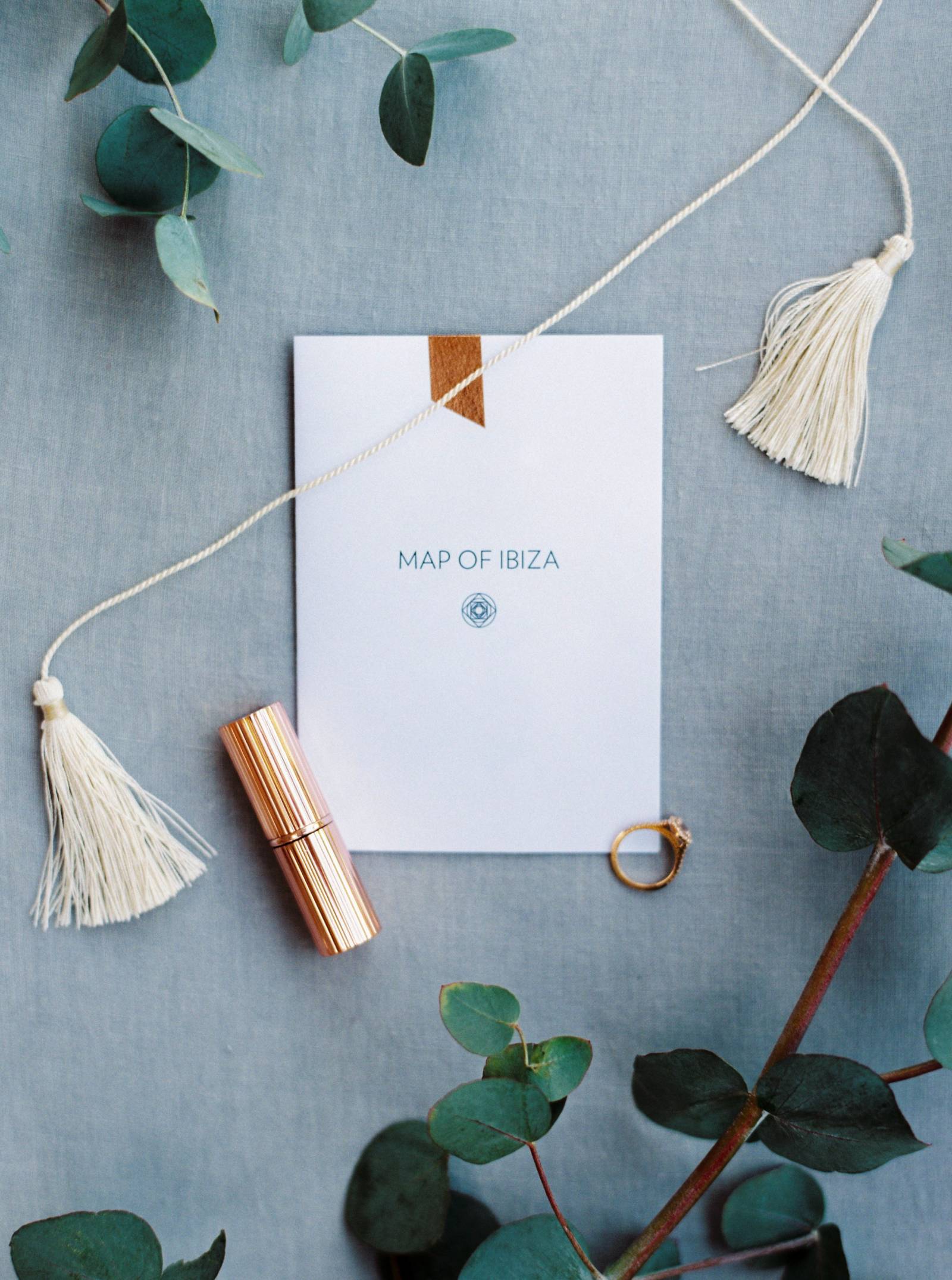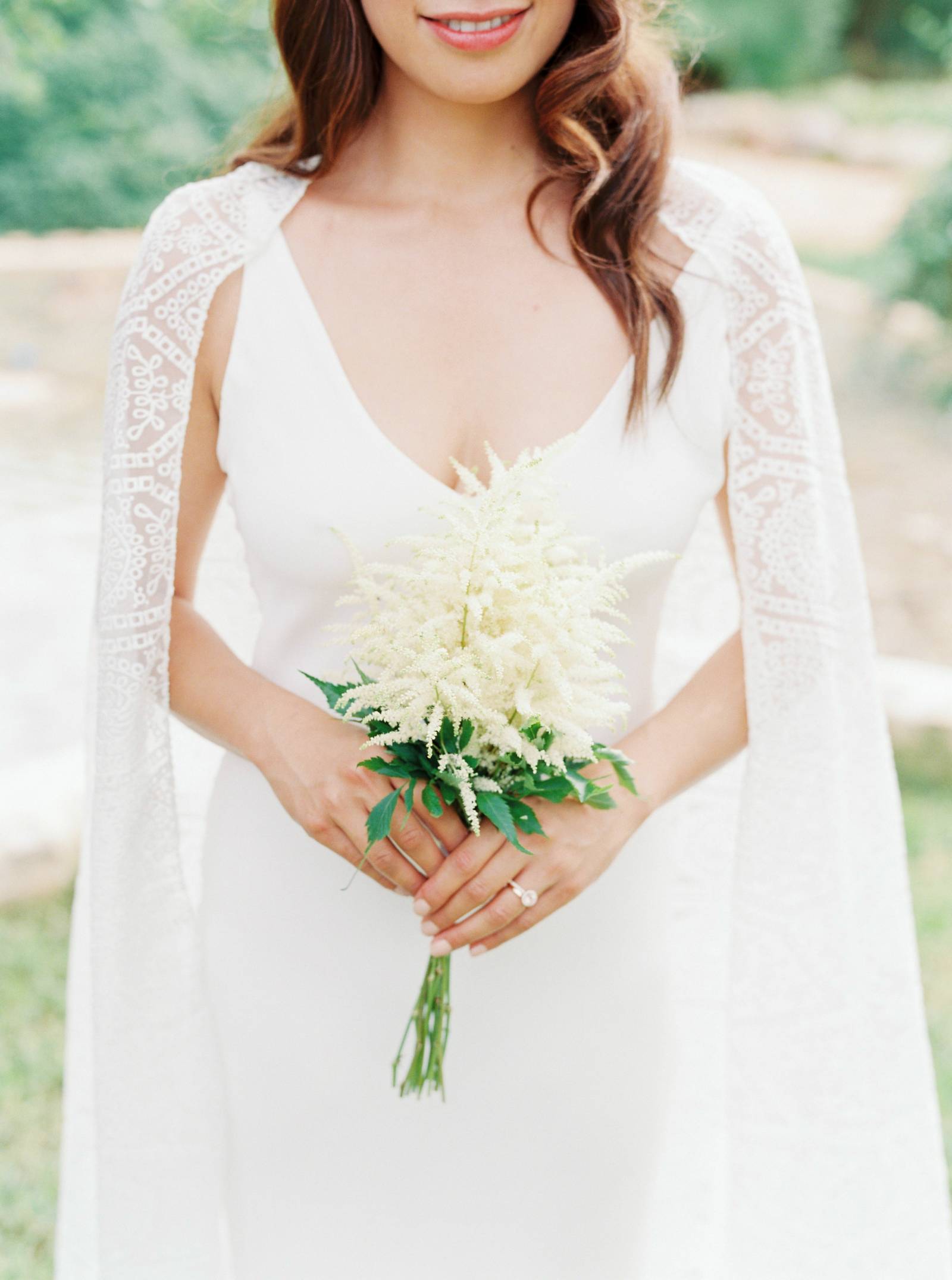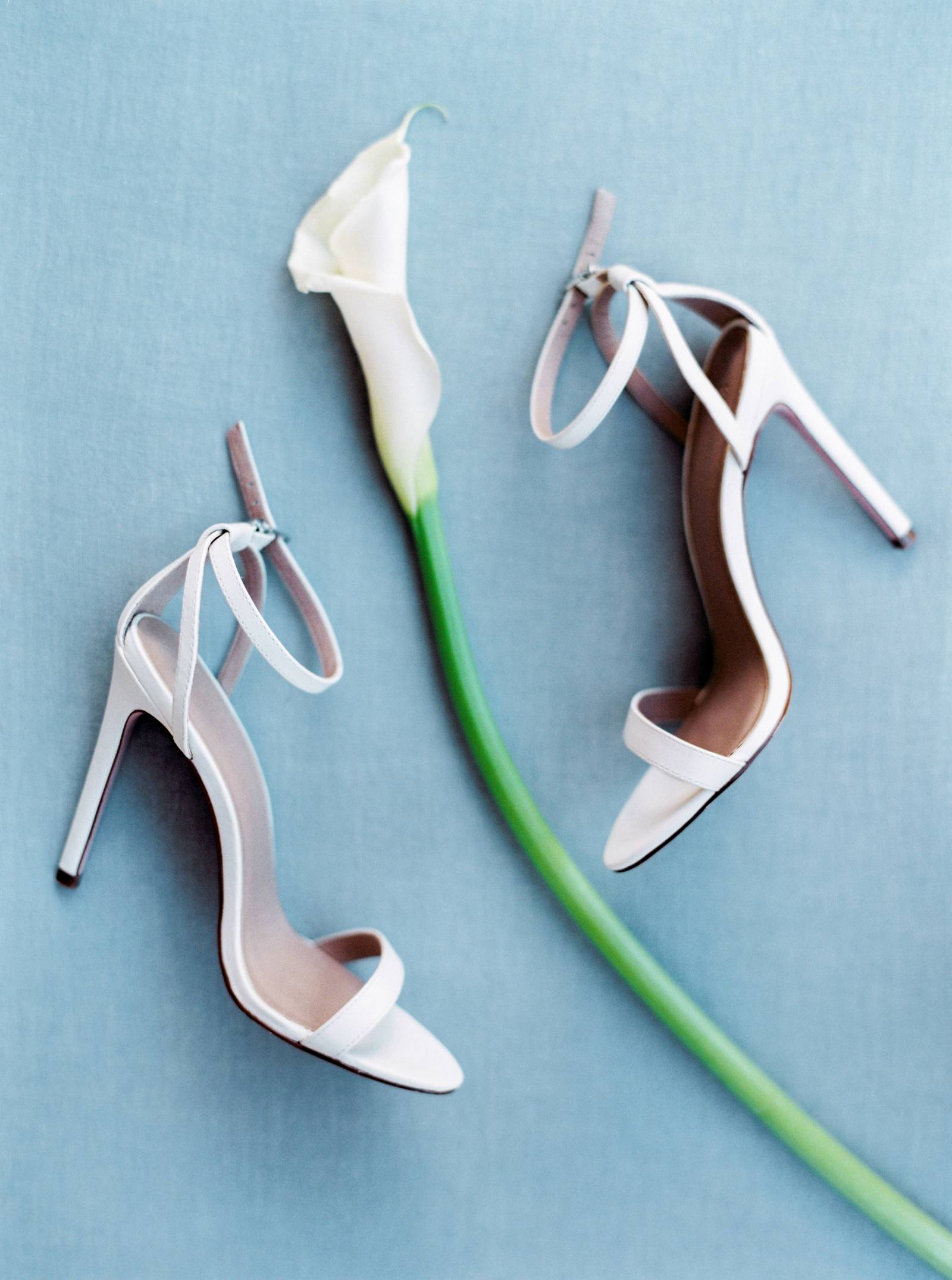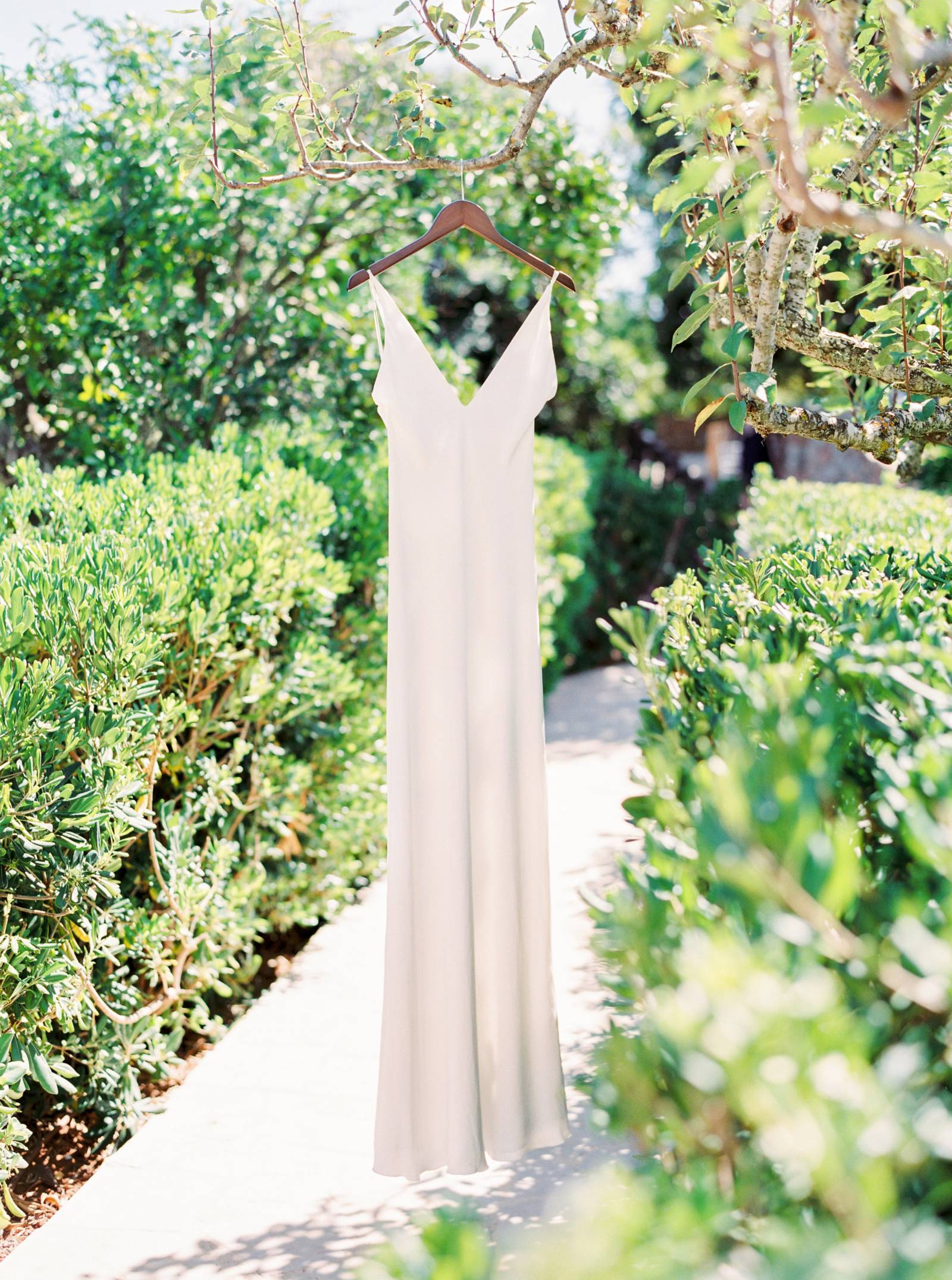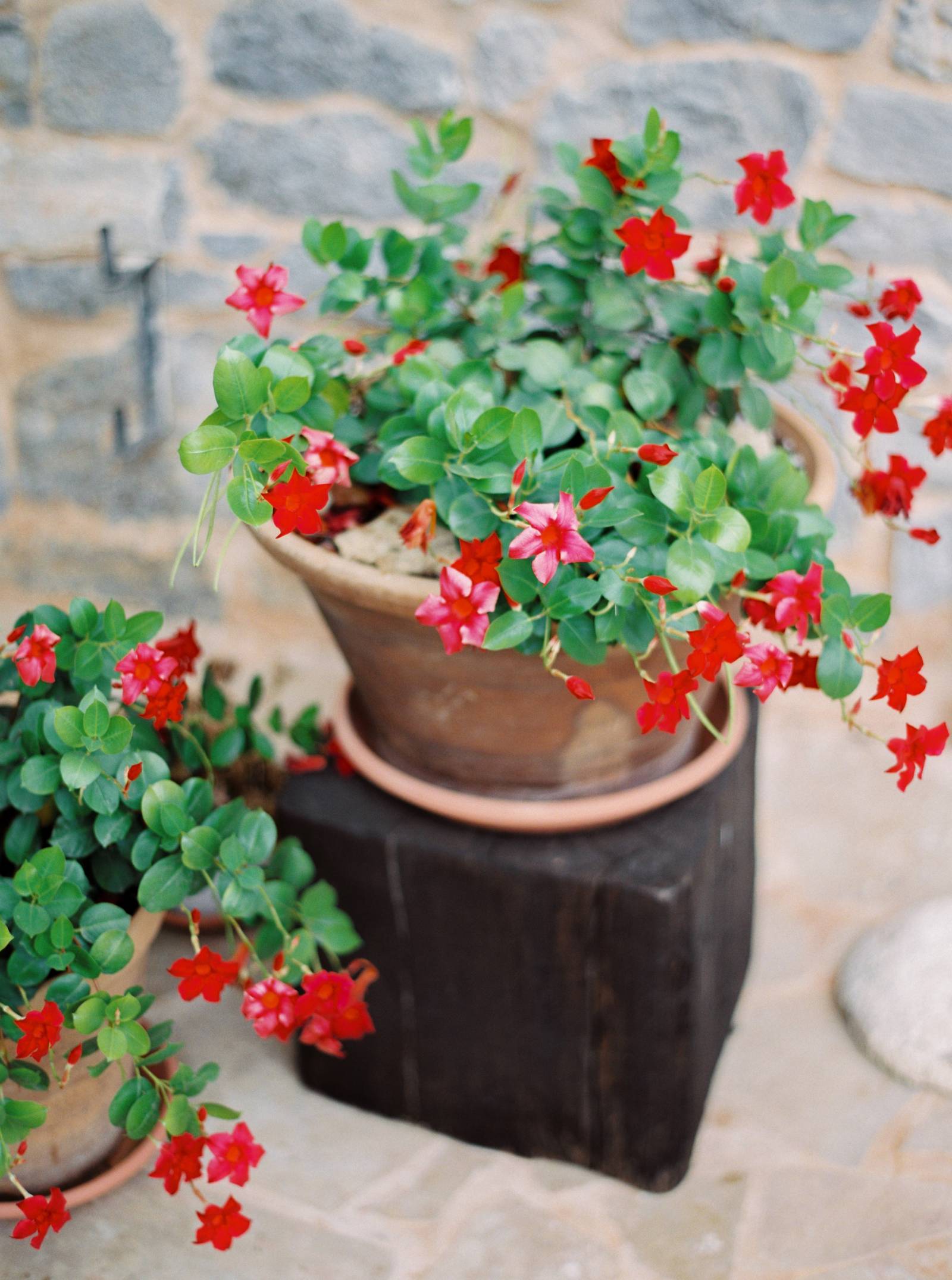 HOW DID YOU MEET? On the dance floor in a Sydney club; it was instant attraction - I loved his Irish accent and his sexy dance moves and Stephen says it was my eyes and knowing smile (whatever that means!) that caught his attention. However we didn't actually date till much later. Stephen went off to Europe for several months holiday straight after we met, then when he got back, I went off to New York and LA for a couple of months - to be honest it almost didn't happen for us! I spotted him on Facebook when I got back and said hello on live chat.... and the rest as they say is history.
TELL US ABOUT YOUR PROPOSAL: Stephen whisked me away to London for my birthday and popped the big Q at lunch, at a gorgeous Spanish restaurant in London's East. It was a total surprise, in fact I was little miffed with him because he didn't give me a present all day... little did I know he was just waiting to give me the ultimate present at lunch. Post lunch, he had organised celebratory drinks with friends of mine who live in London. It really was the best birthday and the ultimate proposal for me - Spanish food and wine followed by cocktails with friends in London - one of my favourite cities in the world.
TELL US ABOUT FINDING YOUR WEDDING DRESS: Every dress I loved was long sleeved and lace - totally unsuitable for the Spanish climate but every time I went wedding dress shopping they kept telling me a simple slip dress and veil would really suit me, however I felt it was a little too simple. Then Solange's wedding cape broke the internet and suddenly there were capes everywhere! I realised a cape was the perfect solution to pair it with a simple slip dress instead of a veil and long sleeved lace dress. I found a very simple and stunningly soft silk slip dress from Grace Loves Lace, another important part of my dress brief - I wanted to wear either a Kiwi or Australian designer as an homage to my Kiwi & Aussie roots. I had a bespoke cape made by my assistant Abalonia Blue, who is also a Costume Designer. We found three cape designs which we based my cape on. I found gorgeous French chiffon/lace online which was super lightweight but it also had a lovely weight and texture to it. I love it so much and really want to wear it out again someday!
ANY DIY ELEMENTS? With Stephen being a designer and me an Event designer & stylist - we worked together on every element of our big day. It was both a joy but also quite exhausting at times, I would probably outsource everything if we had to do it all over again but I did enjoy working on it together most of the time. We designed and printed all of our stationery, creating our own fonts and using them across all our DIY elements - wedding booklet, confetti, menus, signposts on the day, an Ibiza guide for our guests and a custom wedding website complete with our story, anecdotes, itineraries for the week and most important important and fun facts about the island.
I worked on all the styling elements with my amazing team at ETC. - my events design and styling company which I am a Co-Founder with my business partner Seanna Mulrean. We specialise in weddings and events so that was pretty handy. If I could pick one DIY styling element that I really loved - it would be the ceremonial backdrop made from embroidery hoops which we sprayed rose gold and covered with foliage and dressed with simple, white flowers. It was just perfect.
DESCRIBE YOUR WEDDING FLOWERS: Simple, elegant and ethereal. I only used White astilbe. I love its delicate texture and feathery form. I don't like huge bouquets and I'm a bit of a purist - I don't like mixing too many varieties. my one request was please keep it simple. My bridesmaids and ETC. team worked tirelessly through the night on all our bouquets, the flowergirls floral crowns and the floral elements for the decor. Shout out and thank you to my gorgeous Bridesmaid's!
FAVOURITE DETAIL OF THE DAY: It was Stephen's idea - our wedding confetti made using a special love-heart hole punch, of our favourite songs - Love is in the Air by John Paul Young (our first dance song), Into my arms by Nick Cave (our wedding ceremony song), I want you by Marvin Gaye and Into my Room by The Beach Boys. We used the same sheets of music to create cones to hold the confetti.
WHAT ADVICE WOULD YOU GIVE OUT TO A COUPLE PLANNING THEIR WEDDING? Delegate and outsource as much as possible (that's what family and friends are for!) giving yourself more time and freedom enjoy every minute of the big day - it really goes by so quickly! And of course don't sweat the small stuff!!
MOST MEMORABLE MOMENT? Our solo shots with Ana Lui. It was the first moment I had alone with Stephen, it was from that moment that I really began to relax and enjoy myself. Plus Ana is just amazing!! I am her biggest fan! Fan girl alert. It really felt like she was one of our oldest friends helping out on the day. Our photos are so amazing, every time I look at them I think, wow was that really my wedding? She makes us look like movie stars!