Alex & Justin had a beautiful summer wedding at the gorgeous venue of MUDBRICK VINEYARD & RESTAURANT on Auckland's Waiheke Island. With it's beautiful gardens and Tuscan-inspired buildings there was little need to do much in the way of styling so the couple kept it all very simple and incorporated natural greenery and potted herbs into the decor. DEVONPORT FLOWERS added herbs like rosemary and lavender to all the bouquets in keeping with the venues gardens. Thanks to KATE WARK for her gorgeous photos!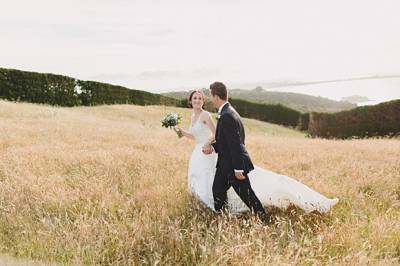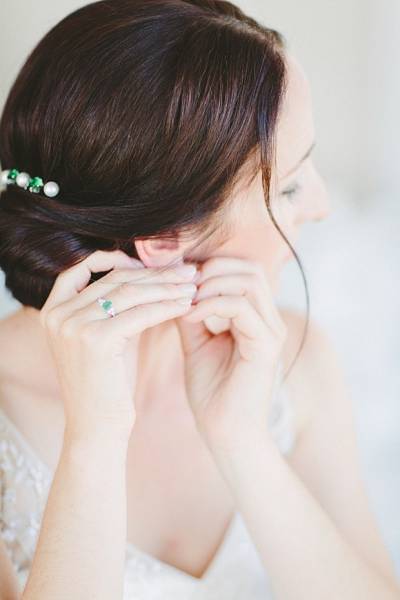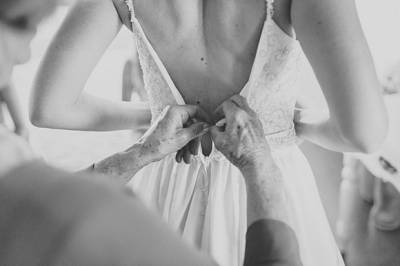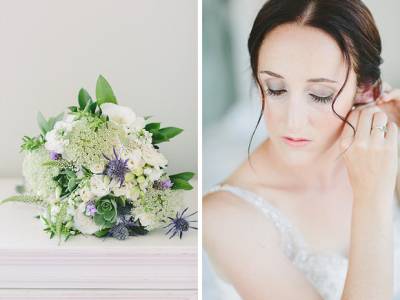 TELL US ABOUT YOUR PROPOSAL: We are both cat people but myself (the bride) in particular. Justin hijacked my date night with Mum going to the ballet and said we were going for a preshow dinner. As it was my 30th the next day or so, I thought it was a birthday surprise. After being seated I went to the bathroom and arrived back to champagne on the table. Justin then said he had a funny cat photo to show me (happens all the time, not out of the ordinary for us). Turns out the photo was of our own precious cat with my engagement ring. The real one soon made an appearance on the dinner table and the rest is history.
TELL US ABOUT FINDING YOUR WEDDING DRESS: I was always planning on getting something made so visited a few boutiques to see what styles I did and did not like. At the last store I went to I ended up finding a dress I loved (that was on the sale rack!) and bought it on the spot almost. Turns out the dress was the easiest decision I made - I spent more time worrying about name tags on favours and gluten free meals.
ANY DIY ELEMENTS? The potted herbs on the table were all DIY. The pots were sourced by Morag from Devonport Flowers and I potted the herbs myself. The favour was a bar of dark chocolate supplied by Devonport Chocolates. I wrapped each one in Italian Florentine design paper (from Passion for Paper) and attached a hand stamped name tag so they served as place settings as well. I used more Florentine paper and a large gold frame to make the seating chart. The bridesmaid dresses were sewn by my Mum too.
WHAT ADVISE WOULD YOU HAND OUT TO A COUPLE PLANNING THEIR WEDDING? Don't sweat the small stuff and keep it in perspective. On the day you will forget how long it took to find that ribbon for your favours, or whether your candles have been set up at a 90 degree angle to each other as you planned. As long as you have your friends and family there to celebrate with you, you have all you need because at the end of the day, that is what made our wedding so amazing - the people.
MOST MEMORABLE MOMENT? Definitely the speeches. They had us in fits of laughter and were amazing. In particular my 9 year old niece Hayley who served as Justin's best man. She gave a speech in front of 90 adults from memory without notes or paper to read from and even opened with a joke. It brought us to tears!
ANY OTHER DETAILS THAT HELP TELL THE STORY OF YOUR DAY: It was really important to us that our wedding involved family and friends in meaningful ways. Our celebrant, Terry Everitt is my boss at Devonport Chocolates and gained his celebrant licence specially to marry us which was amazing. Our DJ was one of Justin's best friends and the reason the two of us are together in the first place. Even the venue came about after a very good friend invited us to Mudbrick to look around as he was a staff member there. Our florist is an ex-next door neighbour knows us through the local tennis club where Justin teaches, as does our MC, Richard who is also involved in tennis and helped Justin become a coach at the club.