If it's backyard wedding inspiration you're after, look no further! Northern California wedding photographers THE GANEYS captured Kyle's & Teale's Bainbridge Island wedding on a beautiful August day. With so many guests travelling to the island, designing their wedding with a sense of place and showcasing the bride's beautiful family home was very important to the couple and at the forefront of the design by wedding planner CALLISTA & CO.
Incredible flowers from Seattle wedding florist GATHER DESIGN COMPANY were a show-stopping and lush display, and perfectly suited to the Pacific Northwest surroundings. A fun and unexpected colour palette of soft pink and french blue was carried throughout the design, and the wedding was all about a cheerful combination of romantic and contemporary details. A light blush invitation box from LIBBY TIPTON was filled with tonal pressed papers, an acrylic invitation card, dried wildflowers, and custom floral + driftwood logos to set the scene for the wedding weekend.
A champagne garden on the balcony overlooking the poolside ceremony featured a variety of sparkling wines and garnishes. The bride dazzled in an Ines Di Santo gown and colourful Christian Louboutin pumps. The bridesmaids each carried a unique posey bouquet with one type of flower. Instead of a traditional guestbook, guests left notes in six custom acrylic boxes with prompts like marriage guidance, date night ideas, and travel tips. Guests followed a bagpiper from cocktail hour in the garden to a classic sailcloth tent on the waterfront. The tent featured a statement floral entrance, a grand circular bar in the centre, and sleek brass chandeliers overhead.
The bride's father always called her "the sparkler" so we created a "Let Sparks Fly" escort card display featuring sparkler numbers for each guest. An abundance of flowers in contemporary white boxes lined the centre of each long dinner table. As guests took their seats at the blue linen tables, they found one-of-a-kind place cards, which were custom-made with pressed wildflowers in acrylic, then topped with hand-scripted names. Guests were treated to a plated salad course followed by an assortment of artisanal chef attended stations from Lisa Dupar, a tiered cake from Honey Crumb, and both sweet and savoury tray-passed late-night bites. Then everyone danced the night away with music from Phil and Jessica Long, and an amazing Dart DJ accompanied by a trio of horns.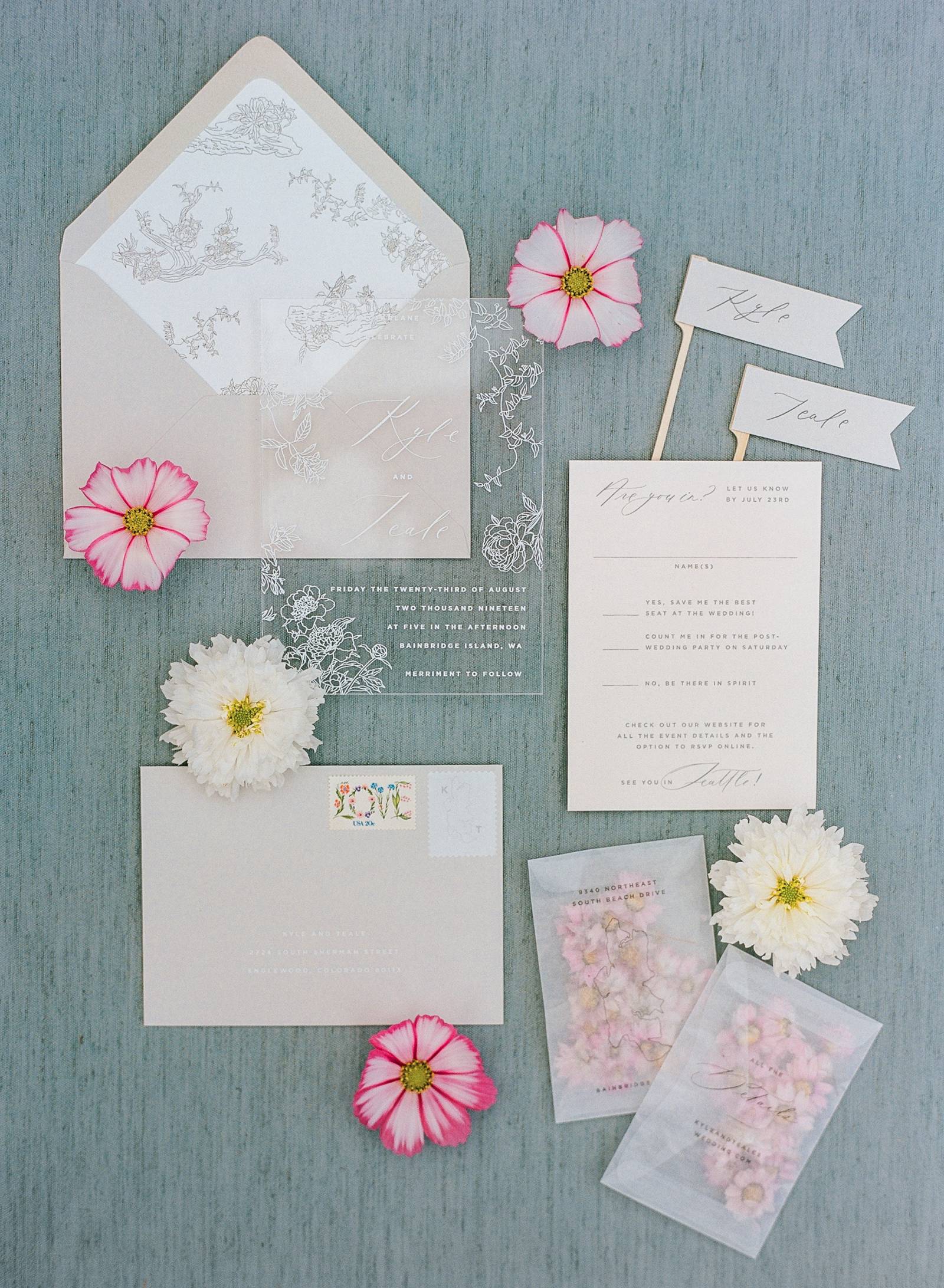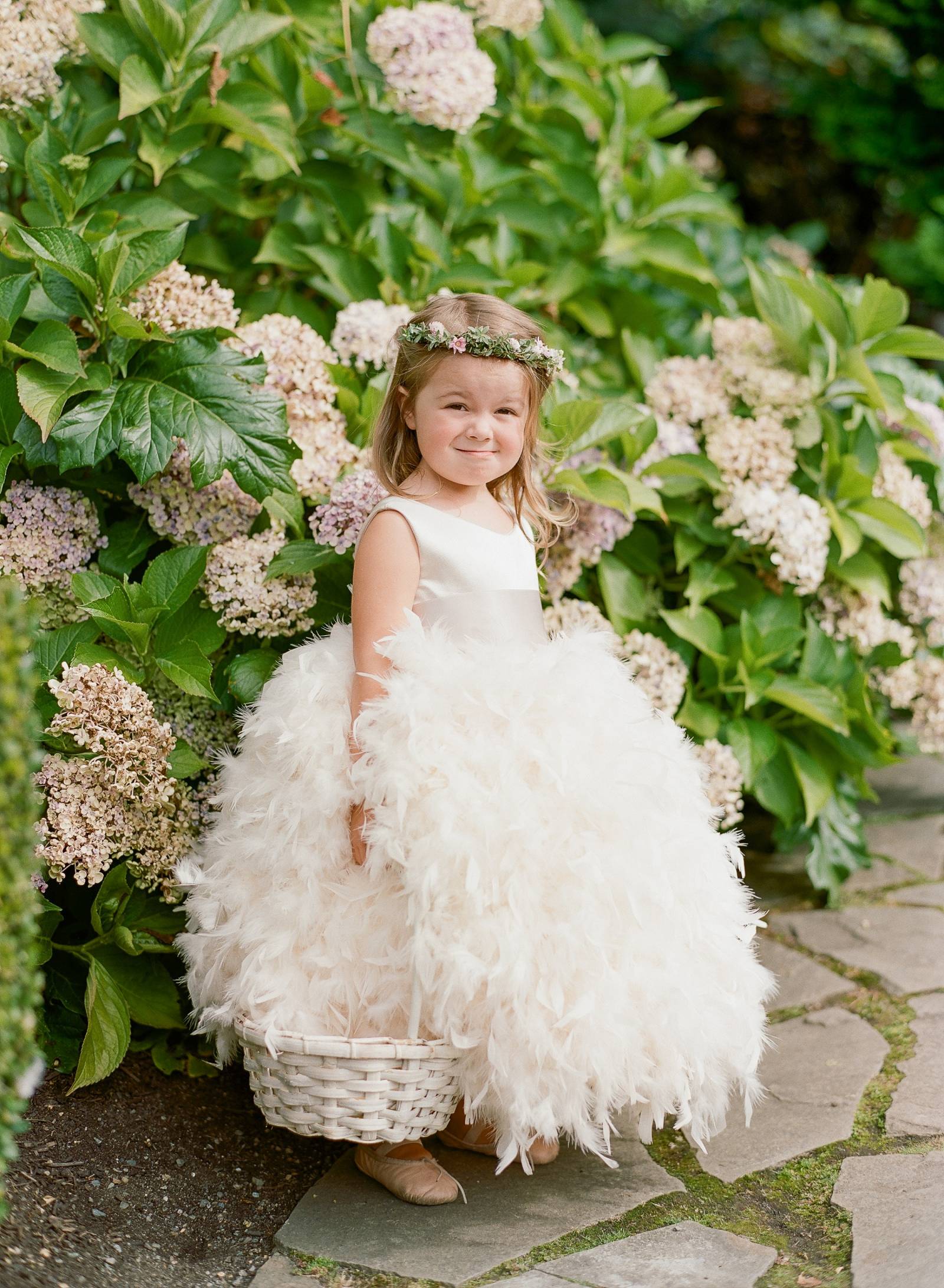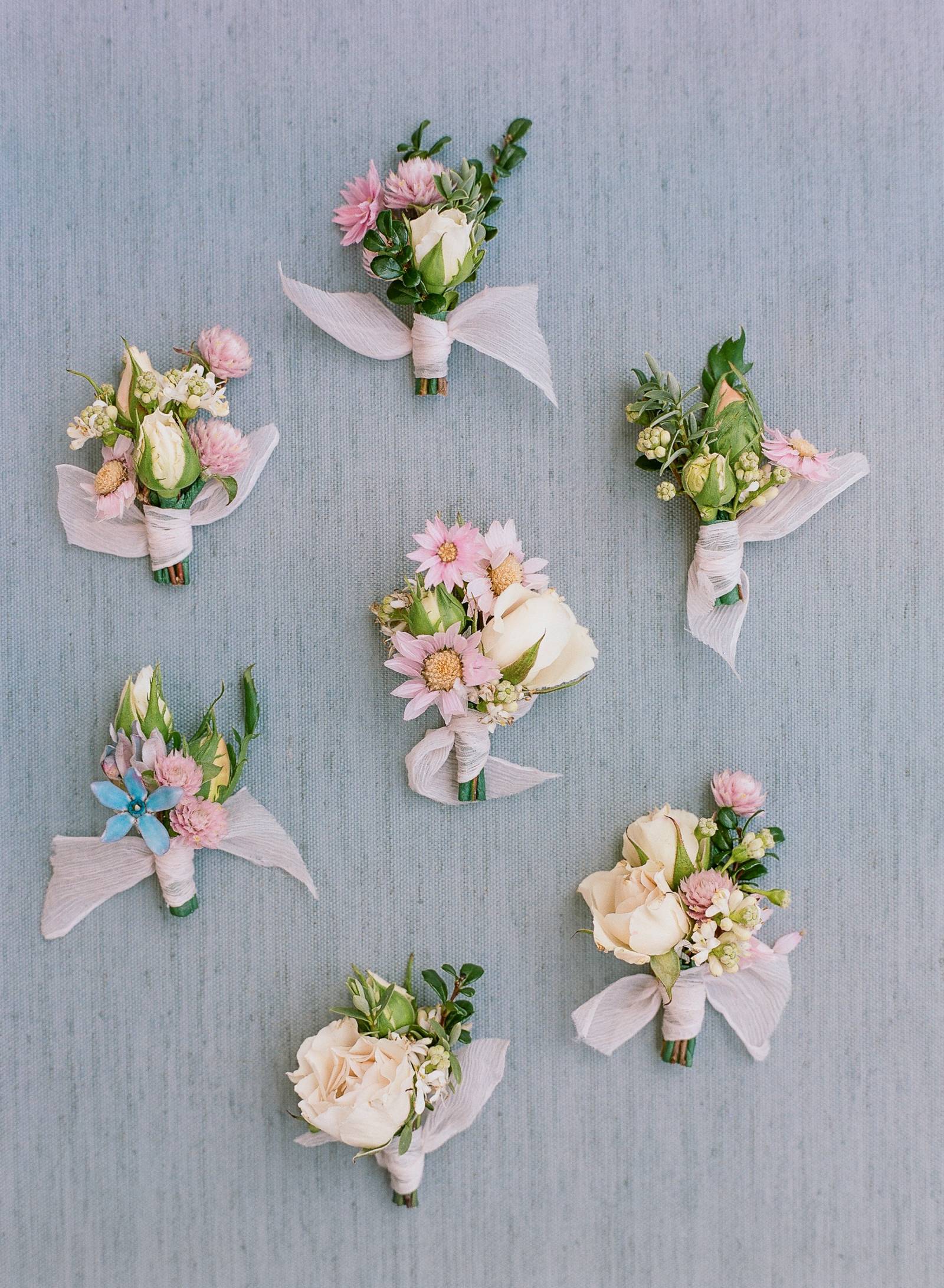 HOW DID YOU MEET? Teale and I first met in college. We were both soccer players for the University of Denver. But Teale was three years behind me in school so while we knew each other, we didn't really interact much. Over the years, since we had so many mutual friends, we continued to run into each other. Finally, in late September, one of our mutual friends posted an article on Facebook about Teale from the DU alumni magazine just spotlighting where he was in life. I sent him a facebook message congratulating him and we went on our first date the next night.
TELL US ABOUT YOUR PROPOSAL: One of our favourite places in the world is my parents house in Palm Springs. We planned a trip there with some friends for the weekend after Teale's 30th birthday. Teale and I flew in on an earlier flight and our friends were scheduled to fly in later that evening. When we got to my parents house which is in this little golf club community, my mom said we needed to grab cocktails and we were going to look at an open house in the neighbourhood (not unusual for her to want to do this!). So, Teale and I jumped into one golf cart and my parents in another. We started driving down the road and Teale took a sharp left onto the golf course and up this hill. At that point, I was a little confused! We got to the top of the hill at a place called Patton's Bunker and suddenly my parents were nowhere to be found but I saw a path lined with candles in those little bags and a bucket of our favourite champagne, glasses, and a huge barrel of white roses. He started walking me down the path and his voice was shaky and I was crying. Once we got to the champagne and roses he got down on one knee and proposed! I have no recollection of what he said. But I said yes! It was perfect because we got to spend time alone for about 45 minutes after. When we got home our friends were there and he had my sister and her husband surprise us too!
TELL US ABOUT FINDING YOUR WEDDING DRESS: I had no idea what kind of wedding dress I wanted. I really felt like I could have picked any number of dresses and been perfectly happy. I knew I didn't want a ball gown and I wanted something I could dance in. I found this beautiful INES DI SANTO dress with buttons all the way down the back and it was perfect! But, I was most excited about my rehearsal dinner outfit. It was an INES DI SANTO jumpsuit that was lace and completely sheer. We had to have a piece sewn in so it wasn't see through!
DESCRIBE YOUR WEDDING FLOWERS: Our wedding flowers were spectacular! They were whites, greens and pinks. We knew we wanted flowers everywhere.
TELL US A LITTLE ABOUT YOUR HONEYMOON: We started our honeymoon in Agrigento, Sicily and then went to Taormina, Sicily (which ended up being our favourite place!). From there we went to Positano and Rome. We spent most of our time on beaches, at the pool, walking around the towns and sight-seeing. We went wine tasting, took a cooking class, and drank aperol spritzers daily. One of our favourite things we go to do was a private boat ride around Capri. The water was a bit rough that day so they had stopped the guides going into the blue grotto (which they do by small boats). Our guide told us that if we were 'strong swimmers' we could swim into the blue grotto. I was a little bit nervous but we did it! We ended up being the only two people in the blue grotto which was an unbelievable experience.
Thank you to Northern California wedding photographers THE GANEYS for sharing this truly beautiful wedding with us today. As a husband and wife team, Emily & Thomas are driven by capturing real moments and documenting love stories in an organic way. "Some of the favourite aspects of our job are hearing unique stories, meeting amazing people and capturing love that can move mountains. We seek out couples whose weddings embody these ideas. We're inspired by authenticity and adventure, and as your photographers we'll rejoice in celebrated moments and tear up during emotional ones." You can see more of their work in the MAGNOLIA ROUGE VENDOR GUIDE and you might also want to check out this Old world meets modern day in this wedding inspiration at Vizcaya Museum & Gardens.