When the bride is a buyer for Bloomingdales, you know the celebration is going to be chic and stylish and this stunning wedding captured by South Carolina wedding photographer ELIZABETH LANIER was all that and more. Held at PALMETTO BLUFF - a place the bride describes as her family's happy place - Mariana & Nick wanted to harness the sense of nature and history by accentuating the landscape with an organic, clean, and elevated aesthetic. Wedding planner BELLAFARE together with florist KATELYN PINNER STUDIO helped them pull it all together.
Set against the idyllic May River, Spanish moss-strewn oaks, and picturesque ruins, PALMETTO BLUFF is nothing short of mystical. KATELYN, mixed lush white blooms and greenery with natural raffia and wood accents throughout each space. Lighting was really important to the couple, as they wanted to mimic the mood set by the flickering lamps that illuminate the property at night. They found some amazing basket lanterns that created a dramatic installation above the large farm table and incorporated an abundance of candlelight throughout the spaces they used, all of which created this magical glow once the sun set.
The night prior at the rehearsal dinner, they took a more literal approach to celebrating the Bluff by throwing a low country boil. Guests arrived on trolleys and were greeted with oyster shell place cards, the famous Little Brown Wagon bourbon cart, and an authentic oyster roast. "We wanted to differentiate from the white and green scheme of the wedding, so went full-on colour for the night before. We drew inspiration from French flower shops, incorporating vibrant floral arrangements in galvanised buckets and planters throughout the space."
Talking about their photographers they tell us, "Sarah Elizabeth and Will were a DREAM to work with. Aside from being incredibly talented, they were beyond kind, fun, professional and put everyone at ease on the wedding day. They were such a highlight throughout the entire weekend and we couldn't have asked for a better photography duo to capture our special day. I never doubted the photos would be amazing, but they truly exceed all expectations."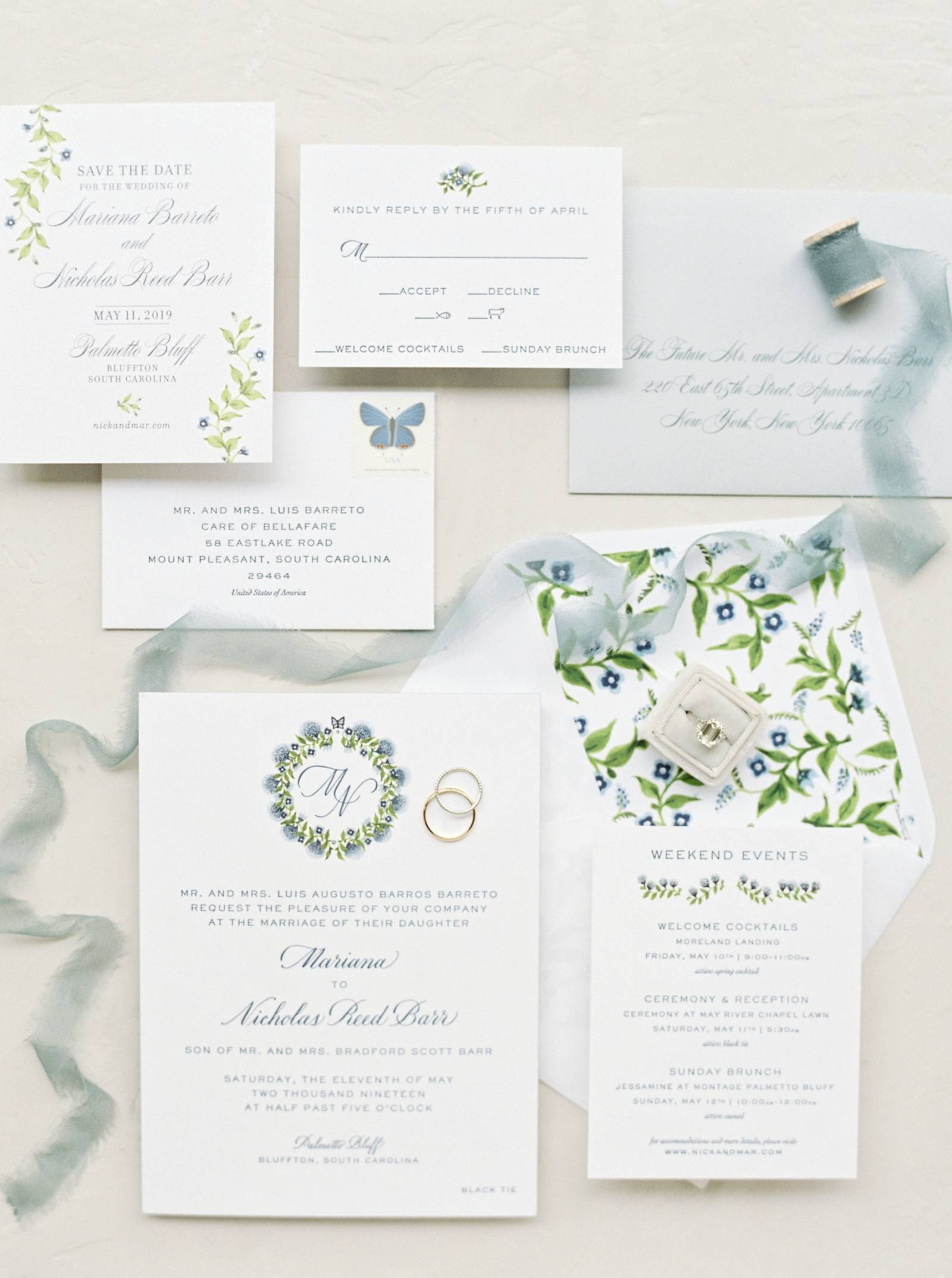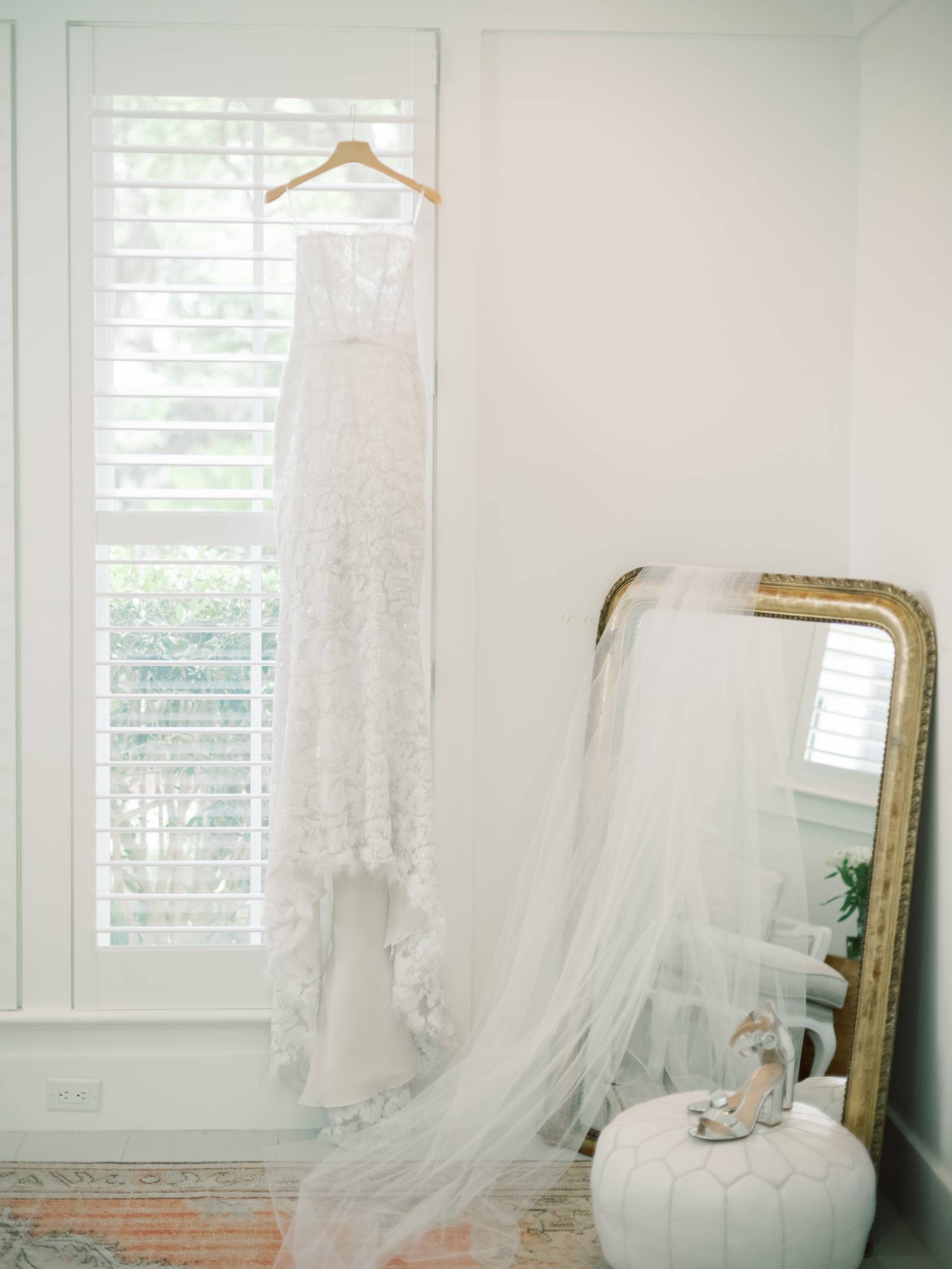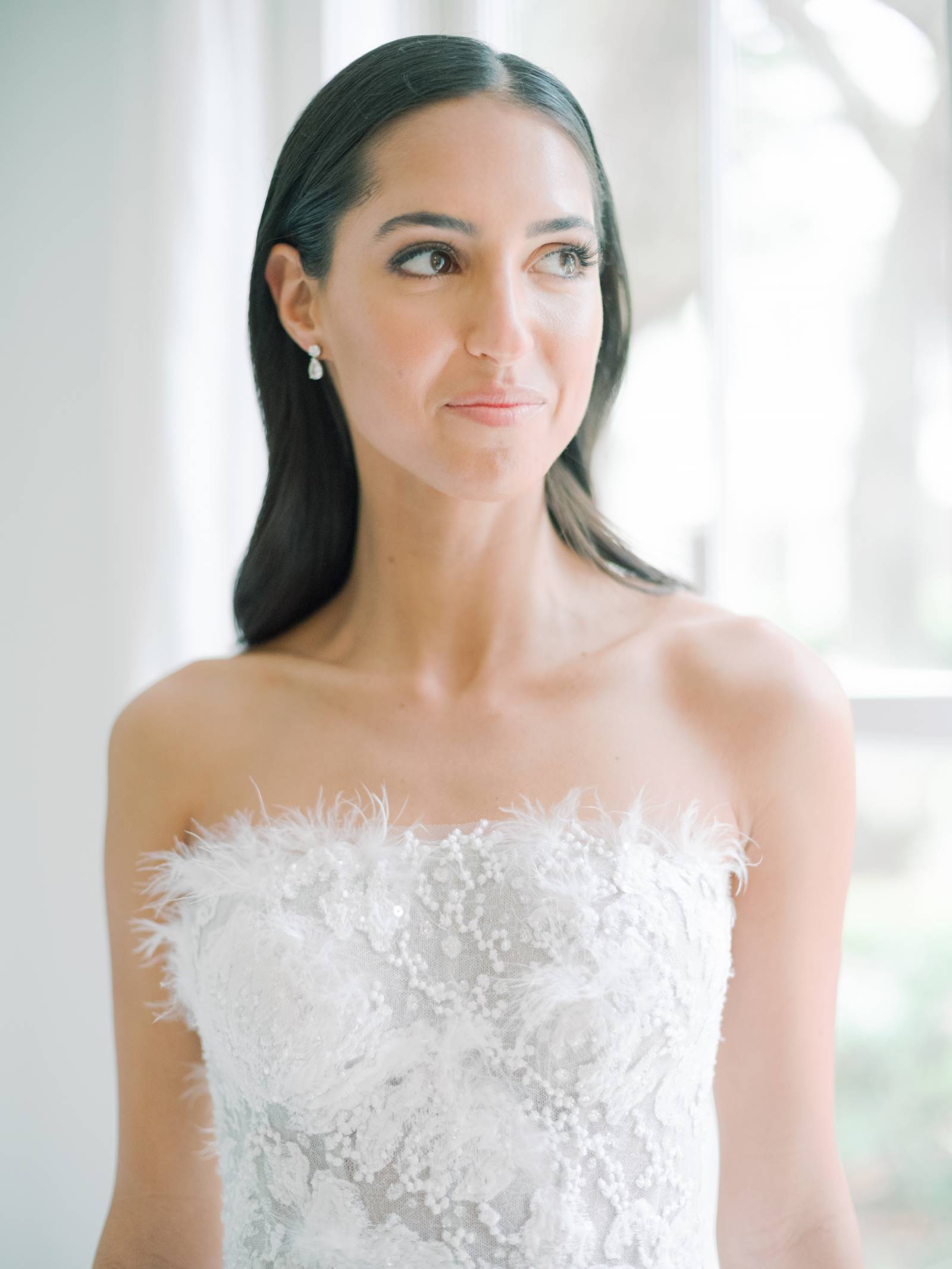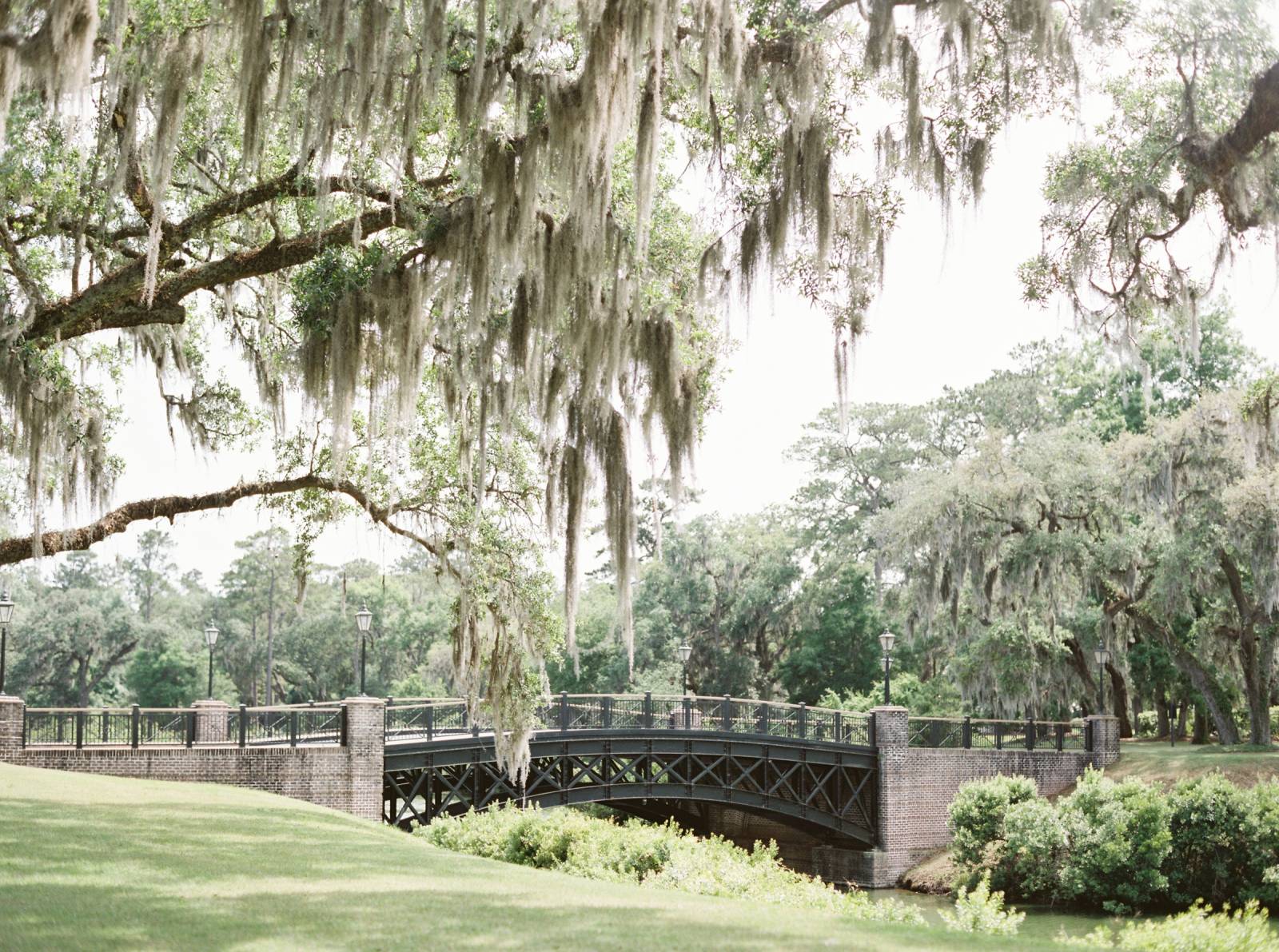 HOW DID YOU MEET? Nick and I met 10 years ago. My best friend from Cornell went to high school in NYC with Nick and introduced me to him at a NYE party at his parents' apartment. At the time, he had a girlfriend, but I declared to my friend after the weekend, "I'll date him one day." Fast-forward four years later, I was right!
TELL US ABOUT YOUR PROPOSAL: The ruse for the proposal started with my grandmother visiting from Brazil. Nick's family had never met her so they decided to host my family at their country house in upstate NY for Mother's Day. My mother-in-law had arranged for us to get massages at the house, declaring it was "girl's weekend". Upon finishing my massage and getting dressed for the night, I walked into the house to find our parents hanging around the kitchen. I'm asked to go fetch Nick for a family photo and, instead, wind up walking into a trail of rose petals (30,000 to be exact) leading me from the living room to the porch where Nick was standing. I wish I could recall what he said, how I felt, or if I even said yes, but all mental capacity failed me. With a ring on my finger, my father-in-law guided us downstairs to pop a special bottle of champagne he saved for us in the wine cellar. As I approached the cellar door, my best girlfriends jumped out and surprised me. We spent the rest of the night eating, drinking, and dancing...second to the wedding, it was one of the best nights of my life!
TELL US ABOUT FINDING YOUR WEDDING DRESS: With my mom and sister also in the fashion industry, we revelled in putting together a wedding wardrobe. For the rehearsal dinner, I wore a Markarian silk slip with jewelled details and arm bows; a dress I immediately fell in love with early on. My search for a wedding dress was not as obvious... I went into my first appointment with THE GUY AT SAKS looking for a deep V, no lace, and definitely no bling and came out of my second appointment with strapless, beaded lace, and...feathers. I had my eye on Mira Zwillinger gowns from the beginning - she is a master of meticulous detail and femininity - and knew I wanted something that was fashion-forward, yet timeless, something that felt very "me" and very much not like everyone else (read: not all over my Instagram). The minute I put on the 'Odessa' I knew it was the one. As it turns out, it truly was one-of-a-kind, as it was and will be the only one made!
For the reception, I changed into the perfect Miu Miu party dress. My sister spotted the dress, which was styled as a top tucked into pants, in the window of the Madison Avenue store. We buyers know how to spot a good dress when we see one!
The jewellery that I wear on a daily basis is all very personal to me, so my wedding day was no different. I wore my mom's diamond drop earrings (my something borrowed), my grandmother's diamond, ruby, and sapphire ring that she gifted to me the morning of the wedding (my something old), and a tennis bracelet, Nick's wedding gift to me (my something new), made by my sister's dear friend, Eva Fehren. I wear very little make-up on a daily basis, so I wanted to find someone who could bring on the glam, while still making me feel like myself. Cue my hair & make-up superhero, Meg Workman, who executed the perfect soft wave and natural glow.
Nick wore a Ralph Lauren Purple Label tux, Cartier cufflinks (my wedding gift to him), and a Rolex gifted to him by my parents on our wedding day.
WHAT DID YOUR ATTENDANTS WEAR? "Happy colours" was the only guidance I gave my bridesmaids. Stylish on their own (and total babes), I wanted them to wear what they felt comfortable in and could ideally wear again. They ended up choosing a mix of florals and solids in pretty pastels and, not surprisingly, looked absolutely beautiful. Everything came together when my sister found an ERDEM stunner, a navy embroidered gown with blush lining, and became my "something blue". Nick's groomsmen matched in classic black tuxes, custom monogrammed pocket squares, and matching dress socks.
DESCRIBE YOUR CEREMONY FOR US: Our ceremony took place on the chapel lawn against the backdrop of the May River. The aisle was lined with a runner of lush white and blue hydrangeas mixed with greenery, a nod to the artwork my incredibly talented aunt (@jackiebarretoart) designed for our invitation suite. I would be remiss not to give a huge shout-out to Mother Nature for gifting us a perfect 75-degree sunny day.
The beauty of the location was only outmatched by the beauty of the ceremony itself. We asked a close friend of the family to officiate the marriage, as we wanted the ceremony to feel intimate and personal. JP masterfully weaved our story as a couple, a passage from Paulo Coelho's, "The Alchemist" (a nod to my Brazilian heritage), and our own vows into a beautiful program that left not a dry eye in the crowd.
HOW DID YOU FEEL DURING THE CEREMONY? The ceremony was my favourite part of the whole weekend. It is easy to get caught up in the flowers, food, and fashion, but we wanted the reason why we were all there--our marriage--to be a focal point, not an after-thought. Despite standing in front of a group of 145 of our closest family and friends, it was during the moment of exchanging our vows that it felt like it was just the two of us. The happiness and love during the ceremony reverberated throughout the night and really set the tone for the entire weekend.
TELL US ABOUT THE RECEPTION: We wanted our reception to emulate summer nights spent upstate when our family sits down at a big table for a candlelit dinner filled with great food and wine - an experience most of our wedding guests have shared with us - so we separated the dinner from the dancing. The tented dinner was set along the ruins on the Village Green with live music playing as guests were served local grouper with blue crab pirlou or filet mignon. My father kicked off the night with a welcome toast; not surprisingly, a remarkable combination of humour and heart. My sister, the maid-of-honour, followed with a tear-jerking account of our relationship and Nick's seamless transition into the family, and Nick's brother, the best man, had everyone crying of laughter, sharing tales of their partner-in-crime shenanigans and delighting the Brazilian contingent with his Portuguese. Did I mention it was the first time my Brazilian family, 34 relatives strong, was together in one place in 19 years?!
After dinner, we moved to the River House to get the party started. The room was draped in a canopy of lights with walls of French doors open to the wrap-around veranda. We danced the night away thanks to epic music by The Social/Elan Artists.
A huge thank you to South Carolina wedding photographer ELIZABETH LANIER for sharing this truly stunning wedding with us. Specialising in destination weddings, Sarah and Will of Elizabeth Lanier Photography, capture sophisticated, adventurous, and wildly in love couples all over the globe. Their passion for documenting authentic love stories and genuine relationships between the clients they photograph inspires discerning couples worldwide to entrust their most cherished memories to Elizabeth Lanier Photography. Head over to their portfolio to see more and be sure to check out this Fresh, lush green and white wedding inspiration.