There is something so sweet about this Upstate New York wedding by Vermont Wedding photographer CHRISTINA BERNALES. From the gorgeous blooms by FLOWER BLOSSOM FARM to the brides LEANNE MARSHALL wedding gown it's all as pretty as a picture. Amy & Andrew wanted a venue in the great outdoors with lots of natural scenery - something that was rustic yet modern and relaxed. Having met in upstate New York getting married in the Catskills made perfect sense and it offered their guests the chance to have a weekend retreat from the city. With stylish on site accommodations they were able to take advantage of having a full weekend of festivities.
HOW DID YOU MEET? We met in college at a rush event for a professional business fraternity. Andrew still remembers what I wore that day and my firm handshake. We started to "study" together at the campus library but were obviously distracted by each other. At just 19 years old, we knew we had found "the one".
TELL US ABOUT YOUR PROPOSAL: We got engaged in Osaka, Japan in March 2015. We spent the day exploring the city and enjoying Japan's renowned cherry blossoms blooming all over the city. Andrew surprised me with a room upgrade at the Ritz Carlton Osaka to a beautiful traditional Japanese suite prepared with champagne, rose petals, chocolates, and balloons (although some of his instructions to the hotel staff were lost in translation!). After the proposal, we enjoyed the rest of our trip in Japan as our "engagement-moon"!
TELL US ABOUT FINDING YOUR WEDDING DRESS: Honestly, shopping for the "perfect" wedding dress was one of the most stressful and exhausting things of wedding planning for me. Even though I live in NYC and have access to as many designers and bridal boutiques as one can possibly have, it took me by surprise how long the process actually took. But I was both thrilled and relieved when I found my beautiful gown at Leanne Marshall's boutique. It was understated, classic, super comfortable to wear, and I just felt so natural and "me" in it. I've never felt more beautiful in my life.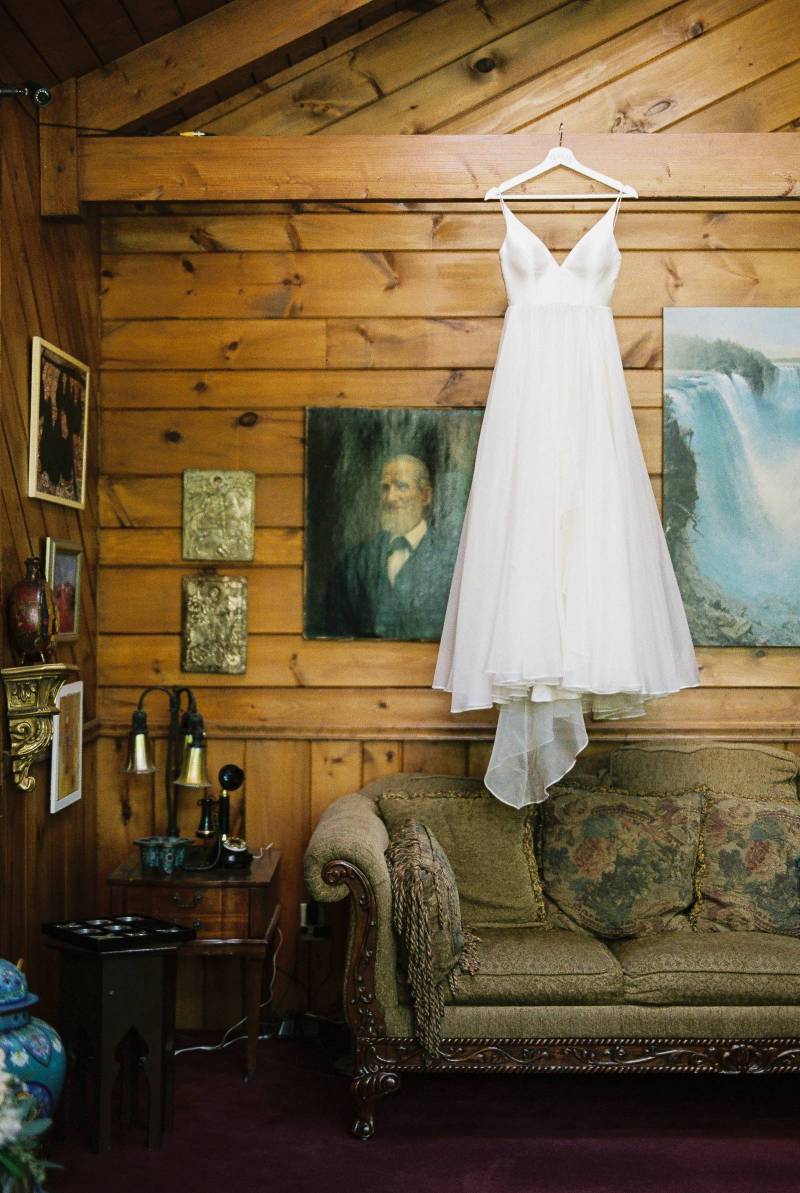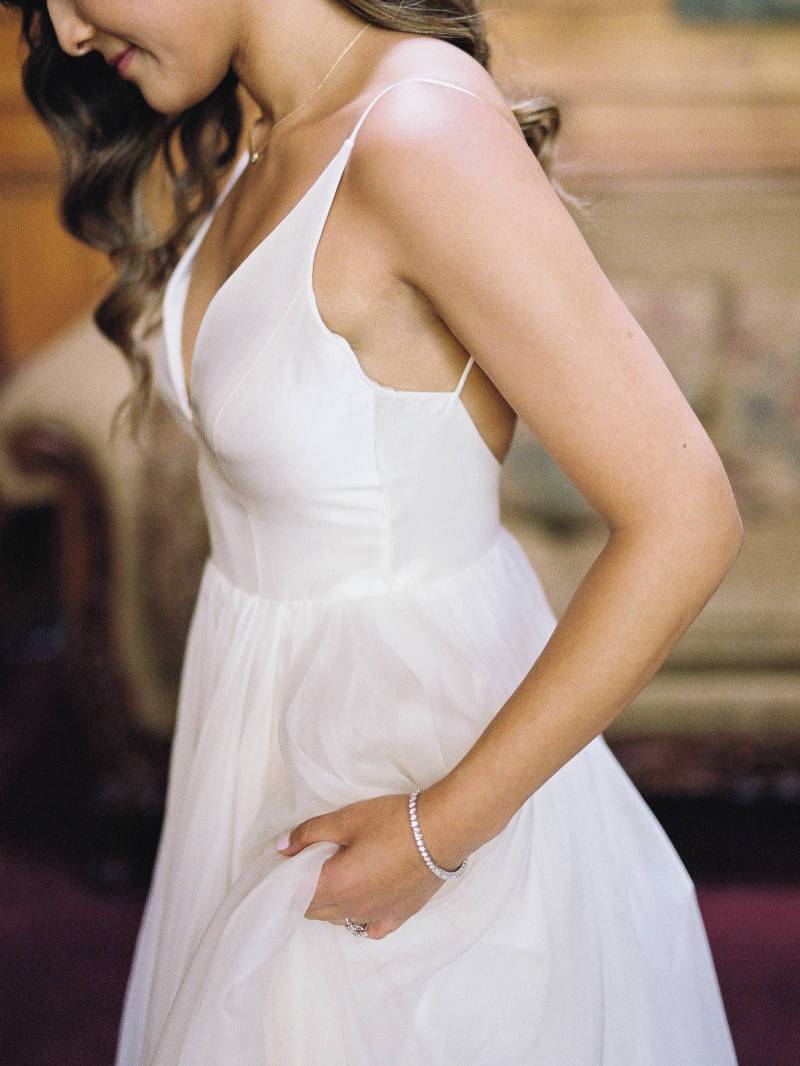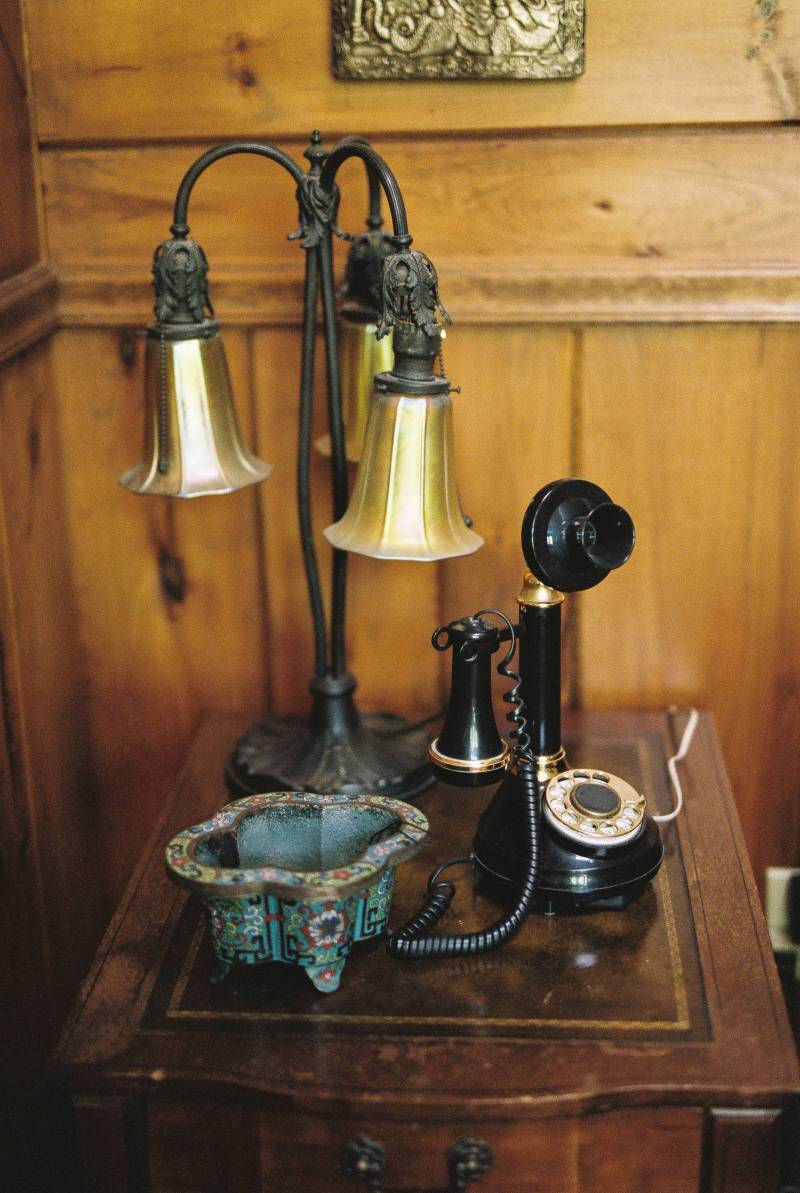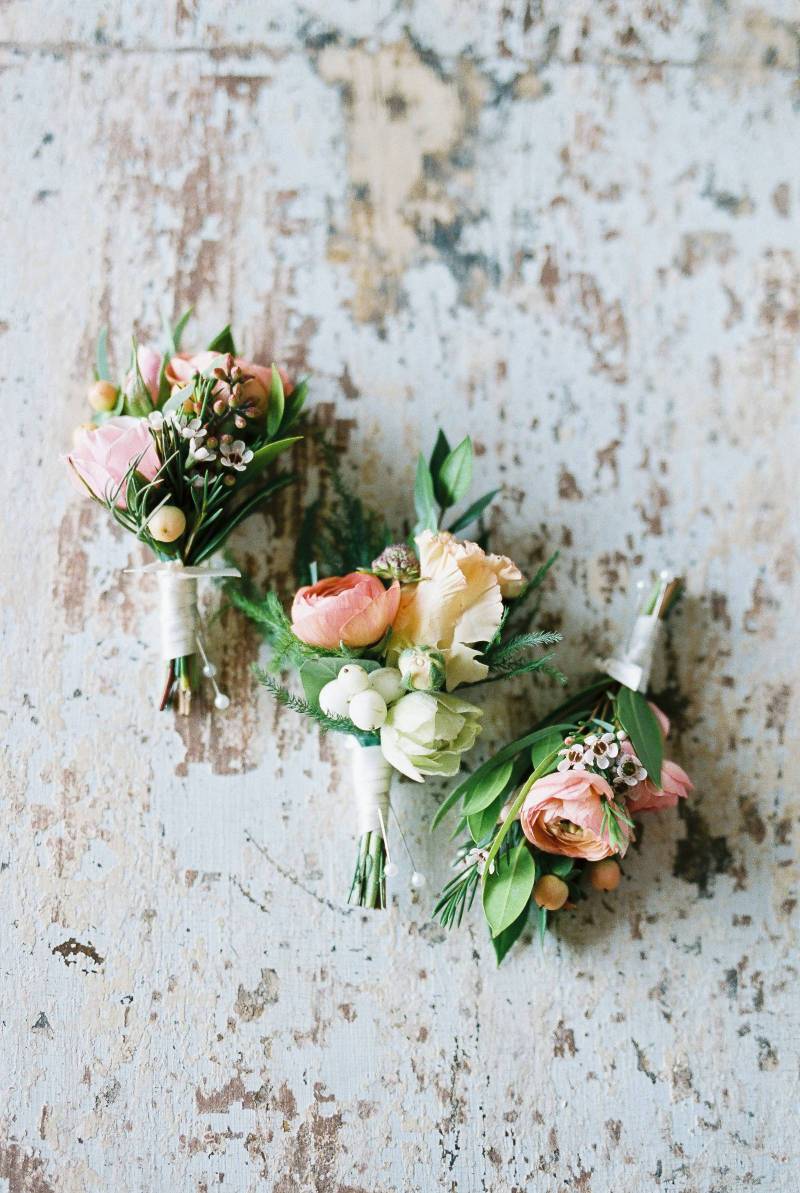 ANY DIY ELEMENTS? Our wedding favours were Andrew's favourite homemade granola, which I made by hand and packaged in little mason jars decorated with stickers of our wedding logo (which my cousin helped to design). They also served as our place cards which I had calligraphed tags with our guests' names. The signage (dinner, cocktail, and bar menus, and welcome sign) were also DIY elements - calligraphed on chalkboard paper. The personal touches and DIY elements were one of the most enjoyable parts of wedding planning for me.
DESCRIBE YOUR WEDDING FLOWERS: Wedding flowers were one of my favourite parts of the entire wedding process. I chose to go with a local flower farmer, Kim, who was absolutely amazing. We went with soft pinks/peaches, with whites and greenery incorporated. Our flowers included garden roses, ranunculus, anemones, dahlias, lisianthus, etc. I loved looking at the bouquet throughout the day and spotting a new type of flower each time - it was like every time I looked at it, I found a new beautiful detail in the bouquet that I didn't notice earlier. I also loved how the design/arrangement felt more natural, wild and organic, versus the more "put together" look.
FAVOURITE DETAIL OF THE DAY: I absolutely loved wearing my beautiful flower crown! I didn't want to take it off at the end of the night!

WHAT ADVICE WOULD YOU GIVE OUT TO A COUPLE PLANNING THEIR WEDDING? Try to enjoy and take pleasure in the planning process -- it's not always about the destination/end result, but the journey as well!
MOST MEMORABLE MOMENT? So many moments were memorable of course, but we were really excited to hear each other's vows (we agreed to write our own) and our personalised ceremony delivered by our dear cousin whom we asked to be our officiant.
ANY OTHER DETAILS THAT HELP TELL THE STORY OF YOUR DAY? I think that the farm animals added a fun flare to the venue - the mini horses, alpacas, one random turkey, goats, and bunnies - it made the wedding fun and a little different. The guests seemed to have enjoyed them!
IS THERE ANYTHING YOU WOULD CHANGE OR DO DIFFERENTLY? Nothing major, but I do wish our venue had their logistics in order, as I was disappointed in how the venue was run and managed. However, we acknowledge that that wasn't something that was under our control - our wedding venue had major staff turnover just before our wedding which was unfortunate for us. That being said, I would definitely suggest booking a venue with lots of wedding experience and a venue that you trust and feel comfortable working with because a smooth wedding depends so much on the venue making sure everything is functioning as it should.