For florist and event designer SHEAN STRONG it was a great honour being an integral part of Shanna & Evyn's wedding - seeing as they were both childhood friends of his. After taking a risk and playing matchmaker for the couple, he was delighted to see the two quickly become inseparable. Dealing with the rapid changing environment due to Covid-19, Shean helped the couple consolidate their ideas into one cohesive style which was beautifully captured here by Florida wedding photographer LOVE & COVENANT PHOTOGRAPHY.
The original plan was to have 300 guests celebrate with them, and involved getting married in the church the bride had grown up in, but with the unexpected restrictions that Covid-19 brought, the couple were forced to scale back their weddings tremendously to include only immediate family and a handful of close friends. The bride wanted a wedding that felt classic and timeless with whimsical elements which would make it unique to them. The end result was a beautifully simple outdoor reception, with family-style tables covered in textural linens, lined with candles and a collection of bud vases paired with gold rimmed crystal votives to set the tone for the evening.
Shean shares with us "One thing that I hold true to; regardless of the size of the events I'm planning, are the details. Detailing truly makes the design and I wanted to make sure every moment would feel as intentional as Shanna originally imagined. With less than two weeks to adapt - reconfigure, readjust and solidify the changes. As Shanna was thrust into this unknown, she chose to completely trust what I envisioned for her, under the new circumstances. Shanna is a testament to what can happen when you trust your wedding designer. With fresh flowers being nearly impossible to come by, preserved and dried flowers became the style of choice for Shanna and Evyn's wedding. After securing a private home in Savannah, Georgia. I knew the direction we were going to go.
For the couples wedding shower, my girlfriend and I gifted a Bougainvillea to them, symbolising new beginnings and a passionate relationship, a perfect reminder for them to watch grow in their new home. When thinking of her bouquet, I knew I wanted to add in a scent that would appeal to her sense-memory and recall her wedding day anytime she smelled it; hyacinth. I also incorporated dried palms, butterfly ranunculus and various dried blooms to create a neutral and beautiful bouquet. And the final touch, I incorporated dried Bougainvillea into her bouquet to once again represent the couples' new beginning.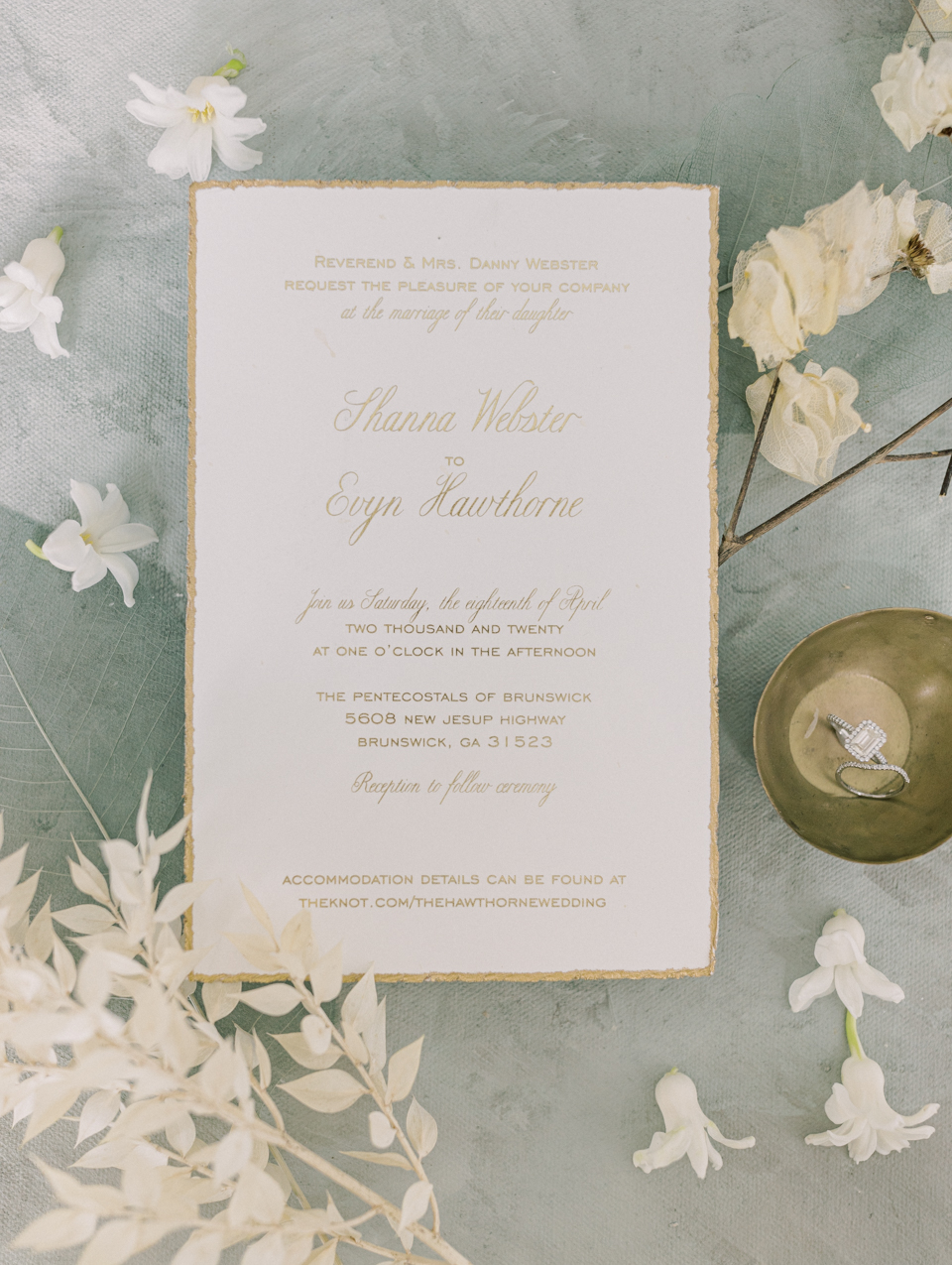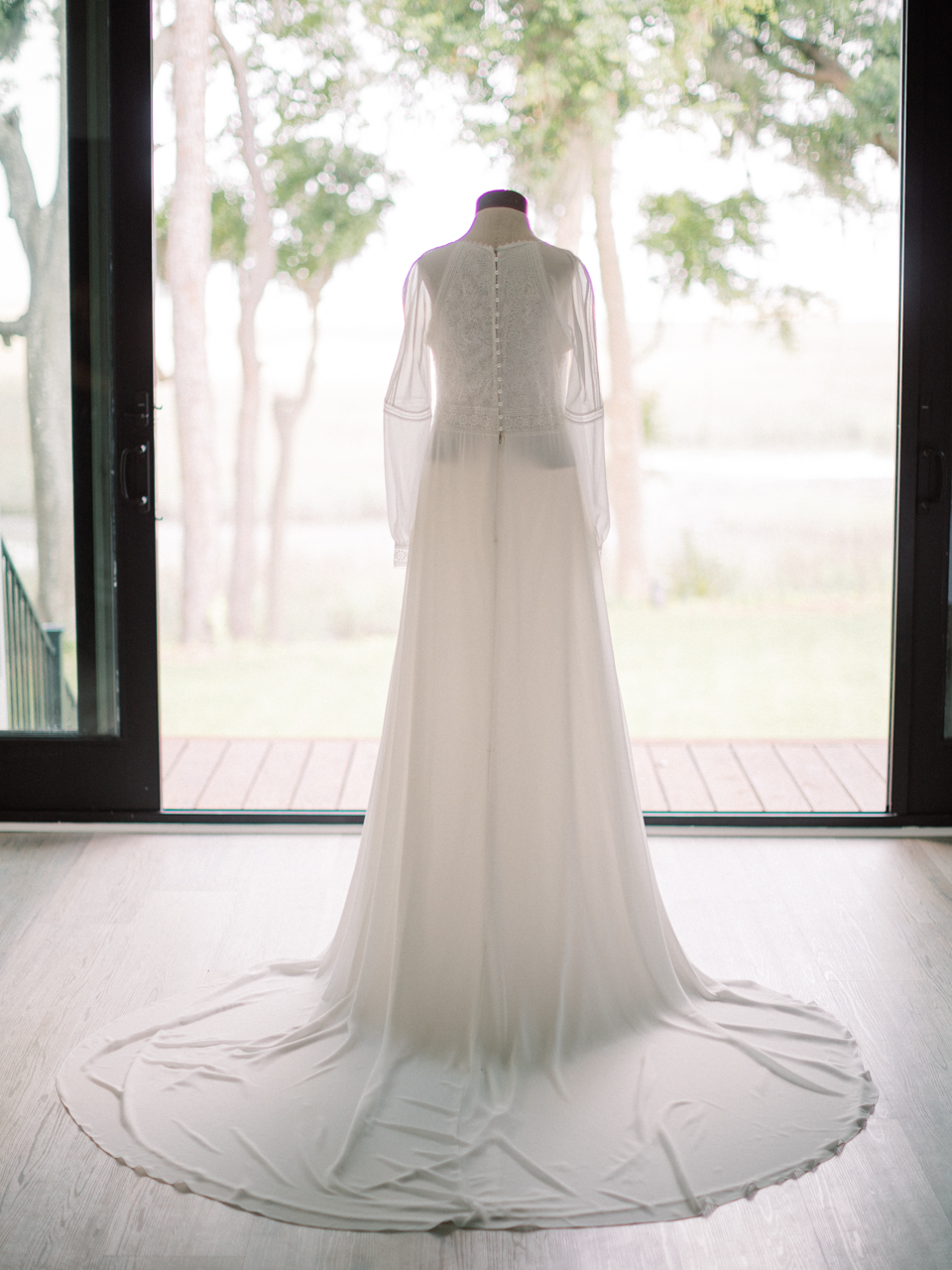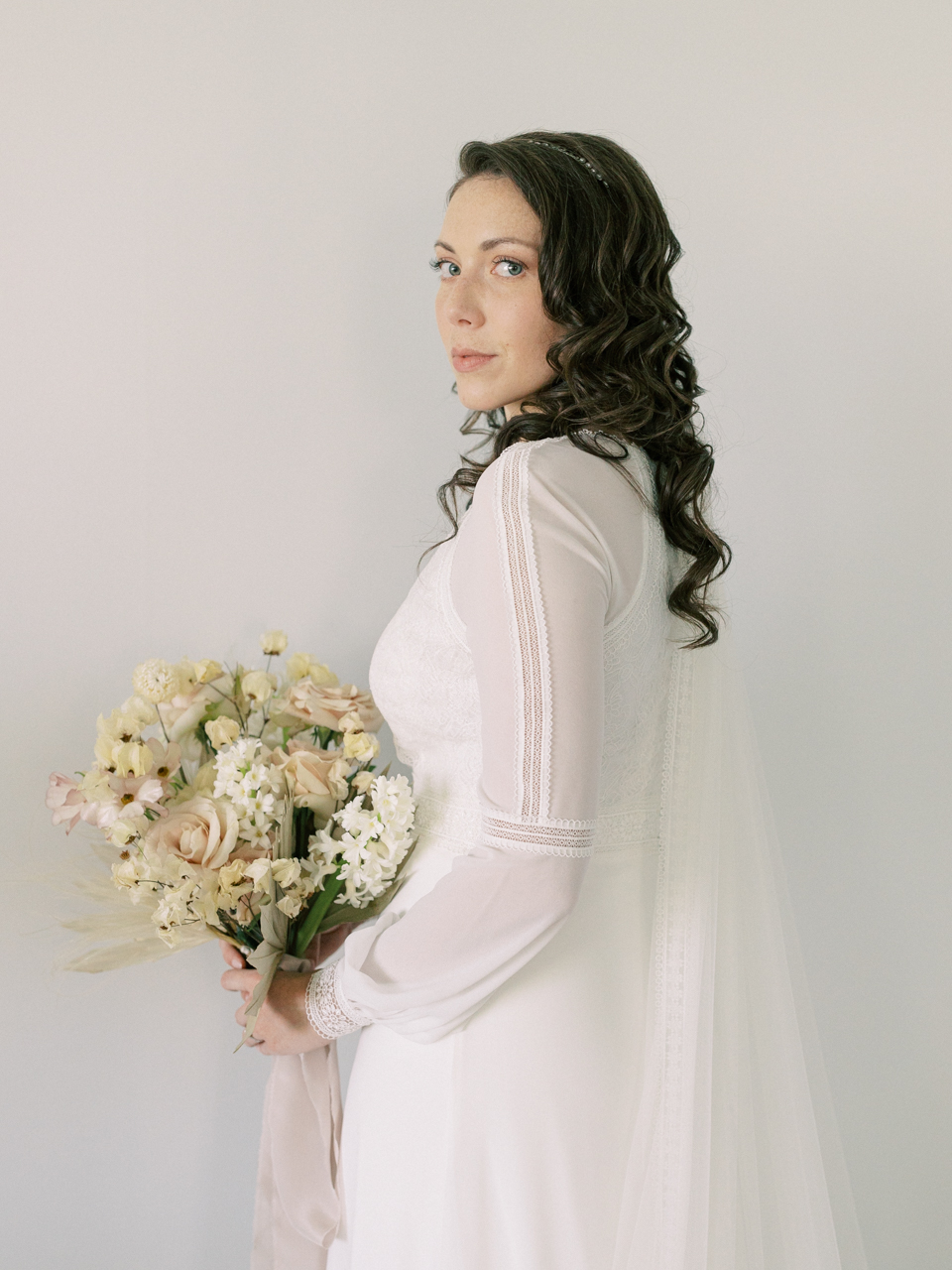 WHY DID YOU CHOOSE THIS LOCATION? Before the pandemic, our guest list was at 300+ people and we were going to host it at my fathers church in my hometown. After we scaled it back to 30, the church was too large for an intimate gathering of that size. The hunt began for venues that were open during the pandemic but we came up blank. Our next plan was to try to find a large house to rent on AirBnB that would allow a wedding ceremony. We reached out to countless renters to no avail. We were beginning to get discouraged when our florist Shean called us about an AirBnB that was willing to rent to us. Not only was it more price efficient, but it was ten times more gorgeous than any of the others we had reached out to! We were thrilled and are so blessed and astounded at how perfectly everything worked out. The AirBnB was an hour away from where we had originally planned. Thankfully that week we had another round of hotels cancelled in the original location, not knowing at the time that it was a blessing in disguise. This allowed our family to get hotels closer to the location. So Evyn and I drove down to get our second marriage license in the new location. It may have taken some extra effort but man, it was well worth it and we wouldn't take it back! It was absolutely perfect. And we had an amazing team of vendors, family, and friends who made it all possible!
HOW DID YOU MEET? Our mutual friend --Shean Strong, who was also the floral and event designer for our wedding--messaged us both on instagram sending photos of us to each other and took a chance on setting up two mutual friends from different friend groups. I didn't come around right away. But when i did... I was done for! Evyn and his father, Donny, happened to be driving through my hometown in Georgia from the Orlando area to go to the masters like they do each year. We both thought each other were super cute so we said "why not?!". We met at our favourite bbq spot in Saint Simons Island, Georgia in my hometown where he used to come visit for games. Because his dad was with him for the trip, i got to meet them both together and we always tease that our first date was with his dad, but we both know we wouldn't have had it any other way! We hit it off right away and couldn't wait to see each other again. Evyn asked his dad to cut their trip short, and Donny gladly obliged. They both stayed on the island that following Saturday so Evyn and i could have our second first date (haha). We ate dinner at one of my favourite restaurants, got coffee, got ice cream, and in between we were driving all around the island listening to all of our favourite tunes laughing, talking, and having the time of our lives! We never wanted the night to end! The next day he and his dad came to church with my family where my dad and mom pastor and we had lunch afterward. We finally had to say goodbye but with weekend visits every two weeks, it wasn't long. Four months later, we were engaged! We both found out--and very quickly i might add-- that it's true what they say, "when you know, you know!"
TELL US ABOUT YOUR PROPOSAL: It was the weekend before my birthday and Evyn had planned a birthday dinner for me in Saint Simons island. His family drove up to be with us for the weekend. I went over to their beach-front condo to get dressed for the evening. I was helping his mom fix her hair when I noticed Evyn came to our room to get me and was in a big hurry for us all to make it to the reservation on time. Evyn and i were dressed first so we left. He took me to one of my dad's favourite restaurants on the marsh-side surrounded by docks. My dad had proposed to my mom on those same docks. When we got there, we waited in the truck listening to some of our favourite songs when our parents arrive. They started walking inside the restaurant and he said "why don't we go for a walk on the docks? It's a beautiful night outside." You could imagine my shock when he was just in such a hurry to make it on time, but of course I wanted to. It was starting to drizzle so he grabbed a large umbrella out of his truck and came to open my door like he still always does. I was wearing heels so I held his arm tight to keep me steady. We get to a certain point an he stops us in the middle of the docks while he pretends to reach for his phone out of his pocket as he says "you know what, let's stop here to take a picture." instead of pulling out his phone, he pulls out the most beautiful ring I've ever seen and asks the sweetest words i've ever heard... later I found out he had a diagram drawn of exactly where my dad proposed to my mom. All of our family were inside the restaurant where they were all watching through large open windows. He whispered the sweetest words to me. Most of it was a blur from the shock and sheer excitement but i remember tears running down his face as he got down on one knee and in the most sincere voice he said "Shanna, from the moment i met you... i knew you were the one for me. Shanna Danielle Webster, will you marry me?" of course I said a resounding "yes!" i kissed him a few times embracing him with the biggest hugs then Evyn pointed to our family and said "say hello!" I saw everyone standing waiting to greet us with the biggest smiles and the sweetest hugs. I will never forget it!
TELL US ABOUT FINDING YOUR WEDDING DRESS: I was on the look for a timeless modest style. I tried on dresses at a few boutiques before finding the brand I knew had the style I wanted. My mother-in-law told me about Miracle Mile in Miami and sure enough, the brand I wanted was there--Rosa Clara Miami. The exact style I wanted wasn't there but thankfully the assistants suggested a few different styles, one in particular similar to the one I wanted. During the dress-hunting process, i didn't think i would have an emotional reaction, but as soon as I tried "the" dress on, I couldn't have been more wrong. I then fully understood the moment brides always talk about when they knew it was the one. I wouldn't have changed a thing!
DID YOU HAVE ANY DIY ELEMENTS? Because our guest list was decreased from 350 to 30 people, we had many people we missed that could not be there, including many family members. We decided to frame all of the responses we had received to make sure a piece of those guests were there with us. They were displayed on an easel. It was such a sweet detail and we were so happy we did it!
My mother-in-law had also given Evyn and I a photo album from Portugal for Christmas. We decided to set up a photo booth with a polaroid camera. It added such a fun touch and acted as our guest book. I placed photos of our loved ones that had passed which added the sweetest touch and we felt them there with us.
DESCRIBE YOUR WEDDING FLOWERS: Shean Strong said it best, "With fresh flowers being nearly impossible to come by, preserved and dried flowers became the style of choice for Shanna and Evyn's wedding. After securing the home in Savannah I knew the direction we were going to go. For the couples wedding shower, my girlfriend and I gifted a bougainvillea to them, symbolising new beginnings and a passionate relationship, a perfect reminder for them to watch grow in their new home.
When thinking of her bouquet, I knew i wanted to add in a scent that would appeal to her sense-memory and recall her wedding day anytime she smelled it; hyacinth. I also incorporated dried palms, butterfly ranunculus and various dried blooms to create a neutral and beautiful bouquet. And the final touch, I incorporated dried bougainvillea into her bouquet to once again represent the couples' new beginning."
We would have been lost without SHEAN STRONG! He made every aspect of our dream wedding come true!

FAVOURITE DETAIL OF THE DAY: Wow, this is so difficult to decide with so many beautiful moments throughout the day! Mine and Evyn's first touch and first look would have to be my favourite pick. That time was so important to us. Getting to pray together, read our letters to each other, and to see the man that was about to be my husband--my heart is still so full and i'm so thankful. I think about how blessed i am every day!
WHAT ADVICE WOULD YOU GIVE OUT TO A COUPLE PLANNING THEIR WEDDING? Take deep breaths and when you're feeling overwhelmed, step back from wedding planning for a couple of days. Make sure to set aside time for just you and your partner to reflect on your "why" and just simply be together, be present, and make a deal not to discuss wedding stressors on those special nights. I can't say this one enough--hire people you can put all of your trust into. Evyn and i knew what we wanted but we also didn't want to break the bank. You need to decide what your priorities are. Communicate them with your planner, designer, and photographer. Know that they are there to help you. Tell them what you want and what you are willing to bend on if you feel the price is too steep. Know that they will be well worth every penny when you get to that busy, beautiful, love-filled day. Trust me, you don't want to have anything else taking your focus away from those moments for you and him.
MOST MEMORABLE MOMENT? This is a hard question just because the whole day was filled with so many sweet, memorable moments. My favourite would have to be our first look. We had written each other letters and given each other handkerchiefs embroidered with our initials (we knew we would need them). Evyn didn't know i was doing it, but we both had suffered loss over the previous years with losing grandparents. I ordered a boutonniere pin from etsy with Evyn's grandmother's photo on it who had passed away about six months prior. I also had cuff links made with each of his grandfathers who had also passed as a reminder that they were with us, even if we couldn't see them and that they were so proud of him. We read the letters and opened the handkerchiefs while we were back to back. Then we turned to face each other for the sweetest and most cherished moment. We also had first looks with our parents and had written them letters. I was in the large bathroom attached to the room Evyn and his parents had their special moment in, behind a closed door with my bridesmaids. We could hear all of the tears and sweet words and I was gushing! I had a first look with mom first, then my dad. I played "butterfly kisses" and there were so many tears! I was so thankful we have photos and video footage to remember every word and every moment. We also had engraved handkerchiefs to give our parents with their initials and the wedding date, which they definitely got some use out of. We were so thankful we took that time with our parents before the ceremony.
WHAT ASPECT OF THE WEDDING WAS THE MOST IMPORTANT TO YOU BOTH? We both grew up with a strong relationship with god. I grew up a pastor's daughter and Evyn's parents were always serving in some capacity in the church. It was very important to us that god be at the center of our relationship. We had our families pray over us and had a unity candle symboliSing our relationship coming together as one, with god in the center. It was also very important to us to incorporate special time with our parents as well as setting aside an intimate moment for Evyn and i to soak in the day.
ANY OTHER DETAILS THAT HELP TELL THE STORY OF YOUR DAY? Our day was very much centred around family and friends. We knew we wanted us to be able to soak in every moment, so we made sure to set aside time for each other. Because our wedding was much more intimate, we felt so much comfort knowing we were able to soak in those moments with all of our family and friends that were there as well, which was also very important to us. The wedding day and the whole weekend getaway was filled with laughter, friendship, and love! Laughter filled the room and happy tears filled our eyes. We wanted a wedding that was both fun and enjoyable for our guests and also full of those sweet, memorable moments and man, did we get it! Everything. Was. Perfect. It was truly a dream come true.
TELL US A LITTLE ABOUT YOUR HONEYMOON: The house we had rented for the wedding was an AirBnb on Wilmington Island, Georgia. The owners had graciously let us rent their home during the pandemic for us and our 30 guests. It was a beautiful, modern home encased in big open windows looking out to gorgeous marsh views. After all of our guests left, we stayed the night in that same house we were just married in. We woke up to the view of the sunset rising over the marsh through those large open windows. It couldn't have been more perfect and it truly felt like a fairytale.
IS THERE ANYTHING YOU WOULD CHANGE OR DO DIFFERENTLY? We missed all of our family and friends who could not be there, but if we could do it over again, we would still choose to keep them safe. Other than this, the day was truly perfection! We couldn't have done it without all of the hard work our family, friends, and vendors put into it! A very sincere and special thanks to the amazing vendor teams listed down below! We will never forget your hard work and excellence!
A huge thank you to Florida wedding photographer LOVE & COVENANT PHOTOGRAPHY for sharing this beautiful wedding with us. Located in Tampa, Florida he's fond of travelling far and wide to capture your love stories. "I have photographed weddings in Bali, Jamaica, St Thomas, Punta Cana, and all over the United States. I am a goofball that loves to capture subtle romance and the passion between two individuals. Your wedding photos and film will tell the story of two individuals in love for years and years to come. l love Jesus, my family, and some good food! Besides weddings, I have a soft spot in my heart for foster kids. Creating and telling a story to be able to show and tell your kids is what makes my heart full." Check out more of his work in our vendor guide here and check out this Simple & elegant traditional Coptic Orthodox wedding in Tampa.
Wedding stationery designer INK & PRESS CO. is a valued member of our vendor guide. Using only the finest and most luxurious materials, they pride themselves in their process and the products they use. And it's why they use antique letterpress machines, paper sourced from Italian mills that have been owned by the same family for generations, and silk ribbons hand dyed and hand torn. These small details allow them to curate invitations that evoke an old-world sense of beauty that is unparalleled. See more of their beautiful work in their portfolio here.