Lauren and Matt's wedding at the COUNTRY CLUB OF MISSOURI was the epitome of elegance. Their nuptials took place on a hot July day, complete with abundant sunshine and soaring temperatures. Despite the heat, JUSTINE WRIGHT PHOTOGRAPHY tells us that the entire day was joyful; "You could feel the bride and groom's utter appreciation for their family and friends with their every move."
The bride had always erred on the side of a clean and minimal style - and being this was an event that was going to be photographed and documented for future generations, it was even more important that she kept to a classic aesthetic. Lauren tells us, "I'm a sucker for neutrals (I live in shades of beige, grey, black, etc.) and didn't want to have to settle on a colour scheme that I might regret down the road. So I opted for white florals, dove grey accents (like my bridesmaids' dresses), timeless greenery, and clean aesthetics." Lauren wore a stunning modern gown from BHLDN and carried a textured bouquet in a fresh green and white combination.
WHY DID YOU CHOOSE THIS LOCATION? We chose Firestone Baars Chapel for our ceremony because it's an absolutely beautiful space that has this amazing way of making 200 people feel like 50. There's not a bad seat in the house, which was another great selling point. We chose the Country Club of Missouri as our reception location simply because it's a classic space and they offer amazing support when it comes to executing any wedding vision perfectly. From the moment we toured the space, we knew we would be in good hands and never really considered any other venue at that point.
HOW DID YOU MEET? We met at work, a mortgage company based in mid-Missouri. Matt and I work in different departments (he works in Product Strategy and I work in Human Resources) but our worlds collided a few years ago when I was tasked to hire in a few new people for Matt's team. We both realised we enjoyed each other's company beyond just working together and after quite a few early morning coffee shop dates, the rest is history!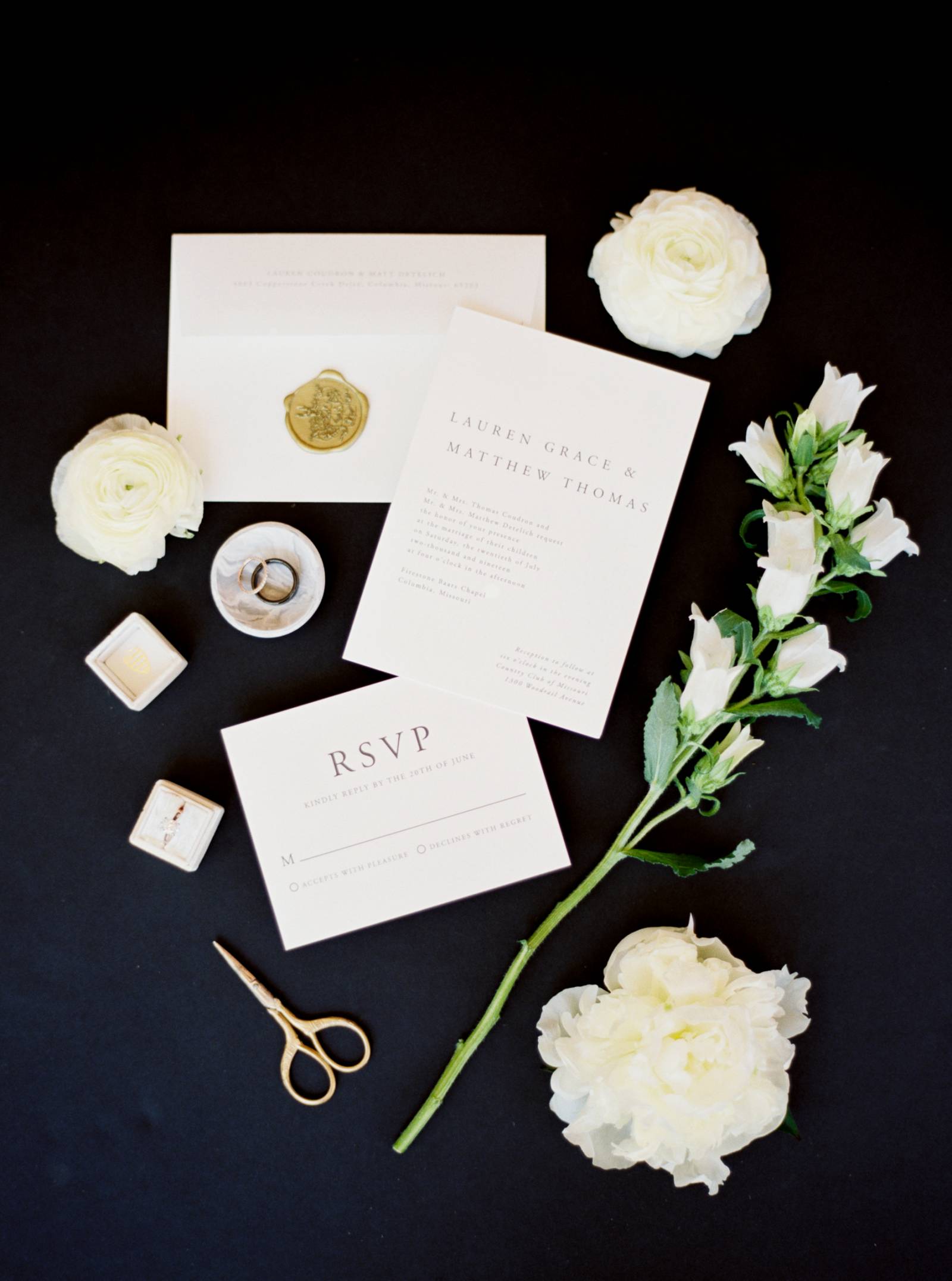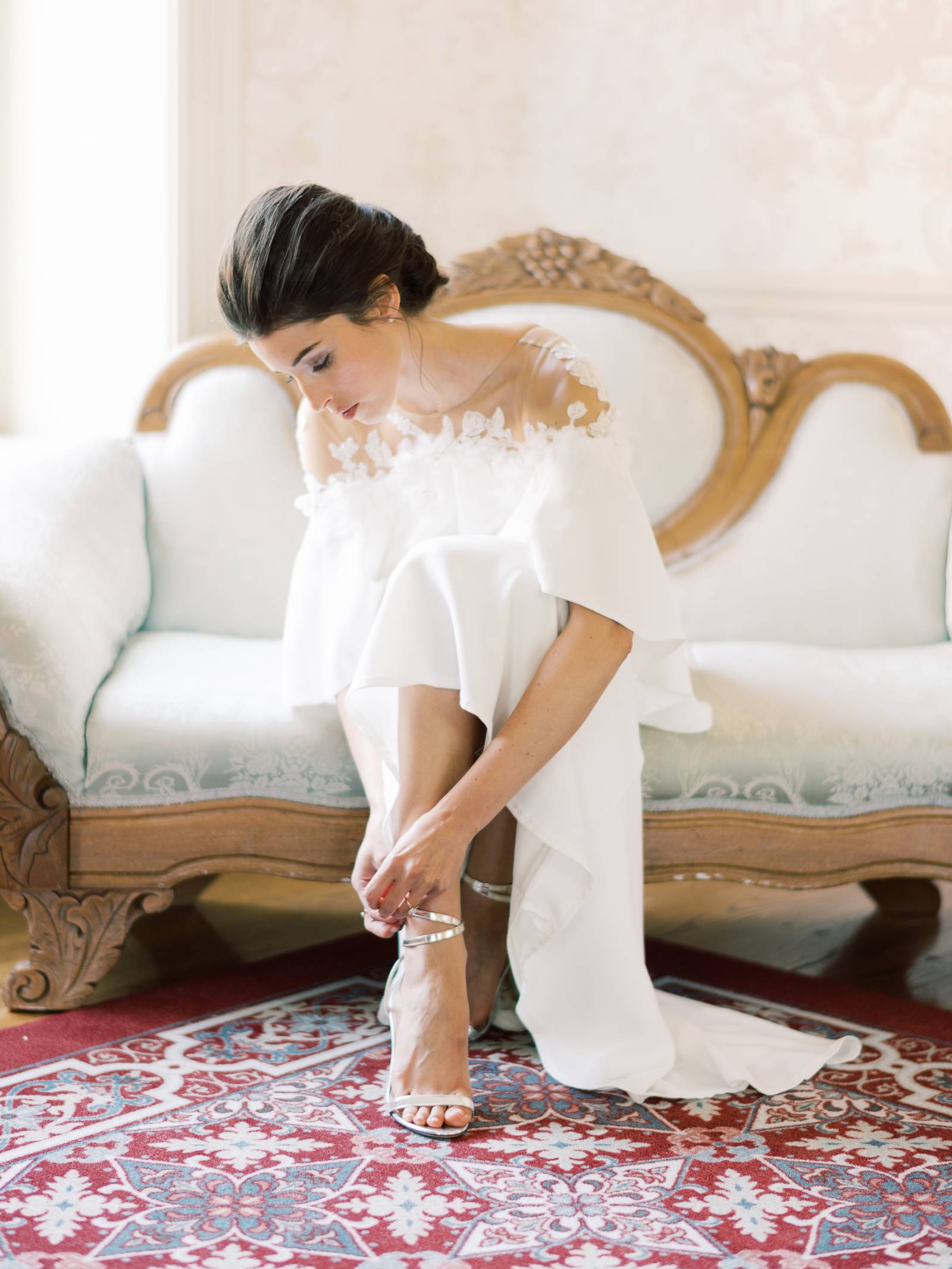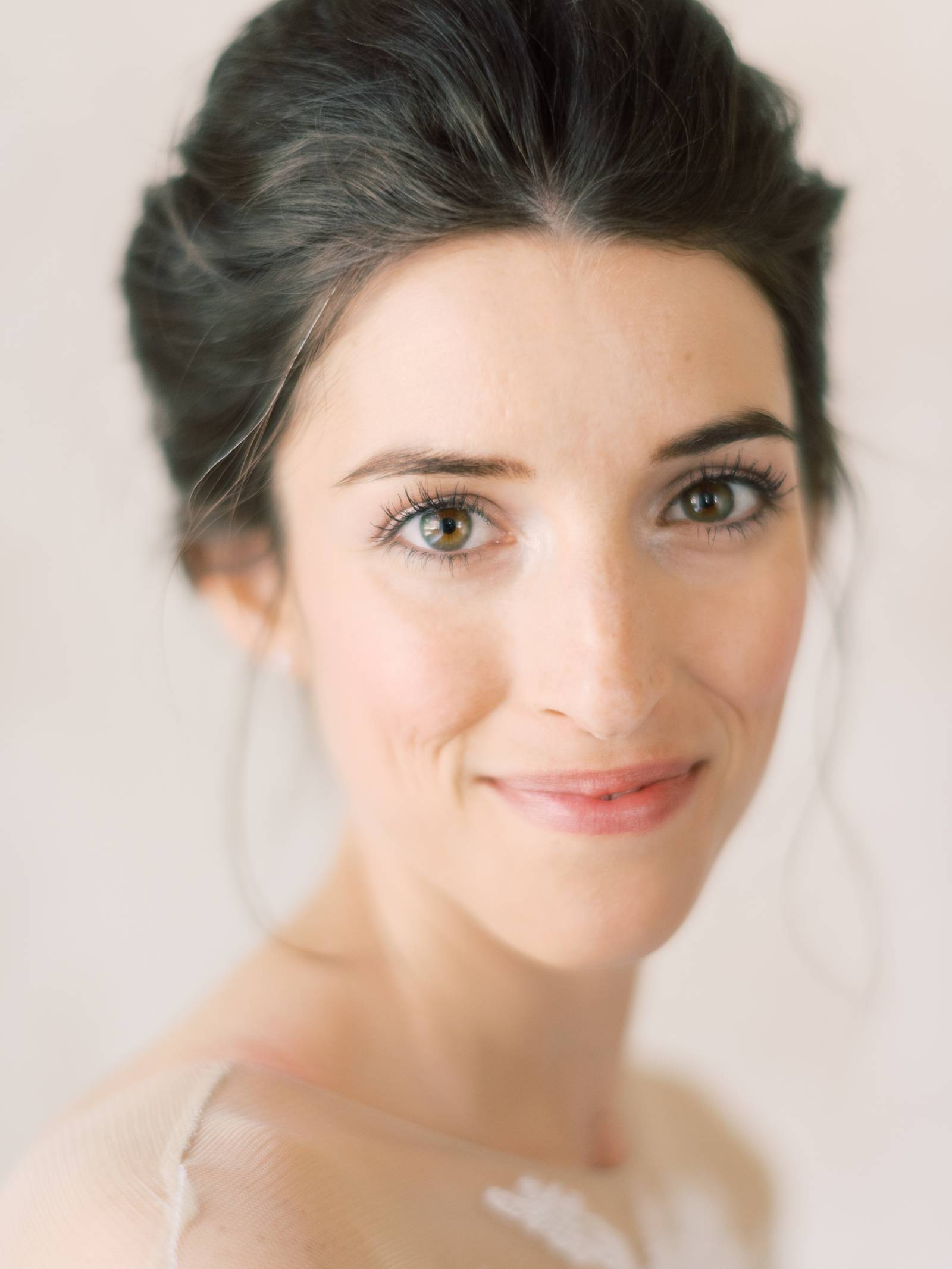 TELL US ABOUT YOUR PROPOSAL: Matt knew that when the time came for him to propose, I wanted it to be personal and something for just the both of us to enjoy together before celebrating with family and friends. What would have been a normal Friday night for us – sitting at the bar of our favourite local restaurant and ordering multiple plates to share – Matt made into a night so special and meaningful. Instead of going out, he had dinner from our favourite restaurant brought over to us at the house (needless to say I was quite surprised and a bit suspicious at that point). He handed me a beautiful letter he had written and when I looked up he was on one knee. (I said yes, of course!) He timed everything so perfectly, we were able to eat together just the two of us and really soak in the moment together, then after enough time had passed our family and friends showed up to celebrate with us all throughout the evening!
TELL US ABOUT FINDING YOUR WEDDING DRESS: Oh boy, my dress selection process was pretty unconventional so I realise this strategy probably isn't everyone's cup of tea J I've always had very specific taste when it comes to my personal style and I have no problem admitting that I am extremely picky. Extremely. I knew that if I went into an actual brick-and-mortar store with a group of people that either I would leave frustrated not finding at all what I wanted or I would give in to buying a dress that everyone else loved but that really wasn't 'the one' for me. So.. I searched online, ordered the first dress from Neimans I found and loved, tried it on once it had shipped and loved it! No trying on 20 different dress styles, no pressure to choose a dress that everyone else loved but I didn't. And there you have it.
DESCRIBE YOUR WEDDING FLOWERS: Goodness knows I could rave about SUGARBERRY BLOOMS all. day. long. I wanted my wedding day florals to be classic, but I also didn't want them to look too fancy or uptight. SB creates the most drop dead gorgeous bouquets that incorporate organic elements and locally grown blooms which makes her arrangements so special. My bridal bouquet was stunning, as were my bridesmaids' bouquets, everything was stunning. I loved that she scattered greenery anywhere and everywhere, from our ceremony space to our reception venue, which added such a lovely touch to the décor and overall aesthetic of the day.
FAVOURITE DETAIL OF THE DAY: Ahh! How does one choose! Truly, the most special part of the day for us was having everyone we love most in this world all together in one place. Even if it was just for a matter of hours, it is so humbling and special to feel the love and support of so many who took time out of their day to celebrate with us.
Also the doughnut wall. Need I say more?
WHAT ADVICE WOULD YOU GIVE OUT TO A COUPLE PLANNING THEIR WEDDING? The minute it starts to become anything less than fun at any point throughout the planning process, hit pause. Give yourself a break and come back to whatever you were working on or talking through in a day or two. Don't get caught up in details that don't matter and don't lose sight of WHY you're even getting to plan a wedding in the first place – because you're CHOOSING each other every single day and intertwining your lives in the most meaningful way.
MOST MEMORABLE MOMENT? Probably our first look or standing at the alter together. It's all such a beautiful blur of a day, but those two moments seemed to slow down - if even for a split second – and allowed us to take it all in.
TELL US A LITTLE ABOUT YOUR HONEYMOON: We went to Maui for our Honeymoon and had a wonderful time. We really went back and forth with where we wanted to go and thought about somewhere international for a while, but planning an international trip is a beast of a process on its own and it didn't seem like the right time to add even more stress to the wedding planning process by also planning a trip overseas. We settled on Hawaii, somewhere we both had never been, and chose Maui once we stumbled upon the gorgeous Hotel Wailea property. The week brought adventure and relaxation and we soaked up every minute of the beach, pool, cocktails, and ridiculously amazing food!