Today's real wedding lands us in the heart of one of California's great Redwood forests with Central California wedding photographer KELSEA HOLDER. Lauren & Cam held their wedding at NESTLDOWN - with its gorgeous views, rustic elegance, and lush gardens it was a stunning environment to hold their special day in. Both hailing from opposite coasts of the United States their story began in the central coast town of San Luis Obispo when they both worked at the same small company.
"Since we both enjoy hiking and camping we knew that we wanted an outdoor wedding venue. We were initially thinking of a seaside location but after visiting several venues and finding that they were not the right fit, Cam suggested we look for a venue in the trees. The day we visited NESTLDOWN it was pouring rain but the property was so beautiful we knew that it was the one immediately. There was something magical about standing beneath those giant redwoods that we hadn't felt at the other locations. We loved that the guests could move from the ceremony location to the gardens for dinner and then to the Redwood hall for the reception without having to leave the property."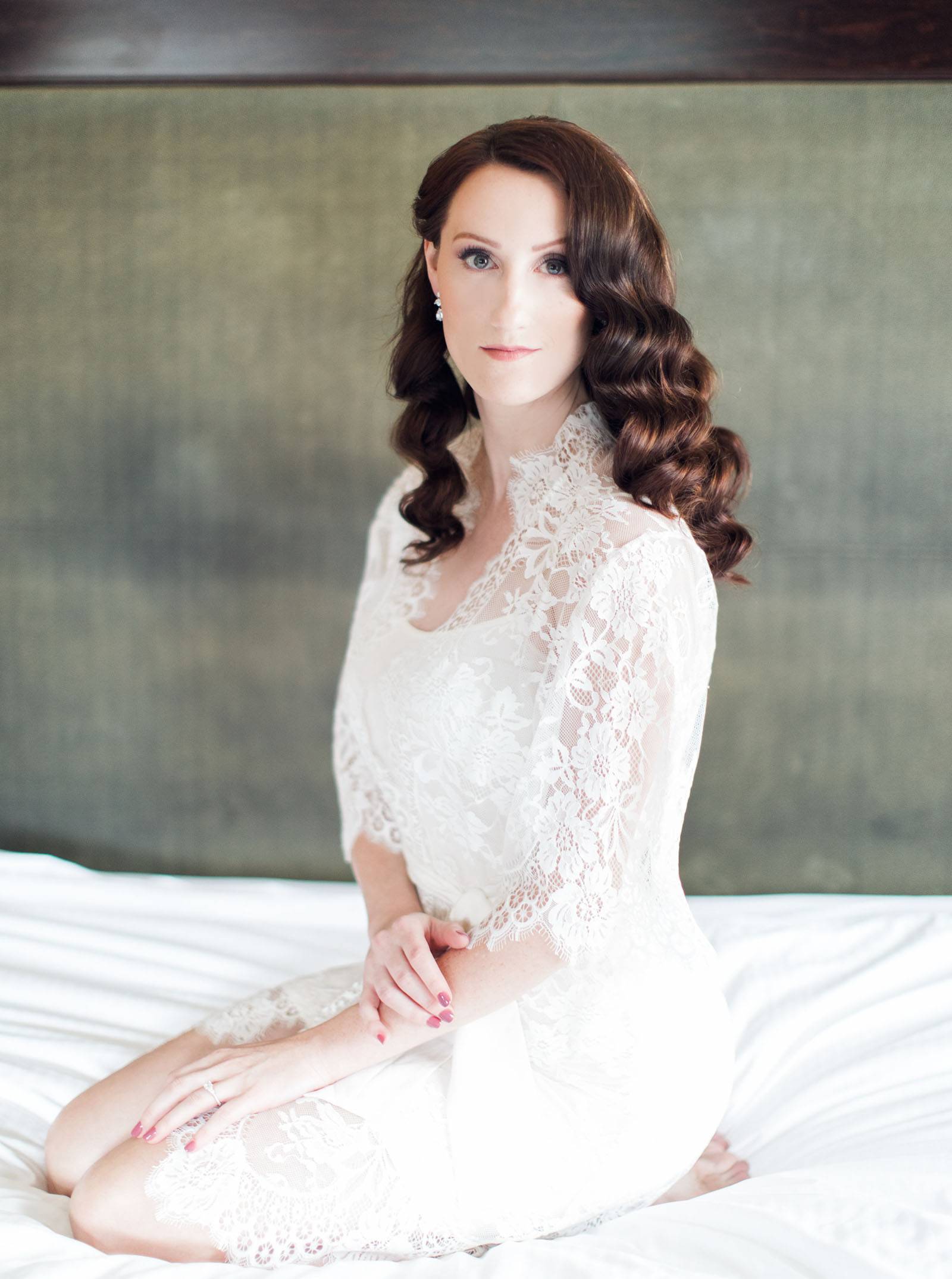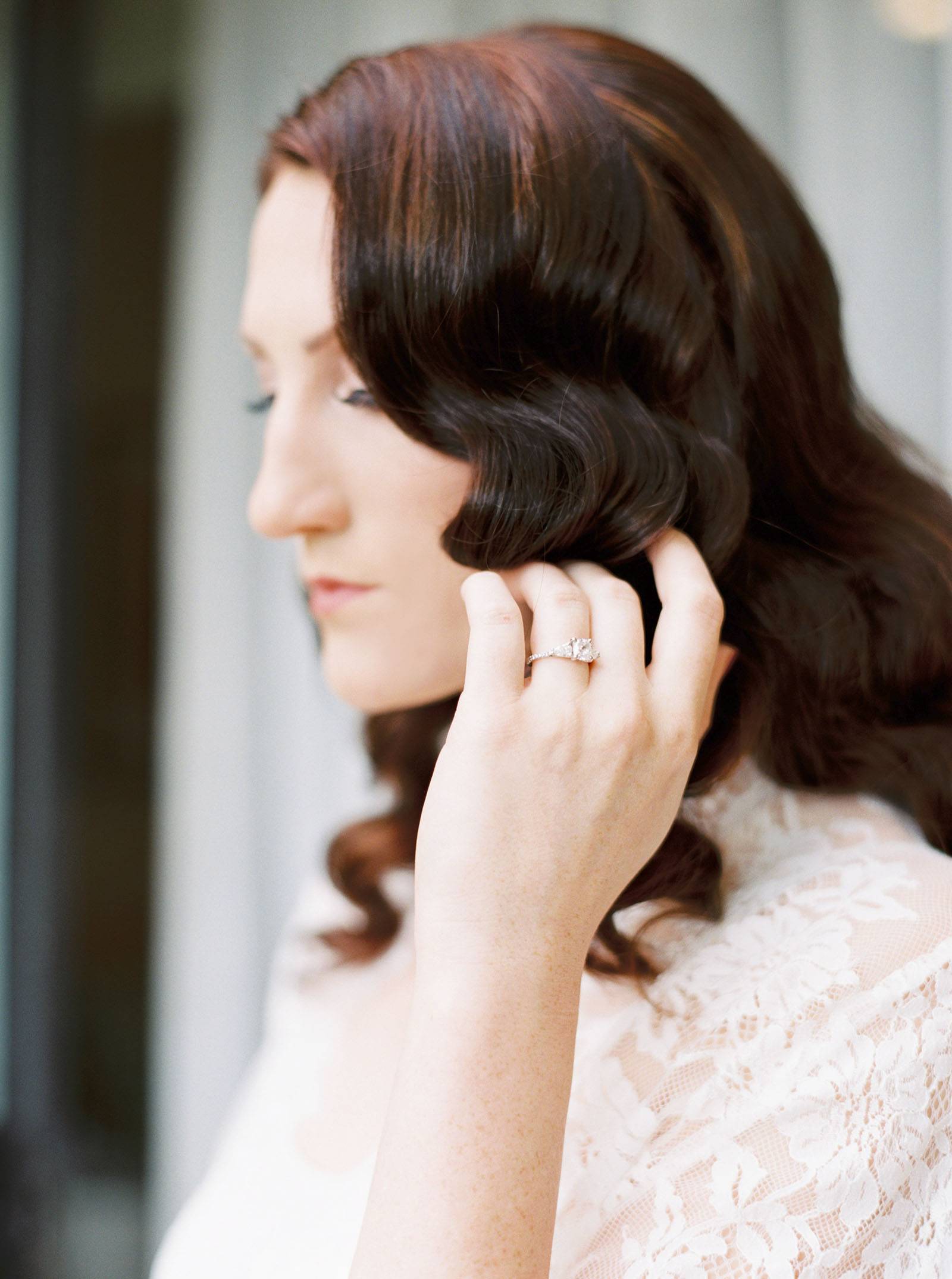 TELL US MORE ABOUT HOW YOU MET? Initially our interactions were limited to the occasional crossings in the halls but during one year's holiday party we found ourselves waiting at the bar together and got to talking. We quickly realised that we shared similar interests in sushi (honestly, eating in general), hiking, camping and more. Cam immediately asked to go hiking the day after the party, setting the stage for what was to come. Two years, eight months and 19 days later, atop the same hill overlooking San Luis Obispo, Cam proposed with a bottle of champagne, two glasses and a ring.
WHAT INSPIRED YOUR WEDDING DESIGN? Since I grew up near the seaside, I wanted to bring that feeling of being near the ocean to our mountain wedding. I knew the colours that I wanted to use first: white, grey, dusty blues and silver. I also had a clear idea of what I wanted the style of the wedding to be: romantic and timeless with a soft touch of vintage. A mix of ethereal and classic details. One of my favourite parts of our wedding were our flowers: white garden and spray roses, lambs ear, stock and hydrangea - I wish I could have a fresh bouquet in our house everyday!
Aside from the design, we really wanted everyone to have a fun time eating, dancing and celebrating. Cam's #1 must have was bringing in our favourite BBQ vendor from San Luis Obispo: Ribline. A staple in our dating history was our weekly farmer's market trips downtown where we would have beef ribs and tri-tip sandwiches. We wanted food that was fun and delicious that would make everyone want to get up for seconds (or even thirds from what I heard from some of our guests). Another must have was great music and plenty of time for dancing. We had the best experience with our DJ and were able to not only make custom mixes for walking down the aisle but really tailor the playlist for the evening. I love the dancing photos from our wedding and seeing everyone laughing, smiling and dancing their hearts out.
SHARE YOUR FAVOURITE MOMENT OF THE DAY: I have a few favourite moments from the day. The first is seeing our bouquets for the first time. I had such a specific idea in my head of what the flowers would look like so when I saw them and they were exactly what I imagined, I was ecstatic. It really set the mood for the entire day - I felt like I could relax because if the flowers looked beautiful, all the other decor details would be fine. The second is walking down the stairs in my dress and seeing my bridesmaids' reactions. We were all laughing, crying and hugging it out. They are all so supportive and wonderful and I felt like my heart would burst.The third favourite moment was sitting with Cam and looking across the pond at the reception. We walked away from the party, sat down and just took in the moment. We both felt so grateful for the day and everyone who came to share it with us.
ANY LAST ADVICE? Enjoy this special time. Your wedding day is supposed to be a fun and positive experience - don't taint that with unnecessary negativity. I also think it is important to have your partner involved throughout the process and to give their wants as much weight as your own. For example, whilst we didn't end up playing 90's hip hop during our cocktail hour, Cam did get his requests in during the reception. If we are talking planning specifics, I am unsure if my PowerPoint decor presentations or my Excel sheet inventory / to do lists would be for everyone, but hey, they worked for me (type A?). In the end, take time to enjoy the process and remember why you're planning this day in the first place.
A huge thank you to Central California wedding photographer KELSEA HOLDER for sharing this beautiful wedding. Kelsea is a talented photographer who seeks to capture beauty with a unique allure and does so with light filled images with rich colours. If you're having a California wedding see more of Kelsea's work in her portfolio in our vendor guide.