There's not much more romantic than a Southern wedding and Brittany & Chad's elegant celebration at MAGNOLIA PLANTATION was an absolute vision. Captured by Charleston wedding photographer AVA MOORE, it was the beautiful trees dripping with Spanish moss, the stunning gardens and picture perfect white bridge that led the couple to book the venue site unseen. "It just felt special and we knew it would be a fun place for a destination wedding for our guests."
"I wanted a neutral and romantic wedding that I knew would withstand the test of time. Ultimately my husband and I wanted everyone to walk away and think, "wow, that was so them," so we ensured that each decision we made reflected some part of our style, personality, or a place that was special to us."
HOW DID YOU MEET? Chad lived across the hall from me in our first post-grad apartment in downtown Greenville, SC. While I didn't accept his initial attempts to hang out, I finally gave in and went on a date with him - one of the best decisions of my life!
TELL US ABOUT YOUR PROPOSAL: Chad completely surprised me on a trip we took to Europe. He had me fully convinced the timing for an engagement wasn't right before our trip, but planned an incredible proposal in a city I had been dying to visit, Paris. One morning, he told me to get dressed and that he had hired a photographer to take our picture at the Eiffel Tower so I would have more than just selfies. On our early morning "walk to the Eiffel Tower", chad took my through Tuileries Garden where he got down on one knee! He could not have planned a more romantic, intimate proposal, including engagement photos at the Eiffel Tower that night! It was so amazing to have time together with just the two of us to enjoy the moment throughout our trip.
TELL US ABOUT FINDING YOUR WEDDING DRESS: I was convinced I wanted a lace dress and refused to look at strapless dresses. I went to four bridal stores in search of the perfect one in South Carolina. After not being in love with any dresses I had tired on, my mom convinced me to make an appointment at Bridals by Lori shortly after moving to Atlanta. During my appointment, I insisted that I did not want a strapless dress, but the sweet associate helping me asked if I would humour her and try just one on that she thought would be incredible on and fit my want for an elegant, modern dress. I obliged and immediately fell in love with the simple, timeless elegance of the dress when I put it on, especially the buttons down the back and the incredible train! My mom, sister, future mother-in-law and I all cried. I knew I had found the one.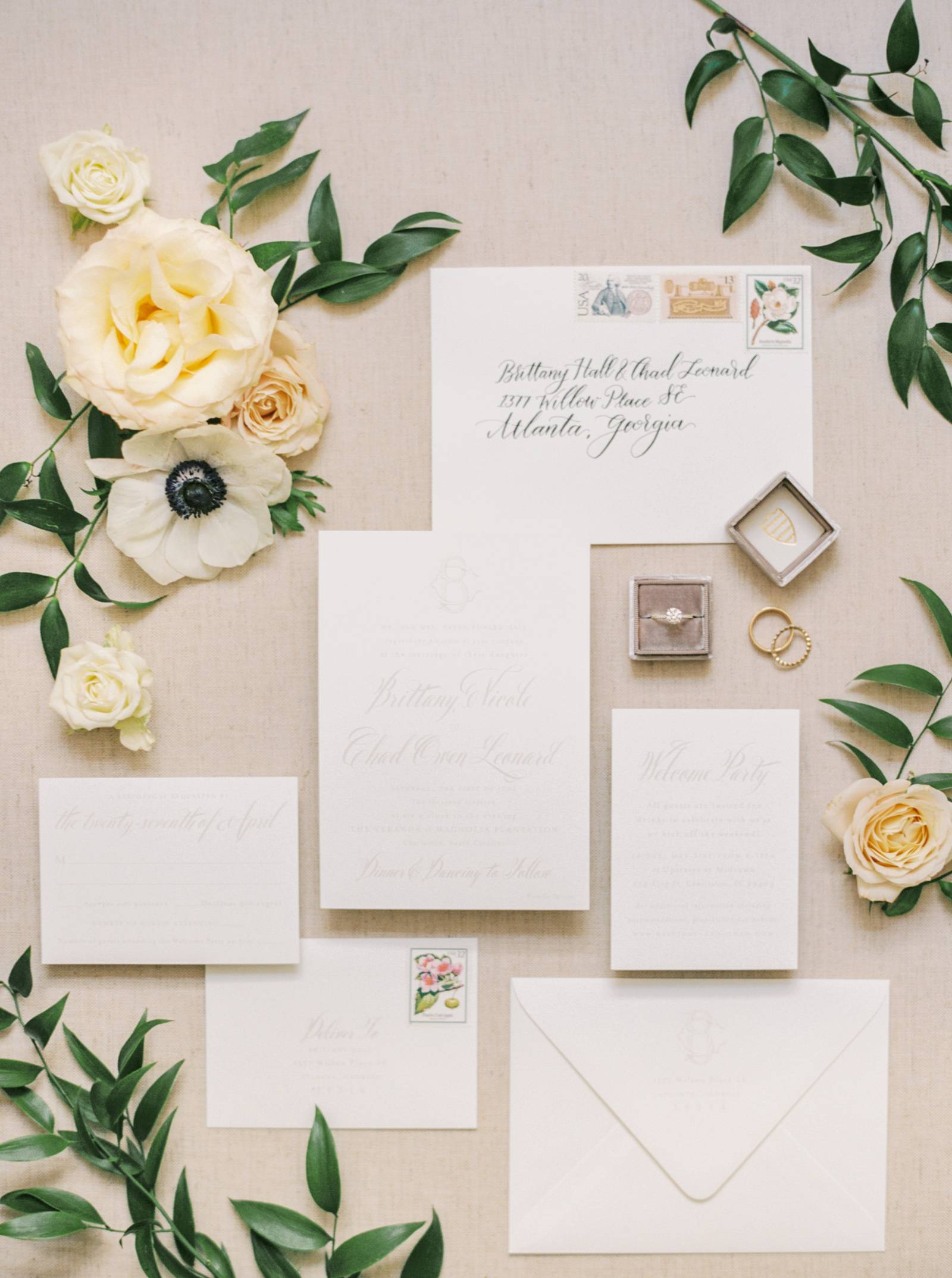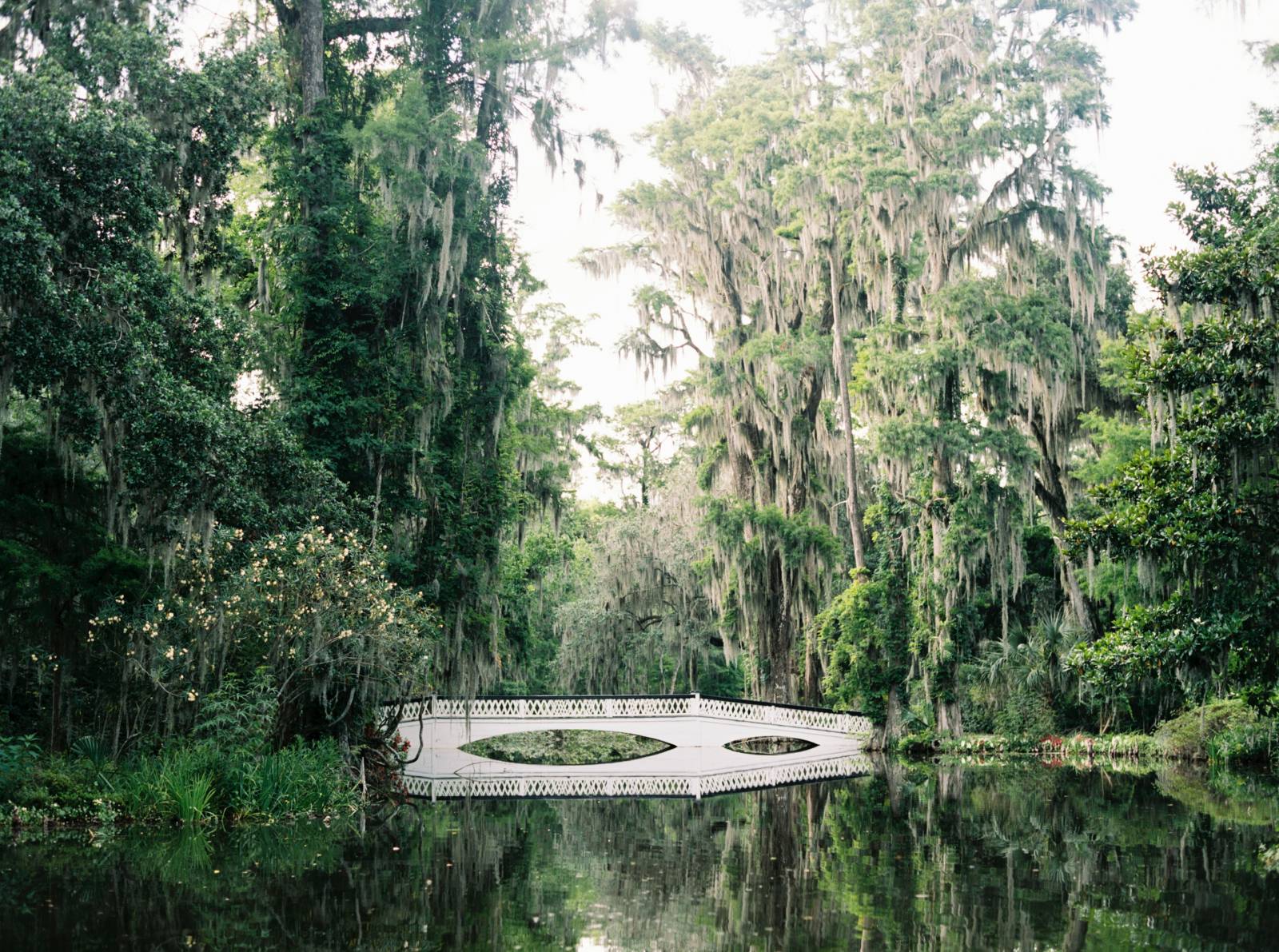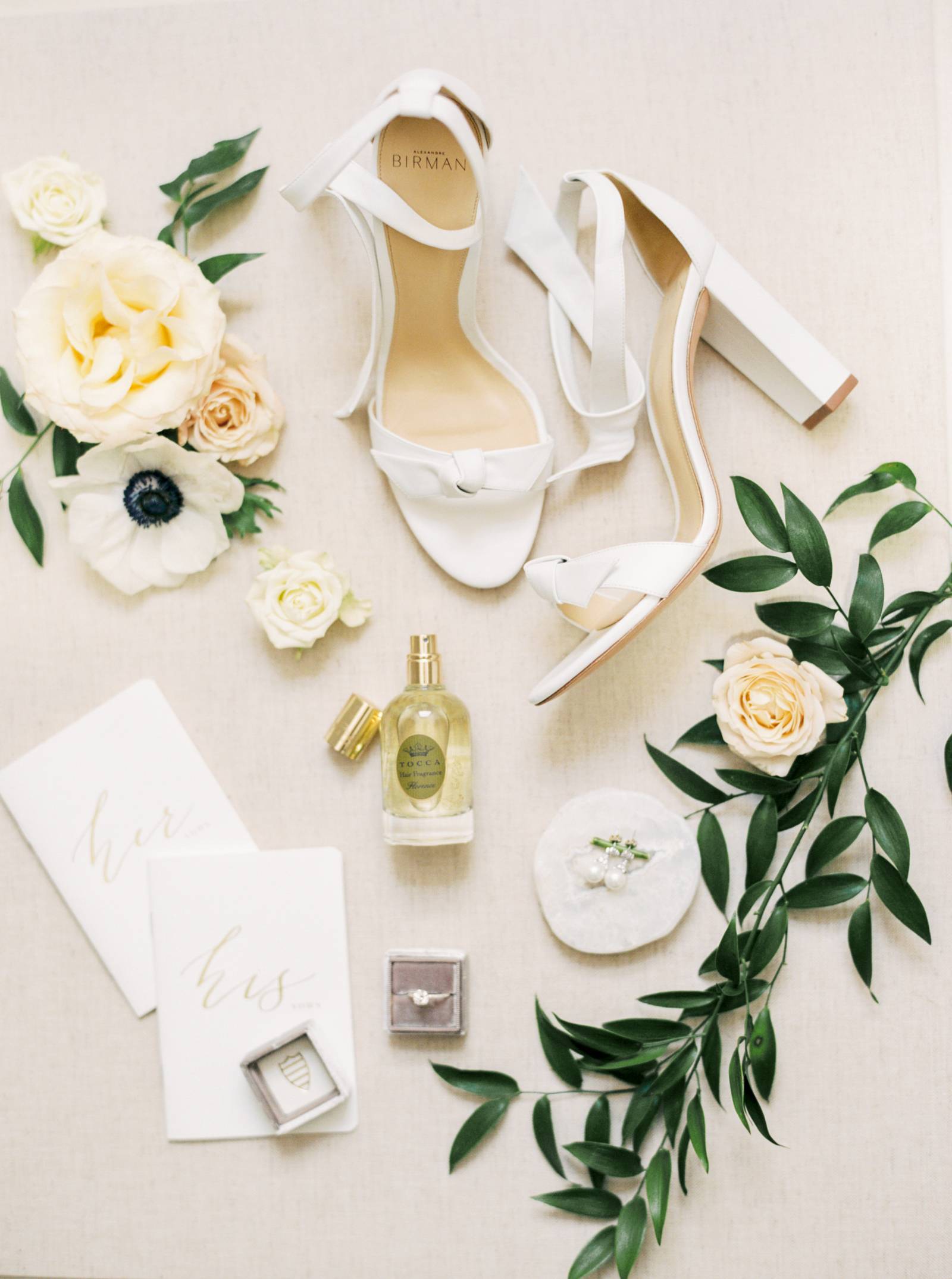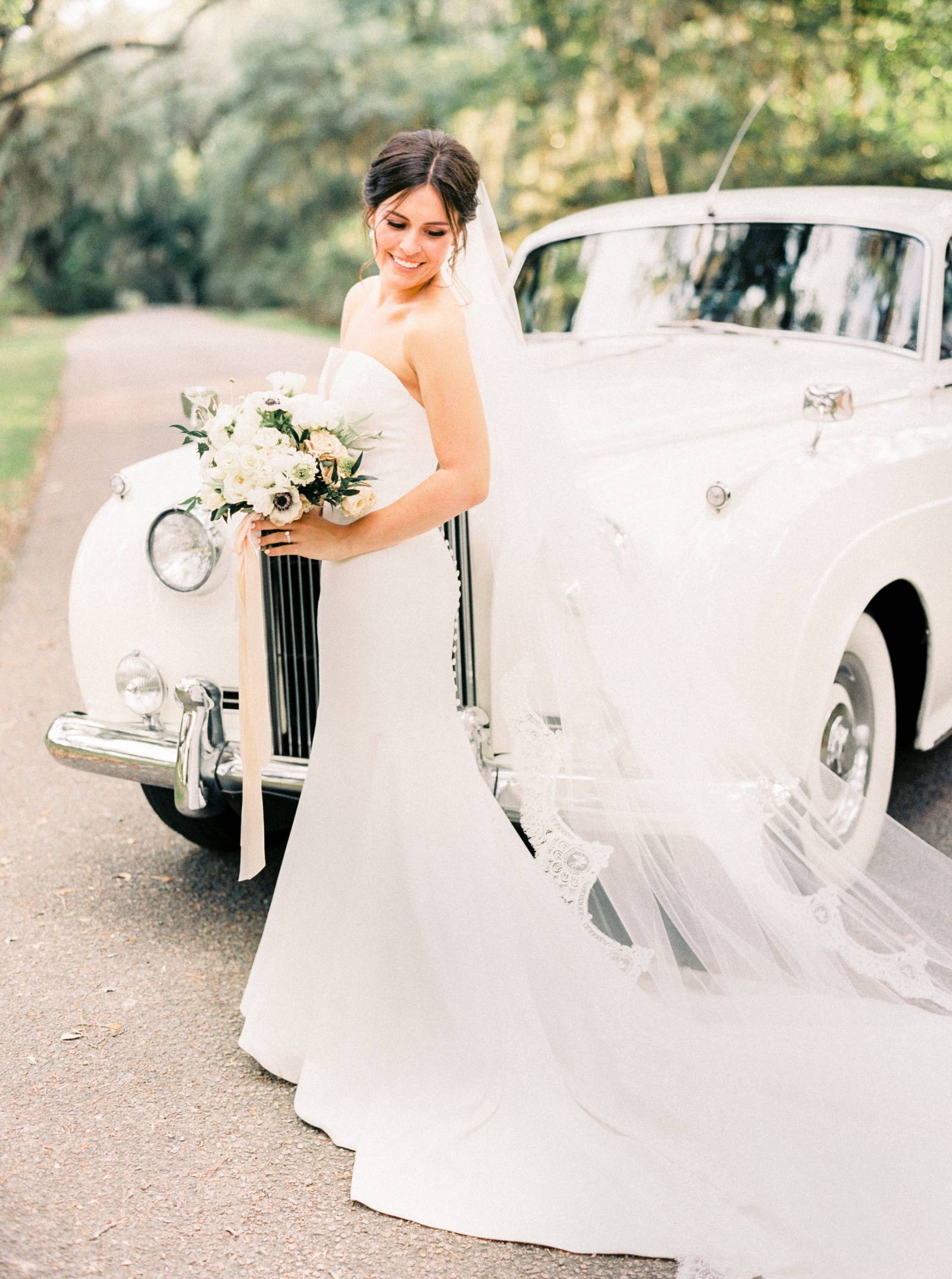 DID YOU HAVE ANY DIY ELEMENTS? We didn't! Our wedding planner, Beckon Events, was incredible and designed a lot of the elements of our wedding, including our menu on cocktail napkins and an incredible banner for the bar with our monogram on it. I think the lack of DIY elements on my end significantly contributed to my low-stress planning experience!
DESCRIBE YOUR WEDDING FLOWERS: Soft, elegant, neutral. I knew I wanted natural flowers with tons of greenery and gave our planner and florist essentially free-reign from there. I loved the different neutral tones that still gave the bouquets and arrangements different dimensions, and really complimented the beautiful surroundings at Magnolia Plantation.
FAVOURITE DETAIL OF THE DAY: I really loved surprising my husband with a vintage car after our ceremony - doesn't hurt how beautiful the pictures with it are either! It was such a fun thing to plan with our photographer and surprise him with. His reaction was priceless! I also loved the drapery we had within the tent surrounding our lounge area. It felt like a separate little room under the tent and was such a beautiful, intimate space.
WHAT ADVICE WOULD YOU GIVE OUT TO A COUPLE PLANNING THEIR WEDDING? Hire a wedding planner! I always heard how stressed brides were during wedding planning, but I rarely felt stressed during our planning, even with traveling for work every Monday through Thursday. Beckon events was incredible and it was such a game changer know those lovely ladies had everything covered at every moment. It really allowed us to enjoy the wedding planning year and not feel like it was a burden!
MOST MEMORABLE MOMENT? Our first look. We were hesitant to do one at first, as We both wanted the first time my husband saw me to be when I was walking down the aisle. I am so glad we changed our mind - it was easily my favourite moment. Having that time together with just the two of us to enjoy each other before seeing everyone was so special and allowed us to enjoy so much more of the day together, uninterrupted. My walk down the aisle was still so memorable - still full of all the feels. We also did a first look of the reception space together while our guests were at cocktail hour. It was so memorable getting to see our vision as a reality and getting to see every element of it together uninterrupted before our guests. I may or may not have cried during both first looks!
ANY OTHER DETAILS THAT HELP TELL THE STORY OF YOUR DAY? We really loved that our wedding planner focused on intentional details. For example, at our dessert station we had macaroons as a nod to our engagement location, Paris, and mini cannolis, my husbands favourite dessert, as a nod to Boston. My husband would say the massive bar was one of the most important details - it was his one request and our planner took it up a notch by adding bar stools at each end! We also wrote our own vows which was so special and further allowed the day to be "so us". I love that we both have the hand-written vows to pull out and read during the peaks and valleys of our marriage.
TELL US A LITTLE ABOUT YOUR HONEYMOON: We decided to use our honeymoon as an excuse to book a bucket list trip, Bora Bora. We stayed in an overwater villa and enjoyed every moment of the peaceful location with just the two of us. It was easily one of the most beautiful locations and it was such an unforgettable experience being able to wake up above the water!
IS THERE ANYTHING YOU WOULD CHANGE OR DO DIFFERENTLY? Extend the reception an additional hour? We seriously constantly talk about what an incredible day it was and how we wouldn't have changed a thing. We wanted a big party with our closest family and friends and we got so much more than that!
Thank you to Charleston wedding photographer AVA MOORE for sharing this truly beautiful Southern wedding with us today! Her passion is capturing how you FEEL on your wedding day... and of course she does that in an artistic way and in beautiful light. "With my camera, I will soak up all the excitement, love, and joy that you express toward each other on your wedding day. This is also true of other precious moments that you spend with your family and friends. I document, what I think is, your heritage. Photographs are essentially heirlooms!" You can check out more of her work in our vendor collective here.