Rachel & Nicholas fell in love with the stunning grounds of SAN YSIDRO RANCH for their mid summer wedding as captured beautifully below by KATIE SHULER. Elements like peonies, candles, a string quartet and a floral crown for the bride, brought their vision to life and the venue provided them the garden party like atmosphere they were after for their closest family and friends. Rachel tells the story of their planning so beautifully I'm going to hand you over to her…
"Wedding details have always made me blush. I am a simple lover of all things beautiful, and quite a romantic. Despite each of these characteristics, orchestrating a wedding seemed whimsical in theory but overwhelming in reality. Although I found this suspicion to hold occasional truth, planning our wedding was like piecing our lives, styles, and stories into one beautiful celebration of us; and to me that was electric. I imaged a sea of flowers and the purest of sunlight. A sunlight that would paint our already illuminated smiles and that would echo among the breeze. I dreamt of a timeless & effortless celebration that would inevitably settle into a timeless & effortless memory to mark the day I wed this sweet love of mine.
So naturally, we seized the day & reserved San Ysidro Ranch for a mid-summer wedding. The classic, garden-romanced, history-infused location was drenched in flowers and was our very own wedding perfection. To streamline theory, expectation, and reality, we kept out guest list intimate and opted for a romantic, black-tie dinner party of 75. Our ceremony was honored under a natural green arch, where we exchanged our personal vows and shared our first kiss as husband & wife. With the string quartet humming in the background, we paraded down the aisle, wed. Our remarkably talented & inspiring photographer, Katie Shuler, & videographer, Brinton Films, swept us away to capture a collection of photographs, which Katie deems as "Romantics." The title could not have been more promising, as we swooned upon seeing a few of her photographs dance onto my iPhone for the first time the day after the wedding.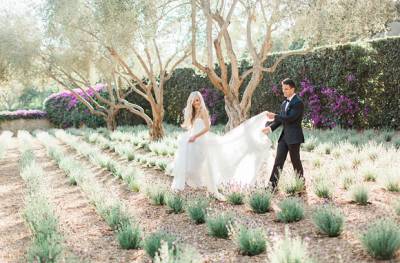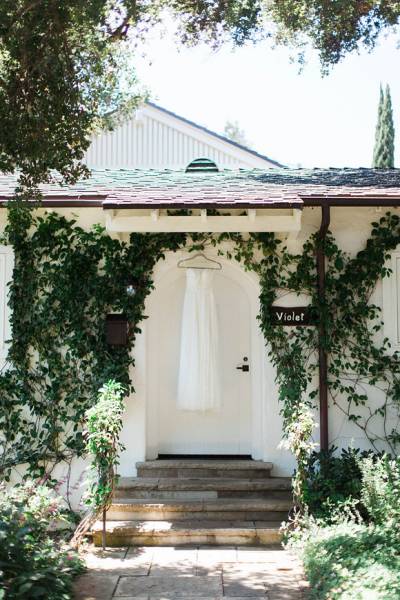 "My love for florals & paper goods led me to a bridal bouquet of pale pink peonies and a matching selection of pale pink menus and place cards, framed with foiled gold to catch the light of the candles. Greenery and florals spilled down the center of the tables, accenting the natural beauty surrounding us. Nick and I sweetly whispered & stole kisses as the night stole the sun. My new husband and I slow danced under the twinkle lights and the moon, quickly transitioning from the few waltz steps we had flirtatiously learned into a comfortable and carefree sway to a song sung live by a talented friend on the guitar. Each moment we had dreamt of; it was here, or it was, or it was soon to conclude.
Our wedding day came to life in a beautifully real way. Some moments exceeded my expectations, and some moments were unexpected & embodied elements of stress. There were some things I thought would matter that didn't, and other things I thought wouldn't matter that did. But as I held the hand of my beloved, and shared countless macarons with my acclaimed "maca-groom" I fell deeper in love with this man. The same one I daydreamed about before ever meeting, the one that is a classic gentleman, and the one that our future family can fiercely follow in confidence. The one."
TELL US ABOUT YOUR PROPOSAL: Nick proposed on a summer afternoon at the Langham Hungtington Hotel in Pasadena. He surprised me with high-tea under the guise of my birthday. Leading up to the day, all I knew was that I was wearing the nude lace Diane Von Furstenberg dress he gifted to me the week before, and that the plans were so "us". After a flirtatious & unsuspicious afternoon, we began to walk the property, taking it all in. It wasn't long before we approached a bridge when Nick grabbed my hand and asked if I remembered the stationary from Florence that I had given him at our first anniversary. Of course I remembered! I had given it to him with the intention that he return it to me with his words, making him a part of my Italy memories, and making the stationary exponentially more meaningful. I never imagined it would play a part in his proposal. He began to read, his words capturing my heart. He put the letter back in his pocket, and began to reach into his jacket pocket and (not so easily) pulled out the little Tiffany blue box. He began to lower down to bended knee, and asked the question I have only dreamt of hearing him say, "Rachel Elizabeth, Will you marry me?" We jumped up & down and the whole time I was shaking like a leaf! We're engaged! We enjoyed the evening on the terrace and were joined by our families who embraced and celebrated our engagement with us.
TELL US ABOUT FINDING YOUR WEDDING DRESS: I had looked high and low for a dress that sang to me. After looking at boutique after boutique, I grew uneasy, doubtful, and most of all, confused. I booked another hopeful appointment for the day after Thanksgiving at a boutique I had already visited the month prior. My mom & I arrived, and within minutes I noticed a new arrival; this romantic lace, boned-bodice dress designed by Sarah Seven. I slipped it on and the top was just what I had been searching for. The skirt wasn't quite bridal enough for my liking, so I added a Theia overlay skirt that was made of a soft, whimsical, layered tulle. The two pieces together created a seamless look & were just perfect for me.
FAVOURITE DETAIL OF THE DAY: My favourite detail of our wedding day was our personal vows. I loved how each of us crafted our words to echo our commitment to one another and how it was a sentiment that couldn't be fulfilled by anyone but us. It was intimate, yet inviting, and illustrated our hearts and pure intentions to love one another, always.
WHAT ADVICE WOULD YOU GIVE OUT TO COUPLES PLANNING A WEDDING? Have a vision of your dream day; there will be so many pretty things that will vie for your attention, but to tell the same story throughout the course of your day, a story that embodies the two of you, creates a seamless interaction that resonates. There will be things that you think will matter, that won't, and things that you think won't matter, that will. It's nearly impossible to predict each instance, so allow yourself a little grace and trust your loved ones will too. Also, don't do something tomorrow that you can do today!
MOST MEMORABLE MOMENT? I have the clearest memory of standing hand in hand in the midst of our ceremony, looking into one another's eyes, and just feeling like the luckiest bride. I remember thinking the moment I had dreamt of, with the man I had dreamt of, was all right here surrounding me as real as it could ever be.