When planning a trip to Bali, Indonesia with her husband, photographer AUDRA WRISLEY realised it was the perfect opportunity to put together an editorial shoot in this beautiful part of the world so she set about finding local vendors to help her bring her vision to life. After many emails back and forth with HARI INDAH WEDDING PLANNING & DESIGN, the shoot started to take shape. They envisioned a shoot that would capture the authentic Balinese and Javanese styles of PELANGI ESTATE, with a vintage-colonial flair using accents that they added in themselves. To balance the lush jungle scenery, they opted for a softer, faded tonal palate of pink, orange, greens and blues.
So here's where this shoot gets interesting. Putting a model call out on social media, Alex & Magdelena who at the time were travelling through Thailand, replied to Audra's post and decided to be implusive and travel to Bali. Audra says, "It was their free-spirited presence and courageous love that turned the shoot from being simply beautiful, into something truly special. Alex, who left his desk job two years ago for a trip around the globe with no end in sight, had met Magdalena at a hostel in Warsaw in the summer of 2014. As they arrived at Pelangi Estate on the morning of the shoot, they completely fell in love with its beauty and serenity. When Magdalena was in make-up, they decided that they could not imagine a better scenario to actually tie the knot."

Yes you read that right! Originally just there to model for a shoot, once the scene was set they threw caution to the wind and actually got married! You've gotta love the spontaneity in that!

Audra continues, "An hour later, on the breathtaking sundeck right outside the main villa overlooking the river, Magdalena and Alex improvised their vows and sealed their commitment to each other with a local priest overseeing the beautiful ceremony. A magical moment to all of those present, instantly engraved in our memories forever."
New bride Magdelena tells us, "It was the best day of my life and I will never forget that. I think that pictures from that day show how happy I was. On that day, when my husband asked me if I wanted to marry him right there and then, he made me the happiest person in the world, and he has made me feel this way every day since."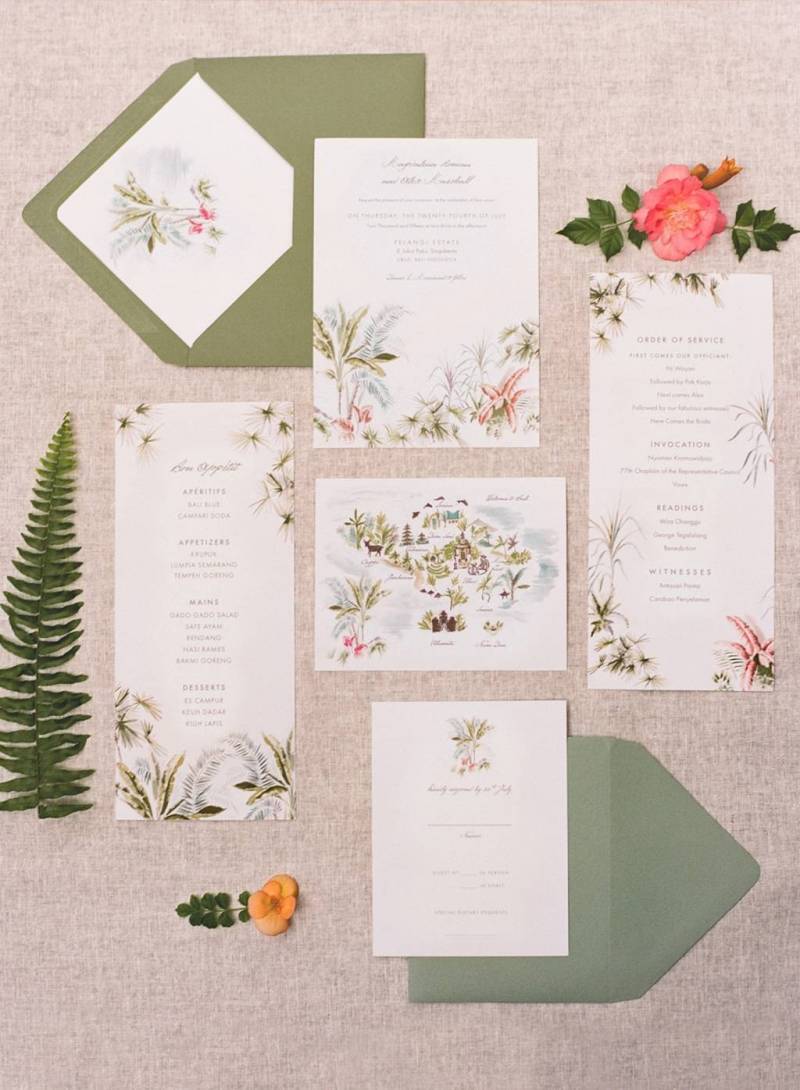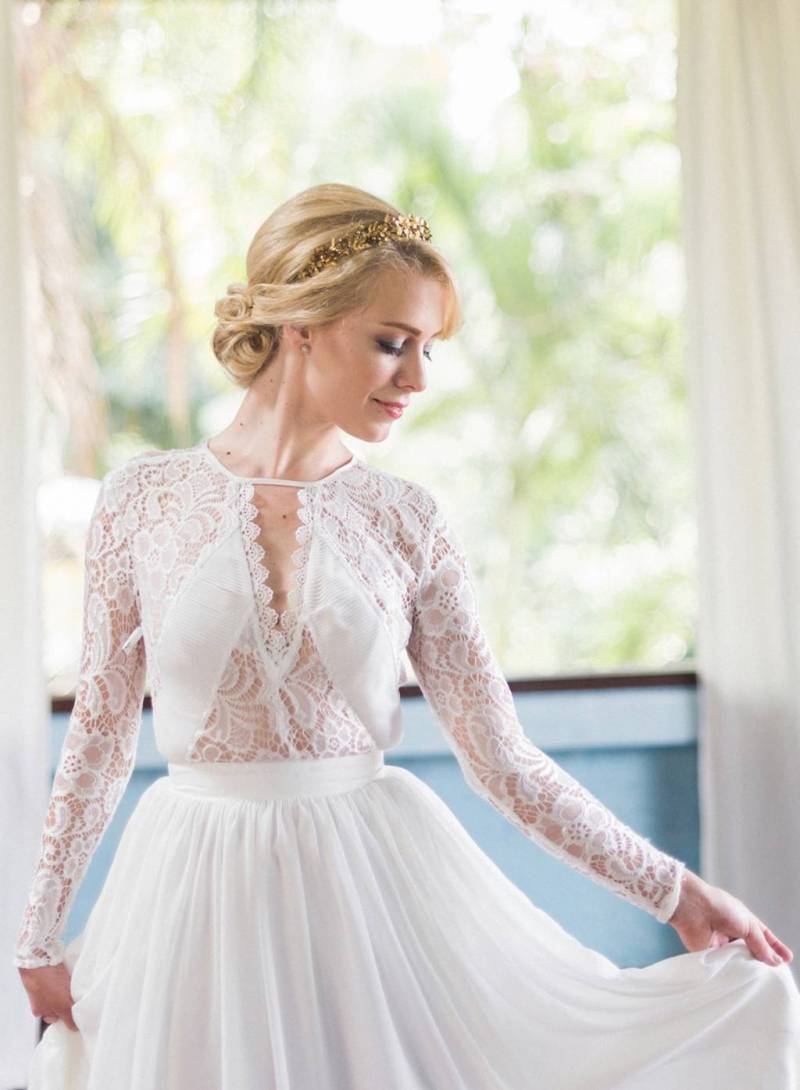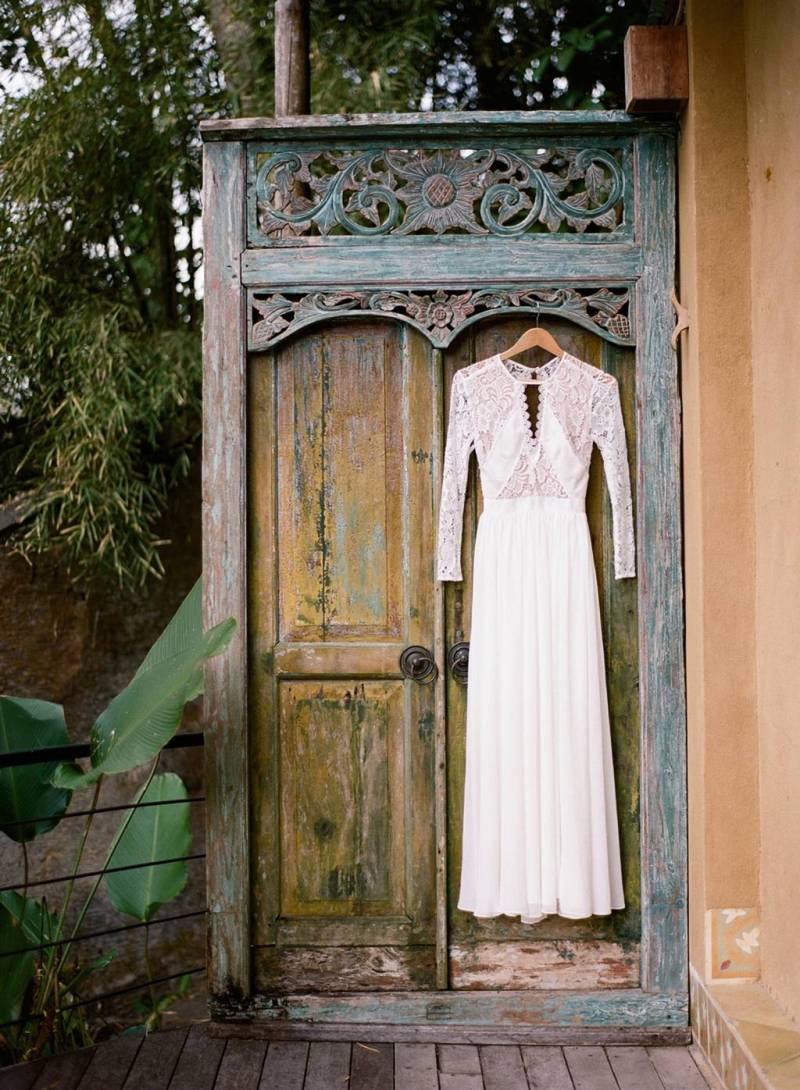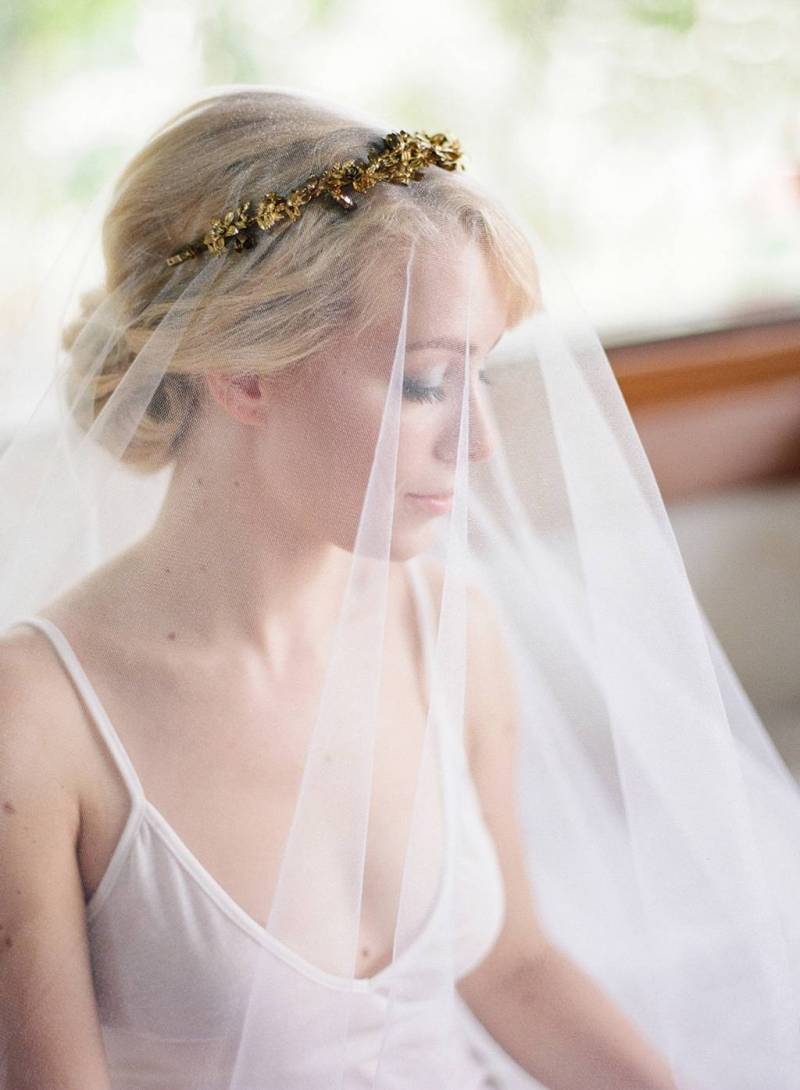 HOW DID YOU MEET? In 2012 Alex decided to leave his career in sales and travel around the world. After seeing large parts of South America and South East Asia, he was traveling through Europe when we met in a hostel (named 'Intro'!) in Krakow, Poland. After spending two days together, we were about to get onto separate trains when Alex asked me to come to Budapest with him. I wasn't able to go, and asked him to come home to Warsaw with me instead. As fate or luck may have it, he got on the right train!
TELL US ABOUT YOUR PROPOSAL: We were at my parents' summer house that they had been building bit by bit over the past ten years, in the small Polish mountain town of Ostaszewo. Originally it was Alex's plan to wait to propose until our trip to Greece a few days later, but something about this place just felt right to him. High up on a hill overlooking the lake, and only a two minute walk from the old wooden dock from which I had jumped into the water as a child, Alex couldn't imagine there would be a better moment to ask me to share the rest of his life with him. He was so nervous that when he took his guitar in his hands, he couldn't play anything (usually he is an incredible guitar player). He kneeled in front of me and asked me to marry him. When I started to cry, trying to say 'yes' I heard in the background my mom's happy scream-laugh-noise and in a little while the whole family (including my mom, dad, brother, sister-in-law and my nephew) with neighbours came to the deck with Jack Daniels to celebrate our engagement. It was perfect!
TELL US ABOUT FINDING YOUR WEDDING DRESS: As we hadn't planned any of this, the dress found me instead of the other way around. I loved the old world feel with the lace sleeves and the open back of the dress. It fit like it was made for me!
DESCRIBE YOUR WEDDING FLOWERS: Janice from Bloomz Fine Flowers designed a pink and peach blush look for our flowers, incorporating native florals and a subtle color palette, so it wasn't overly tropical. She managed to find the perfect balance between the two, and I absolutely loved how the florals stood out against the jungle background in Ubud.
FAVOURITE DETAIL OF THE DAY: It's not possible to describe just one detail. We didn't plan anything but everything was planned better than we could dream of. The ceremony was extraordinary; the reception was intimate and cozy with all the vendors that had styled the wedding.
WHAT ADVICE WOULD YOU GIVE OUT TO A COUPLE PLANNING THEIR WEDDING? Don't stress out and do it spontaneously. You don't have to throw a huge party to experience this exceptional moment with the person who you love. It can be intimate, because in the end it is only the two of you who matter.
MOST MEMORABLE MOMENT? When we said our improvised vows. Alex's words were the most memorable and lovely someone someone has ever said to me. I couldn't stop crying and I still have goose bumps when I think about it.