After falling in love with Italy on their very first trip there, Yafit & Collin chose to return there for their wedding after visiting a castle hotel in Tuscany and deciding it be a dream to get married at a similar venue. Yafit tells us, "We hired a local wedding planner who set up a tour for us – once we arrived at CASTELLO DI MELETO in Chianti, we knew this was the perfect spot for us – it had it all: an authentic medieval castle with so many gorgeous details and history, a huge vineyard, two pools, a wine store and large enough accommodations to fit all our friends and family." LUSHANA BALE PHOTOGRAPHY captured their beautiful day of celebrations.
HOW DID YOU MEET? We met at a grungy student dance bar about a decade before we got engaged. Collin bumped into me on the dance floor and stroke a conversation. We were friends for 3 months before we actually started dating. We went back to the same dance bar for our 10 year (dating) anniversary.
TELL US ABOUT YOUR PROPOSAL: Collin proposed about a year prior to the wedding in sunny San Diego on the beach while we were watching the sunset.
TELL US ABOUT FINDING YOUR WEDDING DRESS: It did not take long to find the perfect dress – but it took some self-convincing! I got it at Ferre Spossa's sample sale in Toronto, however I went back to the store three more times since I wasn't 100% confident with my choice since I bought it alone without my entourage. I even bought a second dress which I didn't end up wearing! But whenever I tried on my first dress again, I was in love! Trust that initial gut feeling, fellow brides, don't second guess yourselves!
DID YOU HAVE ANY DIY ELEMENTS? One of my good friends put together a guest book with polaroid shots of the guests where they could fill in their best wishes. This is something we will forever cherish! We also DIY'd the aisle flowers (faux bouquet and lace ribbons to go with the vintage look). The natural backdrop of the castle for the ceremony was so beautiful that we felt no need for additional flower decoration beyond bride & bridesmaids' bouquets.
DESCRIBE YOUR WEDDING FLOWERS: We were looking for an elegant soft feel, so we went with greenery mixed with white/ivory and light, dusty rose colours. We had a mix of roses, peonies, other accent flowers with eucalyptus & olive greenery. We loved our long table setting with the greenery, flowers and candles!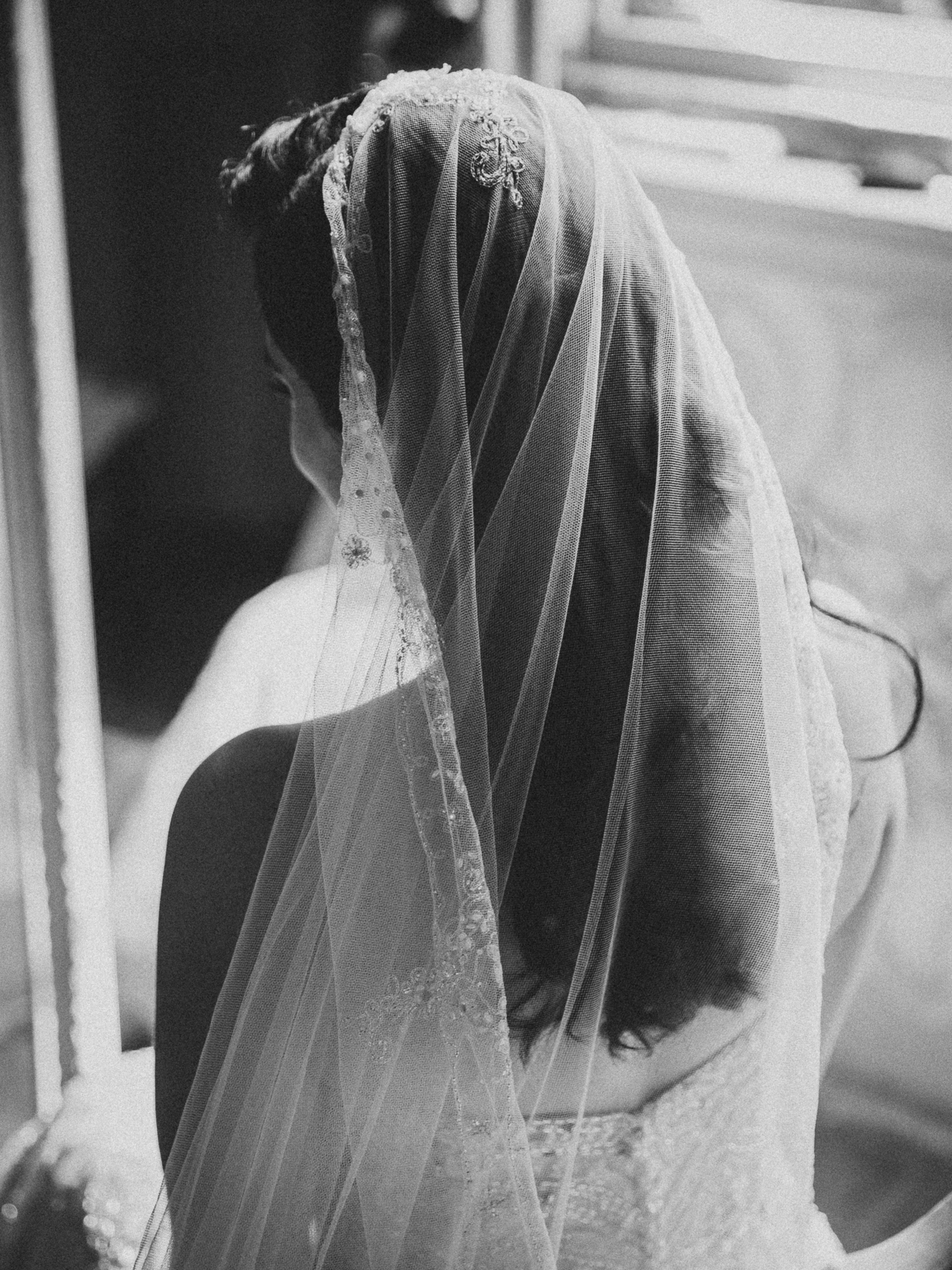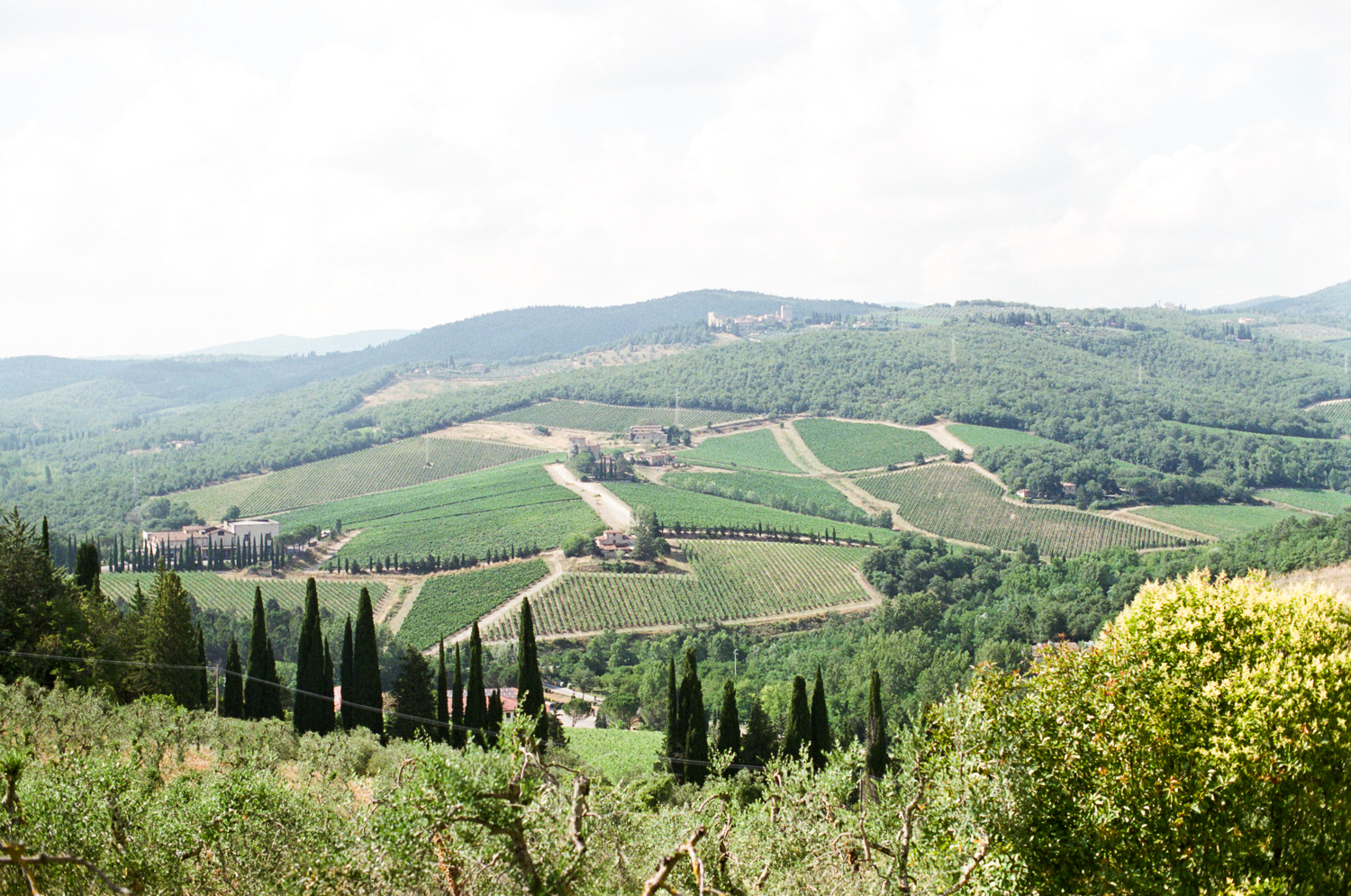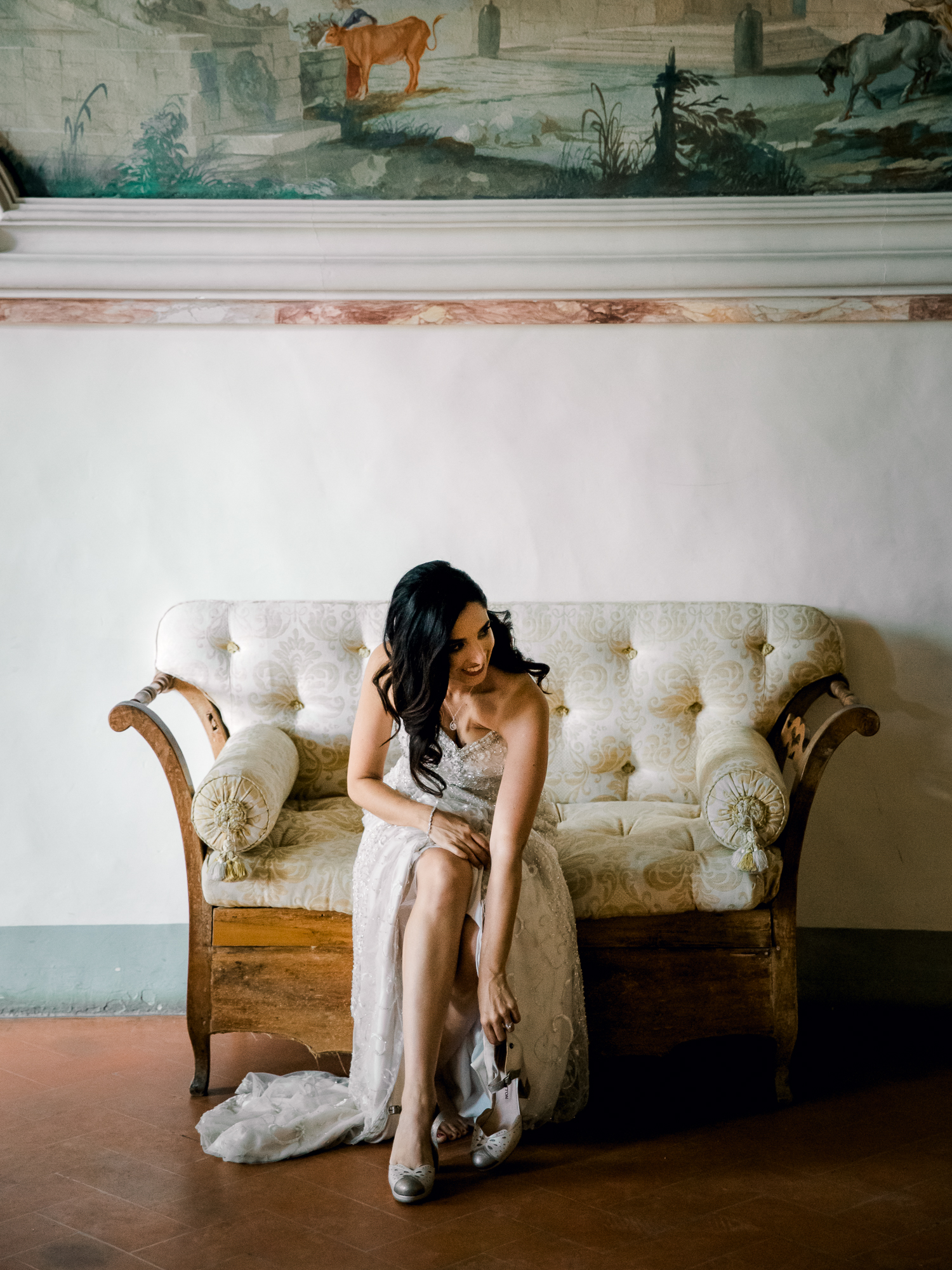 WHAT ADVICE WOULD YOU GIVE OUT TO A COUPLE PLANNING THEIR WEDDING? Hire a wedding planner to set you up with the top local vendors, however, don't be afraid to do your own research, and explore many options to make your dream wedding a reality. As you get closer to the wedding day, don't sweat the small stuff and remember to enjoy your day – it goes by really fast!
MOST MEMORABLE MOMENT? Our first dance (we took dance classes in preparation- it was fun to show off our dance moves), a surprise singing performance by the bride's family, the groom preforming some of our favorite rock songs with our friends, and with the UK band.
IS THERE ANYTHING YOU WOULD CHANGE OR DO DIFFERENTLY? Just because it was 4th of July I would have added fireworks, but we didn't miss it! The wedding was an absolute dream come true and everyone had an amazing time! Even though we stayed at Castello di Meleto for 3 nights, as most weddings do, the time went by SO FAST! We are already thinking about coming back for many more anniversaries!