Inspired by the landscape and local culture of Bali, Crystal and Jason planned a magical and elegant wedding, which remained understated and appropriate to their surroundings. Planned by Central California wedding planner AMY NICHOLS SPECIAL EVENTS the epic landscape made for a beautiful natural setting that needed little decor. With three events spread out over a few days, the couple had many opportunities to express what they loved about the culture and it was all beautifully captured by AARON DELESIE.
They tell us, "When we started talking about our wedding day, we kept coming back to a few things - we wanted an intimate wedding outside in a naturally stunning location that was meaningful to us as a couple. We kept coming back to a specific place we had been together in Bali, Indonesia. Far away from the bustle of the beach cities, atop a mountain, we stayed at a secluded hotel with three terraced pools cascading down toward the ocean. In front of you is the wide blue horizon and deep azure sea. Behind you is a lush jungle, and a sacred volcano! As you meander down to the beach, there is a massive frangipani tree that seems to always be in bloom. It's quite a trek to get there, but it is one of the most special places we had ever been together. Sharing our joy of travel and love of a very special place with our closest friends and family seemed like the perfect way to have our wedding, so we decided to go for it!
There are many Balinese rituals involving beautiful, intricate flowers. We had flowers and candles floating in the water for our events. Small tea lights hanging from trees and tucked into of towering rock walls created a fairytale feeling in the jungle greenery. Hand carved woodwork is a local skill we greatly admire. I loved the gorgeous hand carved wood frame we used, standing alone with nothing but the immenseness of the ocean behind for our photo booth. Balinese villages all have different patterns for their gorgeous, renowned ikat textiles- we had some of our linens throughout the event with variations of these. On our wedding night, the Gamelan music floated through the evening air, fragrant flowers entangled in the greenery hanging from the ceiling with lights intertwined to give the open air dining area a bit of enchantment.
In previous travels, we fell in love with Bali. The friendly, fun loving yet deeply spiritual culture impressed us with its deep connection to community and nature. It's a magical, lush and energetic landscape and is like nowhere else in the world. The amazing hospitality and exciting cuisine are also excellent. AMANKILA in particular was such a special place for us - it's tucked into the cliffside like a gem crowning the sea. We did a lot of scuba diving, visited sacred temples, small villages, and experienced Bali in a quiet, deeper way than anywhere else. Once we decided to get married, we couldn't stop picturing how perfect it would feel to return there and exchange our vows overlooking the vast horizon into the sea, with the sacred volcano as a witness. To us, the feeling of vast, natural expansiveness that we felt in that place was synonymous with how it felt to be in love with each other. We knew Bali was about as far away as you can travel from where we live, and that it could be a big ask for some of our older family or friends with young children. In the end, it just felt right; we decided that even if it was just the two of us, that was where we'd like to exchange vows."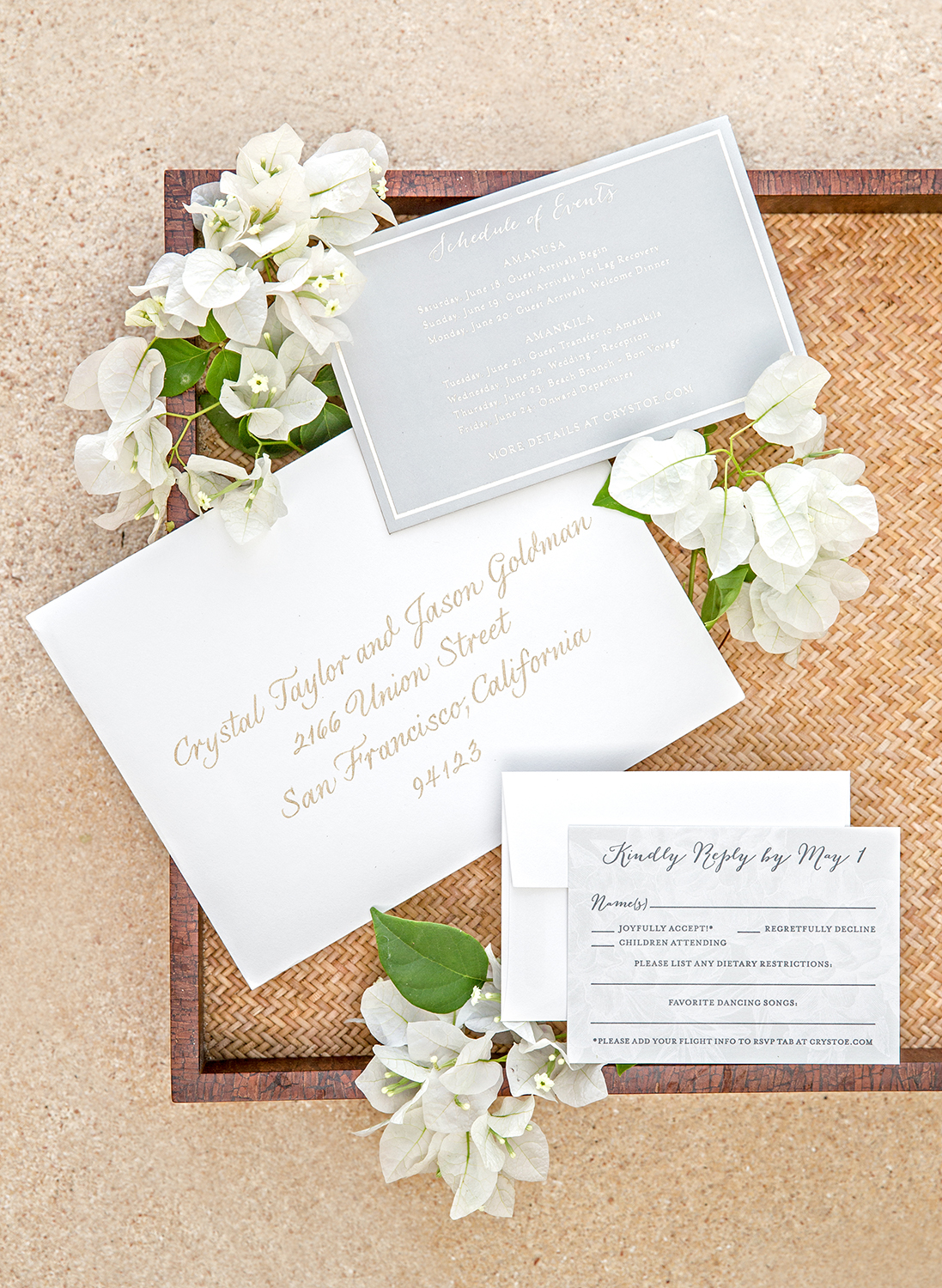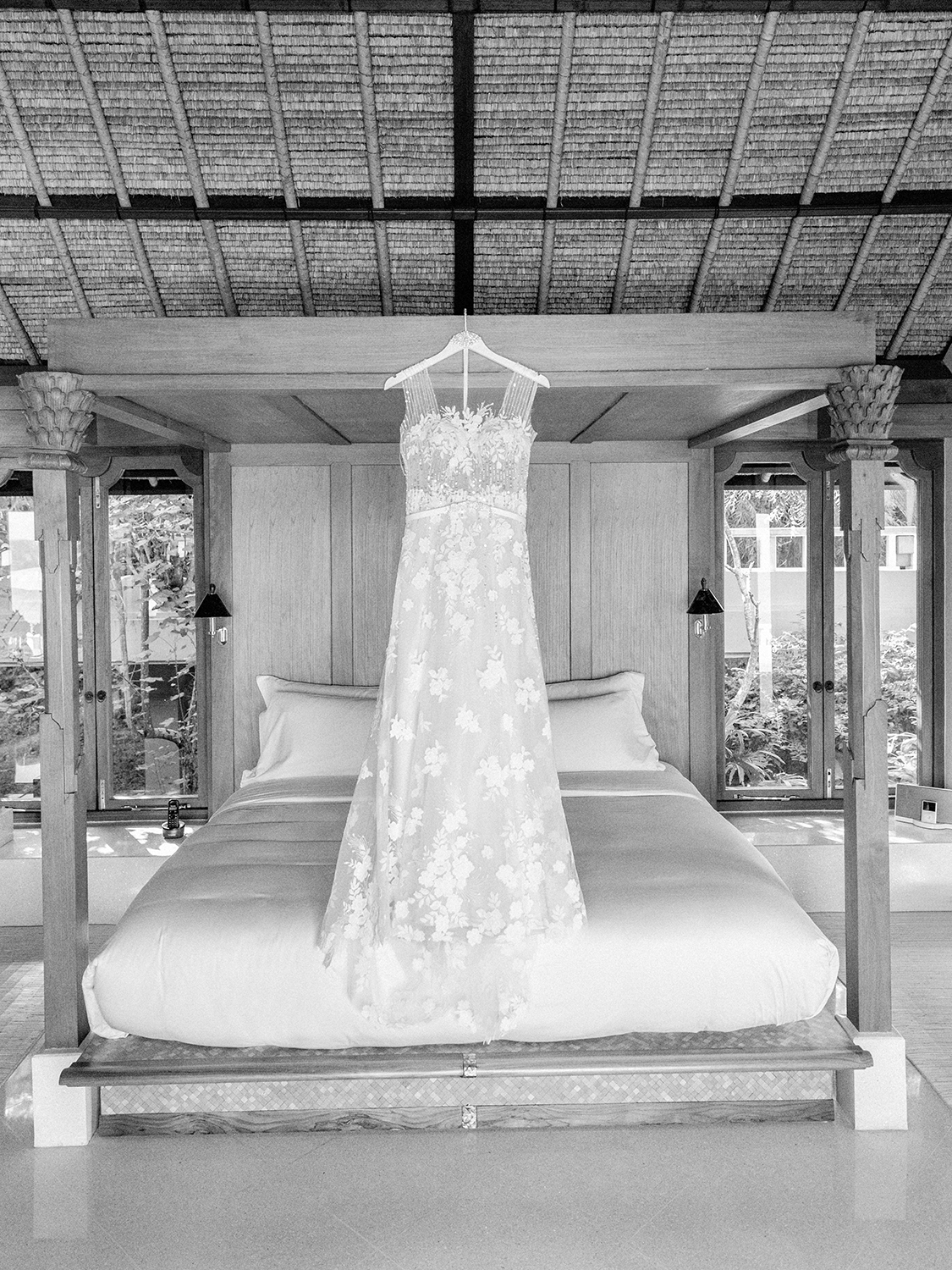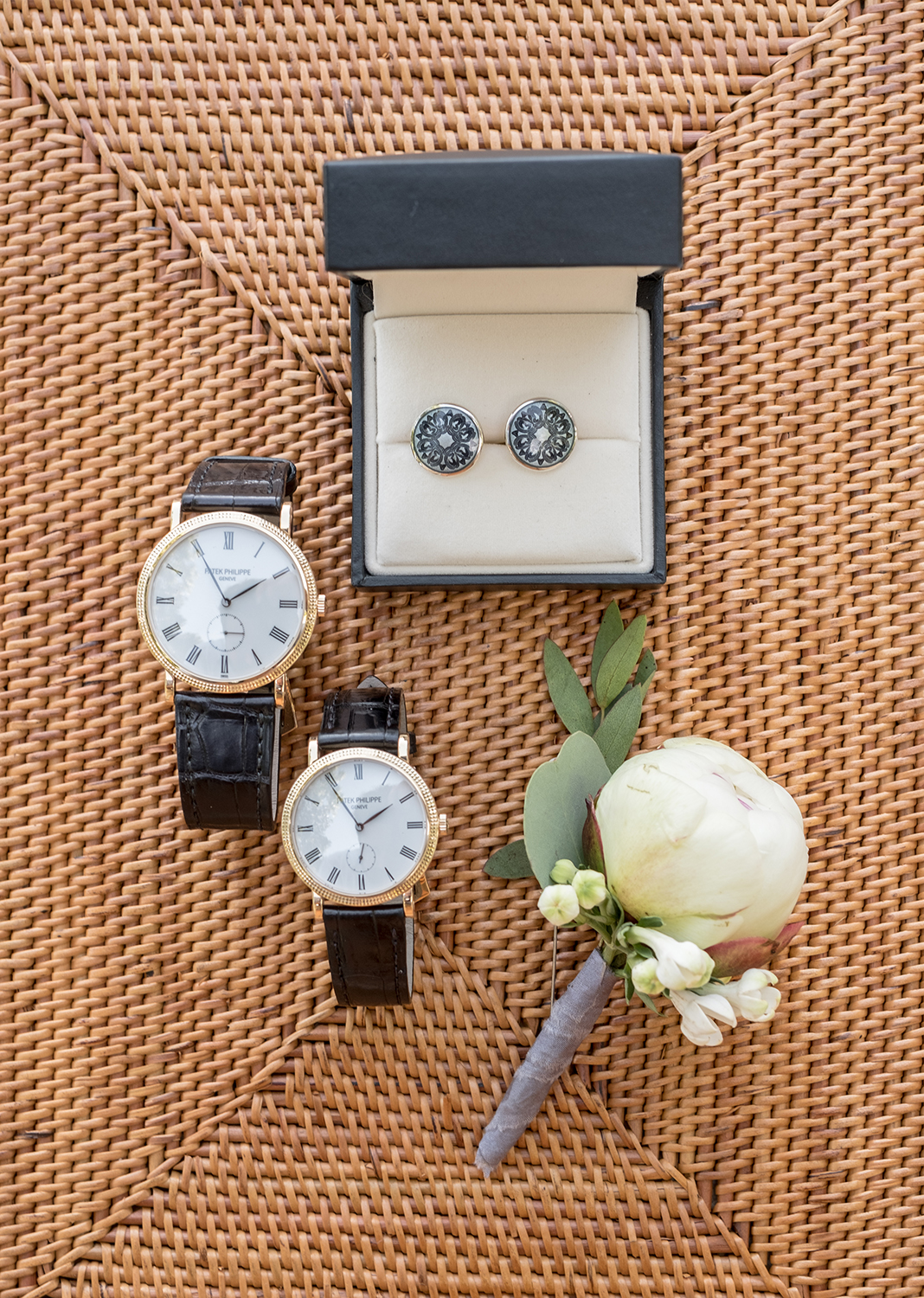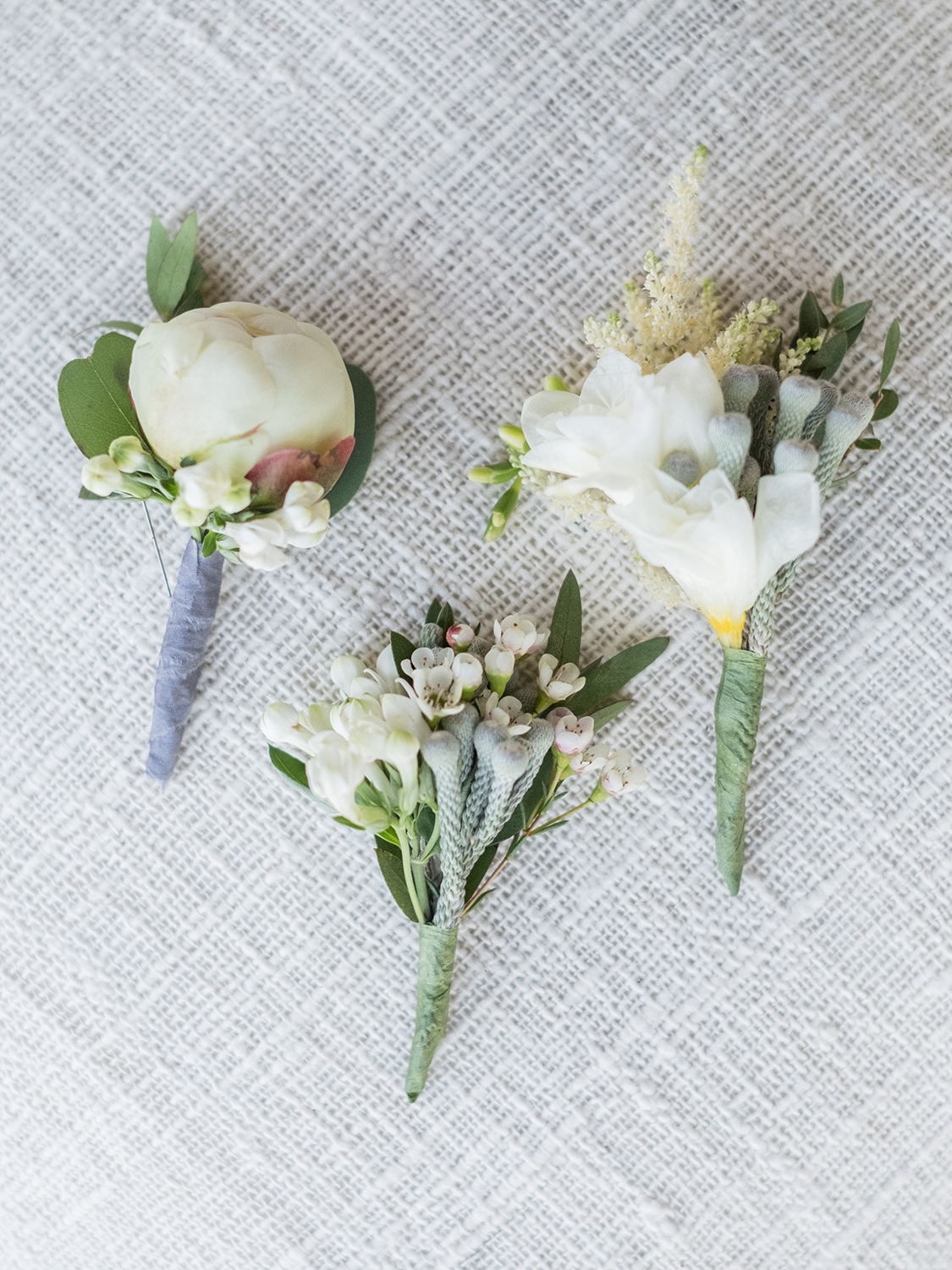 HOW DID YOU MEET? We met casually through friends at work, and later ended up working at the same company, where we got to know each other better.
TELL US ABOUT YOUR PROPOSAL: Jason's new job had taken him across the country, and I flew to meet him to go apartment hunting. That weekend, he planned out an evening of live symphony followed by a walk through a beautiful park to a gorgeous seafood dinner. We stayed in a beautiful hotel, and ordered a decadent breakfast spread the next morning. While we were having a lovely breakfast in our oversized hotel robes, he had a very pale face and I thought maybe he wasn't feeling well, when suddenly he was headed for the floor... he got down on one knee, and asked me if I'd marry him. I said yes! Luckily we had champagne handy and celebrated straight away.
TELL US ABOUT FINDING YOUR WEDDING DRESS: Finding a wedding dress was difficult, as I had no previous notion of what kind of dress I wanted and knew nothing about wedding dresses. As I delved into the complicated world of wedding fashion, one designer stood out to me from the start. MIRA ZWILLINGER'S dresses captured the poetry of a wedding dress, balancing the romance of a classic dress with the striking fashion of more modern designs. (The dress I loved was not pure white, but but a very pale grey and white. It had a dramatic silhouette almost verging on austere were it not for intricate fine beadwork that caught the light, and small, delicate flowers seeming to float on the sheer fabric, much like flowers floating on water.) A few shops on both coasts carried her dresses, but not the specific one I was looking for, which was a new season dress that the shops didn't yet have. Unwilling to make such a big purchase sight unseen, I went on several fun but underwhelming dress appointments in San Francisco and New York with a couple of my best friends, but none of the many beautiful dresses quite captured the emotion of the MIRA ZWILLINGER dress in my mind. Time was running out (who knew the lead time on wedding dresses would be so long!) so I scoured the internet one last time, and discovered that a dress shop in New Jersey was having a MIRA ZWILLINGER trunk show (the fact that you can only see new season wedding dress fashions at trunk shows was also news to me) but there was only one day left! They had the whole new collection, including the dress I hoped to see! I made it happen, showing up in New Jersey on the last day. As soon as I put on the dress, I knew it was perfect, and ordered it on the spot! The dresses are made to measure, and they made a custom design for the top, which allowed it to float like a strapless dress- a fine layer of mesh made it seem as if delicate flowers (also seen on the bodice, skirt, and train) were trailing over my shoulder and down my back. The finishing touch was a super long, beautiful veil with tiny flowers trailing throughout.
DID YOU HAVE ANY DIY ELEMENTS? A dear friend made our ring bearer's pillow by hand, using hand picked materials and a few of the flowers from my wedding dress as embellishments. It is a beautiful labor of love!
DESCRIBE YOUR WEDDING FLOWERS: For the wedding day, we had a decor palette in cool tones and mingled those cool colours with the natural tones in the landscape. Since there were bright blues from sky and sea during the day, and candles and twinkling lights all around once the sun went down, we decided to go with mainly white tropical flowers with some cool hints of colour. We used many local flowers, but also had some favourite flowers mixed in, my favourites were ranunculus. These looked bright, beautiful and appropriate to place during the day, and transitioned to highlighting the greenery while softly reflecting the lights in the evening. For our beach events, we had more colourful flowers- gorgeous deep reds on the night of the welcome dinner, during which there happened to be a full red moon! Our brunch had popping pinks and zesty orange, energetic flowers for a fun poolside day.
FAVOURITE DETAIL OF THE DAY: Wedding detail: Instead of doing sliced cake, we had miniature two tiered cakes for each guest with the most delicate frosting flowers, like the flowers used in beautiful offerings of all kinds in Bali, placed upon them- something truly beautiful and unique for each person who was special to us.
Crystal's personal detail: During our ceremony, my father escorted me down a steep series of stone steps down to where everyone was waiting. As we walked down, a strong breeze from the ocean lifted the veil and all of the little flowers sewn into it fluttered upward in the breeze. Perfect!
WHAT ADVICE WOULD YOU GIVE OUT TO A COUPLE PLANNING THEIR WEDDING? Details are important... but there are a lot of details! Accept help if it is offered, and structure it in a way that suits you best. (Because we were getting married in a foreign country and there were so many logistics, we hired a planner, AMY NICHOLS SPECIAL EVENTS, who did a phenomenal job helping with everything from travel arrangements to sourcing the best vendors abroad, introducing us to our beloved photographer, AARON DELESIE, and coordinating all of the many fine, thoughtful details that made the day special. Getting experienced industry advice with everything as questions come up can save you some money, knowing where to splurge and where to save, and time, because timing is everything!) We found it helpful to identify the top three things we felt were most important to us as a couple; by viewing everything through that lens, we were able to prioritise more easily and make sure that decisions remained true to our original intention, which can sometimes feel far away when buried in logistics. Just remember, regardless of the details, in the end, what makes the day perfect is that you get married!
MOST MEMORABLE MOMENT? Besides saying I do? Relaxing on the stone steps as a newly married couple, with best friends and family all around, watching the night sky light up with amazing fireworks!
WHAT ASPECT OF THE WEDDING WAS THE MOST IMPORTANT TO YOU BOTH? Exchanging our vows aloud in front of our friends and family. Although it would've been special anywhere we did it, the fact that we could celebrate the most special day in our lives as a couple over the course of a week with the people we loved most in a place that was very special to us felt so unbelievable!
ANY OTHER DETAILS THAT HELP TELL THE STORY OF YOUR DAY? We boarded a beautiful Phinisi (a traditional sailboat found in Indonesia) and went island hopping, diving, and exploring the islands around Bali. We ventured to the nearby Komodo National Park, where we disembarked and saw Komodo Dragons. We swam with a cluster of manta rays in the sea, visited a night on an island with a tented camp and saw monkeys and the native Rusa deer, and ate fresh fruit, fish and lobster on the boat or on the beach prepared by the amazing chef every night. It was amazing!