Inspired to have a classic, traditional wedding with touches of modern flair, Virginia couple Mina and Andrew fell in love with the historic manor house and modern ballroom of BELMONT COUNTRY CLUB. Virginia Wedding Photographers MICHAEL & CARINA always delight us with their beautiful work and this one is no exception.
HOW DID YOU MEET? We were first introduced by the bride's older sister, who was friends with Andrew. Later, we lived in the same city and ended up getting to know each other. After bonding over our love for pizza, wine, and summertime, we knew there was something special between us.
TELL US ABOUT YOUR PROPOSAL: Andrew proposed at the Castello di Amorosa in Napa Valley. After touring the beautiful castle and drinking some wine, we walked down to the vineyard and started taking photos, just the two of us with no one around. Next thing you know, Andrew was down on one knee and cheesing big.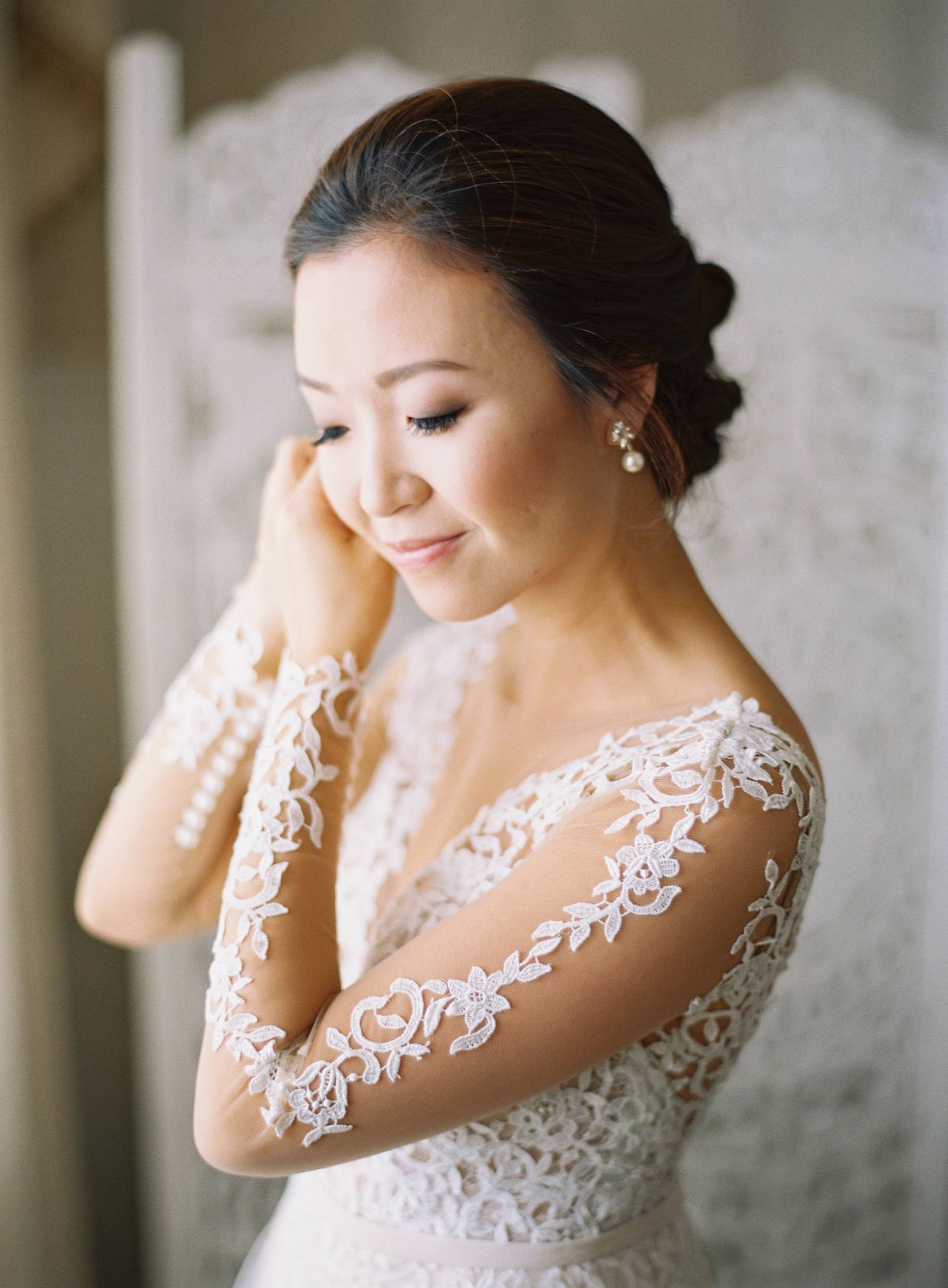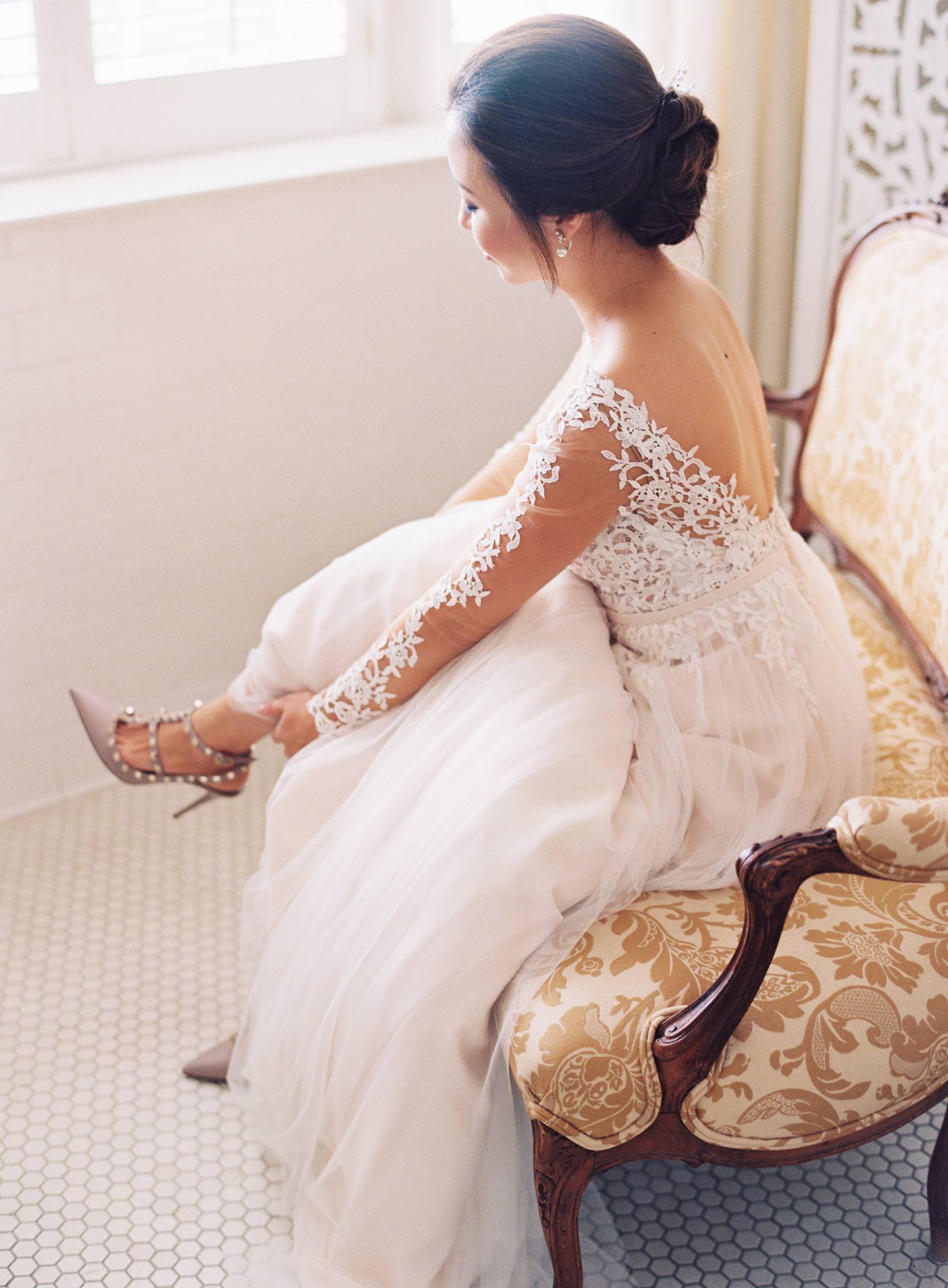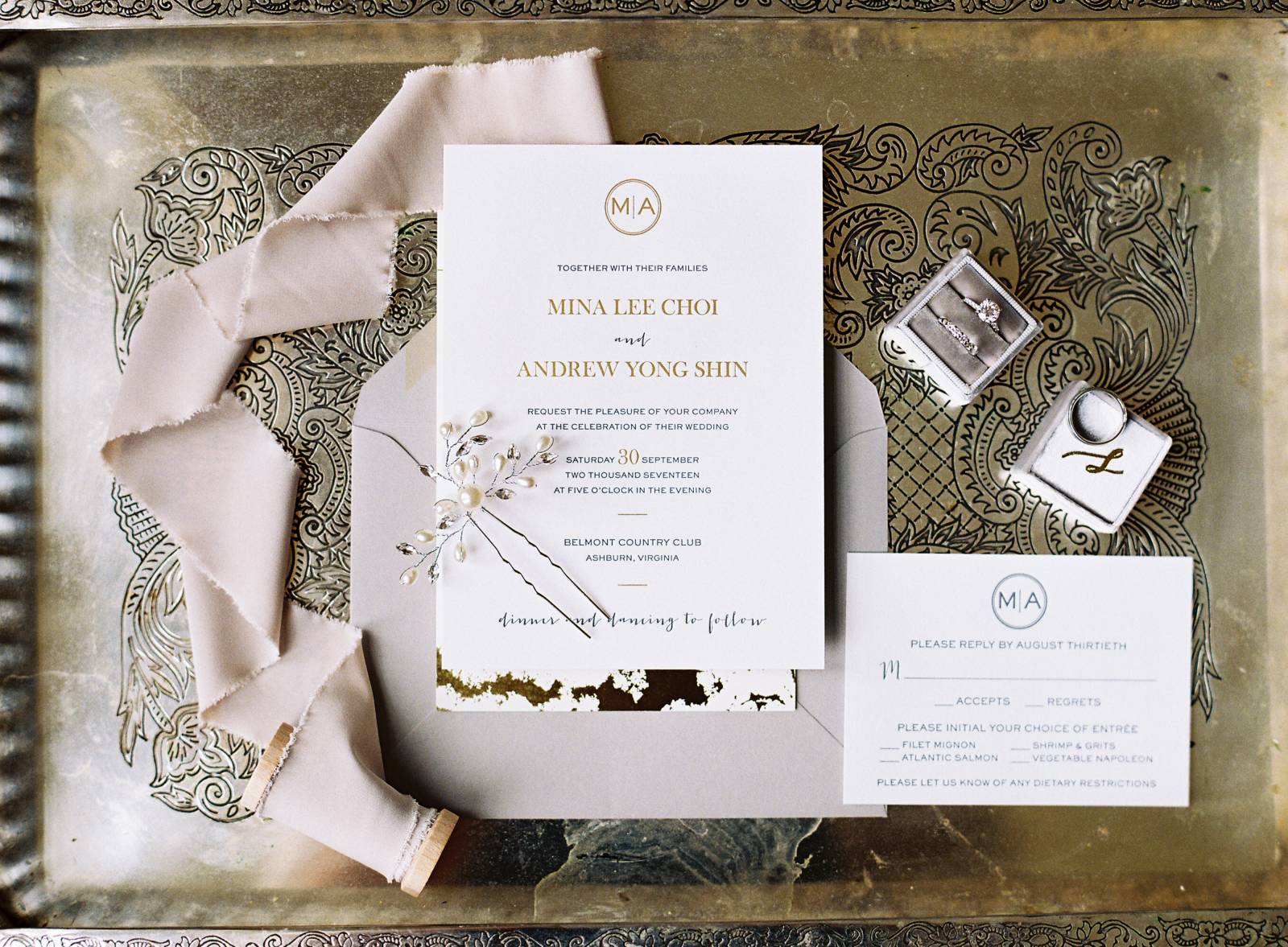 TELL US ABOUT FINDING YOUR WEDDING DRESS: Kind of a long story – but after trying on about 20 dresses, I found the one at a boutique and was planning to order it in my size after the holidays. One random day, I stumbled upon the same exact dress online in my size, in my colour, brand-new, so I thought why not message the seller. I was expecting the seller to be located across the country, so it'd be risky to take a chance without trying it on! Turned out the seller lived in Northern Virginia and was allowing me to see the dress in person. I went with my mom and when I tried it on, she cried! The dress was destined to be mine. I got really lucky and did not have to wait months for the dress to ship.
DID YOU HAVE ANY DIY ELEMENTS? Actually, yes! My sister and I ended up doing the calligraphy for the place cards. Mainly my sister did it, but I ended up helping.
DESCRIBE YOUR WEDDING FLOWERS: My wedding bouquet consisted of white roses, white and faint blush garden roses, olive tree branches and Italian ruscus. The ceremony entrance had two planters with large arrangements and 2 alter pieces on Roman columns. The reception had a mix of high and low arrangements.
WHAT ADVICE WOULD YOU GIVE OUT TO A COUPLE PLANNING THEIR WEDDING? Don't be afraid to ask for help. Ask your family or friends when you need help making a decision or need advice.
-Be sure to communicate with your partner. Give your partner a few tasks to do so they feel involved.
-Enjoy the wedding day because it flies by! Didn't realise how heavily programmed it was, until we created a day-of schedule.
-Roll with the punches. Randomly, vendors may cancel, or somebody may not show up. Don't let those moments ruin your big day.
MOST MEMORABLE MOMENT? The first look. It was a special, quiet moment we got to spend with each other, away from our wedding parties and families.
TELL US A LITTLE ABOUT YOUR HONEYMOON: We originally booked a trip to Asia and were looking forward to spending time in Bali; however 2 or 3 days before our wedding day, we decided to cancel everything and rebook our honeymoon to Maui, Hawaii due to an imminent volcano eruption. I think this was the most stressful part of wedding planning for us, but honestly, Maui was so amazing, so we have zero complaints. Maui was the perfect destination to relax and enjoy our first week as newlyweds.
IS THERE ANYTHING YOU WOULD CHANGE OR DO DIFFERENTLY? Honestly, we were pleased with how everything turned out! If anything, not to worry about small things that are out of your control.
A huge thank-you to Virginia Wedding Photographers MICHAEL & CARINA for sharing this beautiful wedding with us today. They share a passion for what they do and appreciate simplicity & attention to detail. We're delighted to have them as part of our vendor guide. You might also like to view this Romantic Italian wedding inspiration by them. Be sure to check-out more of Michael & Carina's wedding photography work here.